Ethnic Warfare in Sri Lanka
and the UN Crisis
by William Clarance, UNHCR, December 2006
From the publisher --
This book explains the complex origins and evolution of Sri Lanka's civil war and how it has created massive civilian displacement. Written by the former Colombo head of UNHCR, the refugee agency, it provides a unique account of frontline conditions during a critical period and an overview of the alternating warfare and ceasefires during the last fifteen years.
Clarance analyses the scope for protecting civilians in a war zone and its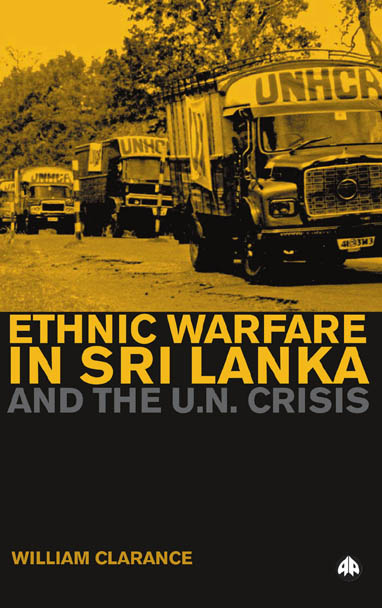 implications for UN policy. He argues that Washington's bullying of the UN -- particularly over Iraq -- ironically proves the points it seeks to demolish: the indispensibility of UN legitimacy and the professionalism of its field agencies. Clarance urges the need to adopt a more actively engaged role to protect civilians in intra-state conflict, the better to address global problems such as the outflow of refugees and asylum seekers it triggers and the seeds of international terrorism it sows.
The book is ideal for anyone who wants an accessible account of the Sri Lankan conflict, as well as policy-makers, NGOs and students of international studies.
William Clarance was the Colombo head of UNHCR, the refugee agency, from 1988 to 1991, including the critical early period of Eelam War II, during which he initiated a radically innovative protection program.
Published by Pluto Press, UK
Distributed in the US by the University of Michigan Press
ISBN: 9780745325255 Paperback
Price: £19.99 / $28.95 / €25.00
ISBN: 9780745325262 Hardback
Price: £65.00 / $90.00 / €82.00
Publication Date: December 2006
---------------------------------------------
Table of Contents
Preface

I INTRODUCTION

1.UN Crisis, Dangers and Opportunity

2. Protection in a Civil War

3. Roots of Militancy, Seeds of Terrorism

4. Ironies of a Peacemaking Protectorate

5. UNRWA and UNHCR Protective Practice

II BETWEEN WAR AND PEACE

December 1989 - June 1990

6. Hopes for Peace, Fears of War

7. Flux in Geneva, Forebodings on the Ground

III EELAM WAR II ERUPTS

June - October1990

8. National Implosion : International Indifference

9. War Zone and the LTTE

10. Engagement in Mannar, Controversy in Geneva

IV PROTECTIVE NEUTRAL ENGAGEMENT

October 1990 - December 1991

11.Rising Tension on Mannar Island

12.Food is Neutral

13.Protection Crises

14. "Open Relief Centres are Working"

V PROTECTION and the UN in 2006

15.In and Between Sri Lankan Warfare

16.Innovative Concepts

17.Controversial Questions

18. Improvisation-Intervention-Engagement

Notes

Index