Caritas Fears Humanitarian Crisis as Violence Escalates
by Caritas Internationalis, Vatican City, March 13, 2007
Caritas Sri Lanka is providing cooked meals, dry food, clothing, shelter and other basic supplies to people trapped by the fighting. Caritas in Batticaloa, the Jaffna Peninsula and the Valuthayam-Mannar area are stocking up on items in case the conflict worsens
http://www.caritas.org/jumpNews.asp?idNews=4878
Caritas fears the steady increase in violence in Sri Lanka has now erupted into open conflict. Over 200,000 people have been forced from their homes in the north and northeast of the country, threatening a humanitarian disaster.
Caritas was involved in tsunami reconstruction projects on the coast, some of which have had to be suspended because of the fighting.
In just the past two weeks, the town of Batticaloa has become refuge to some 50,000 people fleeing attacks and shelling. Another 40,000 people have crossed from the conflict zones into government-controlled areas to flee the fighting.
Caritas Sri Lanka is providing cooked meals, dry food, clothing, shelter and other basic supplies to people trapped by the fighting. Caritas in Batticaloa, the Jaffna Peninsula and the Valuthayam-Mannar area are stocking up on items in case the conflict worsens. Caritas Sri Lanka is also currently drawing up an appeal for the next year that will bring aid in light of this recent deterioration.
Caritas Internationalis calls on all parties to the conflict to return to the negotiating table, and it calls upon the international community to engage once again in Sri Lanka to help bring about peace.
Caritas believes a military solution only promises an extension of a war that has already lasted 25 years. As many as 70,000 people – mostly civilians – have been killed in those years.
Father Damian Fernando, director of Caritas Sri Lanka, was at Caritas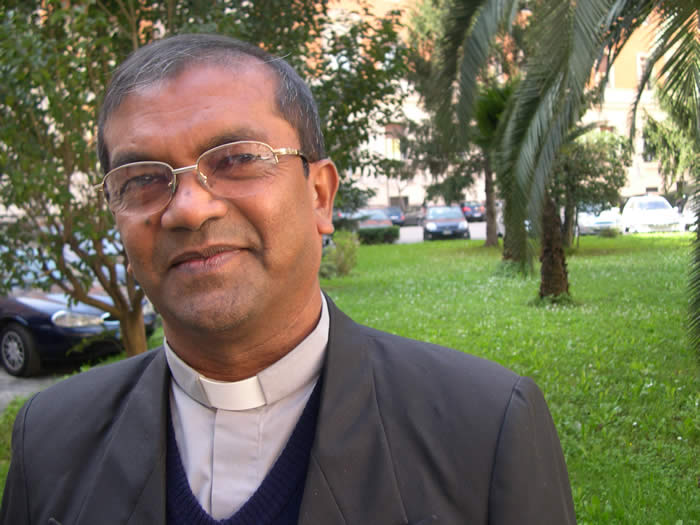 Fr Damian Fernando, Executive Director of Caritas Sri Lanka-SEDEC

Internationalis last week to participate in meetings on peace and reconciliation. Here is what he had to say about this difficult time in Sri Lanka.

What is the situation like right now in Sri Lanka?

The situation is very volatile. At any moment, anything can happen. The government appears to have gone on the offensive and to be seeking a military solution to the conflict. So the country is on a war footing.

Sri Lanka has a law called the Prevention of Terrorism Act, and recently it is being used against people who speak out in favour of or promotion of peace. People are being arrested and detained for this. They can be kept in jail for any amount of time, even years.

We have various paramilitary groups that are active, and killings and disappearances are on the rise. Some of them are political killings, and some even happen in the capital Colombo, but sometimes it could be anybody that gets killed.

So in this atmosphere, what sort of work is Caritas doing and how are you doing it? For example, do the parties to the conflict feel you're taking sides?

We are there, because the Church is there, and we continue to help the people in Sri Lanka. We are seen as neutral by both the government and the LTTE (the rebel group, Liberation Tigers of Tamil Eelam). They accept the presence of Caritas and the work of Caritas.

In the north, in the Jaffna Peninsula, we are delivering humanitarian aid to people who have had to leave their homes because of the conflict. Many people are trapped there, living in refugee camps, because the government has closed off the area. But we are allowed by both sides to travel to and from the area, again because they recognise us and our work. We're bringing food and non-food items, and we are giving livelihoods and educational support there.

Is Caritas involved in helping to bring the sides together to work toward peace?

Yes, again because we are seen as neutral, we have been participating in ongoing discussions between the different sides. We are working quietly with all sides: the government, the LTTE and the Buddhist People's Liberation Front to help bring about peace. We are also speaking with other Tamil groups and Muslim groups.

Are these the same camps that were there during the worst years of the conflict?

These are all new camps for displaced people that have been there since December. The old camps had been abandoned, and almost everyone had returned to their homes and villages. Some of them are now being opened again. The government is advancing into the East, and they've captured some important rebel areas around Batticaloa. So Batticaloa has seen an influx of 10,000 families just over the last two weeks – that's about 50,000 people. We're providing the people with cooked meals, temporary shelters, and trauma support.

What effect has this had on Caritas' work in tsunami reconstruction?

So far, we have been able to continue with the reconstruction work that is taking place in government-controlled areas, while clearly in other areas where there is conflict we have had to suspend tsunami reconstruction. But all of our work has been slowed somewhat by the scarcity and the soaring prices of building materials. Nevertheless, last month we handed over 120 houses to families whose homes were destroyed by the tsunami.

We work with a certain fear of what might happen. But we have to take care of people's basic need for shelter.

Caritas Internationalis is a confederation of 162 Catholic relief, development, and social service organisations present in over 200 countries and territories.

For more information, contact: Nancy McNally, CI Media Officer

Tel: +39 06 69879752, Email: mcnally@caritas.va