Engineered Catastrophe
by TamilNet, March 25, 2007
Nearly 82% of the residents of LTTE areas, amounting to 119,044 individuals, have fled to the military controlled areas. They joined the previously displaced 27,179 refugees from Trincomalee district and 19,262 persons displaced from Vaharai-in Batticaloa district, making up the total refugee population to 165,485...."We are used to military operations and have been displaced several times. We are still ready to go home if shelling on populated areas stops."
Batticaloa has turned into an area of humanitarian disaster, and a battleground for refugee figures, as more than 100,000 residents of Paduvankarai districts have been forced to flee to Sri Lanka Government-controlled regions by the shelling of Security Forces inside LTTE-controlled areas during the first two weeks of March. The changing IDP numbers have swelled to 165,485. While the UN appealed for "vital funds to boost its operations in eastern Sri Lanka" and leftist parties accused the Government of engineering "demographic change," Sri Lanka Government spokesperson K. Rambukwella dismissed the severity, saying only 52,000 are displaced, contradicting his own administration's official figures.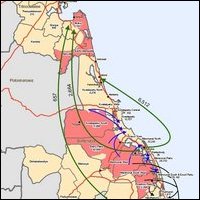 (Click here for a larger version. Courtesy- UN Office for the Co-ordination of Humanitarian Affairs)
Eluwankarai, meaning the Coast of Rising Sun, the interior region of Batticaloa, is inundated with Internally Displaced People (IDPs) with the influx of refugees from the LTTE-controlled region. Majority are housed in 91 temporary centers and some with relatives and friends.
"There is no room for thousands of new war-displaced in crammed refugee camps in Sri Lanka's east, so many are sheltering under trees or in schools and churches," a Reuters report, datelined 13 March, said.
The Government of Sri Lanka (GoSL) attempted to hastily resettle the previously arrived IDPs from Vaharai and Trincomalee. 6,512 refugees have been re-settled in Vaharai and 2,664 were re-settled in Muthur and Eechilampattu by the second week of March.
"Sri Lankan authorities are using threats and intimidation to force civilians who fled recent fighting in Sri Lanka's civil war to return home," Human Rights Watch (HRW), a rights watchdog, accused Colombo in a press release issued 16 March.
The reports by Humanitarian Agencies working in the East, including those of the UN, say the IDPs face countless problems, including food, accommodation, sanitation, health, schooling for children.
Batticaloa district consists of 14 Divisional Secretariat Divisions where live 579,469 persons from 147,197 families. Out of the 14 divisions, four divisions - Porathivu Pattu or Vellavely, Manmunai South West or Paddippalai, Manmunai West or Vavunathivu, and Koralai Pattu South or Kiran, - and part of Eravur Pattu or Chenkalady division, lie under LTTE administration.

Population in LTTE areas in Batticaloa
| | | | |
| --- | --- | --- | --- |
| Division | Area Name | Families | Persons |
| Porathivu Pattu | Vellavely | 9,493 | 36,776 |
| Manmunai S/W | Paddipallai | 6,651 | 25,644 |
| Manmunai West | Vavunathivu | 7,846 | 30,026 |
| Koralai Pattu South | Kiran | 3,786 | 24,085 |
| Eravur Pattu (LTTE part) | Chenkalady | 4,789 | 29088 |
| Total | | 32,565 | 145,619 |

Nearly 82% of the residents of LTTE areas, amounting to 119,044 individuals, have fled to the military controlled areas. They joined the previously displaced 27,179 refugees from Trincomalee district and 19,262 persons displaced from Vaharai-in Batticaloa district, making up the total refugee population to 165,485.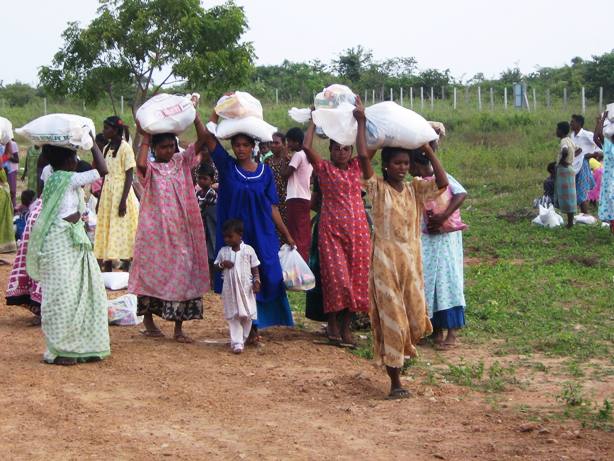 "My children are suffering from diarrhea, and are constantly vomiting, and I have not been able to see a health officer. I have to walk 10 km if I were to take them to a hospital, and that is not possible in the current situation," Siththiravel Sivappirakasam, a farmer and a father of 4 children from Mavadi Munmari in Liberation Tigers of Tamil Eelam (LTTE) controlled Batticaloa district, said.
"I have spent Rs.350,000 and grown paddy in 15 acres for this season. I borrowed some money and used my own funds for this. Harvest is ready but I can't access my field. 7 acres of my paddy field were burnt due to the shelling. My only consolation is that my family is safe.
"We are used to military operations and have been displaced several times. We are still ready to go home if shelling on populated areas stops," Sivappirakasam said.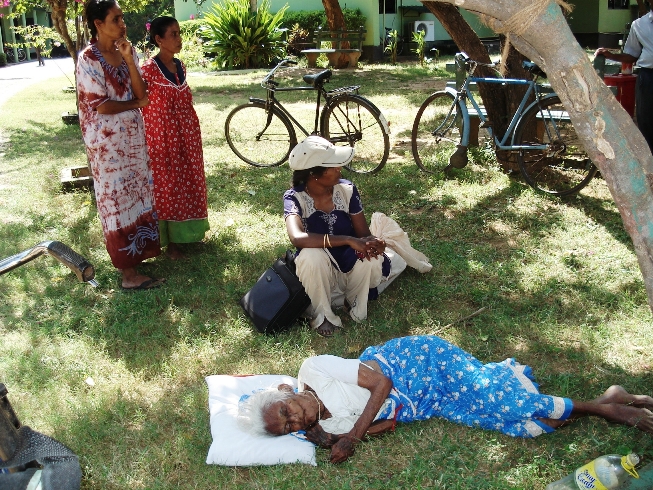 Mrs. Nesammah Ananthan of Mandapaththady, Kannankudah, had a similar story. "I have six children including a baby. My husband is a farmer. With his meager income we were able to manage our family until 10 days ago. Though we have been here for the last ten days, we have not been provided with any relief assistance from the GoSL."
The Batticaloa Zonal Director of Education, A. M. E. Paul, is extremely busy organizing a rudimentary organizational setup to facilitate schooling for a burgeoning number of refugee children who have been denied the right to education.
"Because of the new influx of IDPs, 110 schools remain closed in the district. Around 23,000 students from Paduvankarai are not attending schools. Students in 18 other schools face difficulties as they witness the daily trauma of IDPs and fellow students staying in the premises as refugees," Mr Paul told TamilNet.
Miss Kalaichchelvi Nagamani, a student of Palugamam Kandumani High School, said, "I sat for the G.C.E. O/L Examination last December and expect results soon. I was planning to study for G.C.E. A/L, at a private tuition center in Palukamam.
"We fled our home on the 9th March after a shell fired by the army landed on our house destroying part of the house. I could not take any of my belongings, even my books and notes," Kalaichelvi said.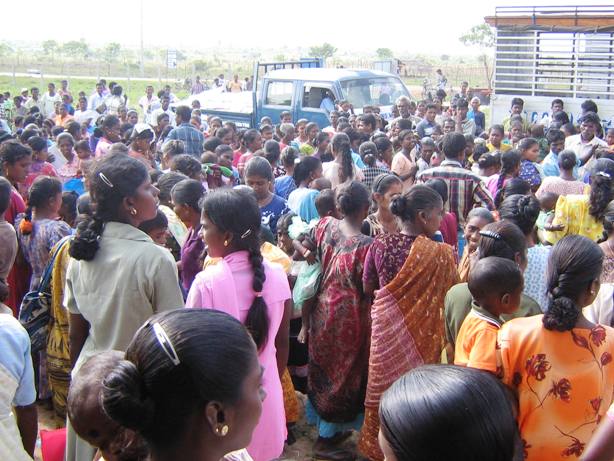 Seasonally high temperatures have added to refugees woes. Chicken-pox and measles are health issues plaguing the IDPs, with 49 IDPs in Araiyampathi affected with chickenpox.
Meanwhile, the IDPs are worried about their house and properties left behind. They fear looting of their property by armed troopers in their absence, as has happened to previous IDPs from other areas in the east.
Many displaced farmers want to attend to their fields either to harvest the paddy or to tend the harvested fields to prepare for seeding for the following season. Security Forces have closed the gateways to the LTTE-held areas. The refugees are left to languish in inadequately equipped temporary refugee camps, as Colombo struggles to deflect the damaging international repercussions for triggering the humanitarian catastrophe.
Related articles:
16.03.07 Colombo forcing refugees to return home- Rights Group
12.03.07 751 IDPs return to Muthur Tamil villages from Batticaloa
12.03.07 SLA forces exodus of Tamils in Batticaloa
01.03.07 Batticaloa families flee SLA shelling
25.02.07 Offensive aftermath
24.02.07 SLA strips bare houses in Vaharai, Sampoor - MP
15.01.07 Unfolding misery
11.01.07 Vaharai tragedy
18.09.06 Uncertainty haunts Vaharai IDPs, two children die of diarrhe..
21.08.06 Eachchilampathu IDPs face dire shortage of food
19.08.06 Paduvankarai faces misery

External Links:

-------------------------------------------------------------------------------------------------------
Batticaloa displacement
by LTTE Peace Secretariat, March 17, 2007
Adding his voice to the chorus of concern is the Bishop of Batticaloa, Kingsley Swampillai who said, "Batticaloa town is filled with the cries of the 150,000 refugees who were forced out of their homes by the deliberate targeting of the civilians. Yet we have been restricted in bringing out their plight, while government spokespersons are insisting that the situation is not as bad as we make out."
One hundred thousand people were forced to displace from LTTE areas of Batticaloa by deliberate artillery fire by the Sri Lankan military over a period of just a few days this week. GoSL was aware of this large scale displacement well ahead of time because it planned and created it. Yet, it had made no preparations for receiving and caring for the influx of such a large number of people within such a short time.
Batticaloa was already struggling with 40,000 refugees from Vaharai and the conditions for them even after two months is appalling. Some staff from humanitarian agencies, not wishing to be named, have said that food earmarked for the Vaharai refugees is now being diverted to the new influx of refugees because the focus of the media and the international community is turned on this new influx and not on the Vaharai refugees anymore. This is the type of preparation of the GoSL to handle this well planned creation of 150,000 Tamil refugees.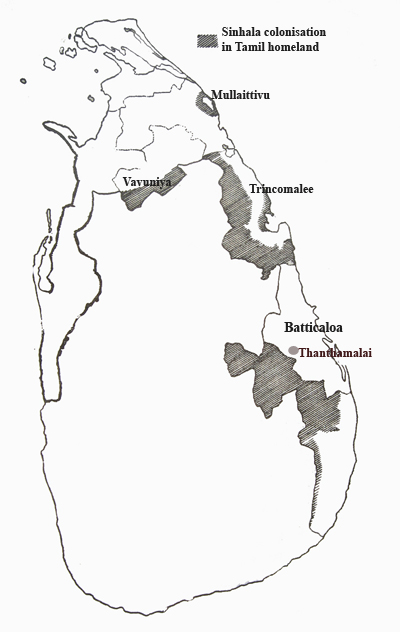 Sinhala Colonization of Tamil Homeland before 1983
Confirming the callous handling of the refugees by the Sri Lankan military is the latest statement by Human Rights Watch where it said, "Sri Lankan authorities are using threats and intimidation to force civilians who fled recent fighting in Sri Lanka's civil war to return home Government and military officials are threatening to cut aid and withdraw security for displaced persons who refuse to return. Since March 12, the government has been returning people from at least six internally displaced person sites in eastern Batticaloa district. At least 771 individuals have been sent to Trincomalee district farther north as part of a plan to return approximately 2,800 internally displaced persons."
Adding his voice to the chorus of concern is the Bishop of Batticaloa, Kingsley Swampillai who said, "Batticaloa town is filled with the cries of the 150,000 refugees who were forced out of their homes by the deliberate targeting of the civilians. Yet we have been restricted in bringing out their plight, while government spokespersons are insisting that the situation is not as bad as we make out."
In order to put this displacement and the displacement from Vaharai of Tamils in context, some rudimentary understanding of fifty years of planned land confiscation from Tamils that are then settled by Sinhalese is necessary.
Let us just look at the Batticaloa situation. Of interest during this latest military onslaught is a new Sri Lankan military camp set up this week at Thanthamalai Hindu temple (see map above). This temple lies in the Tamil area of Batticaloa near the border with the adjacent Sinhala settlements created during the last 50 years. It is well known that this newly-created Sinhala village was settled with Sinhala prisoners who were given regular food rations and guns. This village used to be called by the Tamil name, Punuhunay, referring to a species of cat in the civet family, found in the area. Musk from this animal was much sought after. This village is now called by the Sinhala sounding name, Punuhunava. This village was part of a once affluent Tamil region called Keviliyamadhu.
Looking back a few months, the entire Tamil population in Trincomalee was displaced during the last six months of 2006. Part of their land is now ear marked for a coal powered electricity plant. Reports of Tamils being forcefully resettled in these parts of Trincomalee while avoiding the land ear marked for the power plant is another recent Example of land confiscation.
Indeed the black areas in the map all used to be Tamil settlements. Tamils were displaced from here by various methods and then they were converted into Sinhala settlements. Some spectacular massacres were staged to force entire villages of Tamils out so that Sinhalese could be settled in it. The full story of this colonosation is yet to be told in all its details and brutality.
------------------------------------------------------------------------------------------------------
Disputes Over Treatment of Displaced People in Sri Lanka
by Gustavo Capdevila, Inter-Press Service, March 26 2007
During the debate in the Human Rights Council, the Swedish delegation agreed that the conflict in Sri Lanka has deteriorated, and said that civilian areas had even been shelled, leading to a large number of people displaced from their homes.


GENEVA, Mar 26 (IPS) - The number of displaced persons within Sri Lanka is increasing, and the international community does not have access to that population, said the representative of the United Nations secretary general on the human rights of internally displaced persons, Walter Kälin.

"There have been reports of internally displaced people in Sri Lanka being forced to return to their homes, although I cannot confirm these reports," Kälin, a Swiss law professor, told IPS.

"I very much call on all the actors to respect the basic principles of humanitarian and human rights law, and in particular to distinguish between combatants and the civilian population. I also urge the government to ensure that all the returns are voluntary," he said.

Sri Lanka's three-decade conflict pits the separatist ethnic movement Liberation Tigers of Tamil Eelam (LTTE) against the Colombo regime, which represents the population of Sinhalese origin.

Kälin's report to the U.N. Human Rights Council, which is holding its fourth session in Geneva until Mar. 30, provoked intense debate when the cases of Sri Lanka, Sudan and Colombia were discussed.

Sudan has the highest number of internally displaced persons, more than four million. Colombia is second, with three million, and then Uganda, with one and a half million, according to U.N. figures. C- te d'Ivoire has less, between 700,000 and one million people.

"However, in terms of living conditions, internally displaced persons in Iraq are facing an extremely high degree of insecurity. That's very bad," Kälin said. And in Darfur, in western Sudan, there is a very well-known situation where displaced persons face acts of violence, including gender based violence, he added.

"A lot of humanitarian aid is reaching people in these countries. In contrast, I've just come back from a mission to the Central African Republic where people are living in the bush without humanitarian support. Each and every situation of internally displaced people has its own specific problems of violations that the victims have to face," he said.

The non-governmental International Commission of Jurists (ICJ) remarked that Sri Lanka was characterised by escalating conflict and human rights crisis. Since the last Human Rights Council session in December, Sri Lanka's civilian population has been further brutalixed by all parties to the conflict, ICJ's Laila Karimi said.

More than 220,000 people have been displaced since the renewal of hostilities with the LTTE in the past year, said Sébastien Gillioz of Human Rights Watch (HRW).

The New York-based HRW sent a team of experts to Sri Lanka, who reported a situation that "is deteriorating tremendously in terms of disappearances and abductions, and particularly in terms of violence against children," Gillioz told IPS.

"We know that the government is aware of this, and that the government is participating to some extent. We feel that it's urgent that the Council address this situation in the current session," he said.

Kälin said he was maintaining a dialogue with the government, and has received an invitation to visit Sri Lanka on an official mission later this year. "I think that we will have a constructive dialogue and we will be able to provide advice on how to deal with some of these specific challenges," he said.

During the debate in the Human Rights Council, the Swedish delegation agreed that the conflict in Sri Lanka has deteriorated, and said that civilian areas had even been shelled, leading to a large number of people displaced from their homes.

The Swedish delegation stated that since Mar. 12, the Sri Lankan government has transported people back to their places of origin in the eastern area of Batticaloa, where the situation is critical. There have also been an increasing number of abductions in the internally displaced persons camps, the Swedish delegates said.

A member of the Sri Lankan delegation to the Human Rights Council, senior lecturer in political science at the University of Colombo Dayan Jayatilleka, admitted that the situation was serious, "because wherever there is displacement, violence and human suffering, it is serious."

But Jayatilleka told IPS that the international community should take note of the manifest direction of the flow of displaced persons, whom he said had been moving overwhelmingly towards the areas controlled by the Sri Lankan armed forces and government, not away from the armed forces.

"Tell me, where in the world do refugees move in the direction of the army that is criticised for doing all these things I heard today, including indiscriminate shelling of civilians," he said.

The Sri Lankan delegate compared this with what happened in the conflict in Lebanon, in July and August 2006, between the Lebanese Hizbollah guerrillas and the Israeli army which invaded Lebanese territory. The people moved away from the attacking army, because that was where the danger was coming from, Jayatilleka said.

In contrast in 2000, during the LTTE offensive in Jaffna, in the north of the island of Sri Lanka, or today, in 2007, the Tamil people are not moving into the zones held by the LTTE, into "the so-called 'liberated' areas which are actually areas of tyranny," Jayatilleka said.

"With all their difficulties, the people are moving into areas controlled by the Sri Lankan army and the government. That's the best evidence that there is something wrong with the horrifying picture" described to the Human Rights Council, he said.

Jayatilleka did not accept as credible the reports of displaced people being forced back to their original homes by the Sri Lankan armed forces, although he acknowledged that "coercion, wherever it occurs, is wrong." He said it struck him as ironic, though, that "I have many Palestinian friends who would be very happy if their people were forced to return to their original home."

With regard to Colombia, Kälin said it is faced with "a huge crisis of displacement," with up to three million people having been displaced by all the parties in the armed conflict which has lasted for over four decades.

The war-torn South American country has very good legislation, probably the best that exists in the field of internal displacement. However, there are enormous problems with regard to its implementation, he said.

Colombia's Constitutional Court has ruled that the government is failing to implement these laws, and has provided the government with very clear guidance on how to enforce them. "I very much support these calls," Kälin said.