Trincomalee IDPs Forcibly Returned to Serve as Human Shields for Military Bases
by Murugesu Paramanthan
It appears to me that the Sri Lankan armed forces are forcefully relocating these IDPs for military reasons, that is to use them as human shields against any possible attack by the LTTE.
Dear Mr. Downer,
I am distressed to learn about the Tamils refugees in Sri Lanka's East are being ill-treated by the Sri Lankan Government forces, again. Please see the article below.
These same people have been displaced many times before and after the 2004 Tsunami, and most of them were survivors of the terrible disaster that killed and displaced thousands of people on the 26th of Dec 2004. As per the reports from the NGOs and the local government officials on the ground, the latest displacement is being forced on these poor people by their own government.
I kindly request your to use your good offices to persuade the Sri Lankan Government to treat those refugees humanely and not to forcefully remove them from their IDP camps until they feel it is safe for them to return to their homes, as per the UN Charter on Refugees, for which the Sri Lankan Government is signatory.
It appears to me that the Sri Lankan armed forces are forcefully relocating these IDPs for military reasons, that is to use them as human shields against any possible attack by the LTTE.
Thank you for your kind attention.
Regards,

Murugesu Paramanathan

Australia
--------------------------------------------------------------------------------------------------
IDP's from Five Camps in B'Caloa Forcibly Removed to Muthur in Thirty Buses
March 15th, 2007
By D.B.S. Jeyaraj
Displaced persons staying at five refugee camps in Batticaloa district were forcibly removed to Trincomalee district in a sudden "operation" masterminded by an Assistant Superintendent of Police around noon on Thursday March 15th. Though exact figures are not known NGO sources said that nearly a thousand people were taken against their will in thirty buses to Trincomalee district.
The Batticaloa district Government Agent or divisional secretaries were not informed of this action by the authorities concerned. An NGO official said that civil administration officials in B'caloa were totally in the dark when informed of the incident.
A Sinhala speaking ASP had come down from Trincomalee to supervise the entire forced re- location. He was acting on authority provided by the Trincomalee Government Agent who is a retired major - general of the Sri Lankan army.
According to informed sources 30 buses were used in the operation. Five camps for Internally displaced persons (IDP's) staying at refugee camps known as welfare centers were the targets. The five camps were located at Savukkadi,Aiyankerni, Palaacholai, Kirimutti and Kiran in the Eravoorpattru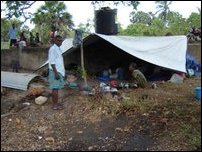 Tamil IDPs. photo: TamilNet
(Chenkalladdy) and Koralaipattru West )Kiran) AGA or Pradeshiya divisions.
Six buses were parked near each IDP camp at five places. Police officers brought from Trincomalee along with Security personnel deployed in B'caloa district swooped down on the five camps suddenly and began forcibly removing people to the buses. While hundreds of people fled the camps to avoid being taken to the buses many others particularly those senior in age were "caught".
People were forced to bring their meagre belongings along and packed into buses. The belongings were put in one bus while the human cargo was packed into the other five buses parked at each of the five camps. Some people were cooking at the time but had to leave food and utensils behind. Others had to leave their drying clothes which they had washed earlier.
It is also alleged that family units were ruptured as some children were away in temporary "school" and other members were away at the time or had fled.
In an operation conducted with military precision and brute force the roughly 25 - 35 people were hered into the 25 buses with Policemen guarding them. Their belongings "tavelled" separately in five buses. The name of the ASP from Trincomalee who "commanded" the operation is not known.
All peeople forcibly removed were from nine Grama Sevakha or Village Services divisions in Muthur and Eechilampatru in Trinco dist. . The nine GS divisions were Mallikaitheevu,Periyavely, Pattithidal, Kiliveddy, Bharathypuram, Menkaamam, Kanguveli, Iruthayapuram and Paalathadicenai.
The people are being taken to a transit camp in Kiliveddy first. They will be re- settled in their own villages in due course.
With displacement on a massive scale being underway in B' caloa district due to military action the Govt is now planning to re- locate IDP's from Trincomalee dist to their own places and fill the "vacancies" with new B'caloa IDP"s.
While the Tamil inhabitants of certain places considered militarily "strategic" like Sampoor, Koonitheevu, Ilankaithuraimuhathuvaaram, Nallur, Pattalipuram etc are not being allowed to return the Govt is applying force to re- settle others from places .
The people however are unwilling to be re- settled as the security situation is fragile and large - scale hostilities could break out at any time. This could result in further displacement.
Another problem is that all infra - structure in Muthur and Eechilampattru divisions are destroyed. Most dwellings too are destroyed. Besides their belongings left behind have been looted. Also the re- located people are being forced to live amidst poor surroundings in makeshift shelters akin to an IDP camp.Most people feel it would be better to remain in B'caloa and re- locate only after a permanent peace is assured.
This is the reason for their reluctance to move out. The UNHCR has emphasised that no one should be forces to return against their will. But the Rajapakse regime well - known for flouting civilised norms is bent on removing this segment of the IDP"s while creating more IDP"s through shelling and bombing.
One reason for the Governments strong show of force in re-locating IDP"s is the incident on March 12th. On that day 2803 people from 771 families from Trincomalee district were officially scheduled to be removed from the IDP camps in B'caloa. But when 35 buses moved in most people ran away and escaped forcible removal. Only 781 people from 228 families were taken away.
Authorities were miffed over this incident and Thursday's operation was a sequel to the earlier one. Most people taken ere those who avoided re- location on March 12th.
Meanwhile three Ministers from the North - East Riyaz Badiuddeen, Basheer Segu Dawood and Ameer Ali were attending a meeting at the Sithandy camp to discuss matters of IDP re- settlement. They were inaccessible to the media and it is not known whether they were aware of this forcible removal incident or not.
transCurrents feedback : editor@transcurrents.com
transCurrents feedback :Contact DBS Jeyaraj : djeyaraj2005@yahoo.com