From a Schoolhouse in Rwanda, Wrenching Lessons about Genocide
by Stephen Holden, The New York Times, March 9, 2007
The opposite of faith is not heresy but indifference. -- Elie Wiesel
"Beyond the Gates" a harrowing recounting of the 1994 Rwandan genocide, ends with an epigraph by Elie Wiesel that is worth pondering: "The opposite of faith is not heresy but indifference."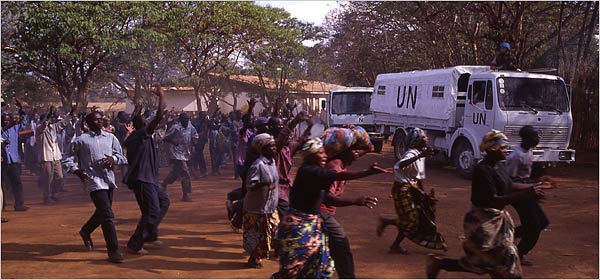 As a feature film subject, that genocide can be spun into any number of thematic variations. The wrenching "Hotel Rwanda" (2004) was a contemporary African "Schindler's List" in which a man of conscience risked everything to protect more than a thousand Tutsi refugees from slaughter by bloodthirsty Hutu thugs. The heroism of the real-life Paul Rusesabagina (Don Cheadle), the hotel manager who turned the elegant Hôtel des Mille Collines in the capital city, Kigali, into a refuge, left you hanging on a thread of hope. You could console yourself with the notion that after all is said and done, goodness and decency still flicker like candles in a distant window.
"Beyond the Gates," which revisits many of the same events, was filmed on location using many survivors of the genocide as cast and crew. Though less reassuring and not as dramatically coherent as "Hotel Rwanda," it still packs a hard punch. Instead of a luxury hotel, the refuge sought by 2,500 desperate Tutsis is the École Technique Officielle, a secondary school in Kigali that also served as a headquarters for United Nations peacekeeping forces. When those troops eventually leave the country, the 2,500 refugees are left behind to fend for themselves.
The movie addresses two unrelated questions. The first — why the West sat back as the catastrophe unfolded — isn't satisfactorily answered, although a peripheral character, a BBC newswoman (Nicola Walker) who instructs a TV crew to videotape the butchery, suggests an answer. When she was in Bosnia, she recalls, she cried every day at the atrocities. Here, she observes, it's "just dead Africans."
The movie goes further than its forerunner in dramatizing the stony attitude of the United Nations, embodied by Captain Delon (Dominique Horwitz), the implacably hard-nosed French leader of the peacekeeping forces who refuses to disobey orders and get involved, even after Hutus kill 10 Belgian soldiers. Their instructions are to shoot only when fired upon, he repeatedly emphasizes.
The United Nations forces, however, are allowed to shoot dogs sniffing hacked-up corpses outside the school's gates, because the animals are thought to pose a health threat. When "Beyond the Gates" was released overseas, it had a different title: "Shooting Dogs."
The second and deeper issue addressed by the film is the question of religious and spiritual faith in the face of genocide. What is true faith, and how much horror does it take to erode it? Can a reasonable person still believe in God amid the slaughter of 800,000 people? Does reason have anything to do with it?
These questions are channeled through the consciences of two Britons, one religious, the other not. Father Christopher (John Hurt), a world-weary Catholic priest who has worked in Africa for 30 years and preaches in a church at the school, is the man of faith. The other, Joe Connor (Hugh Dancy), is a young teacher, political idealist and do-gooder spending a year at the school. Between the two, there is no contest when it comes to courage and strength of character. Faith trumps mere altruism.
In the midst of carnage Father Christopher performs baptisms and preaches about God's love. "God does not always like what we do, but he loves all of us," he replies when confronted with the horrors around him. This initially infuriating character gains moral stature as the depth of his faith and his willingness to risk his life are revealed. Mr. Hurt, exuding equal measures of fortitude and sorrowful fatalism, has never been better.
Joe, outraged by the carnage and the refusal of anyone in authority to try to stop it, eventually meets the ultimate challenge: When all the whites in Kigali are evacuated by the French, he must decide whether to leave or remain to face probable death.
Joe appears to be the fictional alter ego of David Belton, a producer of the film, who collaborated on the story. Mr. Belton was a BBC correspondent posted in Rwanda in 1994. In the production notes he is quoted voicing his guilt at leaving the country when he did: "In a sense the whole Rwandan genocide was about failure, and I wanted to focus on that," he says. "I felt I had failed as a journalist." The movie, directed by Michael Caton-Jones, might be taken as a belated act of contrition.
Unlike the more squeamish "Hotel Rwanda," "Beyond the Gates" confronts the physical reality of mass slaughter in shots of city streets littered with hacked-up bodies. The scenes of Hutu militias tooting whistles and dancing in an orgy of butchery are some of the most chilling depictions of vengeful mob madness ever filmed. Yet "Beyond the Gates" knows just how far to go without turning into a Mel Gibson bloodbath. Most of the actual killings take place out of the camera's sight.
In the movie's saddest moment a Tutsi tribesman pleads with Captain Delon to shoot them so they won't be crudely butchered. He bluntly refuses.
"Beyond the Gates" falls short in many areas. It barely sketches the history of Hutu-Tutsi strife, ignores the role of Belgian colonists in stimulating simmering tribal hatred and leaves us to assume that the Hutus are fiends and the slaughtered Tutsis martyred saints. Good and evil are never as clear-cut as that.
BEYOND THE GATES
Directed by Michael Caton-Jones; written by David Wolstencroft, based on a story by Richard Alwyn and David Belton; director of photography, Ivan Strasburg; edited by Christian Lonk; music by Dario Marianelli; production designer, Bertram Strauss; produced by Mr. Belton, Pippa Cross and Jens Meurer; released by IFC Films. At the IFC Center, 323 Avenue of the Americas at Third Street, Greenwich Village. Running time: 110 minutes. This film is not rated.
WITH: John Hurt (Father Christopher), Hugh Dancy (Joe Connor), Dominique Horwitz (Captain Delon), Clare-Hope Ashitey (Marie) and Nicola Walker (Rachel).