Halt Abductions Sri Lanka and Tigers Urged
by Simon Gardner, Reuters, April 5, 2007
Note how the title here tries to make an equivalency between the GoSL and the Tigers, when really the article is about abductions in government-held territory similar to the anti-JVP campaign in the 1980s. -- Ed. Comm.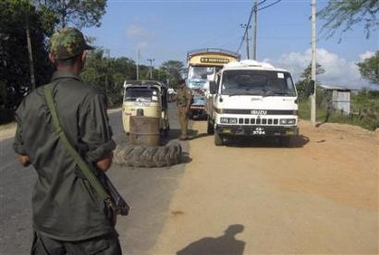 Government soldiers search vehicles at a checkpoint in the eastern Sri Lankan town of Ampara, April 4, 2007. (Stringer/Reuters ) "Why are such vans not stopped by the soldiers?"
A chorus of human rights groups have appealed this week to Sri Lanka's government and its Tamil Tiger foes to halt a rash of rights abuses and abductions.
Sri Lanka's Human Rights Commission says hundreds of people have "disappeared" so far this year, on top of 1,000 last year.
Some see a terrifying parallel between recent abductions in well-guarded, government-controlled areas and a spate of disappearances in the late 1980s when the government crushed an uprising by hardline Marxists.
"One worry for many human rights activists is maybe we are back to the dark days of the late 80s, where disappearances, torture and all forms of grave abuses have returned with a vengeance," said Ahilan Kadirgamar of expatriate rights advocacy group the Sri Lanka Democracy Forum.
Kadirgamar -- a cousin of former Foreign Minister Lakshman Kadirgamar, who was shot dead by a suspected rebel sniper in 2005 -- said both sides were violating the terms of a now-tattered 2002 truce, and urged them to find a political solution to a conflict that has killed around 68,000 people since 1983.
The Hong Kong-based Asian Human Rights Commission on Thursday published a list of 81 people who have 'disappeared' since August, voicing concern at the state's apparent inaction in addressing the problem.
Relatives of disappeared people protested in the capital last week to demand their safe return, many of them accusing the security forces of abductions. Many of those reported disappeared are minority ethnic Tamils.
WHITE VANS WITH NO PLATES
"Five unknown people came with a white van and took my husband, saying they were taking him for a CID (police) inquiry," said 32-year-old ethnic Tamil housewife Clancy Maxibontan.
"My daughter asks every day 'where is my father?'," she added. "I believe the government must take responsibility for my husband's abduction."
The government says statistics of disappearances and abductions are overblown, and says many of those alleged are cases of young lovers eloping or other private issues.
"Certain people who have come from the north and east, they come from (rebel stronghold) Kilinochchi and certain places. They stay in Colombo, and suddenly they come and complain that somebody is missing," said Lakshman Hulugalle, Director General of the government's Media Centre for National Security.
"We found certain girls going away with a boy ... There are many incidents like that," he said, adding that some people arrested on suspicion of links to the Tigers under anti-terrorism laws were also often erroneously included in lists of abducted.
A U.N. envoy has accused elements of the military of helping a group of renegade rebels called the Karuna, who analysts say are allied to the government, to abduct children as fighters.
UNICEF and other aid groups say both the mainstream Tigers and the Karuna faction continue to abduct children, particularly in the island's restive east.
"The levels of killings, disappearances and abductions make clear there is a growing climate of impunity," said Yolanda Foster, Sri Lanka researcher for Amnesty International, accusing both sides of abuses and calling for an international human rights monitoring mechanism.