March Monthly Toll
by LTTE Peace Secretariat
Click below for details of those killed or disappeared:
Tamil Civilians Killed or Disappeared by Sri Lankan Operated Military Forces in the Tamil Homeland in March 2007 [pdf]
76 civilians were killed and 57 were disappeared in the month of March 2007 by the GoSL.
26 civilians in Batticaloa, six civilians in Trincomalee, eight civilians in Mannar, five civilians in Vavuniya, three civilians in Amparai and 28 civilians in Jaffna were killed. A further 57 civilians were disappeared by the Sri Lankan operated forces in the Tamil homeland.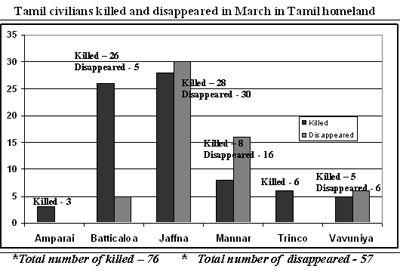 The trend of highest number of killing and disappearance of civilians in Jaffna continues in the month of March as well. 57 civilians were disappeared, including a pastor's family in Thandikkulam, Vavuniya on 8 March 2007. The March monthly bar-graph shows clearly the humanitarian situation in the whole of Northeast, specifically in Jaffna and in Batticaloa.