Colombia: Thousands of Civilians Flee Fighting
by UNHCR, April 10, 2007
"We will send a mission this week to the worst-affected areas," he said. "But the presence of humanitarian staff cannot in itself guarantee security and provide solutions to the thousands of people at risk."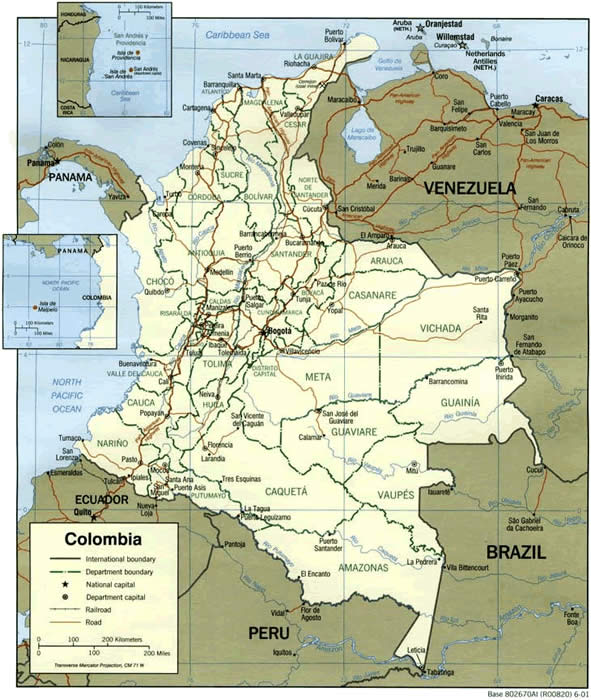 Thousands flee their homes in the Nariño region in southern Colombia to escape fighting between the Government and rebel forces reported UNHCR yesterday while calling for the protection of civilians and assistance to the people affected.
More than 6,000 people have taken refuge in El Charco and La Tola, two small towns north of Nariño in the last two weeks, according to Ron Redmond of UNHCR.
Schools and public buildings have been opened to shelter the newly displaced, but despite the efforts of authorities, the church and international organizations, there is a shortage of clear water and basic health supplies.
Only one out of every 30 people in El Charco who arrived in the town last week has a mattress to sleep on which to sleep.
"The conflict in Nariño has been intense for over a year, and UNHCR is extremely worried that civilians continue to suffer in large numbers," said Redmond.
"We will send a mission this week to the worst-affected areas," he said. "But the presence of humanitarian staff cannot in itself guarantee security and provide solutions to the thousands of people at risk."
About 3,000 displaced were in El Charco as of yesterday, but the figures are constantly changing. In spite of uncertain security conditions, several hundred families returned to their homes, while an additional 300 arrived in the town who had been caught behind the front lines of the fighting for several days.
It is reported that hundreds more trapped by combat facing dwindling food supplies.
There are concerns for the safety of both those who have returned home as well as those attempting to flee the fighting.
The security conditions are deteriorating in the rest of the Nariño region, as new irregular armed groups have emerged and deployed. Dozens of small villages are emptying in the mountainous regions around the Policarpa municipality, and there have been two instances of mass crossings of the displaced across the border into Ecuador.
The country has the largest population of concern with some three million people uprooted by more than 40 years of fighting between the Government, leftist rebels, right-wing paramilitaries and criminal gangs.
Displaced people currently represent some 8 per cent of the total population of over 40 million.
António Guterres, the UNHCR High Commissioner recently visited Colombia and met with President Álvaro Uribe.
Guterres also chaired a conference in Bogota where attention was drawn to the humanitarian consequences of displacement and encourage the full implementation of the law so that all displaced people have equal access to their rights.
-------------------------------------------------------------------------------------------------
Unionists' Murders Cloud Prospects for Colombia Trade Pact
by Juan Forero, Washington Post, Tuesday, April 10, 2007
-------------------------------------------------------------------------------------------------
Chiquita in Colombia: Terrorism Gone Bananas?
by April Howard, TowardFreedom.com, April 11, 2007