Concrete Idea
by Lanka Business Online, April 13, 2007
Now that India is a growing economic power, its proximity to Jaffna is seen as a benefit, after decades of Colmobo trying to cut off all traditional networks with the Northeast's close neighbor. That India is so close to Jaffna, yet all commerce and travel must go through Colombo at the moment is very telling -- Ed. Comm.
Comment by J. Gnanakone --
Foreign companies from Europe, Japan, and China have been eyeing the millions of tons of limestone deposits in the Northern Province for the past 20 years. Limestone deposits are not only available in the Jaffna peninsula but also in Mannar, and Vavuniya districts as well.
The army and navy headquarters of Jaffna are only a stone's throw from the factory, and so is the KKS port and Pallaly airport, so nothing will happen until there is a withdrawal of the military from Jaffna.
The Tamils would decide the future of the cement production as well as the excavation of the 150 million tons of limestone in the province. It would not be gifted like the Prima Mills to the Chinese, or the Puttalam Cement Factory to the Pakistanis (later sold at a profit to Holcim), or other sweetheart deals given to foreigners by the BOI, GOSL, and SLPA. That is how the coutry's assets are ripped off by various interested buisnessman after bribing the politicians in power.
When cement is produced in the Jaffna peninsula with local raw materials, the local people and the province should have material benefit. That would be the new doctrine in the Island, at least in the NE Province, and that is what the 25 year old civil war is all about. Now people of Puttalam receive no benefit from the Puttlam Cement Factory, except a generous serving of cement dust. Similarly the people of Trincomalee, whether it is production of cement or wheat flour. The people who produce tea or rubber have no benefit and they receive "slave-like wages" without any eductation or health benefits. A few in Colombo and overseas make all the money.
The KKS factory will meet the needs of the Northastern Province initially, and also serve the adjoining districts such as Anuradhapura, and Polonnoruwa. Coastal ships can provide cement to the smaller ports of Oluvil, Mullaitheevu, Trincomalee, Hambantota and Galle and if necessary Colombo. There also would be return cargo for the coastal ships like wheat flour and sugar. Maldives also purchases cement at high prices from Indonesia. Mr. Manilal Fernando is not correct to state that there is a port in South India 23 miles away. The closest port is Nagapattanam and Chennai, which are exporters of cement to Colombo.
The NE province's first obligation is to ensure that the people of the province are provided with cement at reasonable prices, without the current price-gouging that is going on because the Singhala government does not care a whit what the Tamils and Muslims pay for cement.
The bottom line is Tamils are fully capable of operating a cement factory in KKS, distributing it islandwide, and they do not need the help of Singhalese, or other foreigners via the GOSL where there will be bribery and corruption, after the necessary environmental safeguards are taken during the production of cement and distribution.
Similarly, other mineral assets of the NE Province such as mineral sands, oil and gas need to be taken care of by the Tamils. That is their responsibility and obligation, which they cannot abdicate after 25 years of the civil war. The proposals are already declared in the ISGA. Tamils cannot become like the estate laborers. Is that what the Colombo Singhalese (Both GOSL and businessman) think is going to happen in the future in the Tamil oil and gas fields, mineral sands and limestone excavations, cement factories in KKS and Trincomalee? Is it why that Singhalese are shedding so much of their own blood with the help of the regional and superpowers?
****
Concrete Idea
Sri Lanka has the potential to ship cement to South Indian markets across the Palk Straits if peace comes and a defunct plant in the northern Jaffna peninsular sitting on a rich limestone deposit is rebuilt, a top cement maker said.
Manilal Fernando, chairman of Swiss cement giant Holcim's Sri Lanka unit, said any future revival of Jaffna's Kankesanturai cement plant depends on peace but offers huge potential economic benefits.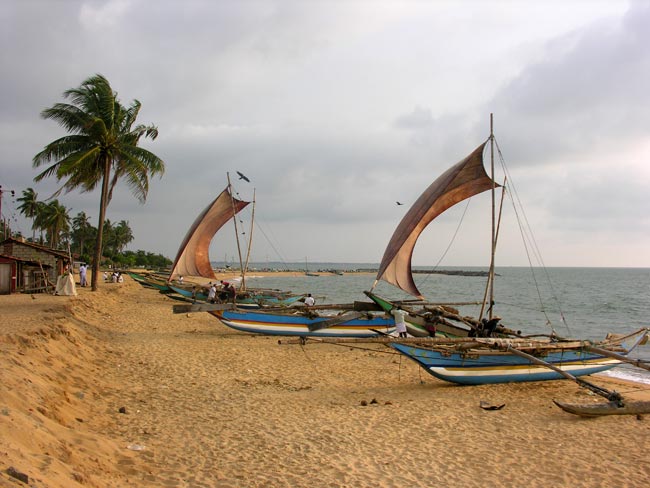 Jaffna f ishing boats that once plied freely to India
Shipping cement to Tamil Nadu from Jaffna would be cheaper than trucking it from plants in India itself as distances would be shorter.
"We can win on the transport distance," Fernando told reporters at the launch Holcim Lanka's first Sustainability Report and annual financial review on Wednesday.
"It's only 23 miles to Chennai from Kankesanturai but about 800 miles on the Indian side."
Holcim Lanka has a limestone quarry and the island's only fully integrated cement factory in Puttalam in the north west, and a grinding plant near the southern port city of Galle.
It plans to set up a new clinker terminal and grinding station in the eastern port of Trincomalee.
New investments at its Puttalam plant will raise output to over 1.3 million tonnes a year from a million tonnes today.
Fernando said the limestone in the Jaffna peninsula is said to have 95 percent purity and the deposit can last some 50 years.
"We can dig up the entire peninsula. It's pure good limestone – better than in Puttalam."
However, he warned that precautions would have to be taken when mining the limestone to avoid damage to Jaffna's water supply.
Unlike in the sparsely-populated Puttalam region, the Jaffna peninsula is densely populated and people have a water problem, having to get water through the limestone.
Fernando said there were concerns that mining might disrupt the water course but added that there were technological solutions.
Water supply in the Jaffna peninsula comes from shallow aquifers that occur in the channels and cavities of limestone. The shallow groundwater forms mounds or lenses overlying saline water and is used most intensively for agriculture and domestic purposes.
Proven reserves of limestone in Sri Lanka is in the region of 100 million tonnes.
Only the deposits in the Puttalam district are accessible right now with other areas not considered feasible because they occur in areas of fighting between government forces and Tamil Tiger rebels.
Big manufacturers like multinational Holcim and also Tokyo Cement, the Colombo-listed firm connected to Japan's Mistui Cement, have long been interested in reviving the Kankesanturai cement plant but been deterred by the war.
Lanka Cement, another Colombo-listed state-owned firm that now survives on trading cement also ran a plant in Jaffna before hostilities forced its closure in the 1980s.
Holcim now own plants that were originally built by state-owned Sri Lanka Cement Corporation.
Investing in Jaffna is considered risky and also no insurance cover would likely be available.
Fernando said Holcim had been investing in modernizing its plants in Sri Lanka since its entry in 1996.
"We will continue to invest. We're interested in Kankesanturai along with others."
One of the plants in Kankesanturai was now outdated. The other kiln, built at a time when Sri Lanka's cement market was half that of today's, can still be used but its capacity is now too small to be economical.
"So we would need to build a modern, state-of-the-art plant in Jaffna," declared Fernando. "A million tonner."
The harbour at Kankesanturai would enable convenient shipments of cement, once it is modernized.
The railway would have to be re-laid to bring in raw materials and a reliable power supply provided.
"From Jaffna we can even ship cement to Bangladesh which has no cement manufacturing capacity, only grinding plants," Fernando explained.
He also said Holcim would like to build cement plants where there are harbours in the island because transporting the product by ship was more economical than road transport.
"Wherever the government sets up new harbours, we'll like to go there. Transporting cement by ship will save our roads. However, ports must be efficient and speedily discharge ships."