Shanghaied
The New International Institution Threatening US Interests
by Suzanne Nossel, The New Republic, April 30, 2007
While the United States has chosen to stand aloof from bodies like the ICC and HRC, at the SCO the tables are turned: In 2006 the SCO denied America's request for observer status, though India, Pakistan, Mongolia, and Iran all got the nod the previous year. Sri Lanka, Bangladesh, and Nepal have lined up to participate next.
Among the lessons emerging from the Iraq war is a growing consensus among American policy thinkers that Washington needs to reinvigorate multilateral organizations, treaties, and relationships. Recent studies by the Princeton Project on National Security and others have concluded that the United States should work with other groups to reform the United Nations, give NATO new purpose, update the nuclear Non-Proliferation Treaty, build new regional coalitions in the Middle East and Asia, and forge a new alliance of the world's democracies.
But restoring America's place atop the international order may not be so simple. While American analysts are spelling these plans out on paper, the international system has been evolving in ways that could complicate America's ability to reengage multilaterally. Not only has the go-it-alone ethos of the Bush years strained relations with our allies, but rival nations have begun to wield increased influence over organizations like the World Bank. Now, too, a different breed of multilateral partnership--the Shanghai Cooperation Organization (SCO)--has emerged as a potential rival to Western groups. Formed in June 2001 as a regional coalition between Russia, China, Kazakhstan, Kyrgyzstan, Tajikistan, and Uzbekistan, the group endeavors to become "a mature and confident regional force" focused on counter-terrorism, trade, and other economic policies. Its influence may ultimately extend far beyond its current member states.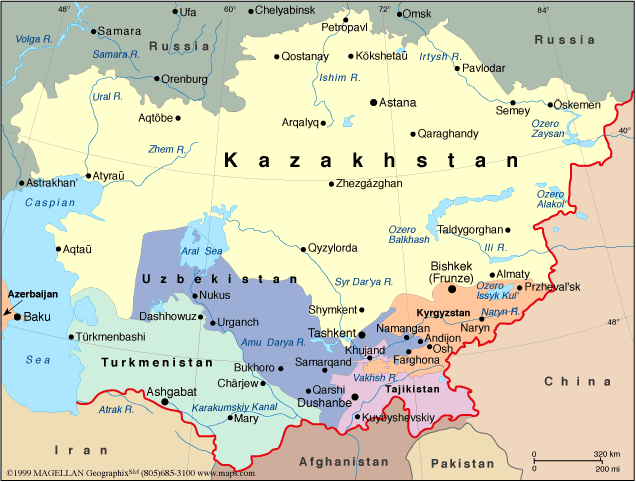 It's natural for Americans to envisage themselves at the helm of a spiffed-up set of international institutions. After all, Washington designed the United Nations and the financial institutions conceived at Bretton Woods after World War II. Despite all its grousing, the United States remains the U.N.'s largest donor and loudest voice. But multilateral organizations have not stood still since Bush took office in 2001. For all the criticism of the U.N. from conservatives, the body has won new credibility in the eyes of the rest of the world for taking a stand against its most powerful patron by refusing to authorize the Iraq war. The International Criminal Court (ICC) and the U.N.'s newly constituted Human Rights Council (HRC) have also moved ahead, led by other countries and without U.S. participation.
While the United States has chosen to stand aloof from bodies like the ICC and HRC, at the SCO the tables are turned: In 2006 the SCO denied America's request for observer status, though India, Pakistan, Mongolia, and Iran all got the nod the previous year. Sri Lanka, Bangladesh, and Nepal have lined up to participate next.
Such alliances are telling. Chinese President Hu Jintao declared that the SCO is focused on "separatism, extremism and terrorism," problems that are of concern everywhere from Africa to Europe to Washington, and it has brought together military leaders to plan counter-terrorism exercises. But, in practice, the organization has behaved as a front for authoritarian regimes. Uzbekistan violently suppressed a political demonstration in May 2005, massacring hundreds of unarmed protesters. But, although the SCO's charter commits members to "promote human rights and fundamental freedoms," the SCO's secretary general rejected calls from human rights advocates to condemn the bloodshed, declaring that the organization does not involve itself in the internal affairs of its member states. Thereafter, as tensions rose with Washington over the issue, the SCO called (albeit indirectly) for the withdrawal of U.S. forces stationed in Uzbekistan. Iranian President Mahmoud Ahmadinejad has also used SCO gatherings as a rallying point for anti-American sentiment, urging that the organization's members and observers draw closer to one another and ward off foreign influences.
The SCO is likely to make its presence felt in other arenas as well. By fostering collaboration on the exploitation of the region's rich energy resources, the SCO could be in a position to ensure China's privileged access to oil and gas. Cambridge academic David Wall judged that its members' control over oil and gas reserves could make the SCO into an "OPEC with bombs." While the alarmism seems premature, it is clear that the SCO is expanding its reach. It has also convened a conference of top judges from member countries to discuss cross-border legal cooperation and has even held a meeting with the European Union to talk about partnership opportunities.
As it evolves, the composition of the SCO has the potential to complicate U.S. efforts at alliance building. Among American proponents of an alliance of democracies, for example, India is viewed as a critical player whose support could help build legitimacy for such a body outside the West. But Russia has been courting Delhi heavily through a series of trilateral meetings including Beijing in an effort to shape a more multipolar world less dominated by Washington. If Delhi were to become a full member of the SCO, that might signal its intent to align more closely with its neighbors rather than casting its diplomatic lot with other democracies.
If enough countries join the SCO, China and Russia will enjoy increased political leverage. Some of the U.N.'s critics in the United States have argued that beefing up and creating alternative forums will provide an outlet by which the United States can sidestep politically motivated vetoes in the U.N. Security Council and nevertheless obtain international approval for, for example, humanitarian interventions in places like Kosovo or Darfur. But as the SCO grows, the United States will not be the only world power that can play at this game. Beijing or Moscow could turn to their organization to skirt a U.S. veto and secure at least the semblance of an international imprimatur to, for example, crack down on separatist groups.
For the last 60 years, the world's prominent multilateral institutions have, at least on paper, reflected norms such as transparency, respect for human rights, and democratic participation. With China, Russia, Iran and other non-Western countries stepping up to create and shape such institutions, however, different sets of norms may prevail.
None of this suggests that Washington should back away from a push to reinvigorate multilateral institutions or reassert its place within them. But it does mean that doing so will require careful attention to how dynamics have shifted while the Bush administration looked the other way.
Suzanne Nossel writes for the blog democracyarsenal.org