Black July Memorial Website Launched
...and finally, we remember that hope for the helpless lies in the strength of our voices.
Collecting personal memories of Black July here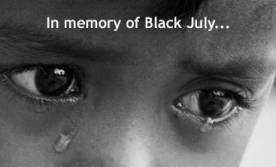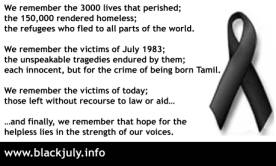 27 July 2007
Tamil Australian youth launch website to commemorate Black July
The anti-Tamil pogrom of July 1983, remembered by Tamils around the world, was commemorated by Tamil Australian youth this week, through the distribution of black ribbons and the launch of a website - www.blackjuly.info
Whilst thanking their home, Australia, for providing a safe abode, priceless education, and equal opportunities, Tamil Australian youth remembered the incident that made their parents homeless and destitute overnight.
Tamil Australian youth launched the website www.blackjuly.info at 7:00AM on Wednesday 25 July 2007. Over ten thousand black ribbons and cards were distributed, over the last week, to fellow Australians in major cities around Australia, including Sydney, Melbourne, Adelaide and Canberra.
"The website is dedicated to the innocent Tamil lives lost, not just during Black July, but also in the years before and after it. We hope everyone will help publicise this website amongst their friends - Tamil and non-Tamils alike," said Shantha.
"The website is filled with facts, with references and quotes from credible sources. We wanted to show the legitimacy of the Tamils' fight for self-determination," said Ravi.