2nd Public Meeting of the 'Families and Friends of the Disappeared'
by Humanity Ashore, August 1, 2007
My son Jegatheeban (27) has been missing for more than one year. He is a trishaw driver. Two men got into his trishaw on July 4th 2006 according to witnesses. He has been missing since July 4th 2006. I have been to all offices in Batticaloa and Colombo to lodge complaints.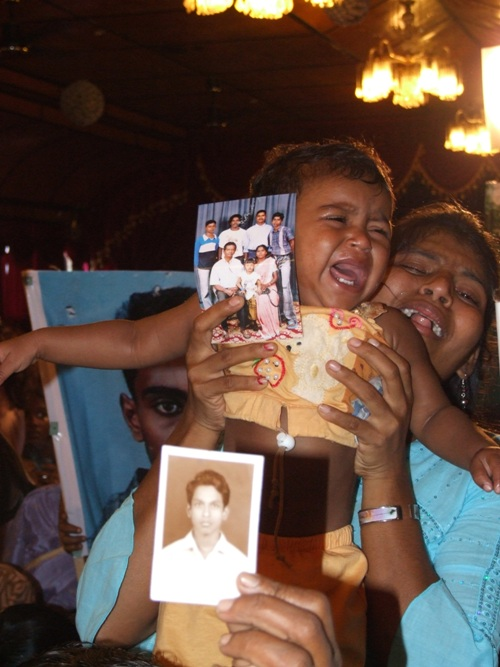 The tragedy continues for the family members whose loved ones are still missing

The second public meeting for "Expression of grief of the families and friends of the disappeared" was held on August 1st 2007 at Brighten Rest in Colombo 12. It was organized by the Civil Monitoring Commission (CMC).

The lights in the hall were dim. The loved ones of the missing men and women looked worried. The atmosphere was sorrowful. They tearfully demanded the captors to release their loved ones unharmed. Men ,women and children were holding portraits of their missing loved ones-fathers, brothers, husbands, fiances and friends who have disappeared, grieved and requested for their safe return home. Women wailed, children cried, men mourned in silence. The hall was packed with more than 300 people who wanted to show their support for the families in pain. Almost everybody was in tears, when women started to wail while explaining their hardships. "Help us to find our loved ones", "Release our missing men", "Let us go and find our missing members of the families", "Spread the message to the world to help us find our loved ones", and "How long can we go through this trauma?" were often used by the relatives, while some wailed in public.
The meeting was attended by human rights activists, peace activists, diplomats and politicians. Leader of Opposition Ranil Wickremesinghe, Convener of the Civil Monitoring Commission Mano Ganesan , Chairman of the Civil Monitoring Commission Sirithunga Jayasooriya United National Party's Parliamentarian Ravi Karunanayake , and United National Party's Parliamentarian Lakshman Kiriella and Dr. Jayalath Jayawardene participated in the public meeting.
"I plead the people who have abducted my husband, and two sons to release them. They are innocents. They have not harmed anyone. Our family was never divided, but now our family is torn apart. I cannot speak Sinhala, somebody please help me to find my missing loved ones" pleaded Sipporal Theivayanai Yogarajan she shook with emotions and fainted on the floor.
Her husand Emmanuel, and her two sons-David and Daniel have been missing since March 2nd 2007 from Negombo. Her husband is a Pentecostal minister. Her husband along with her two sons went to Colombo to get passports to go to India to live, as the situation was deteriorating.
More pictures and individuals' sorrows here.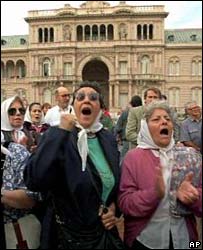 Grandmothers of the disappeared before the presidential palace in Buenos Aires, Argentina 2006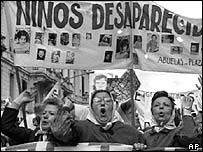 Grandmothers of the Plaza de Mayo, Buenos Aires who have held daily vigils for many years