A Colombo Tamil's Trip to Jaffna with his Sinhalese Friend
by Dravidan Ceylan, Tamils for Democracy, date?
I sure learned a lesson that day: There is a part of my country that abides by the law. It was a learning experience. I would never bribe again...
"If you're right in law, you're safe in harmony".
So if the people we call 'terrorists' can abide by the laws and circulars in their little area, why is it hard for the government to maintain law and order in Sri Lanka?
Many Sinhalese have this concrete idea about the LTTE and its de-facto state: "Terrorists", "dictators", "child conscriptors" and "ruthless murderers". I too had that similar sense of picture before travelling to Killinochi.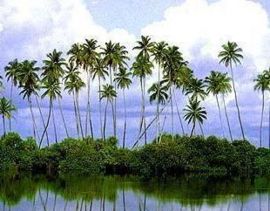 In 2003, I was visiting Jaffna after 12 years. In order to travel to Jaffna, you had to go pass the rebel-controlled land: Vavuniya and Killinochi. I was reluctant to go considering the vivid sagas I have heard and read about the LTTE. Would they forcefully enlist me to join their group; will they ask for money; will they take my vehicle away, were my tangled thoughts. I was traveling with my mother, sister and a good friend of mine who was Sinhalese and very liberal in nature.
I was scared yet excited about visiting Jaffna. The route was from Colombo – Kurunegala – Habarana – Vavuniya / Kilinochchi and finally Jaffna. We set-off at 5 am in the morning before stopping at Ambeypussa rest house for breakfast. I got on the wheel and we were cruising at around 70 Km/h. The view was beautiful, nice and lush (nothing beats driving in the country side of Sri Lanka), and gives a sense of euphoria from busy, congested Colombo. While cruising through Habarana I was stopped by the cops for speeding. The speed limit was 60 and I was way over the limit. My right accelerator foot always starts shaking whenever I get coped. But I wasn't worried, I had my usual line ready and even the cop was anticipating it. 'samawende ralami, mung anithda podi gamanuk yanawa, mata station yana welawa naa, enisa fine sallitika oyatema thenung' (meaning forgive me chief, I'm leaving the country tomorrw, I have no time to go to the station, thus please accept this money as a spot fine). I gave the cop 500 rupees and I was back on the road. It was an implied bribe and I wasn't proud about it. But I always make sure that it's done in the most legitimate sense: 'accept this money as a spot fine'.
So after 4 hours the A9 road took us to Vavuniya. We had to get security clearance from the army and a kilometer later, more checks from the LTTE. They made sure they checked everything. My CD's in the car CD changer were individually looked at. No X rated movies were allowed to enter LTTE-controlled areas. There was a tax entry fee of 1000 rupees. The permit was given soon enough and we passed the State immigration in no time. For some reason I wasn't nervous, nor was I intimidated by them.
Back on the road, it was a different world, the place was deserted, and the soil was red. Any lay person driving in the area would know that the place was sure affected by the war. The speed limit was 40 and the time difference was half hour ahead (which in fact is the right time according to the GMT). We were driving in snail pace. There were signs of Landmine awareness all over the place. I was copped again by the LTTE traffic police for going over the limit. I used the same line again, this time in Tamil: 'Manichidungo sir, naan avesaruma Jaffna poran, ungaluku naan in the kasai spot fine ahe tharen'. The cop told me not to worry, and called someone from his wireless communicator. In no time, a tow truck came taking the car to the 'Eelam Police Station'.
According to their law, a bribe is an offense which could result in a big fine along with an arrest warrant. My mom pleaded to the OIC, saying it was a mistake and she stressed that spot fines are a common occurrence in other parts of Sri Lanka. The OIC sympathized with us, yet I had to pay a fine of 5000 rupees. All this time, my mind was boggling, contradicting news I hear in Sri Lanka about their credit card scams and demanding money from Tamil expatriates. I sure learned a lesson that day: There is a part of my country that abides by the law. It was a learning experience. I would never bribe again.
Then my friend Haren took control of the wheel, and we drove to Vavuniya town before entering Kilinochchi. The place is drastically different from that of Colombo. In 2003, there were many development projects going on, by foreign aid organizations, private companies and housing projects funded by the Diaspora. There was plenty of room for improvement. There of course were bill boards of major companies based in Colombo: Dialog, Unilivers and Sri Lankan Airlines. Local establishments were also on the rise, The Bank of Eelam, the Katcheri (Civil Office), Lucky Land Biscuits and Ice Chocks trade just to name a few.
We had lunch at Pandiyan Restaurant. It was equivalent to the Banana Leaf in Colombo. Food was mediocre, but the quantity was a lot. You see signs glorifying Tamil Nationalism all over the place. The waiters are mostly students working part time. No tips are allowed. A 15% service gratuity charge is added to the bill. The idea of accepting extra money in the form of: bribes, petty cash and tips was prohibited. It was their idea that more regulation and laws put in place will form good governance and good that are righteous for a State. Perhaps they wanted to show the world that they have the ability to run a state.
Haren and I were desperate to smoke a fag. We came outside, went by the car park and lighted a cigarette. While standing below the Mango tree outside, Haren was desperate to have mangoes. He kept looking up to see if there were any ripe fruits. As we were mocking about, an LTTE cadre came up to us and told us that if we wanted mangoes, there was a man that was selling mangoes just outside. It was our first oral contact with a LTTE cadre who was armed (he was on watch guard as someone important was traveling through). We were scared but somehow we instantly got acquainted. I was speaking to the chap while Haren went to buy mangoes. He came back with 3, one for each. Haren wanted to form a conversation with the cadre. But he couldn't speak Tamil. The cadre instantly knew that Haren couldn't speak Tamil, thinking that Haren must be a new generation Tamil from abroad. For the sake of my friend's security, I didn't want the cadre to know that Haren was Sinhalese. But Haren like a modaya replied 'no I'm Sinhalese'. I thought the cadre would repel, instead he replied, 'tikuk tikuk puluwang'. I instantly realized that the cadre wanted to get acquainted to Haren as well. The cadre used a few broken English words to talk to Haren, while Haren made every effort to make his English understandable to the cadre. Before we departed, the soldier told me to convey a message to my friend: 'Tell him that I'm happy a Sinhalese brother visited our place and tell him to enjoy his stay in Jaffna'. It was interesting talking to the LTTE soldier. They didn't look harmful at all. Their actions were gainsaying the Southern news of LTTE terrorist antics.
We had a good time: had toddy, wild boar and lamb. Spoke to new faces. We were at Alkada where we had a proper session by the lake. Had a bottle of VSOA (Arrack) and were listening to some Tamil music with the car doors open. A few LTTE cadres who happened to be at a distance came to us and inquired about our whereabouts, then told us to increase the volume of the music so they could hear as well, and leaving us to enjoy the half moon reflected on the lake.
We safely went to Jaffna and returned home in one piece. My views on them changed a lot from that trip. Nothing I saw their impeached a sense of terrorism in them. In fact I onerously respect them for their disciplined nature of abiding by the law. In Killinochi the common quote is "If you're right in law, you're safe in harmony".
So if the people we call 'terrorists' can abide by the laws and circulars in their little area, why is it hard for the government to maintain law and order in Sri Lanka?