KT Rajasingham, Karuna & Pres. Rajapakse
Documentary evidence in our possession now reveals that the government was in the know at the highest levels on the dirty deeds of Karuna with some possibly having aided and abetted Karuna in a sordid drama of kidnapping, white vans, murder, abductions and extortion and the lynch pin in this game was one K.T.Rajasingham based in Sweden who was hatching the scheme for a variety of reasons including to promote his own business.
K.T. Rajasingham
by Anonymous
Tamils who act against Tamil interests usually have a reason. It includes monetary-gain (Ettappan), power (Kaakkai Vanniyan, Douglas Devananda), self-aggrandizement (Kadirgamar), revenge (Ananda Sangaree), the misguided (the Hooles), and of course, pure-evilness. No one more fits the role of 'evil' than the man who got exposed this week by the Sunday Leader journalist Sonali Samarasinghe – the 67 year old K.T. Rajasingham.
In the IT era, running e-magazines has been his style. In the now defunct Asia Times, he publicly confessed to his role in the 1976 arrest of Varatharaja Perumal (EPRLF) and V. Balakumar (EROS). Rajasingham was the president of the Puloly Multi-Purpose Cooperative Society at that time. He also once boasted about his role in getting Batticaloa MP Rajadurai to defect the TULF.
Unlike the rest of us who yearn for peace, War-Profiteers need the war to continue (to hell with those who suffer). Without the conflict they cannot prosper. Rajasingham needs the war in Sri Lanka. A prime example of his behavior in this regard is the slew of e-mails he sent to Tamil expatriates, when Anton Balasingham agreed to a 'federal solution' in Oslo. He 'needled' them with comments like "It is so sad the LTTE has given up Thamil Eelam after so much of sacrifice."
What an evil-human-being!
-----------------------------------------------------------------------------------------
Plot to get rid of Karuna was hatched at a presidential suite in Geneva
by Sonali Samarasinghe, The Sunday Leader, November 11, 2007
Evidence has surfaced of an elaborate plan by the government to dump Karuna who was becoming an embarrassment to the Rajapakse regime, given the heightened international focus on gross human rights violations and to replace him with Pillayan.
Karuna who waged an internecine and bloody war in the east was smuggled out of the country by the government on a forged diplomatic passport and arrived in the UK on September 18.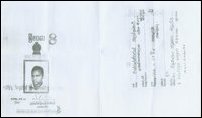 Sri Lanka Government issued National Identity Card under the name "Vigneswaran Mathankumar" on 10.05.2004, a month after renegade LTTE commander Mr. Vinayagamoorthy Muraleetharan (alias Karuna) fled Batticaloa. (Courtesy TamilNet)
He was later arrested in London on November 3 for travelling on a forged passport on a tip off largely thought to be by the Pillayan faction within his own breakaway group.
Pillayan takes over
Not 48 hours later armed Pillayan forces took over all the TMVP offices in Batticaloa while political head V. Thileepan still loyal to Karuna became the latest victim of in-fighting. He was reported to have swallowed a cyanide capsule and admitted to hospital.
Documentary evidence in our possession now reveals that the government was in the know at the highest levels on the dirty deeds of Karuna with some possibly having aided and abetted Karuna in a sordid drama of kidnapping, white vans, murder, abductions and extortion and the lynch pin in this game was one K.T.Rajasingham based in Sweden who was hatching the scheme for a variety of reasons including to promote his own business.
Our documentation suggests that as reported in our sister paper The Morning Leader on Wednesday not only did Karuna reach the UK to join his wife and three children with the help of the Rajapakse government but also that he was allegedly able to spirit away a colossal sum of Rupees 500 million said to be moneys collected through abductions and other funds allegedly given by the government for the support of his cadres.
Hatching the plot
In fact these details are part of an official report sent by Rajasingham to President Rajapakse's advisor Sunimal Fernando as recently as October 24 for follow up action. That is just 10 days before Karuna was arrested. And it is based on a meeting Rajasingham had with President Rajapakse no less in Geneva in June 2007.
Taped telephone conversations and other evidence also suggest that Rajasingham was involved in stoking the flames of the fratricidal war between Karuna and Pillayan and making efforts to project Pillayan as the political face of the Karuna Group and helping the second in command in a mad race to register his faction as a political party before Karuna did. (See box for conversation)
K.T. Rajasingham if readers care to know is the editor of the Asian Tribune, an on-line daily newspaper launched in Bangkok in 2001 now based in Sweden plugging the government line evidently for its own monetary benefit. He is a man originally from Point Pedro.
While pugnacious nationalists often accuse peaceniks of using the war to raise funds for their NGOs, written evidence in our possession show how the war scoundrels continue to spread the message of hatred and misguided patriotism in order to promote their own businesses, collect funds and expand their personal business empires.
Closed door meeting
Most of the damning evidence surfaced following a closed door hour long meeting President Rajapakse had with Rajasingham in the company of EPDP Leader, Minister Douglas Devananda at the Presidential Suite No. 1727 Intercontinental Hotel in Geneva from approximately 4-5 pm on June 15, 2007 where the Karuna issue was discussed at length.
Rajapakse arrived in Geneva at 5.10pm on June 14, for the International Labour Organisation Conference. Dayan Jayatilleke at the time one recalls had newly been appointed the UN Permanent Representative in Geneva for Sri Lanka. It was not 24 hours after his arrival that the President was to meet Asian Tribune Editor Rajasingham in his Presidential rooms at the Intercontinental.
And it is here the government plotted on how to get rid of a colossal international embarrassment that was Karuna. The entire discussion was reduced to paper and sent as a confidential report to President's Advisor Sunimal Fernando for follow up action via email. The Sunday Leader is in possession of that communication and much more.
Many aspects were discussed at the meeting from education to advertising which this newspaper will reveal in the weeks to come. But today we focus on the east.
The discussion according to Rajasingham's communication, which basically were the minutes of the discussion with Rajapakse, starts with the President thanking the Asian Tribune for the great service rendered to the country. Rajapakse commends the Editor for his services to the country and assures his wholehearted support and assistance to the Asian Tribune.
Indian relations
Rajasingham also makes various suggestions on Sri Lanka's relationship with India. President Rajapakse after discussion agrees a special delegation would be sent to meet Prime Minister Manmohan Singh, Pranab Mukherjee, Sonia Gandhi and M.K.Narayanan to find out what India actually expected Sri Lanka to do regarding the ethnic issue.
In fact Rajasingham said he too was prepared to go with a delegation that included H.L.D.Mahindpala for the Sinhala perspective and President Rajapakse directed Devananda to make the necessary arrangements.
Rajasingham was to propose the launch of a satellite TV to disseminate news feeds from Rupavahini and ITN and President Rajapakse immediately gave him the necessary permission to do so.
The Editor also said such an ambitious project would cost some Euro 22,000 per month per continent to which President Rajapakse said he would extend his full assistance and support. Rajasingham said he would also launch a 24 hour EuroAsian radio for government propaganda and grumbled he did not receive any advertising from the government institutions. Rajapakse was to then assure all assistance and support for the radio channel and promised to look into the latter complaint.
Getting rid of Karuna
Rajasingham was to now detail an elaborate scheme to oust Karuna and appoint Pillayan in his place. Karuna was to be discarded as a spent force who had outstayed his usefulness as he had nothing further to add on either the LTTE atrocities or details of the northern terrain. Further he was described as a liability to the government.
In this regard Rajasingham also said that though Pillayan being a child recruit himself was better aware of the Wanni and Jaffna terrain than Karuna, neither of them would be of use to the army top brass in its military push in the north. Therefore Rajasingham suggested that even Pillayan be eventually discarded while the government caused a third rift in the LTTE in the Wanni in order to tap a more knowledgeable source.
President Rajapakse agreed to discuss this matter with defence officials and do the needful according to the document.
It is not three months after this discussion that Karuna was spirited out of the country by government officials on a diplomatic passport bearing number D1944260.
Forged passport
The forged diplomatic passport was issued by the Immigration Department on the orders of top authorities in the name of Kokila Gunawardena on August 30, 2007.
Karuna was issued a valid British visa stamped on the forged travel document in the name of Kokila Gunawardena by the British High Commission in Colombo on September 5 on a recommendation by Sri Lanka's Foreign Ministry.
The Sri Lankan Foreign Ministry sent a Third Party Note to the British High Commission in Colombo together with a number of passports recommending visas for a group of persons to attend a climate change conference in Britain and included in the set of passports was a diplomatic passport in the name of Kokila Gunawardena.
Gunawardena was recommended for the visa as an official representing the Wildlife Department coming under the Environment Ministry of JHU's Champika Ranawaka.
What is even more damning is that his visa application to the British High Commission under the false name Kokila Gunawardena states 'Director General, Wild Life Conservation Department.'
A week later on September 22, Ranawaka would travel with President Rajapakse to New York to attend a climate change conference in New York. Funnily enough somewhere in between a group of officials from the Wildlife Department of which one was the renegade Karuna was purportedly visiting a climate change conference in Great Britain.
In fact Karuna landed at Heathrow Airport on September 18 and was accompanied to the aircraft at the Bandaranaike International Airport to board the London flight by Airport and Aviation Deputy Chief Shalitha Wijesundera.
Karuna was arrested in a house in the affluent Kensington area where his wife and three children are residing. His wife and children have already lodged their papers for asylum and are in England legally.
Karuna immediately upon arrest was to claim political asylum but it is unclear how the British Home Office would view the case given his track record as a human rights offender.
Aiding and abetting
The Rajapakse government and or several state departments now stand accused of aiding and abetting Karuna Amman to obtain a passport nay no ordinary one but a diplomatic document. The Deputy Aviation Chief accompanied Karuna to the aircraft. A fact he has yet not denied.
Remember Thilanga Sumathipala. The man was incarcerated without bail for having aided and abetted one Dammika Perera to travel on a forged passport by giving him funds from the Cricket Board.
Now the highest in this land stand accused of the same crime. If Dammika Perera was a criminal Karuna Amman is an international terrorist. He has been accused of war crimes by the apex world body - the United Nations. How long will the arm of the law be when the perpetrators are whole governments?
Be that as it may below we give a synopsis of what transpired at the meeting in June as minuted by Rajasingham and sent to Presidential Advisor Sunimal Fernando.
The discussion focused on the split between Vinyamoorthy Muralitharan alias Col. Karuna Amman and Pillayan.
K.T.Rajasingham was to tell the President that it was he who had contacted UN Special Representative for Children and Armed Conflict, Radhika Coomaraswamy and assured her on behalf of Karuna, during a conference call that the group would not recruit under age children any further.
Note this. Rajasingham by stating that an undertaking was given not to recruit children any further admits that children were being recruited thus far. Recall that Alan Rock, Special Rapporteur for Coomaraswamy gave the UN representative a damning report which not only stated Karuna recruited children but alleged that some sections of the government forces aided Karuna in such recruitment.
In fact an official communication by the UN office announced that Karuna had contacted Coomaraswamy on December 4, 2006 regarding the listing of his group in Annex 2 of the latest report of the Secretary General to the Security Council on children and armed conflict as a group that recruit and use children.
Child soldiers
Coomaraswamy in an official statement from her office welcomed Karuna's move stating "This is a major step forward that will help to prevent children from being used by armed groups in Sri Lanka. I hope that this will lead to effective action on the ground."
Be that as it may Rajasingham tells President Rajapakse in this June discussion that Karuna had assured to him as well as Coomaraswamy that he will not recruit under age children and will allow his bases to be inspected by the UNICEF representatives to ascertain that there are no underage child recruits with him.
Rajasingham also informed Rajapakse that he had taken part in a conference call with Advocacy Director, Children's Rights Division, Human Rights Watch together with Karuna where Karuna had given an assurance again that he will not recruit underage children and in turn Rajasingham too gave an assurance on behalf of Karuna.
Note: The very fact that Rajasingham finds he can speak on behalf of Karuna vis-à-vis the international community on the one hand and on behalf of the government on the other is damning in itself.
Rajasingham then told Rajapakse that on May 4 this year after Karuna attacked his own cadres and ordered Pillayan's supporters to be killed he had also got to know that Thileepan and Jeventhiran were ordered by Karuna to have their own teams. Among them said Rajasingham, they have 190 underage recruits. Even to Inniyabarathy Karuna had instructed to recruit underage children.
By this Rajasingham was effectively telling the President that Karuna had underage children among his cadre which even if Rajapakse did not know upto that point he was from that point on aware of.
Ironically it is the very man Rajasingham, who had given such assurances to the likes of Radhika Coomaraswamy on behalf of Karuna in December 2006, who now in June 2007 admits that Karuna in fact has underage recruits.
Rajasingham explains to Rajapakse that the Asia Tribune supported Karuna because he was to enter mainstream politics and had promised not to get involved in abductions, collecting ransoms, killings and recruitment of children as cannon fodder.
A stick to hit Pirapaharan
Rajasingham explained that Karuna with his parochial political approach looked down on those from Jaffna using pejorative terms like Yarlapani but Rajasingham supported him despite hailing from Jaffna as he wanted to use him as a 'stick to hit at Pirapaharan and LTTE.'
Rajasingham lamented that while he supported Karuna thinking that though he started his career as a terrorist he could be rehabilitated, he was mistaken. He tells the President that while Karuna speaks vociferously about wanting to enter mainstream politics he follows his erstwhile leader Pirapaharan and is bent on ethnic cleansing and driving the Jaffna Tamils who have lived for three-four generations in the east.
Murder most foul
Rajasingham now says; "I was told that he is the one responsible for the abduction and killing (yes he has killed him according to unconfirmed reports) of Vice Chancellor, Prof. Ravindranath of the Eastern University."
Karuna is then described to the President as a liability to the Rajapakse government and a spent force who should be got rid of.
Vital to note is that Rajasingham says to the President, "We have already made use of his narration about the LTTE's atrocities, plans and targets. It is now nearly three years has lapsed (sic) since he came out of the LTTE and he has no more real stories to narrate and he will be of no use to anyone."
Limited knowledge
Rajasingham also says that though Karuna was a regional commander of the LTTE for the Batticaloa-Ampara districts his knowledge of the Wanni and Jaffna terrain is limited.
Of Pillayan, Rajasingham says he was also a child recruit at the tender age of 14 years and today is only 30 years of age (in fact 29) as an ordinary cadre he has roamed in Jaffna and Wanni and knows the terrain better than Karuna.
But listen to this well. For it reflects not only the warped thinking of the government but its callous attitude towards those it uses to further its own ends. For now Rajasingham tells President Rajapakse that in fact neither Pillayan nor Karuna will be of any use to the security forces. And if the top brass think they can use them in the battle against the LTTE in the north, it is wrong.
In fact it is now suggested that it is better to cause another split within the LTTE from the Jaffna District itself to work with the security forces in the north.
Karuna useless
Rajasingham suggests strongly that the government gets rid of Karuna who is a liability and work with Pillayan and his men who are more popular in the east than Karuna. As far back as in June he tells the President that Pillayan is planning the arrest of Karuna, but only hesitated as they are unsure of the reaction of the Defence Ministry.
Rajasingham also states that if there is going to be an election in the east and if Karuna's faction is pitted against the LTTE's proxy party, TNA or any independent groups led by leading personalities, the Karuna Group would not even be in a position to retain their deposits. But he says they can of course "use their lethal weapons and through threat and intimidation rig the election and stuff the ballot boxes."
It is in that context, Rajasingham tells the President Karuna should be got rid of if the Defence Ministry agrees.
To this President Rajapakse agrees and according to the minutes promises to take the matter up with his defence people and 'do the needful.'
Rajasingham then informs Rajapakse that Karuna has threatened him, Rajasingham, through his side-kick Inniyabarathy and has sworn that he will give a contract to kill him and his family.
Devananda stabbed in the back
Ironically however, in his October 24 report to Sunimal Fernando of the June meeting with the President, where Devananda was also present, Rajasingham questions in bold print and in parenthesis the usefulness of Minister Douglas Devananda himself.
At one point he states in the written minutes having in June suggested Devananda's name in his presence as a minister in charge of overseas Sri Lankans as follows:
"(At Present Mr. Rajasingham is of the view that Hon. Douglas Devananda has never come forward to promote the government other than promoting his EPDP politics. Therefore Mr. Rajasingham suggests that best person to take up the portfolio as minister in charge of overseas Sri Lankans is no other than Mr. Basil Rajapakse.)"
Thus Rajasingham demonstrates he is no spring chicken in the dirty game of politics.
Devious
In fact with regard to Indo Lanka relations when Rajasingham in June suggested Sri Lanka must try its best to find out what India expects from her, Rajapakse had responded by stating that he had told Douglas Devananda to visit New Delhi on his way back to Colombo from Geneva and discuss certain aspects that had been raised.
Rajasingham then suggested he was prepared to go along with a Sinhalese and a Muslim person and suggested to include H. L.D.Mahindpala in the delegation who will be able to convey the Sinhalese aspirations to the Indian leaders.
Rajapakse agreed with the suggestions according to the report and conveyed to Devananda to make the necessary arrangements while it was also agreed to keep this decision highly confidential.
Deviously however Rajasingham in his report of October 24 to Fernando says again in Parentheses, "(It was unfortunate that Hon. Douglas Devananda has failed to show interest in this project. Therefore I am of the opinion that he should not be entrusted with the arrangement of this meeting with the Indian leaders.)"
But back to the meeting in June. The Asian Tribune Editor and Rajapakse now discuss diplomatic representation.
Bad diplomats
Rajasingham condemns the Sri Lanka High Commission in the United Kingdom as uncooperative with the Asian Tribune. He states that the lady High Commissioner Kshenuka Seneviratne and First Secretary Maxwell Keegel are uncooperative and avoid responding to telephone calls.
He suggests that the entire London High Commission be completely revamped right from the lady High Commissioner downwards.
The Asian Tribune Editor who seems to have been elevated to Presidential Advisor at Large next turns his vitriolic eye on Sri Lanka's Embassy in France as well, castigating the lady ambassador as a woman very hesitant to divulge information. She is to leave at the end of 2007, Rajasingham confirms at the meeting.
Funnily enough recall that Ambassador Wagiswara was recalled by Foreign Minister Rohitha Bogollagama recently in a surprise move and another person appointed in her place. The jigsaw pieces held up against the master plan drawn up in Geneva in June seems to now slowly fall in to place.
Be that as it may Rajasingham continued to grumble wanting Rajapakse to secure its sources for stories. 'If the Diplomatic mission fails to come forward to work and cooperate with us then how it is possible for us to fight the anti-government elements in Europe?' he asks Rajapakse.
But France and England were not the only offenders. Rajasingham points out that Sri Lanka's Embassy in Oslo, Norway was not coming forward to talk with other Tamil groups in Norway. He also said that Ahmed A. Jawad who was the ambassador earlier had been accused of being very close to the LTTE in Oslo and with Erik Solheim and others.
Missions a failure
Even the new ambassador, Rajasingham complains is the same.
The discussion also focused on Sri Lanka's embassies in the West which Rajasingham said were concerned only with country to country diplomatic affairs. He said missions were sending weekly reports by interacting with a handful of the diaspora but there was no machinery available to interact politically and otherwise with these diasporas and churn them into diaspora organisations in favour of the government to promote the interests and welfare of Sri Lanka.
New diplomatic position
Suggesting a new position in the overseas mission Rajasingham said there should be officials from the Ministry with a crash course in foreign diplomacy who may be appointed as counselors with independent charge in all our missions abroad. These officials he said could function according to instructions of the Ministry of Overseas Sri Lankans.
Rajapakse had at the June meeting agreed with Rajasingham that such a portfolio was good to embrace the Tamils, Muslims and the Sinhalese in the West and in Australasian countries.
Funding for Asian Tribune
The June meeting also discussed funding and business expansion for...yes, you've guessed it, the Asian Tribune. Here's how it went.
Rajasingham proposed that he was willing to make use of the news feeds and other Sri Lanka material put out by Rupavahini and ITN in a new satellite TV transmission simultaneously so that viewers in Asia, Europe, Africa and America would be able to see the official position of the government.
Of course he explained this would cost a tremendous amount of money to make use of the Hot Bird satellite platform. Nearly 22,000 Euros per month per continent he told Rajapakse. He explained the footprints of this satellite was only seen clearly within a particular continent.
President Rajapakse agreed saying it was prudent to begin the transmission of the TV in the beginning to one continent and gradually expanding the transmission to other continents. Rajapakse promised Rajasingham he would extend all the assistance and support.
According to minutes of the meeting sent to Presidential Advisor Sunimal Fernando President Rajapakse had granted the necessary permission to Rajasingham to transmit the programmes from Rupavahini and ITN.
Rajapakse had also said that necessary instructions would be given to the officials of the two TV stations to assist Rajasingham in his new media programme.
No govt. advertising
Of course Rajasingham was quickly to slip in that he had not obtained any sponsorship from any government organisations such as SriLankan Airlines, Tourist Board, Tea Board, Bank of Ceylon, People's Banks etc., etc. He pointed out that so far none of those government corporations had come forward to advertise in the Asian Tribune.
President Rajapakse helpfully promised to look into the matter forthwith.
Rajasingham also informed Rajapakse of Asia Tribune's grandiose plans to launch the EuroAsian satellite radio explaining it would be a satellite radio which would be a new media outlet of the World Institute of Asian Studies (WIAS) that publishes the Asian Tribune.
EuroAsian Radio will be accessible through satellite receivers and internet initially. As far as Sri Lanka is concerned, Rajasingham said he was planning to have it broadcast through FM radio throughout the island and requested Rajapakse to grant FM radio licences to cover the entire island for the EuroAsian Radio and also transmitting tower facilities.
Behind the breakup
Be that as it may, in other communication in our possession Rajasingham claims he was instrumental in getting rid of Karuna on behalf of the government and was also behind his breakaway from the LTTE. Rajasingham claims he promoted Karuna and encouraged him to spike the LTTE but fell out with him when he got involved in a fratricidal war in May this year with his second in command Pillayan.
It is Rajasingham who had been doing the ground work for the registering of the new party and for making Pillayan the new leader of the Karuna Group. According to taped telephone conversations he was in touch with Pillayan and other eastern cadres in order to register a new political party and find a new logo for the party.
Rajasingham in fact was to speak to Pillayan before Karuna registered his political party the Thamil Makkal Viduthalai Pullikal (TMVP) and push for Pillayan to quickly get in on the act.
Rajasingham advises Pillayan to quickly draft a constitution and make a members list but Pillayan is apprehensive saying the other faction may register themselves sooner with the help of Krishnan, Karuna's deputy.
Sinister soul
It is then that Rajasingham's sinister soul is bared. "We must do something there to Krishnan before he comes," he says. And just for a minute the human face of Pillayan takes over. 'Paavam' he says in a moment's weakness. 'Sin.. I feel sorry.'
But Rajasingham, Editor of Asian Tribune is adamant. 'No .No,' he says. 'He is a dangerous man. If he comes he should be locked up.'
Be that as it may the Asian Tribune Editor, according to communications under his hand reveal, not only met President Rajapakse in June but has also been in close touch with Minister Jeyaraj Fernandopulle in order to get the Pillayan faction registered as a new political party.
As recently as November 1, 2007 Rajasingham in written communication states that Pillayan will not trust anyone in his outfit but that he is in the process of getting the names and addresses of 2000 people and drafting a constitution in Tamil as he has to outsmart Karuna by registering the political party very secretly and consolidate his hold.
For this purpose Raghu, a man purporting to be Pillayan's lawyer with the full backing of Rajasingham devises a scheme to cook up party minutes and even get approval of the political party from the elections commissioner by fax.
In touch with the top
Rajasingham has also been in touch with government lackeys, defence officials and top Foreign Ministry officials including persons close to President Rajapakse in order to implement the tangled plan hatched in the cool climes of Switzerland in June.
It is to top all this that the publishers of Asian Tribune WIAS has launched into another project that would stoke the ego of President Rajapakse on the one hand and give WIAS a firm platform in the south on the other. That is to write the biography of President Mahinda Rajapakse called 'Power of Southern Grassroots - Journey of Mahinda Rajapakse.'
The ego centric Mahinda Percival Rajapakse who gets his photograph plastered not only on every billboard but also on monuments to the 2008 Olympic Games in China is not likely to reject such an exciting prospect for the sake of posterity.
But for Rajasingham it was not all about Mother Lanka. He was determined to link this entire sordid mess together with funding for his business. To this end he sent a large funding proposal prepared by him and dated May 9, 2007 on November 1, 2007 to the government.
But of course as seen the matter of funding and advertising had already been discussed by Rajasingham at the highest levels in Geneva.
Funding
As part of its funding efforts with the government Rajasingham and the Asia Tribune liberally used in its document the names of several persons such as H.L.D. Mahindapala, head of its Australian Bureau, Daya Gamage, US Bureau head, and Sugeeswara Senadheera, head of the Sri Lankan Bureau,
As contributing columnists he cites Dayan Jayatilleke who is also Sri Lanka's Permanent Representative for the UN in Geneva and Tisaranee Gunasekera and Leel Pathirana, an ex jailed JVPer.
Rajasingham estimates according to his proposal that his budget for 2007 would be a conservative USD 518,000. Remember this is an on-line edition and therefore there are no recurrent costs.
It is as a culmination of this elaborate plot as enumerated above hatched in the Presidential Suite of the Intercontinental Hotel in Geneva that on September 17, Karuna was smuggled out of the country on a diplomatic passport in the name of Kokila Gunawardena.
Rajasinghan phones Pillayan
An English translation of a taped conversation in Tamil between Editor, Asian Tribune, K.T.Rajasingham and Pillayan that took place a few days before Karuna's arrest in London. Pillayan also talks of a Padmini. Krishnan who is spoken of is Karuna Amman's deputy who it is said will be coming down from London to Colombo shortly.
Rajasingham: Hello
Pillayan: Hello
R: Now the time is 10:15, today is Friday. He might go out (third person)
P: Yes
R: You'll have to draft a constitution and members list
P: OK
R: Meanwhile I will try to contact him before that
P: How long will it take you because I think they will draft one before us. How can we block that?
R: Who will give them support to register
P: I think Krishnan
R: Before Krishnan comes we can do it. But we must do something there to Krishnan before he comes
P: Sin. I feel sorry
R: No No he is a dangerous man. If he comes he should be locked up. Paper called Theepoli says that Padmini has run away, have you heard about it.
P: Yes, Yes I heard
Sunimal has a memory lapse
The Sunday Leader contacted Presidential Advisor Sunimal Fernando who said he could not recollect an email sent to him by Rajasingham but would check his mail box on Monday. When it was pointed out the email contained a very important report on a meeting Rajasingham had with President Rajapakse, he said his subject as an advisor was very limited and confined mainly to the teaching of English and he was unable to understand how a report of this nature would be forwarded to him. Fernando did not deny receiving the email nor knowing Rajasingham. Sources close to the Asia Tribune Editor however told The Sunday Leader K.T. Rajasingham claimed he was a close friend of Sunimal Fernando.
KT declines to comment
The Sunday Leader wrote to Asia Tribune Editor K.T.Rajasingham on the matter and asked to speak to him but he replied as follows; "Vanakam.
Regret, unable to speak on the subject you have mentioned in your e-mail. Thanks and regards. K.T.Rajasingham www.asiantribune.com"
---------------------------------------------------------------------------------------------
Sri Lanka in Forged UK Visa Report
by BBC News, November 8, 2007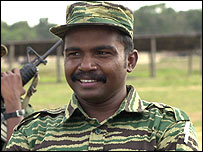 The UK says it is unwilling to confirm that a former Sri Lankan rebel got into the UK after the Sri Lankan government gave him a passport with a false name.
Colonel Karuna Amman, once the second in command in the Tamil Tigers, is in detention in the UK.
He was given the diplomatic passport in August, a newspaper in Sri Lanka has now revealed.
Human rights groups have called on the UK government to prosecute him for human rights abuses.
Colonel Karuna is one of the most controversial figures in Sri Lanka's protracted civil war.
He split from the Tamil Tigers in 2004, forming a breakaway faction.
He is later said to have collaborated with government forces and helped them to take control of territory in the east of the country.
Earlier this year, the New York-based Human Rights Watch published a report which accused Col Karuna's group of abducting and forcibly recruiting at least 200 Tamil children in Sri Lanka's eastern districts.
Immigration detention
An investigation by Sri Lanka's Morning Leader newspaper shows that the fake passport for Colonel Karuna was issued under the name Kokila Gunawardena.
He was then given a UK visa by the British High Commission in the Sri Lankan capital after a recommendation by the Sri Lankan foreign ministry, the paper says.
The UK Home Office has confirmed that Colonel Karuna is now "being held in immigration detention".
A spokeswoman told the BBC news website that the Home Office "is unwilling to confirm" that he was given a UK visa under false pretences.
The Morning Leader also said that Colonel Karuna had applied for asylum in the UK.
The Home Office has not ruled out returning him to Sri Lanka.
"The 1951 Refugee Convention allows us to exclude persons from the protection of asylum where there are serious reasons for considering that an individual has committed a serious crime or other acts which make him or her undeserving of international protection," it told the BBC.
"The convention also provides that in some circumstances persons can be returned to their country of origin, even though they may have a well-founded fear of persecution there."
However, it said it would not comment on individual cases.
"We don't comment on individual cases, however where evidence comes to light of involvement in war crimes, cases will be investigated."
---------------------------------------------------------------------------------------------
Govt Smuggled Karuna to London on Forged DPL Passport
by Lasantha Wickrematunge, The Morning Leader, November 7, 2007
Passport in the name of Kokila Gunawardena
Foreign Ministry sends third party note for visa
Karuna asks for asylum when arrested
Visa requested to attend climate change conference
Damning evidence has surfaced that the Government smuggled LTTE renegade commander Karuna to Great Britain on a forged diplomatic passport.
An investigation by The Morning Leader revealed that the forged diplomatic passport was issued by the Immigration Department on the orders of higher authorities in the name of Kokila Gunawardena on August 30, 2007.
It has been further revealed that Karuna was issued a valid British visa in the name of Kokila Gunawardena by the High Commission in Colombo on September 5 on a recommendation by Sri Lanka's Foreign Ministry.
The Morning Leader investigation revealed that the Foreign Ministry had sent a Third Party Note to the British High Commission in Colombo together with a number of passports recommending visas for a group of persons to attend a climate change conference in Britain and included in the set of passports was a diplomatic passport in the name of Kokila Gunawardena.
Gunawardena was recommended for the visa as an official representing a department coming under the Environment Ministry of JHU's Champika Ranawaka.
It is now revealed that Karuna travelled to Britain on the passport which was in the name of Kokila Gunawardena and landed at the Heathrow airport on September 18. It had also been reported that Karuna was accompanied to the aircraft at the Bandaranaike International Airport to board the London flight by Airport and Aviation deputy chief Shalitha Wijesundera who is yet to deny the reports.
Sources in England said Karuna was arrested by the British authorities in London in a house in the affluent Kensington area where his wife and three children were residing. The diplomatic passport in the possession of Karuna under the name 'Kokila Gunawardena' was also taken into custody by the British authorities at the time of arrest.
The Morning Leader further learns, Karuna had asked for political asylum upon being arrested. Karuna's wife and three children had earlier entered Britain legitimately and applied for political asylum and those applications are now being processed.
The Morning Leader also learns Karuna is currently under interrogation by the British Anti Terrorism Liason Unit.
Secretary to the Foreign Affairs Ministry Palitha Kohona contacted by The Morning Leader said he was certain his ministry would not have recommended a visa for Karuna to the British high Commission. He however refused to comment when asked whether a visa could have been recommended for him under a false identity stating he was not obliged to answer such questions or be subjected to cross examination.
On the question of the procedure involved in the issuance of a diplomatic passport, Kohona said that question should be directed to the department of Immigration since they were the issuing authority.
Asked who decides whether an individual is entitled to a diplomatic passport, Kohona said it was the department of Immigration.
However a spokesperson for the Department of Immigration told The Morning Leader that on the issuance of a diplomatic passport they only act on the directives and recommendations of the President, President's office or the Foreign Ministry.
The spokesperson said the President's office sends a list of persons entitled to a diplomatic passport by virtue of their office and that in addition the President can authorise the issuance of such a passport to any individual. He said the Foreign Ministry can also recommend the issuance of a diplomatic passport.
The British High Commission when contacted declined to comment on the issue stating there was an on going investigation following Karuna's arrest in London.
----------------------------------------------------------------------