Kosovo's End Game
by Council on Foreign Relations, New York, December 10, 2007
The United States and many EU supporters of a supervised Kosovo independence plan remain deadlocked with veto-wielding UN Security Council member Russia, which wants Kosovo to remain part of Serbia. At some point soon, Kosovo's ethnic Albanians, the overwhelming majority of the province's population, say they will unilaterally declare independence (AP).
Most Western governments say that they would recognize the new (and militarily vulnerable) Kosovo. (NYT)
After more than eight years under a UN protectorate, and centuries of ethnic wrangling, Kosovo seems on the verge of settling its political status—sort of. On December 10, a UN deadline for settling the Serbian province's "final status" expired without resolution (BBC). The United States and many EU supporters of a supervised Kosovo independence plan remain deadlocked with veto-wielding UN Security Council member Russia, which wants Kosovo to remain part of Serbia. At some point soon, Kosovo's ethnic Albanians, the overwhelming majority of the province's population, say they will unilaterally declare independence (AP). What might happen after that remains anyone's guess, but international troops are bracing for possible violence (VOA).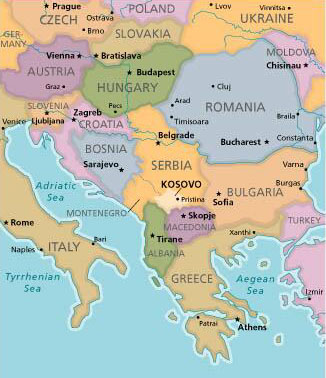 A unilateral declaration raises several potential problems. First, it would further complicate a transition away from the current UN-led administration. Kosovo can call itself a country, but with Russian opposition, it can't be admitted into the United Nations. Moreover, UN peacekeepers won't be allowed to stay in Kosovo, and the idea of transitioning to an EU-led peacekeeping force is complicated by the fact that some eastern EU members likely won't recognize Kosovo (B92). Yet the need for peacekeepers isn't likely to fade. Pockets of Serb and Roma minorities remain throughout Kosovo. As recently as November 2007, the UN reiterated the need to protect these groups. The pressing question is whether a power vacuum might set off new bouts of ethnic killing.
A declaration of independence might also leave Kosovo in an awkward position regionally. Certainly it would calcify relations between Kosovo and Serbia, at least in the short term. Richard C. Holbrooke, the former U.S. ambassador to the United Nations and the architect of the 1995 Dayton Peace Accords, says in a new interview with CFR.org that Belgrade remains "intensely nationalistic" and considers Kosovo "sacred soil." Given the entrenched stances on both sides, the senior EU representative at meetings on the future of Kosovo recently expressed regret that "no additional options" (Deutsche Welle) remained for compromise in talks between Pristina and Belgrade.
Perhaps the biggest question, geopolitically, is what the precedent of Kosovo declaring independence would mean for other states in limbo, particularly in the former Soviet sphere. Russia's staunch opposition to Pristina's push for independence comes partly from concern that a handful of other breakaway provinces in the Kremlin's "near abroad" would use the opportunity to follow Kosovo's lead (Economist). Two regions within geographical Georgia, South Ossetia and Abkhazia, are rattling for internationally recognized statehood. Russia is a major patron to both regions but has stopped short of endorsing independence. Only recently has Moscow quelled separatism in its republic of Chechnya. Azerbaijan and Armenia are also locked in a nearly two-decade-old standoff over the enclave of Nagorno-Karabakh, and Moldova remains bedeviled by the unresolved status of its Trans-Dniester region.
Moscow might benefit if the upshot of negotiations in Kosovo is a "frozen conflict" that would halt the expansion of NATO forces, says a top RFE/RL analyst on Kosovo. In either case, Holbrooke says that the most pressing matter now is for the United States and the North Atlantic Treaty Organization (NATO) to dispatch additional troops into Kosovo to stave off the immediate possibility of violence. "We always talk about 'preventative diplomacy,'" Holbrooke says. "Here is a classic case where a few troops now might prevent the need for more troops later."
------------------------------------------------------------------------------
Dangerous, Unfinished Business
The New York Times editorial, December 6, 2007
During the 1990s, the Balkans were the scene of Europe's deadliest wars and worst atrocities since World War II. More recently, the region has been relatively peaceful, but many of its problems have merely been kicked down the road. Now, one of the most dangerous is coming to a head, with a United Nations deadline on Monday for resolving Kosovo's political status.
Getting Kosovo wrong could plunge the Balkans back into turmoil. To avoid that, Serbia and Russia will have to quickly decide that they have more to gain from stability — and good relations with Europe and the United States — than from whipping up old hatreds.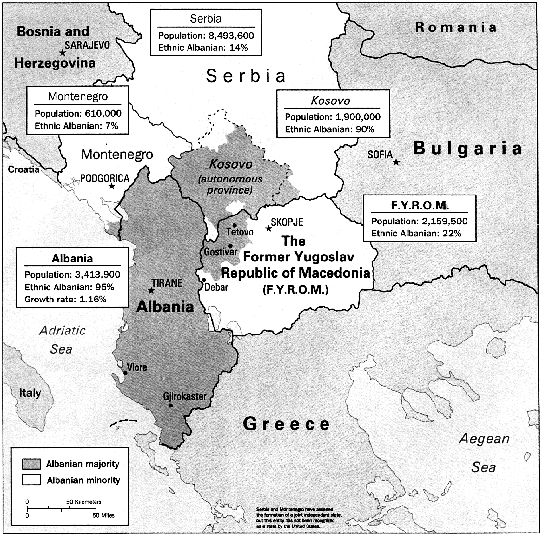 Ethnic Albanians in the southern Balkans (USIP)
Kosovo has been under international trusteeship since 1999 when NATO went to war to reverse Slobodan Milosevic's brutal campaign to drive out Kosovo's ethnic Albanian majority. While formally Kosovo is still a province of Serbia, there can be no question of returning it to Belgrade's control.
Earlier this year, international mediators worked out a reasonable compromise that acknowledges both the desire of Kosovo's Albanians for independence and the Serb minority's legitimate fear of persecution. The international community will still oversee an independent Kosovo, and ensure that the Serb minority is protected and guaranteed substantial autonomy.
Kosovo's ethnic Albanian leaders are prepared to accept the deal. Unfortunately, the Serbian government and its patrons in Moscow are not.
Russia's position is cynical. It has no power to regain Kosovo for Serbia and the Kremlin plays its own secessionist games in Georgia and Moldova. President Vladimir Putin has simply been using Kosovo as a handy stick to beat the West and to remind the world that Russia still wields a Security Council veto.
Serbia's hopes for a brighter future depend on turning its back on Milosevic's nightmarish legacy and repairing relations with the European Union and NATO. But this is a hard idea to sell in Serbian politics, and no government will risk it as long as Russia is feeding illusions of nostalgic nationalism.
If Moscow makes good on its threats to veto the compromise, Kosovo's leaders will almost certainly declare independence. Most Western governments say that they would recognize the new (and militarily vulnerable) Kosovo. This would clearly not be a happy situation. But neither would the alternative: leaving Western peacekeepers sitting on the powder keg of an angry and frustrated Albanian majority.
The better approach, for all involved, would be an internationally supervised independence recognized by the United Nations. It is not too late for Moscow to play a more constructive role, and to bring Serbia along with it.
------------------------------------------------------------------------------
Kosovo Crisis Moves to UN
November 28, 2007
VIENNA, Austria (AP) -- Kosovo stood firm in its demand for full independence from Serbia, derailing a last-ditch international effort Wednesday to forge a settlement and effectively pushing the issue to the U.N. Security Council for resolution.
Western mediators acknowledged that three days of exhaustive talks failed to produce an agreement, but said the rival sides had pledged to refrain from using force.
''Both sides have made it clear to us that they are committed to avoiding violence,'' EU envoy Wolfgang Ischinger said after three days of deadlocked negotiations. ''This commitment to peace must continue.''
''A solution to this Kosovo situation is urgent,'' he added.
The stalemate dramatically raises the stakes ahead of Dec. 10 -- the envoys' deadline to report back to U.N. Secretary-General Ban Ki-moon -- and increases the likelihood that the breakaway province will declare statehood sometime in the coming months.
''The peace of the region is very much at stake,'' said chief U.S. envoy Frank Wisner. ''It is a volatile region. We're going into a very difficult time.''
Kosovo's ethnic Albanian leaders have vowed to declare independence unilaterally if the Security Council does not approve. Serbia, meanwhile, has threatened to impose an economic and travel blockade -- stoking concerns of renewed unrest.
Hashim Thaci, a former Kosovo rebel leader tapped to be the province's new prime minister, accused the Serbian side of putting forward proposals ''that in the past have led to murder and deportation.''
''This is clearly not the way forward, and it's in opposition to the view of the people of Kosovo that the final status of Kosovo is independence,'' he said as the latest round of talks ended in the Austrian spa town of Baden.
Senior officials from both sides conceded they remain far apart: Kosovo demands full independence, while Serbia has offered broad autonomy but insists the southern province remain part of its territory.
Although the southern province formally remains part of Serbia, it has been run by the U.N. and NATO since 1999, when the Western military alliance ended former Yugoslav leader Slobodan Milosovic's crackdown on ethnic Albanian separatists.
''We must appeal to the Serbs and Kosovo Albanians: Remember the bloodshed of the '90s,'' German Foreign Minister Frank-Walter Steinmeier warned Wednesday in Berlin.
Kosovo's leaders have hinted they will declare independence early in 2008.
But critics, including Russia -- an ally of Serbia that insists the Security Council has the final say on Kosovo's future -- contend a unilateral declaration would set a dangerous precedent for separatist movements worldwide.
Independence would trigger ''a domino effect'' not only across the Balkans but around the world, Serbian President Boris Tadic warned.
While Serbian officials have threatened a blockade if Kosovo unilaterally declares independence, Tadic said Wednesday that Belgrade would use only ''all available diplomatic means.''
''Serbia does not want violence and war,'' he said.
This week's talks concluded a four-month diplomatic effort that began after the collapse last summer of a blueprint for eventual independence drawn up by U.N. envoy Martti Ahtisaari.
Ahtisaari's plan called for internationally supervised statehood for Kosovo. But Moscow threatened to veto the proposal at the Security Council, prompting the EU, U.S. and Russia to mount another attempt at a negotiated settlement.
Serbian Prime Minister Vojislav Kostunica reiterated that Belgrade would proclaim any unilateral declaration of independence as ''null and void,'' even if ''some states'' recognize it, as the U.S. has pledged to do.
''The way these negotiations started, they must end, and that is in the U.N. Security Council,'' Kostunica said.