The Rebel with the Smile
by Dushiyanthini Kanagasabapathipillai, Himal, December 2007
I will never forget the scene as Kaushalyan's wife, Pushpa, who was then seven months pregnant, began wailing and beating both her own chest and that of Thamilselvan. While attempting to comfort Kaushalyan's wife, Thamilselvan was himself in tears.
Himal Editorial note: S P Thamilselvan, the 40-year-old leader of the political wing of the LTTE, was killed on 2 November 2007, adding another figure to the bitter separatist war that has claimed an estimated 70,000 lives. Upon international spokesman Anton Balasingham's death in 2006, Thamilselvan, known for his skill at negotiation and public relations, became the contact point for Tamil Tiger chief Velupillai Prabhakaran, who rarely appears in public. In Prabhakaran's stead, Thamilselvan became the affable face of the Tigers. There are perspectives on how a rebel with a hand in violent politics may be remembered when he is killed. We present here a perspective from Colombo, by an unabashed admirer.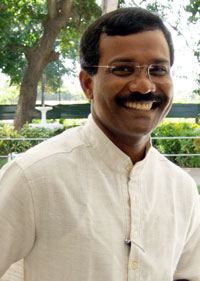 It was one in the afternoon on 2 November 2007 – All Soul's Day, the day of the dead – when the news of the death of Suppaiah Paramu 'S P' Thamilselvan, the leader of the LTTE's political wing, began to filter into Colombo, the rest of Sri Lanka and abroad. Nobody could believe it. Journalists double-checked their sources and conferred with their colleagues. Radio stations aired the breaking news, and offered regular updates. Archives were rummaged through for suitable photographs and video footage.
The following day's newspaper headlines confirmed that Thamilselvan had indeed been killed, along with five other LTTE cadres, in an aerial attack in Thiruvaiyaru, near Kilinochchi in northern Sri Lanka. All five hailed from Jaffna District. A sixth cadre, critically injured in the attack, eventually succumbed to his injuries seven days later. Three of these cadres were also part of the LTTE's political wing, while three others were Thamilselvan's bodyguards. One had been Thamilselvan's official photographer.
As a journalist, I met Thamilselvan on numerous occasions, both in Sri Lanka and abroad. During the course of those meetings, I developed quite a fondness for this remarkably amiable man. We Sri Lankan journalists affectionately called him Suna Paana, derived from the Tamil pronunciation of his initials, while foreign journalists called him SPT. He was a media-friendly chap, with the distinction of being the LTTE cadre who had given the most interviews to local and international media. He was cordial and always cooperative, often helping us get the footage and photos we needed.
Nothing, it seemed, could erase Thamilselvan's distinctive smile – not even a disagreement with journalists about, say, the Tamil Tigers' child conscription or taxation. Indeed, one international journalist called him the "man with the cobra smile". Whenever a question was asked about child recruitment, his response was something along the lines of: "Some children from underprivileged families come and join us voluntarily, but we hand them back to their parents. We have closed down all the recruitment centres." In fact, Thamilselvan and his affable smile were largely responsible for the generally rave reviews of LTTE hospitality promulgated by the many journalists who visited Vanni after the LTTE signed the 2001 Ceasefire Agreement with the government of Ranil Wickremasinghe. For Thamilselvan, neither language nor the findings of innumerable independent investigations ever seemed to prove a hindrance to extending a warm welcome.
Thamilselvan was born on 29 August 1967 in Mattuvil, Chavakachcheri, in Jaffna, the fifth boy in a middle-class family of six. He completed his primary education at Mattuvil Chandramouleeswarar Vidyalayam and his secondary education at Chavakachcheri Hindu College. His mother, Visalatchchi Paramu, who now lives in Canada, remembers him as a quiet child: "I used to dress him in different dresses, and enjoyed looking at him when he was a baby. He was the pet of the family."
Thamilselvan joined the LTTE in 1984, when he was just 16, and went to India for training. Though his nom de guerre was Dinesh, he reverted to Thamilselvan, his given name, because it sounded more Tamil. Most recently, he had started spelling his name Thamilchelvan or even Thamizhchelvan, in keeping with the more phonetic Tamil spelling. Thamilselvan was a close confidante of LTTE leader Velupillai Prabhakaran, serving as his bodyguard for a few years until he was made commander of Thenmarachchi zone of Jaffna District in October 1987, and then special military commander of the whole district in 1991. He eventually became the LTTE's first brigadier. After being critically injured at the famous Elephant Pass battle of 1991, Thamilselvan was forced to use a cane. As I later discovered in 2001 at Vanni, the sound of his limping gait quickly became a signal for cadres to stiffen to attention.
The hope of Oliventhan
In 1993, Thamilselvan was appointed leader of the LTTE's political wing, a post that he ultimately held until his death. He became chief negotiator for the party after the demise of Anton Balasingham in December of last year, and travelled widely in Scandinavia, Europe, Africa and Asia, both for peace talks and to study the nature of various federal systems. Indeed, Thamilselvan's contacts, both in Kilinochchi and abroad, were famously numerous – Western journalists, diplomats, aid workers and others.
Thamilselvan leaves behind his wife, Sasireka (also known as Isaichchelvi, an LTTE cadre from Chulipuram, Jaffna), as well as eight-year-old daughter Alaimagal and four-year-old son Oliventhan. Oliventhan is a 'peace baby' – born in 2003, after the signing of the Ceasefire Agreement – and, as Thamilselvan confided to me, is named King of Light for that very reason. Alaimagal was also the source of much fatherly pride. At Vanni, after our official interview, Thamilselvan took out a photo album of his family, mentioning how bright Alaimagal was in her studies, and how he wanted her to become a doctor. He seemed just as involved in his family as he was immersed in the political movement.
Thamilselvan also counted among his family Anton Balasingham and his wife Adele. Senior cadres called the doctor annai, or elder brother, and Adele akka, or elder sister, or Aunty Adele. Their influence on Thamilselvan and other cadres was regularly visible. Adele, for instance, made sure that all of the cadres had impeccable table manners, a fact that my visit to Vanni made clear. During a dinner with the cadres, I was struck by the formality of the table, laden with the appropriate cutlery, serviettes and even finger bowls with little pieces of floating lemon. Upon my query as to where they had learnt such table etiquette, they told me that Aunty Adele was responsible.
Out in the villages, too, Thamilselvan was immensely popular. In Vanni, whenever he went out, I would watch elderly men and women hugging the LTTE leader. He had clearly won their hearts. His love extended to the people of his birthplace. When he visited Mattuvil in 2002, a senior LTTE intelligence cadre reported that Thamilselvan "was in tears when he saw his hometown for the first time after several years. He could not bear the pain of seeing his village in rubble, and stayed there for a long time before finally deciding to return to Vanni."
After our 2003 meeting in Kilinochchi, I next encountered Thamilselvan in 2005, at the funeral of Batticaloa-Ampara political-wing leader Kaushalyan, who had been killed in an ambush in Punanai. Thamilselvan had arrived in Batticaloa aboard an official Air Force helicopter, in an effort facilitated by the Sri Lanka Monitoring Mission. I will never forget the scene as Kaushalyan's wife, Pushpa, who was then seven months pregnant, began wailing and beating both her own chest and that of Thamilselvan. While attempting to comfort Kaushalyan's wife, Thamilselvan was himself in tears.
My last meeting with Thamilselvan came as a surprise. After participating in the peace talks held in Geneva in February 2006, the LTTE delegation travelled to Norway. I was in Denmark at the time, but had decided to visit Norway by bus. The following month I unexpectedly ran into Thamilselvan and several of his closest aids outside the Norwegian Parliament. "Ingayum engalai pin thodarukireengala?" Thamilselvan jokingly asked, standing there amidst the snow, "Are you following us here as well?"
Coincidently, Thamilselvan was killed during the very month that the LTTE has declared as the Month of Martyrs. In his condolence statement issued upon his associate's death, Prabhakaran referred to the departed leader as "our peace dove". Thamilselvan represented the public, worldly face of the Tamil Tigers, and someone who might have helped to bridge the yawning gap that needs to be filled if the Tamils of Sri Lanka are to have a peaceful and self-respecting future.