Genocide Intervention Network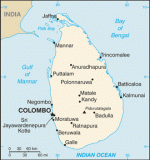 The resurgence of nationalist sentiments within the Sinhalese government and a rise in militancy by the Liberation Tigers of Tamil Eelam (LTTE) has brought about the resumption of violence in Sri Lanka since mid-2006. To make matters worse, on Jan. 2, 2008, the Sri Lankan government decided to pull out of a ceasefire that has been in place since 2002. Since 2006, deadly violence has caused thousands of non-combatant civilians to die and over 250,000 to be displaced. The roots of the current conflict come from decades of ethnic tensions between the Sinhalese majority and the Tamil minority. Peace processes have been unable to address the grievances of both sides throughout the years and relapses of violence have continued to occur and haunt the people of the country.
The government, the Tamil Tigers, and factions such as the Karuna group have all indiscriminately committed mass atrocities against innocent, non-combatant civilians throughout the ongoing conflict in Sri Lanka. With over 250,000 people displaced since mid-2006, the treatment of displaced persons on the island remains a significant concern. The following crimes against humanity and mass atrocities are being committed against civilians on a regular basis:
Indiscriminate summary executions and extrajudicial killings
Forced displacement through bombings, including suicide bombings
Abductions and "disappearances"
Arbitrary arrests and detention
Recruitment of child soldiers
Parties Involved:
The (Sinhalese) Sri Lankan Government. The Sri Lankan government, currently ruled by militant hardliners, has historically considered Sri Lanka as a Buddhist land that the Sinhalese inhabit. The government has discriminated against minorities, especially the Tamils, and has indiscriminately committed mass atrocities to preserve their ideology.
The Tamil Tigers (LTTE). The Tigers are the predominant Tamil rebel group that is fighting against the Sinhalese government for Tamil rights and an autonomous Tamil state.
Additional reports on Sri Lanka:
Give feedback on this report to:
Genocide Intervention Network | 1333 H Street NW, First Floor, Washington, DC 20005 | 202.481.8220