Black Tiger
An inside report
by K. Mylvaganam, March 31, 2008
Both at the funeral and on the 41st day there were present several from the LTTE cadre who had been treated by Ilam Puli. They were full of praise for the care and dedication he devoted in treating the injured. Their words filled with emotions spoke of the great respect they have for him.
I had a rare opportunity to come to know closely the details of a Black Tiger, Thurairathinam Kalairaj (Ilam Puli), who became a Martyr when the Anuradhapura Air Base was attacked by the Liberation Tigers of Tamil Eelam (LTTE).
Ilama Puli was born on 13.10.1981 in a fishing village called Myliddy on the Jaffna Peninsula. His father was a prosperous fisherman, who owned a big motor boat. Ten people were employed by him and led a very comfortable life having his own stone built house, a motor cycle and all the other paraphernalia that go with prosperity. He had three children, with Ilam Puli sandwiched between two sisters.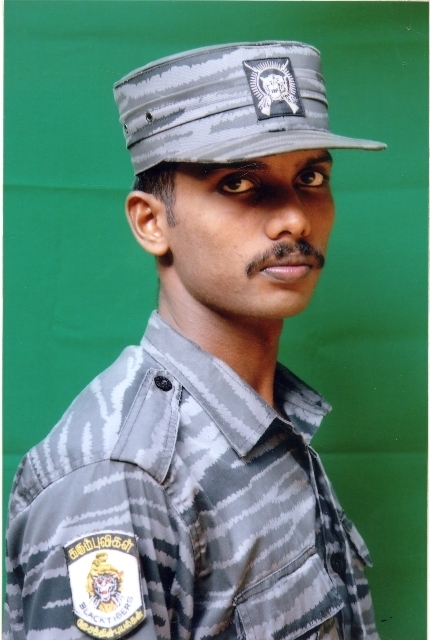 Ilam Puli
Ilam Puli was very much attached to both the sisters and particularly to the younger one, Kaviarasi. He had his education at the Nadeswara College in Myliddy until the tragedy struck their family through the invasion of the Sri Lankan Army (SLA) in 1995.
This family was among the several lakhs of people, who left the Jaffna peninsula in an exodus at that time. They left behind all their belongings except what they could carry in their bare hands. Since the motorbike was in a garage, they had to leave that also behind. Unfortunately, they had no bank accounts and all their savings were only the jewels the ladies were wearing. They lost everything – the boat, the engine, the motorbike and all what were left behind in the house. Even the house was subsequently washed away by the tsunami. A one time rich family was made as refugees within a matter of hours.
The family reached reached Nagarkovil by foot and lived in a temporary shed; what a contrast from a big stone-built multi-roomed house! Ilam Puli and his sisters continued their education at the Nagarkovil Govt. Tamil Mixed School. Incidentally, this is the school that was bombed by the SL Air Force in 1995. Ilam Puli and his siblings escaped miraculously from that bomb attack. His father, being a good fisherman, got hold of a few logs of wood and made a Catamaran to continue fishing of the coast of Thalayadi.
Their problems cropped up again, when the SLA commenced shelling Vadamaradchchi East, which included Nagarkovil as well. All those from the nearby villages had to be moved out further into the Vanni. The family finally reached Mallavi. Again another shed housed all the five inmates of the family and, with no fishing possibilities in the heartland of Mallavi, they were left at the mercy of the handouts given to them by the International Non-Governmental Organisations (INGOs). That was hardly sufficient to feed five mouths. The father had earlier been shot and injured severely by the IPKF and one of his lungs and a kidney were affected. He could not do any hard manual labour. Hence, it was Ilam Puli's mother who had to find work as a coolie in the neighbourhood. Mallavi is not a very prosperous area either. There were days when none of the members of the family had anything to eat.
Yet they managed somehow and Ilam Puli with his siblings joined the Mallavi Maha Vidhyalayam. He and his younger sisters did exceptionally well at school. He attained such good results at the Advanced Level that admission to the university was open for him. But his love for his family was eating into him. He just could not leave them behind. Besides, he could not even dream of a University Education due to the high costs involved.
I was told that he kept telling his friends that the cause for their present plight was the Sri Lankan Government (GoSL). He felt sorry for the rest of the refugees. Their misery was hurting him. This antagonism made him decide to do what he thought was best and that was to join the LTTE and fight the enemy who was ruining the lives of many thousands of people. Without the knowledge of his parents, he joined the LTTE in 1999.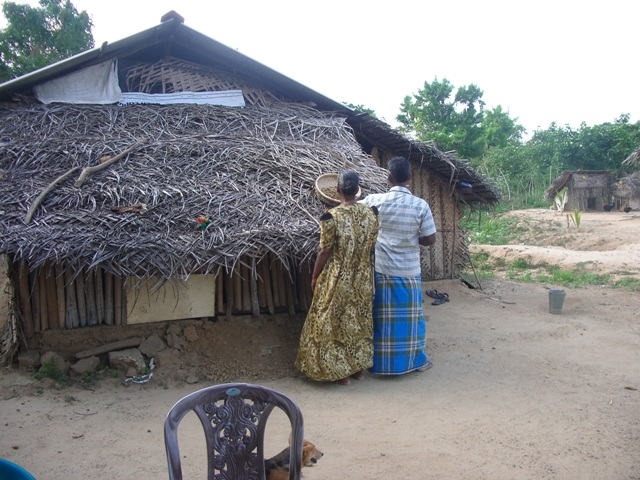 Ilam Puli's family
His exemplary service and meritorious qualities were straight away spotted by the higher-ups in the LTTE. He was swiftly absorbed into the medical division and taught medicine. Within four years he qualified as a medical practitioner and everyone addressed him as Doctor. He exemplified himself in his duties and exhibited his devotion and dedication to that noble profession. I was told that he did several surgical operations under very primitive circumstances and saved so many lives and limbs. Very senior doctors and surgeons admired his skill in surgery. He was a committed doctor and cared for the patients with love and devotion. He saved so many people that he made many friends. One Cholan (fictitious name), whose life was saved by Ilam Puli, became his thickest chum. It is Cholan who now takes good care of the family after the demise of Ilam Puli.
Heart of hearts, Ilam Puli's intention was always to become a Black Tiger. So he made his application to the Leader Mr.V. Pirapakaran, but got no response. He made another attempt after one year. He was called in by the Leader after a long wait of another six months and the Leader told him that he could not take him in simply because Ilam Puli was the only son in the family. It touched my heart when I heard of this from Kaviarasi. Mr.V. Pirapakaran who is characterised as a "Ruthless leader" in several quarters has such a soft and tender heart embedded in him.
But Ilam Puli returned with a broken heart. He got a day's leave from work and visited his parents. I heard that he was unusually moody on that day. They did not know why. Normally when he came home he used to sit beside his mother holding her hand and putting it intermittently onto his eyes. He also did not fail to put Kavi (as Kaviarasi is called by him) on the other side. And before he left he always touched the feet of his parents (Patha Namaskaram). He was so attached and devoted to the family.
His mother told me that Ilam Puli once wrote to them to get him a small radio, which they did when they visited him next. But when they met him after three months he did not have the radio with him. His explanation was that he had given it away to another LTTE cadre from Batticaloa as he had no parents or any relations. This is a symbol for Richness in Poverty.
Ilam Puli never gives up until he attains his goal. He kept applying until one day when he was finally taken as a Black Tiger. He told nobody about this, which is typical of the Black Tigers. Neither his best friend nor any of the members of his family including his mother, whom he loved so much, knew of this development.
Now, looking back, the motherly instinct tells her that it was several months before the attack that her son must have become a Black Tiger. This is because his usual visits that were once quite frequent gradually became rarer and rarer. Even when he visited them, he kept a distance from his mother and his dear little sis Kavi. Apparently he was cutting himself off from the family in the interest of both the parties. Only he knew what was in store.
Kavi told me last week that Ilam Puli once came with her photo, where her picture was decorated with Red Roses. When she asked him for the reason he seems to have said "It is because you are a Rose to me." She couldn't control her emotions and was sobbing when she narrated this. I wouldn't disagree with his statement as she is as pretty as a rose.
It was more than six months since he visited his family last. It was only when the "News" was brought to them by Karikalan that they came to know the whole story. During his visits, Ilam Puli seems to have asked his parents for a few things. One was that in case of his death they should treat those who brought the message of his death lovingly, and give them tea. The other was to decorate his coffin with Red Roses, which I trust, symbolized his sister Kavi. Another day Kavi told me that Ilam Puli used to call her Kavi and not Kaviarasi. When she asked him as why he calls her so, he seems to have said "because you are a poem to me" and of course she broke down after that too.
But I give credit to his mother. I did not see her cry even on the day of the funeral or on the 41st day ceremony. When I met her ten days back to prepare this article I asked her the reason for it. She said that she did cry a lot when the "News" was broken to her. but within a matter of hours she pulled herself together, because she remembered what Ilam Puli had told her once. It was that none of them should cry over his demise.
Kaviarasi, despite the very trying circumstances she was in, yet she got a B and two Cs in the Advanced Level exam. But poverty, the atrocities by the army and the fact that she is a sister to a Black Tiger prevented her from joining the University in Jaffna. What a pity.
Both at the funeral and on the 41st day there were present several from the LTTE cadre who had been treated by Ilam Puli. They were full of praise for the care and dedication he devoted in treating the injured. Their words filled with emotions spoke of the great respect they have for him.
Even though Ilam Puli was a qualified doctor, yet the photo of the hut where his parents live, will portray the poverty of the parents. Their faces are intentionally not shown for obvious reasons. It is in this small hut that his parents live with their daughters. The elder daughter is married and has a child as well. In spite of his being a doctor he was not paid any remuneration, which is the practice with the LTTE, whose cadres are unpaid volunteers sacrificing their lives for the betterment of our community.
When our brothers, sisters, sons and daughters are sacrificing their lives for us, the question that pops in my mind is "what am I doing for them?"