Like a Tsunami That Won't End
After a failed cease-fire in 25-year war, weary Sri Lankans fear the worst
by Emily Wax, The Washington Post, April 12, 2008
Despite international pressure for a lasting peace deal, in the wake of the 2004 tsunami that killed tens of thousands and displaced hundreds of thousands, many here fear the worst is yet to come. Ethnic tensions are running high, residents say, comparing the mood to that just before the 1983 riots.
ALUM KULAM, Sri Lanka -- As gray-bellied clouds started to blot out the scorching sun, Sara Waeathi, 46, and her sister Kannaga, 30, called their seven children inside just as a light rain accelerated to a downpour.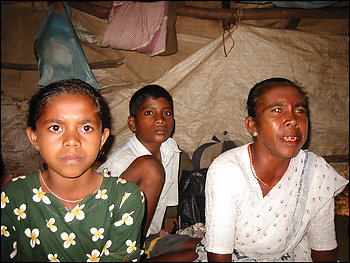 Displaced twice by fighting, Sara Waeathi, 46, her family and her sister's family share a small tent in a barren field outside the Sri Lankan city of Batticaloa.
The family huddled under their shelter, a tiny tent of frayed plastic sheeting and stitched-together burlap sacks that leaked rain into cooking pots set out to catch it.
For this family, any shelter is better than nothing.
The Waeathi sisters, their day-laborer husbands and their children have been running from the front lines of a 25-year war, one of the world's longest conflicts. Their tent on this shadeless field has been home for a year, since they fled the latest surge in fighting between Sri Lanka's army and the separatist rebels of the Liberation Tigers of Tamil Eelam, or LTTE. Before this, they spent nearly two decades in a squalid camp for people displaced by the conflict.
"For us, the war in Sri Lanka is like a tsunami that won't end," whispered Sara Waeathi, a wiry ethnic Tamil who used to fish and harvest honey in her original village in the country's restive north. Today, in this camp near the eastern coastal city of Batticaloa, she and her family depend on international food handouts. "The fighting keeps coming. Only God knows what will happen to us. We are scared."
Sri Lankans have endured sporadic war since 1983, fueled by tensions between the ethnic Sinhalese majority and the Tamil minority, whose militant separatists want to claim part of the Indian Ocean island's north and east as their homeland. The conflict has left Sri Lankans in an often terrifying cycle of violence: suicide bombings, abductions, extrajudicial killings and deadly attacks on aid workers.
New fighting has left a 2002 cease-fire in tatters, shattering hopes that peace could help this nation of about 20 million people, renowned for its surfing beaches, palm trees and highland tea plantations, lift its villages out of poverty and thrive as an idyllic holiday destination. Despite international pressure for a lasting peace deal, in the wake of the 2004 tsunami that killed tens of thousands and displaced hundreds of thousands, many here fear the worst is yet to come.
Ethnic tensions are running high, residents say, comparing the mood to that just before the 1983 riots. Following a rebel attack that year on an army patrol, roving Sinhalese militias attacked thousands of Tamils, plunging the nation into all-out war.
"Every Sri Lankan is worried," said Gayani Udeshik, 24, a Sinhalese hairdresser in Colombo, the capital, who was born one year after the war started. "There isn't a single family I know that hasn't been affected by terrorism or fighting. We are all just hoping it will end. But somehow, it never does."
That's also what the Waeathis want. As mosquitoes collect after the rain, members of the Tamil family swelter under their tent, two generations touched by war. Kannaga Waeathi's 12-year-old daughter is so malnourished she looks like she's 7.
Sara Waeathi says she is unconcerned with the ethnic hatreds that caused this war, then prolonged it. And she doesn't care who wins. Like many, she just wants it to end. But that hope seems as fleeting as the afternoon rainstorm.
Not far from their fields are reminders of the conflict. Many of the houses in Batticaloa are burned down or marked with bullet holes and mortar fire.
There is renewed momentum on both sides to win the war, which has claimed more than 70,000 lives and displaced an estimated 500,000 people. The government has vowed to crush the uprising by militant Tamils in the north by next year. More than 32,000 young Sinhalese men have joined the Sri Lankan army, which has been attacking rebel strongholds.
The LTTE, considered by the United States to be a terrorist organization, has responded with a campaign of suicide bombings against civilians in urban areas, including Colombo.
On Sunday, 14 people were killed, including a top government minister who was an outspoken critic of the LTTE. Ninety people were injured in the attack, which also killed a former Olympian, at the start of a marathon about 18 miles outside the capital.
The highway minister, Jeyaraj Fernandopulle, 55, is the second high-level government official to be killed this year. On Monday, Sri Lanka's air force bombed a suspected rebel bunker, which a government spokesman said was being used to recruit and train suicide bombers. Land and air battles continued through the week, with deaths reported on both sides.
Journalists are barred from travel to the front lines because government officials say the areas are too dangerous.
The increasing violence has alarmed humanitarian groups, which say the instability is making it more difficult to deliver aid to the hundreds of thousands of Sri Lankans displaced by fighting.
"Certainly we are concerned that the situation is deteriorating and we are trying to come up with solutions to get food across," said Zola Dowell of the U.N. Office for the Coordination of Humanitarian Affairs, which oversees the U.N. response in emergency situations.
Fighting became so intense in the northwest of the country that Catholic Church officials removed a 400-year-old statute of the Virgin Mary, one of the country's most-visited shrines, because the local bishop wanted it safe from shelling.
"One thing is clear: The level of human suffering and destruction is enormous," said Jehan Perera of the National Peace Council, a research and advocacy group in Colombo. "The only hope for the future is that the ethnic hatred is not so deep-rooted that we could never stop fighting."