Ten Canons from Charlton Heston
The movie Moses
by Sachi Sri Kantha. May 8, 2008
"The wheels on a Roman chariot can't be steered laterally to turn. You have to skid the chariot through by reining in the near horse, who runs diagonally to his left as a steadying counterweight, and whipping up the other three, particularly the off horse, always the fastest of the four, leading through the turn. The whole thirty yards or so of skidding turn throws up quite a lot of sand; you have to squint your eyes almost shut to keep the grit out so you can check traffic. The entire maneuver merits your full attention."
The chariot, a two-wheeled, horse-drawn vehicle used in ancient fighting and racing, retains an unmatched metaphorical glamour in the rat-race of our contemporary lives. For movie fans all over the world, Charlton Heston (1923-2008) symbolized the chariot race. On April 5th, as one of the icons of Hollywood's glory days, he rode into history.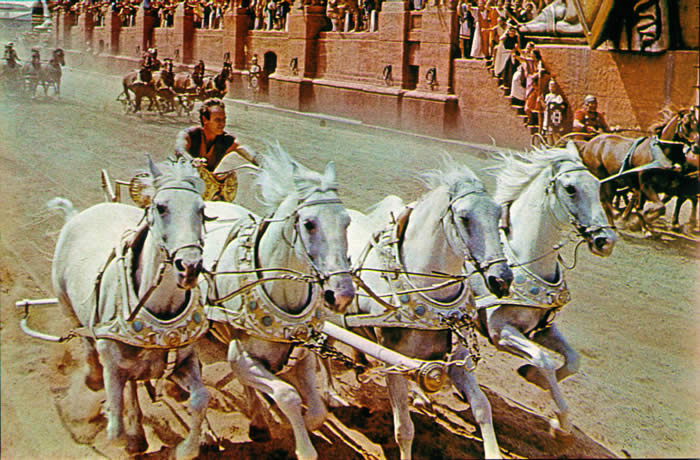 Ben Hur (1959), starring Charlton Heston as the hero, was the first English movie I saw. Ben Hur arrived in Colombo in 1961, and I watched it at the Majestic Theatre (if memory serves) in Bambalapitiya, in the company of my cousins. Excluding the monosyllables, I didn't understand the large chunks of English dialogue spoken by the stars. But, that chariot race between Charlton Heston and Stephen Boyd was fixed permanently in my mind. In late 1963 (as a 7th grader), I also had the good fortune to garner the class prize for mathematics at the Colombo Hindu College, Ratmalana. Guess what I received: two English books that have been made into successful Hollywood movies. One was Ben Hur by General Lew Wallace (1827-1905) and the other one was Moby Dick by Herman Melville (1819-1891). I have a confession to make here. In 1963, I never got past the first few pages reading these two classics
Then Charlton Heston name gradually got pushed to a backburner of my mind. I do remember the releases of his other movies, El Cid, The Agony and the Ecstasy, and Planet of the Apes in Colombo. For the whole of the 1960s and 1970s (until I left Sri Lanka in 1981), Marlon Brando, Paul Newman and Anthony Quinn were my favorites. In that pre-video cassette era, one had to go to the movie theater to enjoy Hollywood movies. There were a handful of theaters (New Olympia, Regal, Empire, Liberty, Majestic and Savoy, as well as Odeon in the then Mount Lavinia) in Colombo that featured English movies. Of these, only the Savoy and Majestic theaters were nearby to where we lived. Regular show-times were usually at 3:30pm, 6:30pm and 9:30pm on weekdays. On weekends, there was an additional 10:30am matinee show. On any day (both weekday and weekend), the late 9:30pm show was out of consideration for lack or unreliability of public transport facilities. Similarly, on any day, the 6:30pm show interfered with the designated daily study time (6:00 – 9:00pm) at home, that was strictly enforced. Thus, I could make my way to a movie theater only during a weekend, either for a 10:30 am show or 3:30 pm show.
As a teenager from a conservative household, one had to negotiate the terms with parents to get permission for a visit to a movie theater. Even when my father was somewhat lenient relating to my movie madness, my mother held the ultimate veto. In those days, my mother was a conservative type, and she was strict on quite a few things relating to movies. In her book of Commandments, (1) movies, with their voluptuous beauties, can corrupt young minds, that need to be focused on studies. (2) Hollywood movies flaunt sex, kissing and exhibitionism; thus, you better stick to Tamil movies. (3) The permissible limit is (at most!) one movie per month. Of course, there were exceptions when mother allowed me to see the 'educational classics' like My Fair Lady and Sound of Music. But, Charlton Heston didn't act in these movies. Thus, my chance to watch Charlton Heston's hit movies in re-runs (including his mega-hit Ten Commandments) became a reality only after I earned my first full-time salary in 1976.
My fascination with Charlton Heston's persona increased simultaneously as he lost much of his glamour as a gun advocate in his late years among American Liberals (including popular advice columnist Ann Landers!). By this time, the Eelam campaign led by Pirabhakaran against the Sinhala-majoritarianism in Sri Lanka was in full swing. I came to feel that Charlton Heston's logic in defending gun rights is not flawed. Then, I became interested in reading his thoughts and purchased his memoirs, In the Arena – The Autobiography (1995). This was in August 2002, when he made the public announcement about suffering from Alzheimer's disease. Though the book was lying on the book shelf for more than five years, reading it was not a high priority until last year. As a New Year resolution, I pushed Charlton Heston's autobiography into my list of high priority reading and completed the task, just in time for when he passed away.
Quite a few may disagree with me, but, having read more than 25 autobiographies and memoirs of Hollywood stars, I felt that Charlton Heston's style of storytelling was educational, exceptional and entertaining. There was another unique angle in his autobiography which many can envy. While being a ranking movie star in Hollywood for decades, he stayed married to his wife Lydia Clarke for nearly 64 years. This he portrayed as one vital factor for his emotional stability and success.
Believing that what Charlton Heston had noted in his autobiography is not irrelevant to Tamils (especially for those who have artistic interests and for those who subscribe to his Old Testament ethics), I have transcribed below what I casually label as his 'Ten Canons'. Some are pensive, some are rational and a couple are humorous. The thematic captions are mine; the words noted in italics and within parentheses are as in the original.
Canon 1: On the difference between Men and Women
"I do believe that the comity between men and women crucial to the survival of the race has been vastly confused by the feminist rhetoric holding that men and women are the same, except that women are smarter (That last bit may well be true). A long life has shown me that no man can fully understand any woman. True, I'm dealing with a small sample personally; I don't really know many women, most of those are related, and I know only one really well, but I've known her for more than fifty years. Among the meager list of things I'm sure of is that she's got a better brain than mine.
Not for everything, mind you. Maybe not for carrying a scared old man down a fire ladder, or flying an F-14. But I do know this: the difference between the sexes is the whole idea. Whoever designed it, that was the plan. If you really understand that when you deal with each other, you can work through anything."
Canon 2: On learning a skill
"I had to learn to drive the chariot. I'd long since realized the crucial importance of learning any physical skill you need for a part before the play goes into rehearsal or the film starts. It's too late then and the time's too expensive to spend on something you should've learned sooner.
Too often actors solve this by simply claiming a skill they don't have and hoping it'll somehow work out. 'Ride? Hell, yes, since I was ten years old.' Then you watch where they put their hands to mount up and you know you have a passenger, not a rider."
Furthermore, according to Charlton Heston,
"The wheels on a Roman chariot can't be steered laterally to turn. You have to skid the chariot through by reining in the near horse, who runs diagonally to his left as a steadying counterweight, and whipping up the other three, particularly the off horse, always the fastest of the four, leading through the turn. The whole thirty yards or so of skidding turn throws up quite a lot of sand; you have to squint your eyes almost shut to keep the grit out so you can check traffic. The entire maneuver merits your full attention."
Canon 3: On being positively minded for career advancement
"I was in fact still kind of jerky, oddball kid, but I now believed in myself. Almost overnight, I managed to find the confidence that has never left me since. Understand, nothing had really happened, except inside my head. From that day on to the time when I no longer had to audition, I was always sure I'd get any part I read for. I didn't, of course. The point is that I was positive I would. You have no idea how crucial this is."
Canon 4: On getting his big break from mogul C.B. DeMille
"I was driving off the Paramount lot to fly back to New York and do a play I liked. I was heading for the DeMille Gate, past the DeMille Building, where C.B. DeMille was standing on the steps talking to some of his people. I was driving a green Packard convertible I'd brought from my father. I'd met DeMille. Most actors working at Paramount did. You were taken to his private dining room at lunch, chatter for five minutes, and you'd met DeMille. I expect he liked to keep an eye on the kids coming up.
So, when he glanced at me as I drove past, I waved. He lifted his hand and nodded. I heard later he then turned to his secretary and said, 'Who was that?' Flipping through her notebook, she replied, 'It's a young Broadway actor Hal Wallis brought out. Charlton Heston. He's made one picture, Dark City. You ran it last week. You didn't like it.'
'Ummm, I liked the way he waved just now. We'd better have him in to talk about the circus manager.' So they did. DeMille talked to me for an hour and gave me the lead in The Greatest Show on Earth, a film that was to win the Academy Award as Best Picture of the Year and gross some $40 million (at today's ticket prices, something over $300 million)."
Canon 5: On Shakespeare's language
"There's nothing better than Shakespeare to exercise your vocal cords. The technical challenge is formidable, and the speeches are so good they excite you every day."
Canon 6: On Laurence Olivier's class
"Wyler, who'd directed him memorably in Wuthering Heights, gave a small dinner for him. There were eight or ten people there, but Olivier was the center of the evening, a burden he bore with grace and charm. He told any number of very funny stories very well. They all had a crucial element in common: he was the butt of the joke in every story he told. It's a rule I've tried to follow ever since. Actors are likely to have the spotlight in a social situation. When that happens, never tell stories about what a great guy you are."
Canon 7: On David Niven and Winston Churchill
"I knew David had an outstanding war record. Though his career was well established in Hollywood when Britain went to war in 1939, he'd squirmed, bullied, and connived his way back to England to take up the reserve commission he still held in one of the Guards regiments. He ended up with probably the best combat record of any actor in the war on either side. I also knew he wouldn't talk about it.
He did tell me a marvelous story about his meeting with Winston Churchill. As a Churchill fan, I relished it. It seems his public face (as David put it) and his combat service (as I suspect) had, toward the end of the war, earned him an invitation for a weekend at Chequers, the Prime Ministerial country manor. There were or course a dozen or so other guests, far grander than David, but he had his moment with the great man. Pacing the graveled paths with him Sunday morning, Churchill said, 'Well, Niven, I've been told of the difficulties you surmounted to come back from Hollywood and take up arms again in the service of your country. That's admirable, Niven. Admirable.'
'Thank you, Prime Minister,' David murmured modestly. 'Mind you,' Churchill said sharply, 'anything less would have been despicable.' I do like that story. I liked David too.
Canon 8: On Soviet-style film production
"Just a couple of years ago, I made a film in the new nation of Kyrgyzstan, formerly a province of the USSR. They actually had a small film studio, where they had made films under the Soviets. While they had a small cadre of more or less trained technicians, it soon became clear that they had no concept of working on a schedule. The idea was to be making a film. The longer it took, the longer everyone would have a job. An interesting idea."
Canon 9: On War and trauma surgery
"In our New Age of Enlightenment, war is widely condemned as a major, permanent no-no, though grudgingly conceded as gaining us our independence in the Revolution, preserving the Union in the Civil War, and Western democracy in World Wars I and II. It also deserves an A in trauma medicine. Auto accidents kill more people than most wars, but fewer now because of the advances in trauma surgery learned in those wars."
Canon 10: On Soldiers and Statesmen
"Wars are undertaken by statesmen, but inevitably must be won by soldiers. President Johnson inherited the incremental involvement in Vietnam that President Kennedy had begun, after President Eisenhower had rejected it. His soldier's instinct was sounder than that of his successors, consummate polticians both. They felt we could somehow finesse our way through Vietnam. Ike could've told them otherwise. A politician can finesse his way through an election, not a war."
Coda
One may not be wrong in thinking that Charlton Heston's description of chariot-riding skills (Canon 2) is ripe with metaphorical relevance to other mundane endeavors we are faced to tackle in life. These include, parenting, management and even political vaudeville. Life as a 'four-horse chariot race' has also some metaphorical charm; the four horses representing, character, luck, skill and wealth (that incorporates health). One who manages to steer these four horses gallantly wins the race eventually, despite all the skidding and dust that strains the eyes during the journey.