Comment on Provincial Council Elections in the East
Comment received by the Sangam on May 16, 2008 from an official in Sri Lanka, who remains anonymous for obvious reasons --
The Eastern Province of Sri Lanka has a land area of 3,614 square miles and a population estimated by the Department of Census and Statistics in 2006 at 1,578,000.
According to data collected by the Amparai, Batticaloa and Trincomalee District Secretariats in 2005, Tamils comprised 42%, Muslims 34% and Sinhalese 24% of the province.
The Provincial Assembly in the Eastern Province appears to have 18 Muslim members, 12 Tamils (includes two bonus seats) and 7 Sinhalese. I would not be surprised if several were to now claim that the Muslims are the single largest bloc in the electorate and that the Eastern Province is no longer Tamil.
However, according to data collected by the three District Secretariats in 2005, Tamils remain the single largest population group in the East.
How does one then explain the ethnically disaggregated membership in the Provincial Council today? My explanation is that the Tamil turn-out at the polls was very low this time, unlike in the 2004 General Elections when the Tamil MPs were the single largest group of elected parliamentarians in the East.
See also 'Fait Accompli' by M. Nadarajan.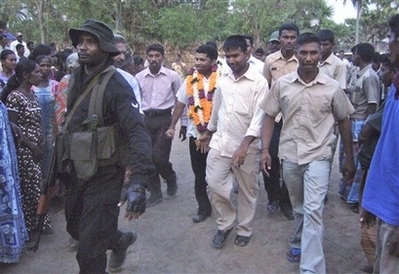 Pillaiyan during Provincial Council elections 2008

Joseph Pararajasingam during Parliamentary elections 2004