Engaging Nepal's Maoists
by Jayshree Bajoria, Council on Foreign Relations, New York, July 9, 2008
Negotiating with hostile states and non-state actors has long been debated among U.S. policymakers...
Nepal's historic April 10 vote has resulted in Maoists joining the growing list of organizations that have traveled the long path of armed rebellion to political legitimacy. The country's peaceful transition of power, while still fraught with hurdles, would seem to bolster the pro-democracy cause espoused by the Bush administration. But it also poses a challenge to another long-held principle of the administration—opposition to engaging states or entities deemed as rogues. The Communist Party of Nepal (Maoist), which won more seats than any other party in the constituent assembly elections, continues to be on the U.S. Terrorist Exclusion List and the Specially Designated Nationals and Blocked Persons List (PDF). This means its members are barred from traveling or owning any property in the United States.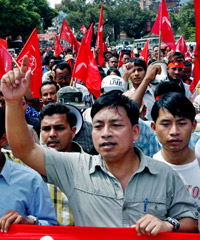 In one signal of a potential U.S. shift, two top U.S. diplomats have met with Maoist Chairman Pushpa Kamal Dahal, alias Prachanda, who is poised to take over as prime minister. But one of the diplomats, Deputy Assistant Secretary of State Evan Feigenbaum, told reporters that the Maoists will remain on the two lists for now while the administration looks for signs the group has abandoned violence.
Negotiating with hostile states and non-state actors has long been debated among U.S. policymakers; most recently, it has emerged as a hot topic in the 2008 presidential campaign. The Bush administration has faced criticism from some policy experts about its refusal to engage with non-state actors like Hamas and Hezbollah in the Middle East. Former U.S. President Jimmy Carter, in an April op-ed in the New York Times, argued that this policy has been "counterproductive." Yet the administration has recently shown signs of shifting its position on the issue: Last month it decided to remove North Korea from its list of State Sponsors of Terrorism. It also resigned itself to accepting Hezbollah's role in the recent power-sharing agreement in Lebanon.
The Maoists' victory in Nepal also poses a challenge to Nepal's neighbors. India, the country's main trading partner, has long provided extensive aid and training to the Nepalese army. It fears the Maoist electoral victory will strengthen its own Maoist rebels, the Naxalites. But Maoist leader Prachanda has denied links with Naxalites.
India also worries about China's growing influence in Nepal. Prachanda's decision to renegotiate the 1950 peace treaty with India has further added to New Delhi's worries. Nepal occupies a strategic location along the Himalayan foothills, dividing India and China. Its shared border with Tibet makes it ever more important to Beijing, which seeks to maintain its control over Tibet. Abanti Bhattacharya, associate fellow at the New-Delhi based Institute for Defence Studies and Analyses says China is trying to increase its influence through various economic initiatives. Prachanda says Nepal will maintain "equidistant" relations with both India and China.
Impoverished Nepal faces many political and economic challenges. According to the Asian Development Bank, Nepal remains one of the poorest countries in the world (PDF). The World Food Program has warned that a bout 2.5 million people in rural Nepal are in immediate need of food assistance (IRIN) and an additional 3.9 million people are at risk of becoming "food insecure due to increasing food prices." Another significant challenge for the new government will be the future of twenty-three thousand guerilla fighters of the People's Liberation Army, who are now in the UN-monitored cease-fire camps. Prachanda wants to integrate them into the 95,000-strong Nepalese army but he faces resistance (Economist) from the military.