Arms race, uneasy peace in Sudan
By Heba Aly | Correspondent of The Christian Science Monitor
from the November 12, 2008 edition
The nation's civil war spanned from 1983 to 2005, killing more than 2 million people and forcing another 4 million to flee their homes.
Juba, Sudan - Although the Arab-dominated government of Sudan and the semiautonomous region of Southern Sudan have been at peace for three years, there are signs that both sides are stepping up the pace of a cold war-style arms race.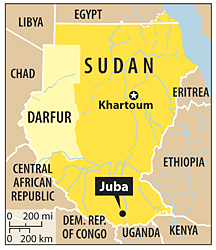 In September, pirates off the coast of Somalia hijacked a shipment of Russian tanks reportedly destined for Southern Sudan. A month later Sudanese authorities seized an Ethiopian cargo plane they say was carrying ammunition and light armament in Juba, the capital of South Sudan. Later in October, Sudan recalled its ambassadors from Kenya and Ethiopia because the two nations were allegedly shipping arms to the south.
After a 21-year civil war, both the north and the south Sudan are not only reluctant to disarm, but reports indicate that both sides are actively preparing for the possibility of a renewed outbreak of fighting. Decades of conflict have left many in the north and the south unable to fully trust one another, leaving many analysts wondering if the current peace will endure.
"This arms race has been going on for some time, with each side anticipating the worst," says Alex de Waal, a program director at the New York-based Social Science Research Council and a world-renowned expert on Sudan.
The nation's civil war spanned from 1983 to 2005, killing more than 2 million people and forcing another 4 million to flee their homes.
The 2005 peace deal forbids either side from reinforcing its military without permission from a Joint Defence Board, monitored by both the north and the south. But analysts say both the north's Sudanese Armed Forces and the south's Sudan People's Liberation Army (SPLA) have been vigorously expanding their armed forces, though it is unclear how much of this is illegal.
According to military analysts, the south buys tanks, armored personnel carriers, assault rifles, rocket propelled grenade launchers, mortar rounds, and ammunition. It also receives defense training from Ethiopia, Kenya, South Africa, the United States, and Britain. The north gets an even wider array of Eastern European and Chinese military equipment, including combat aircraft and fighter jets. An October report by Human Rights First says China, India, Kenya, Iran, and Russia, by their own admission, ship arms directly to northern Sudan. Many other countries underreport their exports to Sudan.
"They're both heavily armed," says a Western diplomat in Sudan, speaking anonymously because he is not authorized to speak to the media. "The SPLA has 170,000 armed men. That's bigger than any army in Africa, and there has been no appreciable disarmament, demobilization, and reintegration in Sudan," as mandated by the peace agreement, he says.
According to the World Bank's 2007 Public Expenditure Review for Sudan, the Government of National Unity's expenditure for defense and national security in 2006 was $1.175 billion, or 20 percent of total government spending. Security spending for the Government of Southern Sudan in 2006 was $555 million or 42 percent of the southern government's expenditures.
Last month, the southern parliament voted to nearly double its 2009 budget to cover military spending.
"It's a classic kind of deterrence exercise," says Robert Muggah, research director at the Geneva-based Small Arms Survey, an independent research project. "I don't think anyone wants the north and south to go back to war. But there is a sense that some kind of military balance of power can keep an uneasy stability as the political path works its magic."
Although the north has agreed to democratic elections in the south in 2009 and a referendum on southern separation in 2011, many southerners feel both milestones will be sabotaged or obstructed by the northern government.
Southerners have repeatedly said that the nonimplementation of the peace agreement – including the transfer of oil revenue, demarcation of the north-south border and proper execution of elections and the referendum – would be interpreted as a call to war.
"If we make the SPLA strong, ready to challenge any military invasion of the south, then the other party will think twice," said Gabriel Changson Chang, Southern Sudan's minister of information, in an August interview.
A July 2008 study by the World Bank Development Research Group says both Khartoum and Juba are playing a dangerous game.
"Even if Khartoum has no interest or intention of going to war, it has every incentive to maintain a credible threat of war to ensure that Juba will choose unity in the referendum. Likewise, even if Juba has nothing to gain from conflict, it must make conflict as costly as possible for Khartoum to prefer peace over war if peaceful partition is to be a real strategic option for Juba."
Both sides deny that a covert arms race is taking place, but insist that one would be within their rights.
Meanwhile, changing the siege mentality of Sudanese people in both the north and the south may be one of the most difficult challenges in ending the apparent arms race.
In Southern Sudan, a former fighter who asked not to be named for security reasons says much animosity still remains with the north.
"We cannot trust them," he says. "We are not willing to fight, but we are suspicious about our neighbors ... Most people feel there will be [another] war."