'Crucible of Conflict'
Tamil and Muslim Society on the East Coast of Sri Lanka
by Dennis McGilvray, April 2008
"This much-awaited book will be indispensable for understanding the complexities of the nation's ethnic conflict and a 'must read' for those working in South Asia, on ethnic conflict and resolution, on the vicissitudes of matrilineal descent and the complexities of historical and social change in this region."
The Sangam welcomes reviews of the book by our readers to editor@sangam.org
From the Publisher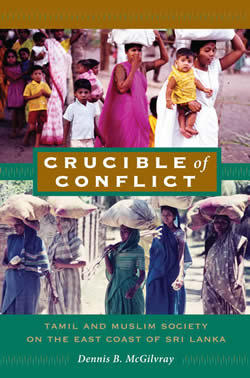 Crucible of Conflict is an ethnographic and historical study of Hindu castes, matrilineal family structure, popular religious traditions, and ethnic conflict. It is also the first full-length ethnography of Sri Lanka's east coast, an area that suffered heavily in the 2004 tsunami and that is of vital significance to the political future of the island nation. Since the bitter guerrilla war for an independent Tamil homeland in Sri Lanka broke out in 1983, the easternmost region of the island has emerged as a strategic site of conflict. Dennis B. McGilvray argues that any long-term resolution of the ethnic conflict must accommodate this region, in which Sinhalese Buddhists, Tamil Hindus, and Tamil-speaking Muslims are each a significant share of the population.
McGilvray explores the densely populated farming and fishing settlements in this coastal zone, focusing on the Tamil and Muslim inhabitants of an agricultural town in the Ampara District. Drawing on fieldwork conducted over more than thirty years as well as on Tamil and Dutch historical sources, he describes the regional dominance of a non-Brahmin matrilineal caste of thirteenth-century Kerala origin. The Muslims, who acquired dowry lands and matrilineal family patterns through local intermarriages, have in the twentieth century emerged from Hindu caste domination and are now the Tamil Hindus' political and economic equals. Crucible of Conflict offers a uniquely detailed account of Muslim kinship and community organization in eastern Sri Lanka, as well as a comparison of Tamil and Muslim practices and institutions. McGilvray concludes with an analysis of the interethnic tensions and communal violence that have intensified in recent years.
"Dennis B. McGilvray has long been engaged in ethnographic and historical research among Muslims and Hindus in Sri Lanka's matrilineal belt in the East Coast, the current scene of intense ethnic conflict and warfare. This much-awaited book will be indispensable for understanding the complexities of the nation's ethnic conflict and a 'must read' for those working in South Asia, on ethnic conflict and resolution, on the vicissitudes of matrilineal descent and the complexities of historical and social change in this region."—Gananath Obeyesekere, Professor of Anthropology Emeritus, Princeton University
"Recognized as a leading anthropologist of Sri Lanka, Dennis B. McGilvray has been studying the Tamil-speaking Hindus and Muslims of the country's eastern region for some thirty years. McGilvray argues that it is in the eastern region that the future of the insurgency is being decided, and therefore the future of Sri Lanka itself. His book has great potential to deepen understanding of the crisis, and to show the strategic importance of this neglected region. It is a very rich work."—Thomas R. Trautmann, author of Languages and Nations: The Dravidian Proof in Colonial Madras
"Crucible of Conflict is clearly one of the most important books on Sri Lanka to be published in decades. Dennis B. McGilvray has written a rich, thorough, historically grounded ethnography of a fascinating but understudied region, and he has articulated it with the most contemporary regional, national, and world developments. He moves smoothly and never superficially from ancient history to his decades of ethnographic work, to world Islam, to the recent tsunami. This is work of lasting value, a book that will be cited and cited for years to come."—Deborah Winslow, co-editor of Economy, Culture, and Civil War in Sri Lanka
Dennis B. McGilvray is Associate Professor and Chair of Anthropology at the University of Colorado, Boulder. He is the author of Symbolic Heat: Gender, Health, and Worship among the Tamils of South India and Sri Lanka.
From University of Colorado at Boulder
Professor of Anthropology Dennis McGilvray's current book, Crucible of Conflict: Tamil and Muslim Society on the East Coast of Sri Lanka (Duke 2008), is an ethnographic and historical analysis of the island's Tamil-speaking Hindu and Muslim communities in the midst of the Sri Lankan civil war with the LTTE Tamil Tigers.
In addition to his position as chair of the Department of Anthropology, McGilvray played a major role in the establishment and growth of CU-Boulder's Center for Asian Studies (CAS). He is presently co-principal investigator with Professor Laurel Rodd (Asian Languages and Civilizations) on a four-year grant from the U.S. Department of Education Title VI program that has enabled CAS to establish CU-Boulder 's first Title VI National Resource Center in Asian Studies, accompanied by the university's first Title VI FLAS (Foreign Language and Area Studies) Fellowships for graduate students who need training in Asian languages and cultures to pursue their doctoral research.
This is a little-known subject area to those who are not directly impacted by the conflict, and it seems especially remote to Americans and Europeans. Can you point out some lesser known elements that do or could have a wide range effect?

Sri Lanka is an island nation located along the vital Indian Ocean shipping lanes that connect Europe and the Persian Gulf with Singapore, Japan, Korea, and China. For that reason, Sri Lanka has strategic importance to the United States and the West, as well as to the stability of the South Asian region including India, Pakistan, and Bangladesh. It is also an Asian country with a long tradition of democratic government, and the solution to Sri Lanka's internal ethnic tensions will be a critical test of the viability of democratic institutions in that part of the world. Because of the 25-year ethnic conflict in Sri Lanka, large numbers of Tamil Sri Lankans have become political refugees and immigrants to the U.S. and Canada. The Sri Lankan Tamil rebel group, the LTTE, is generally credited with first perfecting the technique of suicide bombing. Their unprecedented use of child soldiers and female combatants on the front lines has redefined the rules of war.
What are some of the greater impacts on the people involved in the conflict, culturally, spiritually and economically? What do you foresee as an outcome?

The conflict has had a devastating effect on Sri Lanka's ethnic Tamil Hindu minority, as well as on its smaller Tamil-speaking Muslim minority. Economic development of the northern and eastern regions of the island, where both of these minorities are concentrated, has been paralyzed for more than two decades. The educated Tamil middle class in particular has sent its children abroad rather than grooming them for careers in Sri Lanka. Spiritually, the conflict has undermined the non-violent principles of the Theravada Buddhist majority ethnic community, the Sinhalese, producing polarized national politics and a highly xenophobic Buddhist monkhood. The immense tourism potential of Sri Lanka will always remain underdeveloped until the conflict is solved.
Do you approach this as a classroom topic, and how does your personal experiences of researching and writing your books influence discussion?
I teach a large freshman-level course (ANTH 1100 Exploring a Non-Western Culture: The Tamils) that enrolls 100+ students. Most students are astonished to learn that there are 70 million Tamils in the world, including a large Tamil diaspora in London, New York, and (especially) Toronto. The course begins with a focus on family and gender roles, the Tamil caste system and an exploration of popular Tamil Hinduism and Islam in South India and Sri Lanka. The final unit of the course turns to contemporary Tamil popular culture (film and music) and to the Tamil ethnic insurgency in Sri Lanka. Students are encouraged to visit websites of the Tamil guerrilla movement, the LTTE, as well as official websites of the Sri Lankan government and independent NGOs. In lectures and recitation sections my students are encouraged to debate the deeper causes of the Sri Lankan Tamil rebellion and to consider the alternatives for a viable peaceful solution.
Please talk about your recent Innovative Seed Grant-funded fieldwork exploring the politics of Sufi Muslim mysticism in Sri Lanka and South India.
My interest in Sri Lankan Muslim Sufism began in the 1970s, when I first documented a traditional form of popular Sufi performance (zikr) by traveling Muslim holy men called "Bawas." Since then, I have witnessed the growth of other forms of Sufi devotional practices among Muslim laymen and the question this eventually posed for my research was: how can the growth of popular Sufi mysticism in Sri Lanka be reconciled with the global, pan-Islamic spread of Muslim fundamentalism? My current fieldwork with the CU Seed Grant project is intended to explore the contemporary village-level cultural and political environment for popular Sufism, in order to better appreciate the diversity and complexity of actual Muslim beliefs and practices "on the ground" rather than to assume that a single simplified pan-Islamic worldview exists everywhere in the Muslim world.