Sri Lanka Closes in on Tamil Tiger Rebels
by Mark Magnier, The Los Angeles Times, February 7, 2009
The government's best hope of winning the peace is to engineer a political settlement that brings Sri Lanka's disaffected Tamils back into the fold and gives them a share of power, analysts said.
Colombo has floated a ``Four D's'' plan -- demilitarization, democratization, development and devolution -- to achieve post-war reconciliation. But the temptation may be too great to lord it over the vanquished, given President Mahinda Rajapaksa's record of siding with the Sinhalese majority at the expense of the Tamils, some said.
Another concern is what happens to the nation's 200,000 soldiers -- a four-fold increase since 2000 -- once the fighting ends. The island's economy is not in a position to absorb so many young men easily, potentially creating a destabilizing political force.

With Tiger fighters boxed in to a small area and near defeat, the question is whether the Sinhalese majority can enact a lasting peace that addresses the Tamil minority's concerns.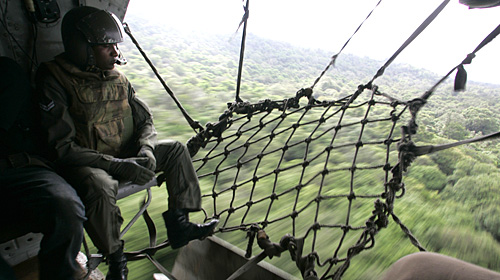 A Sri Lankan soldier flies over Mullaittivu, the Tamil Tigers' last main stronghold, which troops took control of last month. The Tamil rebels, who once held 7,000 square miles of territory, are now boxed in to less than 100 square miles.
Reporting from New Delhi -- As the Sri Lankan military tightens the noose around Tamil Tiger guerrillas, squeezing them into an increasingly tight pocket on the island's northeast coast, the government appears closer to winning the war than at almost any time since fighting began a quarter-century ago.

Yet after the battle ends, it may prove nearly as difficult to win the peace, according to some analysts.
"The risk is that the government will snatch political defeat from the jaws of military victory," said Paikiasothy Saravanamuttu, executive director of the Colombo-based think tank the Center for Policy Alternatives. "I'm not particularly optimistic."

If the Sinhalese-dominated government in Colombo fails to extend a hand to its minority Tamil population, it could spur another guerrilla movement in the Tigers' place, even if long-time rebel leader V. Prabhakaran is captured or killed.

"If the Tamil people don't get a good political package, if there is triumphalism by the government, another military group with another name will rise up," said N. Manoharan, with the Center for Land Warfare Studies in New Delhi.

The Tamil campaign for a homeland separate from the Sinhalese majority dates to the 1970s. By the late 1980s, the Tigers had seized control of part of the island's northeast coast. The group, formally named the Liberation Tigers of Tamil Eelam, or LTTE, has assassinated several high-ranking Sri Lankan and Indian politicians and is said to have pioneered the use of suicide bombers.

Late last year, the Sri Lankan army, which expanded its forces and adopted more aggressive tactics, gained the upper hand. It has since seized the last rebel stronghold, Mullaittivu, and reduced Tiger-held territory to less than 100 square miles from 7,000 square miles a year ago.

On Thursday, Prime Minister Ratnasiri Wickremanayake vowed that the military would continue to attack remaining guerrilla sites, despite calls by the United States and other powers for a cease-fire to allow safe passage for an estimated 250,000 trapped civilians.

Wickremanayake said the army's assault was a "humanitarian operation" since it offered the prospect of ending terrorism in Sri Lanka and freeing Tamils from Tiger rule.

Humanitarian groups have a different view. "International humanitarian law sets out rules that have to be followed in conflict situations," said Sophie Romanens, a spokeswoman in Colombo with the International Committee of the Red Cross. "People need safety, shelter and access to medical care."

The Red Cross this week helped move 300 patients out of the last functioning hospital in the shrinking war zone after it was shelled repeatedly. At least 52 civilians were killed, according to the United Nations, which has maintained a small humanitarian presence in the region. The military released its own figures, saying 1,180 civilians crossed over to government-controlled territory Wednesday and Thursday, with an additional 600 on Friday. The origin of the cluster bombs fired on the hospital in Puthukkudiyiruppu is a matter of dispute, although some believe they probably were used by government forces.

Patients are now camped in a community center in Puttumatalan, about 3 miles away. "If you're in critical condition, any distance is a long way," Romanens said. "Many patients are outside. They've had to hang IV drips from the trees."

The conflict has implications beyond Sri Lanka's borders.

For the West, a defeat of the Tamil Tigers would eliminate one global hot spot at a time when military and intelligence resources are stretched. It also could potentially end the activities of a group reportedly involved in credit card fraud, money laundering, organized crime, weapons proliferation, recruitment of child soldiers, ocean-borne piracy, and drug trafficking to further its operations. The U.S. designated the LTTE a terrorist group in 1997.

Regionally, China and Pakistan are maneuvering to improve ties with Sri Lanka, which India considers part of its sphere of influence.

China sees Sri Lanka as a key link in its "string-of-pearls strategy" of having strong relations with nations along its vital energy supply route from the Middle East, Manoharan said. And Pakistan has an interest in building ties with nations on India's periphery to counter its giant archrival, an objective China shares.

India also is walking a balancing act at home. It supports an end to the conflict on its doorstep -- which has resulted in an estimated 70,000 deaths in 25 years. And it has strengthened its support for Colombo after the assassination of former Indian Prime Minister Rajiv Gandhi by a Tamil Tiger suicide bomber in 1991.

But India also is wary of offending its own sizable Tamil population, particularly now when the ruling Congress Party, in a fractious coalition, is depending on support from allies in Tamil Nadu state in the general elections to be held in April and May. Protests against the Sri Lankan government have been staged across the southern state after a Tamil protester set himself on fire and died late last month. A second self-immolation was also reported.

The Sri Lankan government's best hope of winning the peace is to engineer a political settlement that brings disaffected Tamils back into the fold and gives them a share of power, analysts said.

Colombo has floated a "Four Ds" plan -- demilitarization, democratization, development and devolution -- to achieve postwar reconciliation. But the temptation may be too great to lord it over the vanquished, given President Mahinda Rajapaksa's record of siding with the Sinhalese majority at the expense of the Tamils, some said.

Another concern is what happens to the nation's 200,000 soldiers -- four times the number in 2000 -- once the fighting ends. The island's economy is not in a position to easily absorb so many young men, potentially creating a destabilizing political force.

The military prospects for the Tigers remain bleak, despite their history of defying long odds. "They're quite desperate guys," said retired Col. R Hariharan, who headed India's intelligence operation during the late 1980s when Indian peacekeeping forces were deployed in Sri Lanka. "They have very little place to go."

The pocket of land they are now boxed in to, by some accounts as small as 30 square miles, is a sandy area with limited vegetation and few places to hide. They've also lost much of their artillery in the fight, leaving them largely dependent on 81-millimeter mortar rounds that limit their striking power.

The Tigers buy most of their weapons through arms dealers, reportedly from Cambodia, Ukraine, Thailand, Myanmar and elsewhere. An FBI sting in 2006 led to the arrest of four men trying to procure antiaircraft missiles, grenade launchers and AK-47 assault rifles on behalf of the Tigers; the four were convicted last month and await sentencing. A separate sting unearthed an attempt to bribe State Department officials to have the Tigers removed from the U.S. list of terrorist groups.

mark.magnier@latimes.com