Passing of K. Mylvaganam
We are sad to report the death of Mr. K. Mylvaganam, who had a long association with the Sangam website. Below is a tribute by one of his friends. -- Editorial Committee
Mr. K. Mylwaganam,who had been contributing many articles to Sangam.org during the last few years, with the very latest on August 28, 2008, passed away in his sleep in Puthukudiyirruppu hospital on 24-01-2009 all alone.
He leaves behind his wife, sons and daughters far away from home. Our sympathies to them.
Maybe, his heart could not take it anymore, the sufferings all around him in that hospital and outside.
Myl brought to us, his age group and everyone else, the nearness of our dear soil through his articles in Sangam.org.
Ex-partriating with his family to Europe in the seventies, he returned home to Kilinochchi after fulfilling his duties to his family.
We all love our land. We love it more because of the oppression and suppression. Given the choice and the chance, we would all be there. Myl did not wait for chance and choice, but he was there.
His good wife, too. Sadly, she could not be there at the time of his surreneder to the Almighty and not even to perform the last rites. She could only rush up to Vavuniya and not beyond.
Sufferings in so many different forms, like a tragic single melody being played in all the Tamil hearts.
An extract of his letter to his wife, perhaps the very last, is portrayed below to show the dedication with which he presented his articles to Sangam.org to enable us, too, to be there with our people in our homeland.
"War is blood spilling politics
Politics is war without blood" Mao-Tse-Tung
" and mine is bloodless war with my pen,my prayers and devotional songs" Mylwaganam 19-12-08
Dear Myl, in this, let the dead-bury-the-dead situation in our dear land, we are sure there was someone to perform the last rites and we are sure that you are still lingering there where your dear heart belongs. We thank you for all the detailed descriptive articles which you presented to us via Sangam.org and our deep sympathies once again to your daughters, sons and your dear wife.
Emmanuel Christopher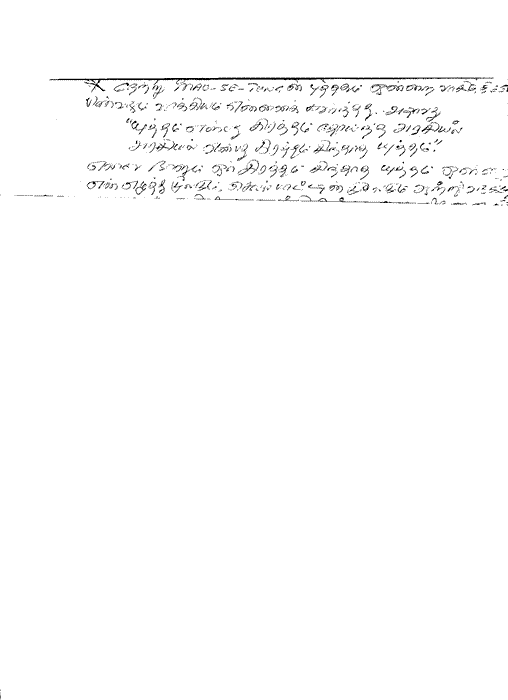 ------------------
Dear Uncle,

If I may take the liberty, and with all due respect.... Aiyah didn't pass away alone. He had a lot of loving people around him when he passed away and our people, led by the children of one of the orphanages he was involved with, carried out the last respects his immediate family couldn't, but those lovely children were his children at the end.

Our dad went happy, and went where he wanted to go. No matter how sad we all are, we are all sincerely happy for his peaceful going away and for going where he wanted to go.

Best regards,
K. [Mr. Mylvaganam's son]
------------------
I am shocked and terribly saddened to hear the death Mr. Mylvaganam. In fact, yesterday too I sent emails to two of his addresses expressing concern about his welfare, but both emails returned as undeliverable. I got in touch with him through Sangam articles and then had the pleasure of sending money to him to develop school for small children at Kilinochchi. In fact, he sent me the photographs of the work done as a result. In the latter part of last year I organised a fundraising activity to send more money for developing schools and orphanages and he was happy about it.
When the Kilinochchi attack commenced, he emailed me not to send the money until things are sorted out. He was very confident when he said, "Doctor, don't worry this is only a temporary setback and we will come back soon to Kilinochchi." But, sadly, he could not make it. At least I am relieved that he died of natural causes.
Besides reading his articles and some charity work, I have no personal knowledge of Mr. Mylvaganam, though we exchanged emails. I only knew that he was a British citizen with the family in the UK.
Please convey my heartfelt condolences to his wife and children. I will be much relieved if I could get to know more about him and his activities in Eelam during his last years. This is a very sad day for me and I have lost a friend whom I have never met or spoke to. May his soul rest in peace.
Nadesan