A Peace Requiring More Soldiers Than the War Itself
by Doug Saunders, The Globe and Mail, Toronto, May 29, 2009
Now, the general said, the next phase of the war has begun: To return 500,000 civilians to the north, in some semblance of normal life, but minus the separatist army that had lived amongst them. This, according to the military's calculations, will require almost one soldier for each family in the region: A peace requiring more soldiers than the war itself.
[Even Gen. Fonseka knows who the Tamils support! -- Ed. Comm.]
A tall, mustachioed man with a short temper and the formal bearing of a previous century, General Sarath Fonseka is now known across Sri Lanka as the shrewd tactician who organized the violent defeat of the Tamil Tigers last week in an operation he called Unceasing Tsunami II – in large part by making his army large enough to crush the guerrilla force.
N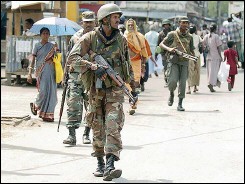 ow that this artillery tsunami has abated and the entire country is under the government's control for the first time since 1983, there are soldiers everywhere. In their beaten assault rifles and heavy fatigues, the young men stand every few metres on most roads, atop every major building, and at heavily armed checkpoints that occur dozens of times on any intercity driving trip.
There are now 200,000 active soldiers in Sri Lanka, a human forest of dun and green in this island nation of fewer than 20 million. For many people here, and for many foreign observers, the question for Gen. Fonseka was how he planned to demobilize all these young men into a stagnant economy, and how soon.
This week, he surprised everyone with his answer.
"Today … the Sri Lanka army is 200,000 strong," he said in a TV interview. "It is going to be 300,000 strong very soon. We like to see young men joining us more quickly, and we don't mind enlisting even 10,000 a month. We need a lot more soldiers to reach our goal."
That goal, he did not need to say, is the resettlement of almost half a million Tamils, some 300,000 of them currently held in a network of high-security camps and another 200,000 recently released from camps, in the country's re-conquered north.
"At the moment when you would think they should be drawing down the force and switching to a political settlement, something to give the Tamils comfort and security in an independent Sri Lanka, they're actually increasing the size of the force dramatically, recruiting more men than ever," said Jehan Perera, head of the National Peace Council of Sri Lanka, a think tank.
It will turn Sri Lanka, starting this year, into an extremely militarized nation, with the army serving as the sole major employer of young men. Economists said this week they were startled by the announcement, since Sri Lanka is facing a fiscal and economic crisis.
Officially, Sri Lanka now has foreign debt-service costs equivalent to more than 90 per cent of government revenues, and continues to borrow funds. Its foreign reserves have dwindled: According to one economic observer, there are only enough reserves to pay for three weeks of imports. The country is currently awaiting a loan from the International Monetary Fund that may not materialize.
Because of the way Gen. Fonseka financed the war, the picture may be worse. To beat the Tigers, he relied on foreign countries to provide high-technology arms on a lend-lease basis. India provided communications and intelligence equipment, Israel a drone-aircraft surveillance system, and China a full fleet of advanced fighter jets and a radar command-and-control system as well as heavy guns, ammunition and bombs.
None of this was free. The Sri Lankan military owes China alone at least $200-million (U.S.) for its weapons, and it is not clear whether this is included in national balances.
The cost of operating such a huge military has been crippling for Sri Lanka, eating up far more than the 5 per cent of the national economy. (Some say its cost, when pensions and capital costs are included, may be more than 10 per cent of GDP.) Not a new single highway has been built, and infrastructure is crumbling.
But an enormous army will be required to achieve Gen. Fonseka's goal of a stable north and east free from Tamil-nationalist movements and potential insurgents.
Part of this is related to the tactics the general used to win the war.
For most of the past 26 years, Sri Lanka has used conventional warfare techniques to combat a force that has often been described as the world's most effective guerrilla army.
"Earlier, there was no common plan to fight the LTTE," he said, using the acronym for the Tamil force's full name, the Liberation Tigers of Tamil Eelam.
"Battles were waged to capture a road, a fortress, et cetera. It was like running about the place trying to capture a heap of oranges."
Gen. Fonseka turned their logic against them. At first, his own forces turned guerrilla, chasing the Tigers out of their heartland in the central north and leading them into a trap. They decided, perhaps fatally, to force-march the remaining Tamil population into the remote northeast, adding perhaps 100,000 people to the small spit of land that would be their final stand.
At that point, with the Tigers trapped in a small space with their civilians, the war became deeply conventional. The strip of land was bombed and shelled relentlessly, and the Tigers turned to trench warfare.
The civilian casualties were enormous, estimated at more than 7,000 in the final weeks of the war, with several times that many seriously injured. But there were two results: the total destruction of the LTTE, and a northern Sri Lanka devoid of people.
"Many people now say that they [the Tigers] made a huge blunder in shifting the population," says Mr. Pereara, the analyst. "Because what they did was they ethnically cleansed the north, and thereafter denied themselves a population to go and hide amongst and linger in. They were trapped."
Now, the general said, the next phase of the war has begun: To return 500,000 civilians to the north, in some semblance of normal life, but minus the separatist army that had lived amongst them. This, according to the military's calculations, will require almost one soldier for each family in the region: A peace requiring more soldiers than the war itself.
----------------------------------------------------------------
Fears that Sri Lanka to Occupy the North
by Amanda Hodge, The Australian, May 27, 2009
THE Sri Lankan army will recruit an extra 100,000 soldiers to crush any attempt to revive the Tamil Tiger movement, triggering accusations the Government plans a military occupation of the Tamil-dominated north.
The troop build-up, announced a week after President Mahinda Rajapakse declared victory in the 26-year civil war with the separatists, is likely to involve thousands of troops stationed in former Liberation Tigers of Tamil Eelam territory.
Sri Lankan army chief Sarath Fonseka said yesterday the extra troops were required to ensure that remnants of the proscribed terrorist group living overseas, and those still hiding in northern jungles, could not resurrect it under new leadership.
Suicide bombers were believed to be hiding out in the capital, Colombo, he said.
The military claims to have wiped out the LTTE leadership, including Velupillai Prabhakaran and its administrative leadership, in a push to capture the last patch of a once powerful shadow state controlled by the Tamil separatists in the north and east.
"There may be people abroad trying to promote a new leader and stage a comeback," General Fonseka told state-run television yesterday. "Our strength is 200,000 and it will become 300,000 soon. It will not be easy for them to build up a terror group as they did before."
The Government has been accused of planning an "army of occupation" in the north by establishing large military bases and cantonments to control Tamil separatist sentiment.
"There is talk of Israeli-type settlements and returning Tamils being settled according to a plan which makes them easy to control," an observer told The Australian.
Mr Rajapakse has vowed to reunite the country through a political package that would devolve power to Tamil people and satisfy demands for the right to govern their own regions.
But his brother, Defence Minister Gotabhaya Rajapakse, has warned that the military's job is far from over. "The entire area has to be de-mined and then we have to look for any remnants of the LTTE hiding in the jungles," he told the BBC.
The military build-up plans have concerned diplomats, aid workers and analysts, who warn it will only further alienate and demoralise the Tamils, who represent about 18 per cent of the population but suffer discrimination at the hands of a Sinhalese-dominated bureaucracy.
"It depends on what they do with (the troops) but it does not send a fantastic message about a new dawn in a post-conflict Sri Lanka if they blanket the north and east with Sinhalese troops," a diplomat said.
Sri Lanka has warned it will pursue the last remnants of the LTTE and any active sympathisers across the global Tamil diaspora, including Australia, in a new diplomatic offensive to stamp out rebel feeder grounds.
Information and Media Minister Anura Priyadarshana Yapa detailed plans last week for a "two-pronged attack to see a total eradication of the LTTE from the globe as it can pose a threat to other countries now that Sri Lanka has proved beyond any doubt that terrorism can be defeated".
"We will start discussions with countries, in Europe, Australia, the US, UK, and Canada, where the Tamil diaspora was active, to put an end to fundraising and demonstrations against Sri Lanka," he said.
The Government would push for the extradition of any known Tiger soldiers, politicians or fundraisers.
Several prominent rebel leaders remain at large, including the Tigers' so-called "smuggling mastermind", Selvarasa Pathmanathan.