Sivaram's 4th Death Anniversary
by M. S., April 28, 2009
The Sangam pays tribute once more to the late-journalist Sivaram (Taraki) on his 4th death anniversary. Sivaram was abducted and murdered on April 28, 2005 within the high security zone in Colombo. We present a cross section of his views in the following video links. On a light note, Sivaram made an effort to visit Sangam members and spend some time in our homes whenever he visited the US. He was fond of good conversations, food and drink. After his last visit, he left this note in a visitor book. He enjoyed a steak and mash potato dinner that was specially made for him.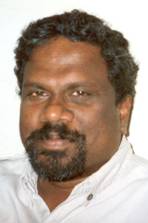 Sivaram's deep understanding of the Tamil national struggle and its international framework resonates even more with the Tamil diaspora under current conditions. He sheds light on the rivalry between India, China and the US to gain a foothold in Sri Lanka. He points out that in order for these powers to have a pretext to get involved, the ground level situation needs to be conducive.
The ideal conditon, he asserts, is to forment divisions within the Tamil community, which can then be exploited to achieve their respective goals. If division of the community (remember the Karuna factor!) is not sufficient, then forced breakdown of the community's stability and foundation is the next formula. In this light, the shelling (confirmed by UNOSAT's satellite images on April 27, 2009) and deprivation (of food and medicine) for the 330,000 Tamil civilans in Vanni (Jan.-April 2009), and the rapid establishment of 32 "internment camps" with the tacit approval and funding by the international community makes logical sense. With family members separated (according to UN reports), youth gradually disappearing and the security of a family life denied, the Tamil Homeland is now getting prepared by the Sinhalese for the benfit of the external players.
In his articles, Sivaram refered to the conflict in Chad, where the rebels are splintered and the world media writes only about killings now and then. Behind the 'fog of war' in Chad, he points out that there is a huge plundering of natural resources (precious metals and minnerals) underway by non-Chadian enterprises – which the mass media chooses not to report.
China is keen on sea lanes in the Indian Ocean to keep its Middle East oil flowing. India wants to keep the US and China out of its backyard, while muffling the Tamil separatist movement it considers dangerous to its own union. The US needs a strategic location to observe and contain both China and India. However, to their dismay, the Tamil movement hitherto with a strong unified leadership and a population united to push forward the national struggle has made their goals problematic for these powers. Sivaram was able to articulate these points in an interview for a German televison reporter (see below).
Sivaram claimed the Japanese covet the Titanium ore that is found abundantly along the North East coast. Indians, possibly sensing the value of those deposits at Pulmodai, have now established a "military hospital" to take care of wounded civilians in that exact spot.

In one of the videos below Sivaram predicts the killing of journalists in Sri Lanka. He consciously made the decision to live in Colombo under life threatening conditions so that there would be someone remaining to report. Recent publicity surrounding the killing of a hand-selected journalist, while ignoring Sivaram's loss seems to lack intellectual honesty. In fact, one is left to wonder who motivated Sivaram's abduction and murder. Is it soley a matter confined to Sri Lankan internal politics, or does it have an international dimension because Sivaram was able to perceive potential threats to the Tamil struggle well before those threats became manifest?
This video presents a portrait of Sivaram's life:
Abduction and Killing of TARAKI Sivaram (Part-1 9:55 and Part-2 9:59) with a short biography.
Biography by Prof. Mark Whitaker:
International dimension of the Tamil national struggle - German interview, June 19, 2004:
Sea Lane Rivalry between US and China over Sri Lanka (8:37)

Indo-US interest in Sri Lanka (10:26)

US Strategic Inerest in Sri Lanka (CJPD paper, posthumously published July 30, 2005)
Killing of Journalists Anticipated by Sivaram (6:07)
We would like to note that a major police raid occured on Sivaram's house as early as May 4, 2004, he was abducted and murdered on April 28, 2005, Amb. Teresita Schaffer said Sivaram's loss is a 'true tragedy' on April 29, 2009, Sivaram is conferred the Mamanithan award on April 30, 2009 and his murder trial is now fixed for June, 2009, more than 4 years after his death.
Committee to Protect Journalists' first warning on Sivaram's Safety to Chandrika (June 21, 2001)

Sivaram attacked as early as 2001 (Dec. 27, 2001)

40 Police officers raid Sivaram's house (May 3, 2004)