Growing Importance of Trade as Leverage
by Peter Ratnadurai, June 23, 2009
Again, the responsibility of the diaspora is to interconnect development of the South with Sri Lanka's treatment of the Tamils. If Tamils are ill treated, consumption by the West would be affected.
A number of serious developments have taken place since I last wrote on the subject of trade boycotts: external performance data for April shows Sri Lanka is now less dependent on an IMF loan; reports indicate that thousands of Tamil youths have been taken from internment camps to be used as forced labour for garments manufacturing; and banks are upbeat about Sri Lanka's growth prospects.

Apparels Exports

Earlier this week, the Central Bank of Sri Lanka released external performance statistics for the month of April. They do not make good reading for the 300, 000 Tamil detained in internment camps.

Since February, when Sri Lanka first sought help from the IMF to ward off a balance of payments crisis, Western states, particularly the US, have indicated that any loan would be dependent on improved access for non-governmental organisations to the internment camps.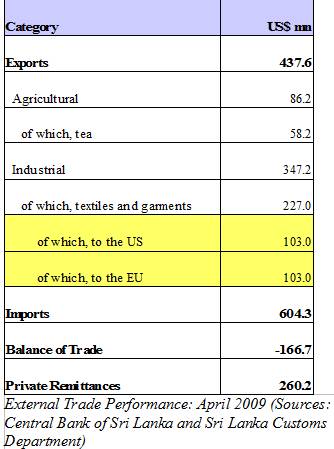 In April, however, Sri Lanka recorded an increase of US$ 24 million in reserves, meaning that the country is now in less need of an IMF loan. The Sinhala state looks set to keep all detained Tamils out of sight of the outside world.

Total exports for the month were US$ 437.6 million, while imports were US$ 604.3 million, leaving a trade deficit of US$166.7 million. Private remittances of US$260.2 million helped bridge the gap.

Amid the gloom, there is a silver lining. More than half of all exports were apparels, almost all to the West. The EU and US, together, accounted for US$206 million worth of apparels exports in April.

That goes to highlight the vital role the Tamil diaspora can play by picketing stores of retail giants in the West. A 15% drop is apparels exports to the EU and US will drive Sri Lanka back to the IMF and, thereby, force it to open up the internment camps.

Garments Manufacturing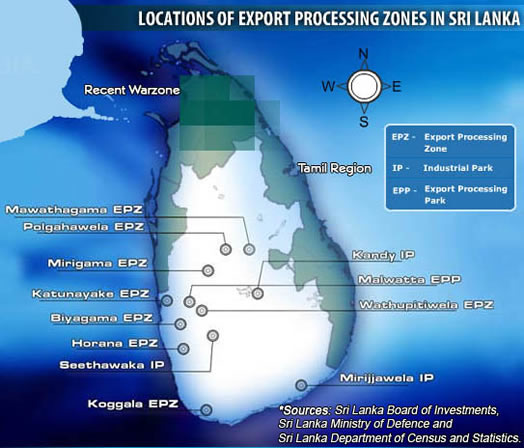 In May 2009, when the final phase of the conventional military conflict was taking place, Sri Lanka's Ministry of Defence (MoD) reported that there remained 200 fully trained cadres of the Liberation Tigers of Tamil Eelam (LTTE) and, at most, 2,000 lightly trained civil militia.

Since capturing all 300, 000 Tamils who resided in former LTTE administered areas, the same MoD has reported that more than 12, 000 youths have "surrendered" or been "arrested." The numbers do not add up.

Credible reports from the South indicate a more sinister motive behind the taking of so many thousands of Tamil youths.

These boys and girls (official numbers from the MoD do not include the "disappeared") are taken to the South of the island to be "rehabilitated." They are not given fixed prison sentences, but rather are kept locked up to learn "alternative skills."

In practice, more than 12, 000 Tamil youths are held in well guarded sweatshops where they are forced to stitch garments bound for the West, reportedly for 14 hours a day.

Rights groups and NGOs have no access to the 12, 000 people. Only a small facility, where 200 youths are held, is repeatedly paraded to the international media.

Western retailers who import garments made in these prisons are contributing to modern day slavery. Unless highlighted, they will not act. The Diaspora, again, must take full and immediate responsibility for bringing the situation to the attention of not only the retailers, but also their customers.

Banks Assessment

On Tuesday, TamilNet newswire reported upbeat economic assessments of Sri Lanka's prospects by many banks.

Any protests outside retail branches of the HSBC, for example, would be ill advised. Bank assessments are a science. They can in no way be influenced by protests outside their retail branches.

According to the banks, the Tamils capacity to respond violently to Sri Lanka was the only factor impeding development of the Sinhala south. Now that that prospect has been erased, the banks are rightly predicting a "spectacular" rebound, based on available information.

Again, the responsibility of the diaspora is to interconnect development of the South with Sri Lanka's treatment of the Tamils. If Tamils are ill treated, consumption by the West would be affected. Manufacturing suffers when there are no customers. That is the only way to ensure banks publish negative assessments.

New Reality

What all the new developments emphasise is that the fate of Tamils in the homeland depends very much on the actions of the Tamil diaspora. We must firmly grasp the baton that was passed to us in May.

Responsibilities of opening up internment camps, freeing our people from them, securing a safe future for our youths and finding long-term justice for the Tamil nation rests solely on the shoulders of the diaspora.

Unceasing Waves will no longer originate from the tombstone of Pandara-Vanniyan. Rather, they must spring from Toronto, New York, London, Paris, Berlin, Sydney and other cities.

April 2009 External Sector Performance Data: http://www.cbsl.gov.lk/pics_n_docs/latest_news/press_20090622e.doc