Satellite Image Analysis to Establish Sri Lanka's War Crimes
by Tamils Against Genocide, August 20, 2009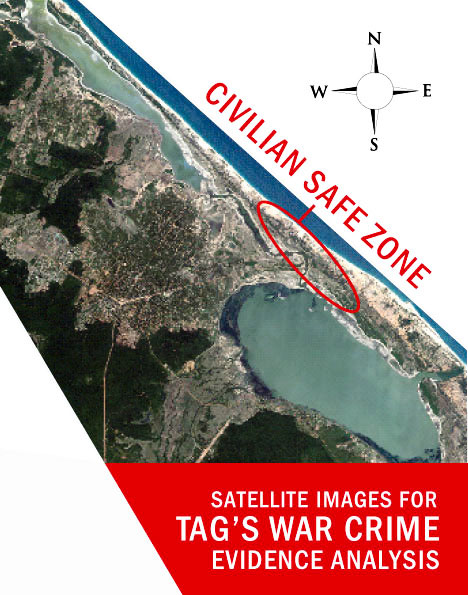 TAG will be using several images of the war area acquired from a Satellite Image vendor at different dates prior to and after May 18th when the Sri Lanka's war officially ended, and will be processing the data to collect evidence of the massacre by Sri Lanka. Times UK has alleged from aerial photos and using expert analysis that the number killed is close to 20,000 civilians. TAG has assembled a group of experts and volunteers to do the work, and have sought help from image analysis departments in two premier educational institutions for assistance.
As part of the effort, the team will attempt to correlate the documented attacks on hospitals in Puthukkudiyiruppu and those located inside the Safe Zone, using these images. Evidence will also show attacks by the SLA on hospitals outside the Safe Zone as directed by Sri Lanka's Defense Secretary, who argued that the Sri Lanka Army has the right to shell hospitals outside the Safe Zone.
While the indictment document TAG produced earlier and submitted to the Justice Department covers the crimes of Sri Lankan State on Tamils during the period from independence in 1948 to January 2009, the new effort will document similar evidence from January 2009 to May/June 2009, including Satellite based analysis that covers several weeks prior to, and after, 18 May.
TAG believes that the evidence collected in this Satellite project, and the evidence currently available from TAG's previous work can be used in totality to file civil claims in the U.S, as well as courts in several other countries that have statutes allowing universal jurisdiction for war crimes.