Public Health in Tamil IDP Detention Camps June - November 2009
by Sri Lanka's Ministry of Health, November 2009
How one sees these numbers will depend on one's perspective. Some will say what a wonderful job the GoSL did in bringing down the death rate. Others will remember how the GoSL caused that high death rate by starvation, an embargo on health supplies and heavy bombardment of civilians and will believe that many deaths in the camps will have gone uncounted.
Daily deaths in IDP camps in Vavuniya in June to November 2009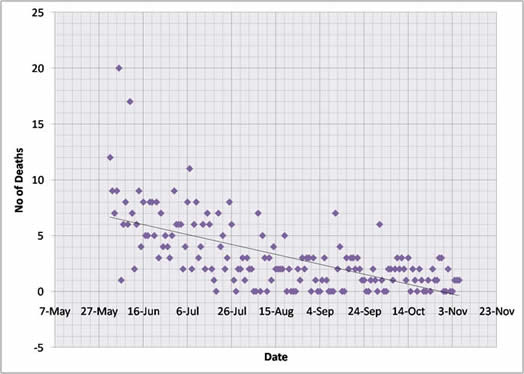 Comparison of cause of death in June and October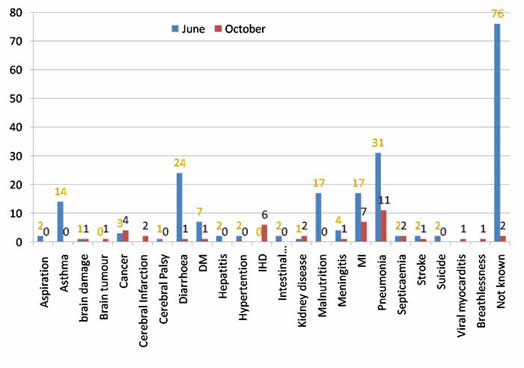 Cause of death pattern (22nd July-9th November)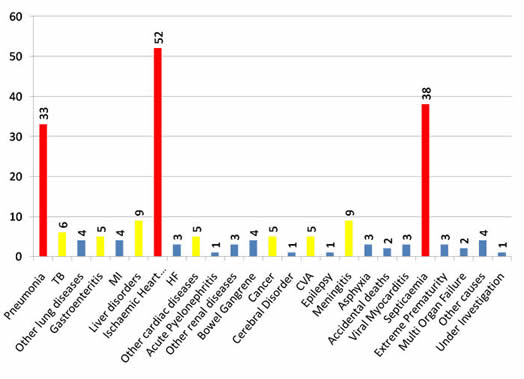 Incidence of communicable diseases in IDP Welfare villages from June to November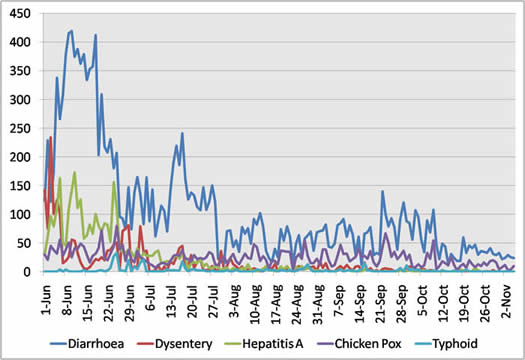 Resettlement
From 6th August to 5th of November,
•Number of persons resettled
  Jaffna- 66000
  Mullativu- 16000
  Trincomalee- 4271
  Mannar- 7000
  Batticloa- 2424 
  Killinochchi- 10000
  Ampara- 257
  Vavuniya- 8643
•Some more have been resettled after 5th November.
•Total resettled up to date: 131000
Mullaitivu District
Resettlement Areas
•Mallavi and Thunukkai area – About 16,000
•Oddusudan area- About 1400
•Manthai East – About 5000
Main referral Hospitals
• Mallavi BH
•CD Thunukkai
•Oddusudan DH
•Naddaankandal DH
Kilinochchi District
Resettlement Areas
•Karachchi and Poonekary DS Divisions – About 10,000
•Currently 1000 resettled in Poonekary Division.
Main referral centers
•Akkarayan DH
•Mulankivl BH
•Uruthirapuram DH
•Veravil DH
Mannar District
Resettlement areas 
•Manthai West and Mannar Town – for about 7000
Main Referral centers
• Adampan DH 
• Periyapandiwirichan DH
• Wellankulam DH