A Politician Goes Hungry to Redraw India's Map
by Jim Yardley, The New York Times, December 11, 2009
The creation of Andhra Pradesh came with conditions, notably that the Telangana people, suddenly outnumbered, would not suffer political exploitation. But Telangana activists say political factions from other parts of the state quickly assumed control in Hyderabad and have reaped the spoils of power for decades. Today, Andhra Pradesh, a vast region along the southeastern coast, has about 77 million people.
HYDERABAD, India — Less than two weeks ago, K. Chandrasekhar Rao was a marginalized politician whose principles were questioned even by some of his supporters. His regional party was floundering, and his rivals snickered over his political comeuppance. Then, staring at political oblivion, he reached out for a most unlikely source of inspiration: Gandhi.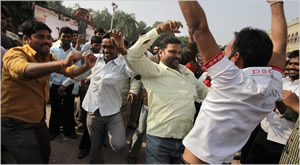 The Telangana people and their supporters celebrated Thursday in Hyderabad after the government said it would move to create a Telangana state.
For the past 10 days, Mr. Rao waged a hunger strike that unexpectedly mutated into a national melodrama. He swore to starve ifc India did not reconfigure its political map by carving out a new state anchored by this city, a major technology hub and host to multinationals like Dell and Motorola. The sprawling size of the current state, Andhra Pradesh, wrongly deprived people in the local region, known as Telangana, of their share of prosperity, he contended.
His so-called fast-unto-death set off demonstrations on college campuses and plunged Hyderabad into a political crisis. Several universities were shut down, students were jailed and thousands of police and paramilitary officers arrived after a two-day general strike effectively paralyzed the city of four million people.
With television trucks posted on a death watch outside Mr. Rao's hospital room, the national government, led by the Congress Party, finally blinked. Late Wednesday night, Home Minister Palaniappan Chidambaram announced that the "process of formation of the state of Telangana would be initiated."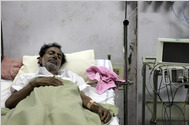 K. Chandrasekhar Rao, leader of the political party Telangana Rashtra Samiti, on Wednesday, his 11th day of fasting.
Mr. Rao ended his fast with a glass of juice, and his supporters converted a planned protest rally on Thursday into a victory celebration.
"We are happy," said Uppu Sudhaker, a Telangana supporter. "All these years, people from other regions have slighted us. Our areas were not properly developed. All our resources were misused. The jobs went to outsiders."
Even as many legislative hurdles must be navigated to create a new Telangana state, the drama underscores that while India represents an ancient civilization, it is a relatively young democracy whose internal political shape is likely to keep evolving.
One of India's perennial challenges is to placate and unify its many different peoples under a federalist political structure, a task that has meant that political boundaries are periodically the focus of agitation by identity-based movements centered on religion, caste, region and ethnicity.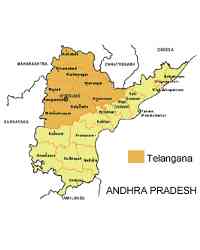 From the outset of an independent India in 1947, language provided the rationale for political boundaries, as large states were carved from different linguistic regions. But as India has evolved into the world's second most populous country, with 1.2 billion people, the political map also became focused on improving government efficiency, reducing corruption and ensuring an equitable allocation of resources.
Some analysts note that smaller states have proved more effective, as far as good government, yet India still has several states larger than most countries. Uttar Pradesh, home to 8 percent of the world's poorest people, has more than 160 million people.
Three new states were created in 2000, raising the national total to 28 states and 7 territories administered by the central government, but in recent years the Congress Party has pledged to convene a special commission to examine national political borders, a pledge that, as yet, remains unfulfilled.
Beyond Telangana, India has a handful of other localized statehood movements, notably in the Gurkha region of the state of West Bengal, and it remains unclear whether these movements will regain momentum.
"As a nation, we are young," said Ramachandra Guha, a historian who has written about India's federalist evolution. "We are still grappling with how to organize our system of government."
The roots of the Telangana movement can be traced to origins of democratic India. Before independence, Telangana was a princely state that existed outside British control. Hyderabad, the capital of the region, was a largely Muslim enclave.
With the end of British rule, Telangana existed as a separate state until November 1956, when it was merged with state of Andhra to create Andhra Pradesh, with Hyderabad as its capital.
The creation of Andhra Pradesh came with conditions, notably that the Telangana people, suddenly outnumbered, would not suffer political exploitation. But Telangana activists say political factions from other parts of the state quickly assumed control in Hyderabad and have reaped the spoils of power for decades. Today, Andhra Pradesh, a vast region along the southeastern coast, has about 77 million people.
"Umpteen promises were made, but every promise has been violated," said R. Jayeshankar, a college professor who has served as a strategic adviser to Mr. Rao.
After national elections in 2004, statehood seemed a real possibility, as Mr. Rao's party allied with the Congress Party, helping it form a national coalition government. Congress had intimated that it would begin the statehood process and made Mr. Rao a cabinet minister. But he eventually resigned in protest over a lack of action.
He then used his regional party, the Telangana Rashtra Samithi party, or T.R.S., to champion the cause of a Telangana state during the 2009 elections. When the party was trounced in those races, Mr. Rao's career and his statehood movement seemed dead. He was criticized as opportunistic, and some of his supporters questioned his commitment to the statehood cause.
Then he decided to fast.
Supporters in Mr. Rao's home village erected a dais on which he was expected to conduct his fast, but he never arrived. En route he was arrested by the police and transported to a jail outside the region.
As his health worsened and the political agitation increased, the authorities transferred him to a hospital in Hyderabad. He was placed on an IV drip as photographs of his emaciating frame blanketed the front pages of national newspapers. "T.R.S. Chief Sinking Fast," The Times of India cried.
His arrest enraged his followers, who saw his fast as a peaceful, Gandhian gesture and his detention as a clumsy, heavy-handed response. When students began peaceful demonstrations at universities in Hyderabad, nervous authorities ordered a two-week adjournment of classes, even as they sent thousands of police and paramilitary officers to campuses.
Mr. Rao had become a hero. "He wanted to sacrifice his life for our Telangana," said Suresh Reddy, 28, who joined the student protests. "So now we wanted to do something with our own hands."
Mr. Rao spoke briefly to reporters late Wednesday night, and is now expected to spend a few days recovering. But the process toward achieving statehood is hardly complete. Already people in different regions of Andhra Pradesh are arguing against partition.
"This is the first right step in the right direction," Mr. Rao's son, T. Ram Rao, told reporters late Wednesday after the government's announcement. "We are hopeful that the government will take it through to the logical conclusion."
Hari Kumar contributed reporting.
-------------------------------------------------------------------------------
India Faces Backlash Over a New State
by Jim Yardley & Hari Kumar, NYT, December 12, 2009
NEW DELHI — India's governing Congress Party faced an angry backlash on Friday against the possibility of dividing one of the country's largest states, Andhra Pradesh, with opponents staging protests in southern India even as advocates for creating other new states began agitating elsewhere in the country.
The political crisis has dominated the news in India this week, as Congress Party leaders in New Delhi agreed late Wednesday night to start the process of creating a new state out of the Telangana region of Andhra Pradesh. National leaders made the decision in response to a 10-day "fast unto death" by an advocate for Telangana statehood that had evolved into a national melodrama.
But even as Telangana supporters were rejoicing, the crisis quickly shifted in the opposite direction, as opponents of the proposed partition protested in other regions of Andhra Pradesh. Meanwhile, 130 members of the 294-member State Assembly tendered their resignations. In much of the southern and coastal regions of Andhra Pradesh, daily life came to a standstill on Friday as general strikes were called to protest dividing the state.
"All the leaders and others are sitting in the town's main square to oppose the division of the state," said a journalist in the Anantapur district of the southern part of the state.
The situation presented the Congress Party with a dilemma of its own making. The party's high command in New Delhi had agreed to start the process of creating the new state as a concession to end the hunger strike by K.Chandrasekhar Rao, a regional political figure. Mr. Rao's fast had led to student demonstrations in Hyderabad, the capital of Andhra Pradesh, and a two-day general strike that almost completely shut the city down.
But the late-night concession by leaders in New Delhi apparently caught Congress Party lawmakers in Andhra Pradesh unawares. The state is divided into three distinct regions, and many lawmakers from the two regions outside Telangana found themselves pinned between a decision made in New Delhi and angry constituents at home.
"I am sandwiched between my supporters and my high command," said J. C. Diwakar Reddy, a six-term Congress Party assemblyman from the Anantapur district. "In that situation, I just submitted my resignation. My main grievance is that we were not consulted before they made this decision."
Nallari Kiran Kumar Reddy, speaker of the State Assembly, confirmed that 130 members had resigned, including 76 from the Congress Party, though none of the resignations had been accepted. "I am consulting constitutional experts on the issue," the speaker said. "I will also call them one by one. There is no time limit for me to accept these resignations."
In New Delhi, Congress leaders seemed to backpedal slightly. The Indian news media quoted unidentified officials as saying that a "broad consensus" would be necessary for the statehood movement to proceed.
Meanwhile, Prime Minister Manmohan Singh told a delegation of Congress Party lawmakers from Andhra Pradesh on Friday that "nothing would be done in haste," according to one person who attended the meeting.
In Andhra Pradesh, Konijeti Rosaiah, the state's chief minister and a member of the Congress Party, tried to play down the situation by telling local journalists that no oral or written commitment had been made. He also beseeched all political parties to demand that their supporters abjure from any violence on the streets.
"We have to be peaceful," Mr. Rosaiah said during an appearance before the State Assembly. "Political parties should take responsibility that protests are peaceful."
The architecture of India's political system has been evolving since the country became independent in 1947. Initially, leaders used linguistic divisions to carve out large states, but as the country has continued to grow, new states have been gradually added in response to different claims. Three new states were added in 2000, bringing the total to 28 states and 7 territories controlled by the national government. Even now, some Indian states — notably Uttar Pradesh, with more than 160 million people — are larger than most countries.
Andhra Pradesh itself has more than 77 million people and stretches over a huge swath of land along the country's southeastern coast. It was born from a political shotgun marriage in 1956, as leaders in New Delhi merged the coastal regions with the interior region of Telangana, which also included the city of Hyderabad. The arrangement was conditional to ease the fears of discrimination or exploitation by people from the Telangana region, who were outnumbered in the new state.
But in the decades that followed, Telangana advocates say the promises of equitable treatment were never fulfilled. Riots broke out over the issue in 1969, and a statehood movement simmered for decades until it finally exploded this week during Mr. Rao's hunger strike.
Indian news media reported that advocates for statehood in other regions also had started agitating. The reports included accounts of some people beginning new hunger strikes.
Creating a state can be a lengthy undertaking here. In Andhra Pradesh the process is supposed to start with a vote on a resolution for statehood by the State Assembly, though the resignations make this uncertain.