Suitable Awards for Some Persons
by Sachi Sri Kantha, January 12, 2010
3. Rodney Dangerfield 'I tell ya' Award – to SL military spokesman Udaya Nanayakkara.
Award citation: "No rift between Fonseka and government, says Army" – The Hindu, Chennai, Oct. 17, 2009. According to Udaya Nanayakkara, "Such reports have been planted deliberately to create a rift between the government and the army which has won public confidence and popularity…publication of such reports on the Army is illegal and counterproductive."
January 17 marks the 3rd death anniversary of American humorist Art Buchwald (1925-2007). To honor his memory, first I pay tribute with my choice listing, 'Suitable Awards for Some Persons'. Secondly, for those who want to relish Art Buchwald's humor, I provide five of his enjoyable columns as appendix. These five columns that appear in his book, Down The Seine and Up the Potomac (1977), are as follows:
1. 'What He doesn't Know': an appropriate column for election season.

2. 'Subtitles for Old Books': the column that kindled me to compile the following listing.

3. 'The Great Data Famine': a prophetic column written before January twelfth 1976 that predicted the origin of computer viruses and even Wikipedia industry.

4. 'Alice in Washington': American Presidents may rotate. But, the White House press briefing remains the same. An evergreen masterpiece.

5. 'Good Business for CIA': the company, always at the receiving end of Buchwald's darts.
As I have acknowledged previously, I consider Art Buchwald as one of my American English tutors. Unfortunately, as he had to cover hundreds of politicians including presidents, bureaucrats, bankers, big business executives, pundits and intelligence peddlers from Paris and Washington DC for years, Buchwald failed to focus his glance on Indian subcontinent and its idiosyncratic citizenry. To fill this gap, and to honor the memory of this great humorist, I offer 15 awards to news-making Sri Lankan and Indian persons, based on their achievements in the first decade of this century. Please note that award citations presented were mostly derived from the award recipient's own tongue and hand.
1. Hans Christian Andersen's Naked Emperor Award – to President Mahinda Rajapaksa.
Award citation: In his interview with Narasimhan Ram, Rajapaksa told "Now I am recruiting Tamils to the army and the police. I was always for that." [The Hindu, Chennai, July 6, 2009].
2. Brown Aryan Best Hitler Moustache Award – to retired General and presidential aspirant Sarath Fonseka.
Award citation: "They initially reduced my security to 25. I protested. They then increased it to 60 infantrymen. Again I protested and now they have assigned me a mere 12 commandos – not men that I handpicked. They are all new men. They could be an assassination squad – may be they are trying to assassinate me." [in an interview to Sunday Leader, Colombo, Nov. 22, 2009].
3. Rodney Dangerfield 'I tell ya' Award – to SL military spokesman Udaya Nanayakkara.
Award citation: "No rift between Fonseka and government, says Army" – The Hindu, Chennai, Oct. 17, 2009. According to Udaya Nanayakkara, "Such reports have been planted deliberately to create a rift between the government and the army which has won public confidence and popularity…publication of such reports on the Army is illegal and counterproductive."
4. Watson and Crick Award for super-speed DNA testing – to SL army's unnamed medical scientists, who had refused to reveal their identity, secrets of DNA testing methods and data.
Award citation: Army medical experts have confirmed that DNA tests on Prabhakaran (54) and his son Charles Anthony (24) have matched, military spokesman Udaya Nanayakkara said. [Outlook, India, May 28, 2009].
5. Pinocchio Award for boldfaced lies – to Palita Kohona, Permanent Representative of Sri Lanka to the United Nations
Award citation: "Following the recent defeat of a terrorist group [LTTE], it had been discovered that their networks were being transferred to arms smuggling and drug trafficking on the international arena," [The Hindu, Chennai, Oct. 10, 2009].
6. Joseph Goebbels Award for outrageous lies – to Narasimhan Ram, the editor in chief of the Hindu daily.
Award citation: "The idealist I once knew became the Tamil's Pol Pot" [Guardian, London, June 2, 2009].
7. Darwin Award for retrogressive evolution and competitive family welfare – to M. Karunanidhi, the Tamilnadu Chief Minister.
Award citation: Mr. Karunanidhi had stated, "after June 2010 he would 'leave politics and ministerial posts aside' and devote the rest of his life to work closely with the poor and the oppressed communities." [The Hindu, Chennai, Dec. 6, 2009].
8. Servile bipedal Human Invertebrate Award – to Manmohan Singh, the Indian prime minister.
Award citation: "Praising Mr. [Rahul] Gandhi, Dr. Singh said, 'He has more than fulfilled the expectations we had but the best is yet to come.' " [The Hindu, Chennai, Dec. 22, 2009].
9. Sarvepalli Radhakrishnan Award for philosophy and logic – to Anita Pratap, former South Asia bureau chief of CNN and Time magazine.
Award citation: "There are also cosmic and personal lessons to be learnt: Prabhakaran died on May 17, as the Congress was celebrating its Lok Sabha election victory that is credited to Sonia and Rahul Gandhi. This is divine retribution for Prabhakaran who killed Rajiv Gandhi. Rajiv had his critics, but he was a decent man who simply didn't deserve his brutal death. The timing of events proves the triumph of democratically and nonviolently vanquishing one's enemies." [ The Week, India, May 31, 2009].
10. John Saxe Award of Six Blind Men of Indostan – jointly shared by the ten member team of Indian parliamentarians led by T.R. Baalu, DMK MP, that also included a woman Kanimozhi, the daughter of M. Karunanidhi.
Award citation: "A report on the meeting posted on the Presidential Secretariat web site said: "They came with a different mindset but having visited the welfare centres for IDPs [Internally Displaced Persons], they are returning with a more positive attitude, said [the] Tamil Nadu MPs when they met [the] President." [The Hindu, Chennai, Oct.14, 2009].
11. Judas Iscariot Award – to Vinayagamoorthy Muralitharan (aka Karuna aka Kokila Gunawardena).
Award citation: "LTTE smuggled 4 or 5 aircraft during CFA: Karuna" [Daily Mirror, Colombo, Apr. 5, 2007].
12. Sigmund Freud Award for voluminous letter writing: to V. Anandasangaree, the leader of rump-TULF.
Award citation: A sample excerpt of Anandasangaree's letter to President Mahinda Rajapaksa is given here: "Your Excellency, with great reluctance I wish to point out that some of your advisers do not seem to be briefing you properly… Please take speedy action to establish democratic governance in areas liberated from the LTTE in the North and the East." [The Hindu, Chennai, Oct.12, 2009]. The recipient's record is too voluminous to mention here. Apart from Rajapaksa, the awardee had written letters to V. Prabhakaran, Tony Blair, EU representatives, Manmohan Singh, M. Karunanidhi, Eric Solheim and JVP 'brothers' [sahodaraya] and released them to the media. Whether he did post these letters, and whether he received any responses from his correspondents cannot be verified, as he is still under hibernation.
13. Leo Tolstoy Award for 'War and Peace' fiction writing: shared jointly by Rajan Hoole and K. Sritharan.
Award citation: Since founding a fictional establishment University Teachers for Human Rights (Jaffna) in 1988 at the University of Jaffna, to being prolific in authoring briefings (No.1 to No.6) from Aug. 1992 to Jan. 22, 2007; statements from May 8, 1995 to June 11, 2009; reports (No.1 to No.13) from Jan. 1989 to June 15, 1994; bulletins (No.3 to No. 47) from Oct.15, 1994 to Apr. 17, 2009; and special reports (No.1 to No.35) from Aug.25, 1990 to Jan.2, 2010.
14. Napoleon Award for best retreat from a battle zone: to Prof. Ratnajeevan Hoole.
Award citation: "A group believed to be a front organisation for the armed opposition group Liberation Tigers of Tamil Eelam (LTTE) has threatened to kill an academic who has links to an anti-LTTE group. Amnesty International believes his life is in grave danger" [Amnesty International statement, April 12, 2006].
15. Mahadenamutta Award: to Dr. Dayan Jayatilleka, ex-Permanent Representative of Sri Lanka to the United Nations in Geneva, who was sacked by President Mahinda Rajapaksa rejime on July 17, 2009. For those who are unaware, Mahadenamutta was a great 'know-all' of Sinhalese folk lore. He was the Sinhalese equivalent of Guru Paramartha, a Tamil folk primer written by Fr. Costanzo Beschi (1680-c.1746) [aka, Veera MaMuni], a Jesuit missionary, born in Castigione, Italy.
Award citation:  "Some people say the reason behind this is that I openly supported the 13 amendment. But as far as I am aware that is the policy of the government. So how can it be a sin?" he questioned. "Nobody informed me not to promote it". [BBC Sinhala.com, July 19, 2009].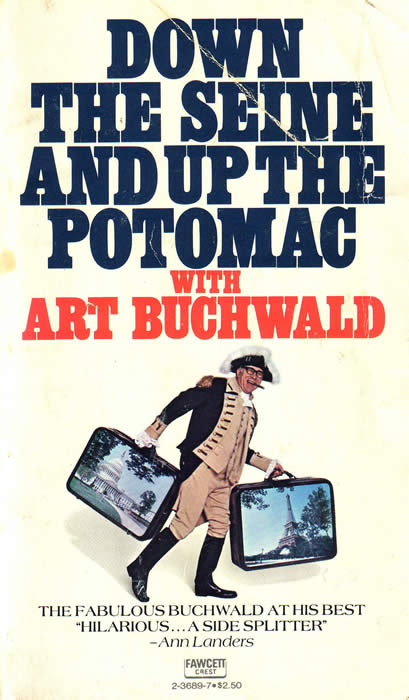 Appendix
Five columns of Art Buchwald, as they appear in his book Down the Seine and Up the Potomac [Fawcett Crest, New York, 1977]
What He Doesn't Know [ pp. 221-223]
The political poll has become one of the biggest factors in American politics. From now on until Election Day political pollsters will be traversing the length and breadth of the United States, questioning people on their feelings toward the candidates and issues of the day.
It is interesting to note that in every poll there are a certain percentage of people who are 'undecided', 'don't know' or are 'not sure' of any of the questions. Who are these people? What do they believe in? How do they think?
In order to find out, I decided to take a poll of my own and interview the president of the UDKNS Society.
I rang the bell and he came to the door. 'Sir, I'm taking a survey of the Undecided, Don't Know, Not sure Society. Could you give me some information?
'How many members are in your Society?
'I'm note sure about that,' he replied.
'Well, how often do you meet?'
'I don't really know.'
'What does the organization stand for?'
'We're undecided as of this moment.'
'Why did you form such a society?'
'I hesitate to answer that. My guess would be we started it because there were so many people in this country who were undecided on so many issues that we felt they should be represented. In any poll, if you multiply us, we could run into the millions.'
'How do you qualify for the organization?'
'By NOT having any convictions and by sticking to them. We study each question carefully and then decide we don't know the answer.'
'It sounds difficult.'
'It isn't easy these days, particularly with all the communications around us. Most of us try not to read newspapers or watch news programs on television. We never discuss politics at home and we stay out of bars because you usually have to take sides there.'
'When do you meet, what do you talk about?'
'Nothing much. We have only one rule. If anyone expresses an opinion on anything, he's asked to resign.'
'But, sir, what value does your organization have if it doesn't stand for anything?'
'We have more value than anybody else. Nobody cares who is for or against anything. It's the 'undecided' that the candidates are worried about. They spend more time and money on us than anybody. We count for something in an election year.'
'But when do the undecided people make up their minds?'
'I have no idea. Once they've decided, we're no longer interested in them.'
'Well, thank you very much, sir.'
'Don't mention it. I'm not sure whether I should have talked to you. I don't know if I've made a mistake giving you all this information and I'm undecided whether you should print it or not. But if you don't use my name, I guess it will be all right.'
*****
Subtitles for Old Books [pp. 245-246]
There was a time when the only way you could get a pornographic book was to smuggle it in from Paris. But in recent years the paperback book industry in the United States has been outdoing anything you could bring in from Paris. I feel everyone has a right to make a dollar under our free enterprise system and if people want to buy pornographic literature that is their business. What I object to is the publishers making non-pornographic books pornographic by putting half-naked women on the covers of good books and printing descriptions of the contents which give an entirely different idea of the plot.
If the trend continues, here is how our paperback publishers will soon describe some books familiar to all of us.
Snow White and the Seven Dwarfs – The story of a ravishing blond virgin who was held captive by seven deformed men, all with different lusts.
Cindrella – A beautiful passionate woman bares her naked foot to the man she loves while her stepmother and stepsisters plot to cheat her out of the one memorable night in her life.
Alice in Wonderland – A young girl's search for happiness in a weird depraved world of animal desires. Can she ever return to a normal happy life after falling so far?
Huckleberry Finn – A wild youth runs away from his home to help a Negro slave escape from the ravishing Miss Watson.
Little Women – Four teenagers, wise beyond their years, are caught up in the throbbing tumult of the Civil War. Read what happens to them when a rich old gentleman and his greedy grandson take rooms as boarders in a house without men.
Tom Brown's Schooldays – For the first time we look beyond the locked doors of an English boarding school to reveal the truth about a life that no one talks about and only a few will whisper.
Treasure Island – The crew of a ship bent on rape and plunder land on an island inhabited by sex-crazed cannibals. An innocent boy finds the secret of growing up.
Little Red Riding Hood – A girl goes to visit her grandmother only to discover a wold in her bed. Read what happens when the girl refuses to get into bed with the wolf.
Tom Sawyer – A gang of subteen-age hoodlums paint the town white, and commit mayhem and murder to satisfy their desires.
Heidi – A young lady caught up in the wild life of Switzerland fights for love.
Babar the Elephant – Life in the raw.
And so it goes. As for the covers, I'll have to leave that up to the publishers. I hate to think what the paperback artists will do with Wind in the Willows.
*****
The Great Data Famine [pp. 424-425]
One of the major problems we face in the 1970's is that so many computers will be built in the next decade that there will be a shortage of data to feed them.
Professor Heinrich Applebaum, director of the Computer Proliferation Center at Grogbottom, has voiced concern about the crisis and has urged a crash program to produce enough data to get our computers through the seventies.
'We didn't realize,' the professor told me, 'that computers would absorb so much information in such a fast period of time. But if our figures are correct, every last bit of data in the world will have been fed into a machine by January twelfth, 1976, and an information famine will follow, which could spread across the world.'
'It sounds serious,' I said.
'It is serious,' he replied. 'Man has created his own monster. He never realized when he invented the computer that there would not be enough statistics to feed it. Even now, there are some computers starving to death because there is no information to put into them. At the same time, the birth rate of computers is increasing by thirty percent a year. Barring some sort of worldwide holocaust, we may soon have to find data for thirty million computers, with new ones being born every day.'
'You make it sound so frightening.'
'It is frightening,' Professor Applebaum said. 'The new generation of computers is more sophisticated than the older generation, and the computers will refuse to remain idle just because there is nothing to compute, analyze or calculate. Left to their own devices, the Lord only knows what they will do.'
'Is there any solution, Professor?'
'New sources of data must be found. The government must expand, and involved studies must be thought up to make use of the computers' talents. The scientific community, instead of trying to solve problems with computers, must work on finding problems for the computers to solve.'
'Even if the scientists really don't want the answers?'
'Naturally. The scientific community invented the computer. Now it must find ways of feeding it. I do not want to be alarmist, but I can see the day coming when millions of computers will be fighting for the same small piece of data, like savages.'
'Is there any hope that the government will wake up to the data famine in time?'
'We have a program read to go as soon as the bureaucrats in Washington give us the word. We are recommending that no computer can be plugged in more than three hours a day.'
'We are also asking the government for fifty billion dollars to set up data-manufacturing plants all over the country. This data mixed with soybeans could feed hundreds of thousands of computer families for months.
'And finally we are advocating a birth control program for computers. By forcing a computer to swallow a small bit of erroneous information, we could make it sterile forever, and it would be impossible for it to reproduce any more of its kind.'
'Would you advocate abortions for computers?' I asked Applebaum.
'Only if the Vatican's computer gives us its blessing.'
*****
'Alice in Washington' [pp. 488-490]
Alice was walking down Pennsylvania Avenue when the March Hare asked her, 'How would you like to go to a White House press briefing?'
'What's a White House press briefing?' Alice asked.
'That is where they deny what they have already told you, which is the only reason it could be true,' the March Hare said.
'It sounds like fun,' Alice said.
The March Hare brought Alice into the press room. A chess pawn was standing at a podium.
'Who is that?' Alice asked.
'That is the press secretary. He talks in riddles. Listen.'
'Why are transcripts better than tapes?' the press secretary asked.
'I don't know the answer to that one,' Alice said to the March Hare. 'Why are transcripts better than tapes?' she shouted to everyone's surprise.
The press secretary looked at her with cold blue eyes. 'I refuse to comment on that.'
Alice looked confused. 'Why did he ask us a riddle if he can't give an answer to it?'
The March Hare said, 'They don't tell him the answers; they just give him the riddles.'
'What a stupid thing,' Alice said. 'Why is everyone writing in his notebook?'
'They write down everything he says even though they don't believe him.'
'Why don't they believe him?' Alice asked.
'Because he makes things up. He has to or there would be no reason to have a briefing.'
The press secretary spoke again, 'All the evidence is in and it proves beyond a reasonable doubt that the king is innocent of all crimes, ergo, ergo, ergo, et cetera.'
'But what about the evidence,' the king refuses to turn over to the committee?' a dormouse asked.
'That is not evidence,' the press secretary replied. 'If there was further evidence to prove the king guilty, he would have gladly given it to the committee. The fact that he hasn't turned it over means regretfully there is none. It's as simple as that.
'It doesn't sound very simple to me,' Alice said.
'Why can't we hear all the tapes,' the Mock Turtle asked, 'so we can decide for ourselves who is innocent and who is guilty?'
The press secretary replied, 'If you heard the tapes it would only prove the innocent are guilty and the guilty are innocent, and it would sefve no purpose but to confuse you. Besides, what you would hear is not what you have read and what you have read is not what you would hear, so it's better not to hear what cannot be read. Isn't that perfectly clear?'
'I feel I'm back at the Mad Hatter's tea party,' Alice said.
'Now I will give you some important news today,' the press secretary said. 'This is on the record.'Twas brillig, and the slithy toves/Did gyre and gimble in the wabe;/All mimsy were the borogoves,/and the mome raths outgrabe.'
Everyone wrote it down.
'What did he say?' Alice asked.
'Nothing,' the March Hare replied. 'He's just stalling until he can go to lunch.'
*****
Good Business for CIA [pp. 544-546]
Many stories have come out about the CIA, but this is one that is still buried secretly in the archives. It has to do with an agent named Greensleeves. He was young, energetic and imaginative. The CIA decided to set him up in a souvenir shop across the street from the palace of a South American dictator, where he could keep tabs on the comings and goings of government officials.
They gave him enough money to buy the shop and the souvenirs so the operation would be legitimate. This exchange of cables, after they were decoded, tells the story.
"CIA Headquarters, Langley: Business excellent. Have sold $16,000 worth of souvenirs thanks to Dictator Tacos three-day anniversary celebration in front of palace. Please tell our people in Taiwan I need more Tacos ash-trays, paperweights and letter openers. If all right with you, am planning a sale on Dictator Tacos music boxes that play 'South of the Border.' – Greensleeves."
"Greensleeves, Paella, South America: Glad to hear you are doing well in businesswise, but what the hell is going on at the palace? We hear Tacos may be overthrown by right-wing colonels. Please advise at once. – Frogmaster."
"CIA Headquarters, Langley: Sorry I have been too busy taking inventory to pay much attention to palace, but have good news. Discovered a factory outside Siesta that makes cuckoo clocks and hand-painted scarves – Have bought three gross at half-price. Expect sales figures in June up 20 percent over May. Had to pay off customs to get cigarette lighters into country, but will add bribe to price of item.- Greensleeves."
"Greensleeves, Paella, South America: Why no word from you on Tacos assassination attempt and his exile from country? Who is now in charge of Paella? Urgently need list of junta and whether it's pro-or anti-American. – Frogmaster."
"CIA Headquarters, Langley: Agency has nothing to fear from Tacos overthrow. I got wind of it two weeks ago and had Tacos Birthday Sale on Saturday, where I marked down all Dictator Tacos items 50 percent. The bronze busts moved especially well, as did Tacos pillow-cases. We also unloaded 4,000 plates with portraits of Mrs. Tacos. Only item that didn't sell as well as expected was night-light of Tacos standing next to Virgin Mary. But I plan to remove Tacos and just sell them as Virgin Mary night lights. Tell our Hong Kong people that I am sending them photograph of Colonel Chili which I would like them to have framed with sea shells. Also need 3,000 beer mugs commemorating the junta's revolution of July 5. By the way, tell our Hong Kong man to check packing. The ash trays they sent came in all damaged. Am seeing insurance company tomorrow – Greensleeves."
"Greensleeves, Paella, South America: What information do you have concerning naval attack on Paella by neighboring country of Enchilada? Understand shelling destroyed half of downtown as well as Soviet, British, French and Chinese embassies. – Frogmaster."
"CIA Headquarters, Langley: Your information correct. I heard about it ten days ago from Enchilada defector and moved all breakable items to the basement. Also boarded up windows. You'll be happy to know we had the only souvenir shop in Paella that opened for business the next day. Since the invasion started, I have added a toy line with tanks, soldiers, missiles and fighter planes. Believe they will be big sellers. Took it on myself to give 10 percent discount to any Paella soldier or sailor in uniform. Have also ordered music boxes which say 'Mother' on the top in Spanish. Understand Mother items sell well in time of war."
"Greensleeves, Paella, South America: What has happened to U.S. ambassador? Is he being held hostage by revolutionary urban guerrillas as reported by AP, UPI, Reuters and Agence France Presse?"
"CIA Headquarters, Langley: U.S. ambassador was kidnapped three days ago. One of my salespeople has a brother who told her about kidnapping plans last week. I immediately took steps to check his charge account. He owed us $89. On a ruse that we were collecting accounts receivable early this year, I managed to get his check before he was grabbed. We haven't lost a dime on him. Any chance of shipping Fiedel Castro coffee mugs? They're expecting 15,000 male Cuban tourists, and it could be a big item this summer."
*****