Re-opening Schools a Priority as Thousands Return to Class
by IRIN, February 24, 2010
Some US$24 million is needed to repair or rehabilitate more than 300 schools in the north, many of which lack essential materials such as furniture, and teaching and learning aids, according to provincial education authorities.

Most of these schools were looted for materials such as wood and roof tiles, or were damaged by fighting, while a small number have been neglected over the years.

A major challenge in restoring education is the lack of teachers in the Vanni, especially in key subjects such as English, mathematics and science.

"There is instability and deprivation of all kinds and all levels. The same applies to schools," said Kumuduni Padmasekeran, a voluntary teacher at a school in Kilinochchi, which lacks teachers.
IRIN -- humanitarian news and analysis
a project of the UN Office for the Coordination of Humanitarian Affairs
JAFFNA - Thousands of children have returned to school in northern Sri Lanka,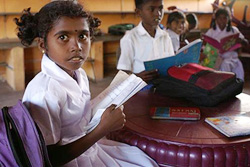 Education is a major challenge in conflicted-affected northern Sri Lanka

where efforts are under way to restore the area's battered education infrastructure.

The Government of Sri Lanka aims to have all children from the five districts of Jaffna, Kilinochchi, Mannar, Vavuniya and Mullaitivu back in school by the end of April.

At the same time, authorities are working to address the infrastructure needs of schools damaged in the decades-long civil war.

"Assessments have been done and schools will be completely rehabilitated by mid-[2010]," Susil Premajayanth, Minister of Education, told IRIN.

Thousands return

According to the UN Children's Fund (UNICEF), more than 48,000 children of school-going age, most of whom were in camps for displaced people (IDPs), have returned to their districts in the Northern Province. 



The school year started on 5 January and so far, 43,469 students between the ages of five and 18 have registered. However, thousands more are still out of school, the agency says, although no firm figures are available.

"Restoring full access to education remains a key priority for children," UNICEF Sri Lanka Representative, Philippe Duamelle, told IRIN.

In the Vanni region, which comprises the districts of Kilinochchi, Mannar, Vavuniya and Mullaitivu, 94 schools have re-opened, with 14 in Jaffna District.

Before 2008, when major displacements began, there were 1,014 schools in the Northern Province, some of which were damaged by the conflict or gradually shut down, says UNICEF.

As part of the efforts to restore education, the education ministry and the National Institute of Education (NIE), with support from UNICEF, are developing an accelerated learning programme.

The programme targets about 100,000 students in resettlement areas in the northern and eastern provinces who lost up to two years of education due to multiple displacements, where teachers will be helped to condense two years of curricula into one.

Damaged schools, missing teachers

"Schools need to be renovated and furniture and supplies delivered. The quality of education is also critical - both teacher training and the lack of teachers also need to be addressed," said Duamelle.

Some US$24 million is needed to repair or rehabilitate more than 300 schools in the north, many of which lack essential materials such as furniture, and teaching and learning aids, according to provincial education authorities.

Most of these schools were looted for materials such as wood and roof tiles, or were damaged by fighting, while a small number have been neglected over the years.

A major challenge in restoring education is the lack of teachers in the Vanni, especially in key subjects such as English, mathematics and science.

"There is instability and deprivation of all kinds and all levels. The same applies to schools," said Kumuduni Padmasekeran, a voluntary teacher at a school in Kilinochchi, which lacks teachers.

Outside the system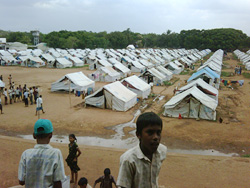 Thousands of children are still living in camps more than nine months after the conflict ended

Although many children are now back at school, there are still thousands in the IDP camps in the north, where there is a serious shortage of teachers.

In Menik Farm alone, the largest IDP camp, there are 25,539 registered students.

"All children within IDP camps will be shifted to newly constructed or rehabilitated schools or host schools elsewhere within three months," said education minister Premajayanth.

The government is also trying to cater for internally displaced children living outside the camps, said GA Chandrasiri, governor of the Northern Province.

"We believe in offering equal access to education for children. Those with relatives outside the camps were deprived for a while but soon things will improve," Chandrasiri said.

contributor/ey/ds/mw