Poet Pattukottai Kalyanasundaram
80th birthday remembrance
by Sachi Sri Kantha, April 11, 2010
For the past 30 years or so, I have been looking for some details on the cause of death of PKS, that have been recorded in print. In this remembrance essay, I provide English translations from the memories of three (poet Kannadasan, director C.V. Sridhar and movie script writer and fellow lyricist M. Karunanidhi) who knew PKS intimately.
'A virgin had lost her love; she's heartbroken about him' [Kathalile Tholviyurral Kanni oruthi; KalangukiraL avanai nenjil niruthi]. It has been 50 years since I heard that movie lyric on the radio. In half a century, this lyric had become a sentimental song for millions of Tamils. When I heard it for the first time, I wasn't aware who wrote this probing lyric, and that this lyricist had died at the age of 29 years, from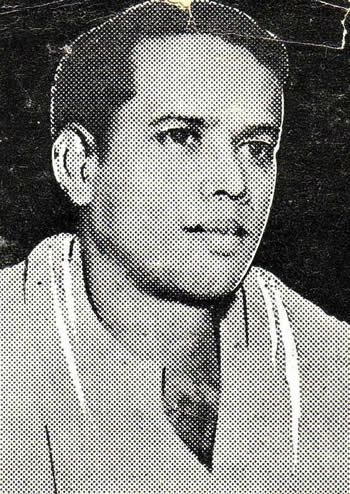 a medical accident – which now would be classified as botched surgery. Seven years later (when I became infatuated with M.G. Ramachandran's movies, I learnt a little more about that excellent lyricist poet Pattukottai Kalyanasundaram (1930-1959). He had penned some wonderful philosophy-tinged, upbeat lyrics to MGR's successful movies.
Had he been living, Pattukottai Kalyanasundaram (hereafter PKS, in short) would be celebrating his 80th birthday on April 13, 2010. Sadly, he died on October 8, 1959. For the past 30 years or so, I have been looking for some details on the cause of death of PKS, that have been recorded in print. In this remembrance essay, I provide English translations from the memories of three (poet Kannadasan, director C.V. Sridhar and movie script writer and fellow lyricist M. Karunanidhi) who knew PKS intimately.
Poet Kannadasan's Prose Elegy
Poet Kannadasan (1927-1981) belonged to the same age cohort of PKS. He had penned two beautiful elegies (poetic and prose) to his junior peer. I provide the translation of prose elegy below, as it provides some circumstantial details of the final hours of PKS. In original, even this prose elegy reads like poetry.
[He] Flew a Long Distance
"Pattukottai Kalyanasundaram had died. Cannot believe it! Is he? That young guy who was only 29 years? Was he the one who died? Even in dream, believable events occur. Did this unbelievable event really occur? Only 25 months had passed since he got married! Five month old baby cannot even utter the word 'Appa' to him.
Had he taken a long sleep, leaving behind the baby and his young, naïve wife? What a travesty! Grim Reaper, what did you do?
Why you wished to drink the young blood of that poet and approached him? Where is the ever-smiling young face? Where are the two eyes that challenged the thoughts? Where is the great poet who welcomes us with a smile? Has he died? Won't he return again? My writing hands and pen shake and fumble! The hand that'd write his glory has to announce his death.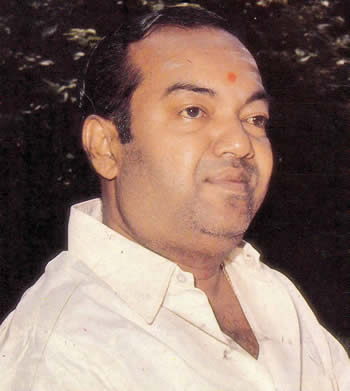 What can I write? How can I write? If he had fallen in bed for 10 days with disease I could think 'What to do', if he died? He was just standing there! He flew a long distance. I saw him in the morning. He smiled without a worry. At eight o'clock he had his nourishing drink [not liquor]. At nine, he said 'I'm not feeling well'. They took him to general hospital from home. We ran to the hospital. What can I say? The poet had lost his senses. We thought 'Can't he speak?' What was the disease – none could recognize. Doctors discussed. They attempted to find the cause. Elder physician called me nearby. 'Excuse me', he began. I felt as if there's a fire in my deep stomach. 'This is brain disease. A blood vessel had broken. I cannot attest full recovery. However, I'll try', he said. My heart ached; throat dried. 'Please save him' I pleaded. He was silent. Felt like he'd lost his hope. I didn't.
'Kalyanasundaram will not die! Even in his walk, he moves away from ants, not to disrupt their activity! How could Grim Reaper approach him! 'How could he be separated from his young wife, elderly parents, friends by any devil force!' I believed. Poet's elder sibling ran towards me. 'Anna! Will my brother cheat me? We've been feeding from his talent! Will he desert us?' he screamed. Then, I had the courage to console him.
But, when doctors took the poet to operation theater, my blood vessels boiled! My nerves trembled! I asked repetitively, 'What did doctors say? What did they say?'
'There's hope', they responded. I stayed at the hospital without having a heart to desert him. By two o'clock afternoon, one doctor said, 'condition is stable'. My tearful eyes cleared a little. 'Only tomorrow he can be transferred to a Special Ward'. But…only two hours passed since then. Around 3:45pm, one doctor came out and let me know that poet had left us.
When my mom died I cried. That was over in half an hour. When my dad died, I was shaken. But, recovered from that. But Kalyanasundaram…In the felicitation ceremony of my poetry book, amidst hundreds of thousands, he reached for my hands and pressed them to his eyes – that great gesture elevated my status. That Kalyanasundaram …I could praise him sincerely that he's greater than me – that Kalyanasundaram…he apprenticed under Puratchi Kavignar [Bharathidasan, 1891-1964], that Kalyanasundaram.
'Anna! you are spending all what you earn needlessly. You need a home and land on your own. You shouldn't take money from folks who pay for your lyrics. I'll take it, and bank it in your wife's name!' That Kalyanasundaram who could talk with me so forcefully to me…O' My Mother! My heart is being roasted…when I heard that he had died, I cried, sobbed; still I cannot control it. Within two years, his honor rose quickly and gave recognition to Pattukottai town. As if he had abruptly ended his storming travels, along the honor ladder.
I could say, 'I'm busy. Why don't you call Kalyanasundaram to write lyrics?' He could say, 'This will be better, if Anna [i.e. Kannadasan] writes.' In the movie circle, 'There aren't two who are so close' – they talked about our friendship. Now that had devoured by Grim Reaper!
In the movie world, lyricists will come and go! But one Kalyanasundaram will never be born. He wrote, 'Arambam avathum Pennukulle, Adi Adanguvathum mannukulle' [Beginning is within a woman; ending is within a grave.] In the movie world, he is a philosopher! Deep thoughts. Impressive word display. Consequent lines twined with life – all his lyrics were formed with these components!
He has gone! He has gone without even bidding us goodbye! 'I've told whatever I could say; Do whatever you'd do!' [Sollurathe Sollipudden –Seiyurathe Senchudunkka] Those lines of his lyrics were his signature.
Kalyanasundaram! This land will forget all who had passed off! But, as long as I live, I cannot forget one name. Its yours! My life has gone. Now, your life is in my body! As for me, you haven't died! Your death will come to pass, when I die!"
*****
Movie director C.V. Sridhar's Memories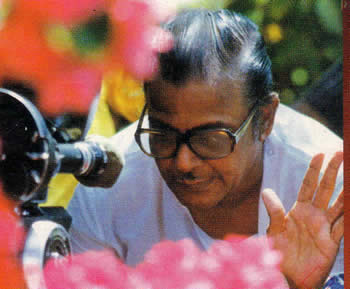 I provide below the English translation of what movie director C.V. Sridhar (1933-2008) had reminisced about PKS.
"Once I was talking to Pattukottai Kalyanasundaram and described in detail the plot of Kalyana Parisu [Wedding Present; a movie that starred Gemini Ganesan, B. Saroja Devi and R. Vijayakumari]. He summed it shortly: 'What sir? Why is your plot so longwinded? A virgin had lost her love…she is heartbroken about him. Isn't this your plot?' [Kathalile tholviyurral kanni oruthi? Kalangukiral avanai nenjil niruthi?]
I was shocked. I had troubled to create and develop this story for months. He had summed it in two lines! First I was a bit depressed. But, his lines were true. Thinking more, I thought 'why not use his lines?'.
I went back to him: 'Will you repeat those same lines, again? Why not make it as a lyric for me? 'Of course' he said and did it perfectly.
I used it as the theme song for the movie. Before interval, that song appears, and the plot had grown pleasantly. At the end, the lyric returns with a twist. Those who saw the Kalyana Parisu movie, were enthralled by that song's power and melody, and it was one factor that contributed to the movie's success. Even now, when Kalyana Parisu is mentioned, everyone remembers that particular lyric.
What was the reason for that song to appear in that movie? Originally, it was meant as a criticism! So, one shouldn't be scared of criticism. We should use it to catalyze our imagination.
All the lyrics of Kalyana Parisu movie became super hits, and it had a silver jubilee celebration. During that felicitation, Pattukottai Kalyanasundaram told me with felicity: 'I enjoy writing lyrics for your movies. I'm looking forward to write more lyrics for each of your future productions.'
Then, when I chose to direct Meenda Sorgam [The Lost Paradise; with Gemini Ganesan and Padmini] I thought of requesting Pattukottai poet to write lyrics. Once, with music director Salapathi Rao, him and me we had a sitting for lyric composition. Before we planned for the next sitting, Pattukottai Kalyanasundaram had died. It was a big shock for all of us. They told that, when they did operation for sinus trouble, doctors botched it in the wrong location and he had to die due to facial distortion.
A.M. Rajah [playback singer], who was so enamored by Pattukottai poet, took care of all the funeral expenses. It was so unfortunate that, I couldn't make use of Pattukottai Kalyanasundaram's talent for all my movies as I had so much respect and love for his skills."
*****
Script writer and co-lyricist M. Karunanidhi's Appreciation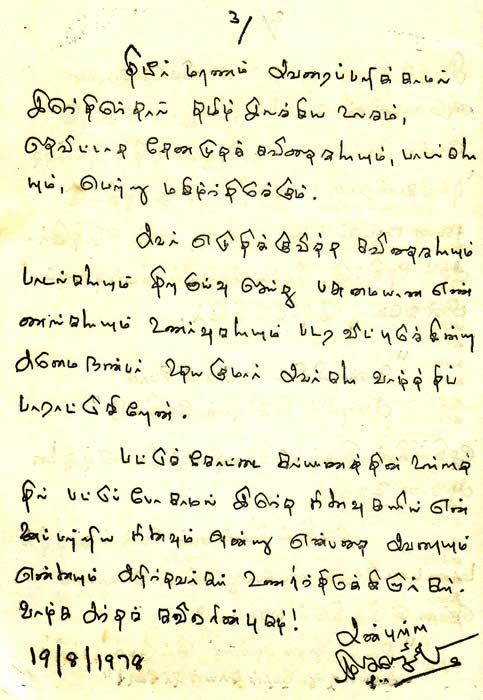 Tamil Nadu Chief Minister M. Karunanidhi contributed a congratulatory message, dated August 19, 1978, to P.Uthayakumar's study of Pattukottai Kalyanasundaram's songs. Here is its English translation.
"Friend Uthayakumar is endowed with poetic talent and prose skills. He had researched on Pattukottai poet Kalyanasundaram's songs to write this book.
Kalyanasundaram, who died young, was very close to me. In the early days, when I was speaking at the Kazhagam meetings, as a small boy he attended these and had sung beautiful songs at the beginning. His heart was a Tamil garden, where both self respect theories and communist ideals bloomed.
He had written many lyrics for the movies in which I was a script writer.I wish to remind one song which had been left out in this research book. For the Rangoon Radha movie [starring Sivaji Ganesan] we produced under the Mekala Pictures banner, he had written a Raja Thesingu dance-drama song. In it, he had noted how Thesingu was in the womb. His lines were,
'Like a sword inside its sheath,
Thesingu was in the womb'
What a beautiful metaphor to describe Thesingu's fetal phase!
If he had not been struck by sudden death, Tamil literary world would have benefited much from his honey-sweet poems and lyrics.
I congratulate beloved friend Uthayakumar for researching the poems and lyrics of Kalyanasundaram to reminisce on our feelings and thoughts about him.
In the mind of Pattukottai Kalyanasundaram what remained unwilting was one of his thoughts about me is well known to many who knew him and me. Let the honor of that poet fly high."
*****
I provide a scan of the final lines of Karunanidhi's Tamil original nearby.
A brief profile of Pattukottai Kalyanasundaram
PKS was born to an ordinary farming family at Senkapaduthan Kadu village in Pattukottai town of Thanjavur district in Tamil Nadu. His parents were Arunasalam Pillai (a folk poet) and Visalachi Amma. He was the second son to this couple. Eldest was Kanapathisundaram. Another sibling was a sister Vethambal. PKS never went to school, but had an in-born talent for poetry. He married Kavravambal in 1957, and had a baby son Kumaravel was born in 1959.
Tamil movie world invited PKS casually, and he received the first offer to write two lyrics for the movie Paditha Penn [Educated Women], that was released on April 20, 1956. However, it lacked star value, with one M.N. Kannappa as the hero, and a nondescript Arun as music director. Nevertheless, PKS's star was destined to rise, as Lady Luck showered her blessings and Tamil movie fans noticed him, when five of his lyrics that adorned the movie Maheswari [a Modern Theatres production with Gemini Ganesan as the hero], was released ahead on November 13, 1955. The music director for this movie was G. Ramanatha Iyer, a versatile hand in the field. C.V. Sridhar, who became well known as a trendy director later, wrote the script and dialogue.
Kalyanasundaram-Sridhar combination hit the jackpot subsequently in the successful movie Kalyana Parisu [1959, Venus Pictures; again starring Gemini Ganesan]. As detailed above by director Sridhar's reminiscences, PKS wrote 8 lyrics for this triangular love plot, and all of them became great hits. This movie had the optimal mix of tear-jerking scenes, tasteful songs and a parallel comedy track of husband-wife team K.A. Thangavelu- M. Saroja pair.
PKS's versatile career received tremendous boost, as he wrote memorable lyrics for the two leading Tamil stars of that period – MGR and Sivaji Ganesan. Here is a list of movies, which feature PKS lyrics of these two stars.
MGR: 7 movies; Sakravarthi Thirumagal (1957), Mahadevi (1957), Nadodi Mannan (1958), Arasilankumari (1961), Thirudathe (1961), Vikramadhithan (1962) and Kalai Arasi (1963).
Sivaji Ganesan: 11 movies; Rangoon Radha (1956), Ambikapathi (1957), Puthaiyal (1957), Makkalai Petra Maharasi (1957), Utama Puthiran (1958), Pathibakthi (1958), Aval Yar?(1959), Bhagapirivinai (1959), Thangapadumai (1959), Irumbu Thirai (1960), Punar Jenmam (1961).
My Previous Appreciation
It is opportune to reminisce on what I wrote on one of PKS's famous lyric to an MGR movie. This lyric may be of relevance now, as it foretold one cause for the military annihilation of LTTE last year. This appreciation first appeared in Tamil Nation (May 1992) print edition. Excerpts:
"Most of us know that quite a number of Tamil movie lyrics are just of ephemeral value. A small percentage however, resides in the minds forever for sentimental reasons. Some exceptional ones, with poignant themes, do appreciate in value with time.
One such song appeared in one of MGR's hit movies Chakravarthi Thirumagal, 35 years ago. It was composed by poet Pattukottai Kalyanasundaram, who thrilled the Tamil fans like a comet before meeting an untimely death at the tender age of 29 years. In this particular song, the Pattukottai poet illustrated the goliardic tradition among the Tamil poets, by composing the song as a 'question and answer duel' between two goliards. Kalaivanar N.S. Krishnan and Sirkazhi Govindarajan [for MGR's character] rendered this song with exceptional gusto.
Let me reminisce this particular song. The initial statements are self-introductions of the two who pit their wits. While the first one pompously recites his glories and successes and issues the challenge to respond his questions in 'one word answer' (orezzhuthu pathil), the second one promptly introduce himself with repartee.
The first question and answer was a play on the word thaanam (gift). While one asks what is the best gift one can possess, the other one responds by retorting that nithanam (diligence) is the best of all gifts.
NSK: There is virtue in gifting land, virgin, gold, food and cow. What is the best endowment, above all these gifts?
Sirkazhi: Whatever one may donate as gifts and whatever the world may applaud, nothing can equal the gift of nithanam – unshakeable diligence.
NSK: Why have temples been built?
Sirkazhi: To appreciate the talent of sculpture.
Sirkazhi: Why are there soup-kitchens?
NSK: Because there are many idling oafs.
Sirkazhi: Why one loiters around much?
NSK: Because he feels 'free-loading' an easy life.
NSK: Where does complete darkness fall?
Sirkazhi: In the minds of learned fools.
Sirkazhi: What can burn without smoke and flame?
Sirkazhi: The stomach of hungry peasants
Sirkazhi: What is the most dangerous weapon in the world?
Sirkazhi: The tongue of the traitor who had lost his balance.
The poet asks the question, 'What is the most dangerous weapon in the world?' Instead of accepting the answer 'sword or gun or atom bomb', he wittingly replies 'the tongue of the traitor who has lost his balance' [Nilai keddu Poona naya vanjakanin naaku thaan athu.] Did Pattukottai Kalyanasundaram have a premonition about the quislings whose tongues are now given for hire, after losing their 'original objectives'?"
To sum up, Yes indeed. I did end my tribute to Kalyanasundaram with that last sentence in 1992. His words and premonition in 1957 were proved right again, by Karuna's treachery in 2004, which I attribute as one of the causes of LTTE's military annihilation.
*****
Consulted Sources
Kalaimamani 'Film New' Anandan: Sadhanaigal Padaitha Thamiz Thiraipada Varalaru [Tamil Film History and Its Achievements]. Sivagami Publications, Chennai, 2004.
http://www.sangam.org/taraki/articles/2006/01-11_Tamil_Film_History_and_Its_Achievements.php?uid=1434. Check this link for review).
P.E. Balakrishnan (ed): Makkal Kavignar Pattukottai Kalyanasundaram Padalkal. (expanded edition). New Century Book House, Chennai, 1977, 5th edition (in Tamil).
S. Chandramouli: Thirumpi Parkiren – Director Sridhar. Arunthathi Nilaiyam, Chennai, 2002, pp. 86-88 (in Tamil).
Rama Kannappan (ed): Poet Kannadasan's Poi Varukiren [collection of essays]. Kannathasan Pathippakam, Chennai, 2007. 10th edition,  pp. 213-217 (in Tamil).
P. Uthayakumar: Pattukottai Kalyanasundaram Padalkal – oru thiranaivu. Kalaichelvi Pathipakam, Chennai, 1978. Message by M. Karunanidhi. (in Tamil)