Making Land Safe after Years of Conflict
by UK Department of International Development, April 1, 2010
"I used to work as a co-ordinator in a rehabilitation centre, but had to leave because of the conflict. Then my husband was killed in the fighting. Now my mother has to look after my daughters, while I do this work".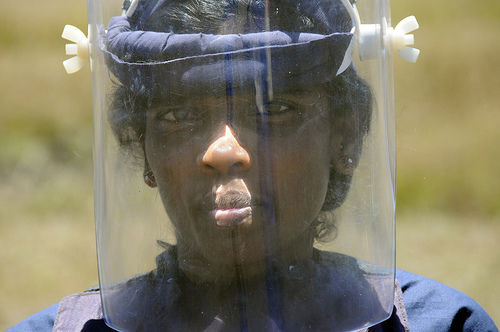 Jalini, aged 30, is a female de-mining technician trained by the UK charity HALO Trust, at work in a paddy field near Thunukkai, northern Sri Lanka.
View this photostory on Flickr
It's only 9am but already it's over 30 degrees in the 'Vanni', the rice-bowl region of northern Sri Lanka.
Yet Saila Jan, a 29 year-old mother of two, has already been at work for a couple of hours and is now taking a well earned break from the paddy field she's been toiling away in. Despite the heat, she smiles:
"It's very hot already, the sun is very strong, but I don't mind".
So far, so ordinary; it's a scene that could be anywhere in south Asia. Except that Saila isn't harvesting rice - she's collecting a crop of a very different, very deadly kind. She's on the hunt for land mines.
Painstaking work
Saila is one of a growing number of women in Sri Lanka that have been recruited and trained by the UK de-mining charity HALO Trust. Working seven hours a day in the baking heat, manual de-mining is slow, painstaking work.
Scanning a square metre at a time with a metal detector, every beep over a certain strength means a slow, careful dig into the parched, solid earth - finger-tip work in case she's found another mine. Working alongside men, with equal status, dozens of women like Saila are slowly helping clear mines from hundreds of acres of prime rice-producing land.
There are an unknown number of land mines littering the once verdant landscape of the Vanni. They're a deadly legacy of the violent 26-year-long conflict between the Sri Lankan government and the LTTE (the Liberation Tigers of Tamil Eelam, or 'Tamil Tigers') movement, which finally ended in May 2009. Saila knows all too well just how violent this conflict was; it cost her husband his life.
"I used to work as a co-ordinator in a rehabilitation centre, but had to leave because of the conflict. Then my husband was killed in the fighting. Now my mother has to look after my daughters, while I do this work".
Clearing after conflict
HALO has been undertaking de-mining operations in Sri Lanka since 2002, in limited parts of the country due to the then ongoing conflict. But since the end of the fighting last year, they've stepped up their work to meet what is a large-scale humanitarian challenge – supported by UKaid from the Department for International Development.
More than 300,000 people were displaced from their homes in the Vanni by heavy fighting between July 2008 and May 2009. After many traumatic months caught up in the fighting, the majority of them ended up in huge camps for displaced people, where they then spent more months living in very harsh conditions. De-mining and making land safe for people to return to is one of the first crucial steps in the process of getting people home.
So the work of NGOs like HALO - and people like Saila - is invaluable. Working alongside the Sri Lankan authorities, and supported by UKaid with a £500,000 grant, HALO have already made safe more than 16,000 mines in the first two months of this year alone. It means that people can go back to their communities safely, and start to rebuild their homes, livelihoods and businesses.
For Saila, it means a steady income for a few months. She earns the equivalent of about £130 a month as a newly trained de-miner. It supplements the basic resettlement grant that she's received (25,000 rupees - £150, also funded by UKaid, working in co-operation with UNHCR and the government of Sri Lanka). It means a bit of stability and the possibility of a brighter future, after years of uncertainty and trauma:
"This job is important as it means I am able to earn some money and I'm happy that I'm helping to make the land safer for people. The work is hard, but I don't mind as I'm helping my family. I don't get scared. I just want my children to be able to go to school and live in peace."
"There were very bad times, but now things are getting better", she adds.
Why women?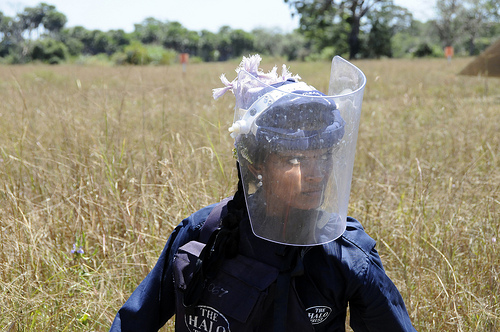 During the latter stages of the conflict, many Tamil men were conscripted into the cadres of the LTTE, and forced to fight against the Sri Lankan Army. As a result, large numbers were killed or severely injured - meaning that in many cases it is the women who now head up the household.
In some communities the majority of families are now dependent on women. For HALO, it's a pragmatic and sensible approach to dealing with the problem of land mines. HALO's Richard Boulter explains:
"HALO works with local people wherever we operate - globally the ratio of local staff to internationals is greater than one hundred to one. They know the landscape and often best at explaining the importance of certain areas to the community.
"So we provide women and men alike with the same training and supervision, and treat them equally. For women who've lost their partners and now have to support their families alone, this support is particularly valuable. Some of our staff have worked for us now for a number of years, gaining promotions and becoming supervisors and experts in their own right."
Saila also hopes to continue working for HALO longer term, but for now it's back to work in the hot, dusty paddy field. At the sound of a whistle, her and the rest of the team adjust their protective visors, pick up their metal detectors and bravely walk back out into the unknown.