Dissecting the Prabhakaran Death Story
and profiling the liars
by Sachi Sri Kantha, June 2, 2010
What happened? Prabhakaran was killed.
When it happened? On May 19, 2009.
Where it happened? In Mullivaikal, Mullaitivu region, north Sri Lanka.
Who killed him (the name of assassin)? No clear answer here.
Why he was killed? Because he was the leader of LTTE and the Sri Lankan army was in pursuit of his life.
How he was killed? No clear answer here.
A statesman is an easy man, He tells his lies by rote;
A journalist makes up his lies and takes you by the throat;
So stay at home and drink your beer and let the neighbour's vote
Said the man in the golden breastplate under the old stone Cross.

William Butler Yeats, in his poem 'The Old Stone Cross'(1938)
The lines of Yeats (whose 145th birth anniversary falls on June 13th), the 1923 Nobel prize literature laureate, is being proved again and again, repetitively. While recognizing the truth of Yeats' foresight in linking statesman and journalists with their lies and how their lies stick in our throats in two beautiful poetic lines, let me say that the last word on LTTE leader Velupillai Prabhakaran's death has yet to be written. One wonders what we should perceive from the news item that appeared in the Hindustan Times with the date line Feb.23, 2010: Colombo, under the caption, "CBI requests more evidence on Prabhakaran's death". For those, who missed it, here is its complete text.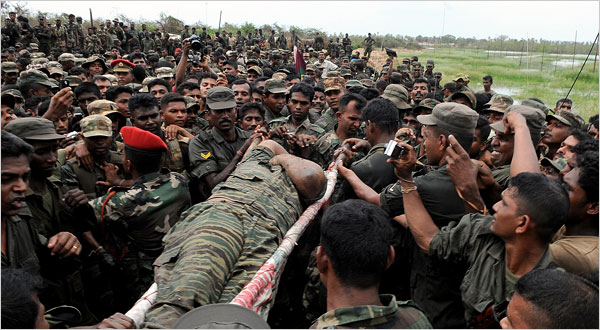 A body identified as that of the Tamil rebels' leader, Vellupillai Prabhakaran, was carried Tuesday through Sri Lankan troops. [Reuters photo: New York Times, May 20, 2009]
"Feb. 23--COLOMBO -- The Central Bureau of Investigation (CBI) has asked the Sri Lanka government to provide documentary evidence about the death of Tamil Tiger chief V. Prabhakaran, prime accused in the Rajiv Gandhi assassination case of 1991. Prabhakaran is said to have been killed in the third week of May 2009 while fighting government troops. His death was formally announced on May 19. India had subsequently asked for a death certificate from Sri Lanka so that Prabhakaran's name could be struck off from the list of accused in the Rajiv Gandhi assassination case.
The Sri Lankan foreign ministry had recently handed over a Colombo high court document -- and not a death certificate -- to the High Commission of India (HCI), confirming Prabhakaran's death. It was a report compiled by the defence ministry here on the assassination of Sri Lankan foreign minister, Lakshman Kadirgamar. It stated that the LTTE leader was killed near the Nandikadal lagoon on May 19. The report claimed Prabhakran's death was confirmed following a DNA test. Through HCI, the court document was handed over to the CBI's Multi-Disciplinary Monitoring Agency, which is probing the case.
"The CBI has told me that they have received documentation from the government of Sri Lanka confirming the death of Prabhakaran," Home Minister P. Chidambaram had said earlier this month in New Delhi. But sources in Colombo and New Delhi have told HT that the document given by Sri Lanka might not be enough to convince Indian courts to strike off Prabhakaran's name off the accused list. So the MDMA then shot off another a letter in the second week of February asking for more proof."
The unnamed "sources in Colombo and New Delhi" stated in the penultimate sentence of this report is a pain in the neck. One wonders why they cannot come out in the open? As three months have elapsed since February, I also wonder whether "more proof" has been delivered from Colombo to New Delhi, to conclusively strike off Prabhakaran's name "from the list of accused in the Rajiv Gandhi assassination case." Here are the major issues involved with this story.
(1) If Prabhakaran's death was "formally announced" on May 19, 2009, why the delay in issuing a death certificate to the Indian authorities?
(2) The corrollary to this is more intriguing. The Sri Lankan authorities, despite their convincing show of 'photographic evidence' [some Tamils would say, that was dubious] and 'DNA testing', are not sure that Prabhakaran had 'really' died.
(3) There wasn't any medically qualified person in the Sri Lankan army, navy and police, who could check a corpse, and write a 'death certificate' in English or Hindi. [see below]
(4) It's as if the Indian intelligence were/are totally ignorant of what was happening in Mullaitivu, from January 2009 to May 2009, despite proof that mercenary Indian 'support hands' were working full-time in the Vanni region during that period.
(5) Some guys [politicians, military and journalists] have lied and they are scared of lie detection.
(6) What was the credibility of Selvarasa (Kumaran) Pathmanathan's (KP) statement issued in May 2009, about the demise of Prabhakaran? Was KP's statement in Tamil and English prepared by some 'agency' to dupe the media?
Did KP Lie?
I provide below, some of my observations made in May 2009 on the discrepancies between the Tamil and English versions of Prabhakaran death announcement dated May 24, 2009, released under the name of KP. Head of International Relations – LTTE. Both notices had appeared in the letter head "Department of International Relations, Liberation Tigers of Tamil Eelam". PDF files of both notices are provided for readers to study.
The very first impression I had on studying the Tamil notice was that the signature of S.Pathmanathan was in English! I thought this was somewhat strange, that Mr. Pathamanathan should have lived in exile for so long that he had forgotten his Tamil alphabets! Maybe a careless error on the part of Mr. Pathmanathan or who forged his signature for the Tamil notice. I list below some other discrepancies that I located between the English and the Tamil notices.
Item 1: The date of announcement. Check the Tamil notice. The month 'May' appears in English! in a glaring bold font. I'm used to writing the months in English format in letters. But, I usually use the Tamil alphabet.
Item 2: The caption and the sub-caption of the notices also differ from the English and the Tamil versions. The caption in Tamil version states "Tamil Eelath Thesiath Thalaivarukku Veera Vanakkangal". In translation it should read, "Heroic Respects or salutes to Tamil Eela National Leader". But the English version of the statement reads, "Mark of Respect for Our Supreme Leader". No mention about Tamil Eelam or National Leader. The sub-caption in the Tamil version states "Thamil Makkalin Anaiyaa Viduthalai Sudar". In translation it should read, "Indestructible Flame of Freedom of Tamil People". But the English version of the subcaption merely states, "The Indestructible Flame of Freedom", omitting the Tamil people altogether. Deliberate of omission of reference to Tamil people in the caption and sub-caption of English version cannot be inadvertent.
Item 3: Both the English and Tamil versions of the announcement carry five paragraphs, followed by a short concluding paragraph at the end. While the Tamil text mentions the name "V. Prabhakaran" in the first paragraph, the English text doesn't mention the name! The English text begins with the sentence, "We announce today, with inexpressible sadness and heavy hearts that our incomparable leader and supreme commander of the Liberation Tigers of Tamil Eelam attained martyrdom…". Focus on the decorative tagging, "our incomparable leader and supreme commander"; the Tamil equivalent of 'our incomparable leader' is missing in the Tamil text. The phrase 'supreme commander' can be translated into 'thalaimai thaLapathi'.
Item 4: In the second paragraph, the Tamil version notes "kadantha 37 varudangalaaha" (literal meaning: 'for the past 37 years'). The English version states, "For over three decades…" Why the specific number '37 years' was omitted in the English version is somewhat thought-provoking.
Item 5: The fourth paragraph in the Tamil version make a specific quotation " 'Em Makkalukku urimaikaLLai petru koddungal' enpathe avarathu iruthi vendukLLaha irunthirukkirathu." (literal meaning: 'The rights of our people deserve recognition' was his final request.) But this cited specific quote of Prabhakaran is missing in the English version.
Item 6: The concluding paragraph in the Tamil version mentions that "Emathu thesiyath thalaivaroodu veerasaavaith thaLuviya anaithu thaLapathikaLLukkum maveerarkaLLukum makkaLLukum emathu veeravannakkathai seluthukirom. Im maveerarkal patriya viparangal viraivil veLiyidappadum enpathai ariyath tarukirom." (literal meaning: To all other regiment leaders, maveerars and people who attained martyrdom with our national leader, we express our heroic salutes. We inform that the details about these maveerars will be released at the earliest.) In the English version, this information is missing! And it is substituted with the statement, "As we mark the life of our beloved leader let us also resolve that we will re-affirm our commitment to the goals espoused by him – dignity, equality and the right to self-determination of our people."
As one who had professionally done translations, I note that translations are basically of two types. The first one, is word to word translation. The second one is translating the essence of the original into another language without distorting the facts and meaning. Either way one looks at the two texts provided by the "Department of International Relations" of LTTE, it becomes difficult to infer which was original (the English version or the Tamil version) and which was the translated text, as there are discrepancies between the two texts in facts and meaning. Could it be that one of the texts of the death announcement notice was a forgery? Or in an extreme case, that both texts were forged without internal consistency between them?
Tamil version here [pdf]
English version here [pdf]
What is a Lie?
I quote psychologist Paul Ekman (born 1934), a recognized authority on lie detection, from his book, Telling Lies: Clues to Deceit in the Marketplace, Politics and Marriage. "One person intends to mislead another, doing so deliberately, without prior notification of this purpose, and without having been explicitly asked to do so by the target." Ekman further states, "There are two primary ways to lie: to conceal and to falsify. In concealing, the liar withholds some information without actually saying anything untrue. In falsifying, an additional step is taken. Not only does the liar withhold true information, but he presents false information as if it were true." (p. 28). Below, I focus on the lies offered by the following:
President Rajapaksa's 'I don't care' Lie
D.B.S.Jeyaraj's fabricated lie
Muralidhar Reddy's Blind Lie
Sri Lankan army's concealment Lie
Mia Bloom's idiotic Lies
The Issue of Profiling the Liars
In this commentary, my prime focus is not on whether Prabhakaran is dead or alive. I'm interested in profiling the liars amongst us. The null view is: Prabhakaran is dead, as of May 19, 2009. The alternate view is: Prabhakaran is alive. As of now, I cannot assert that the alternate view is correct, as I don't have any evidence for it. However, if Prabakaran is really dead, why those who insist that he is dead are hesitant to issue the 'dead certificate'? Why are they stonewalling a legitimate assassination query? Is it really sensitive for Sri Lanka's national security? This irks my curiosity and concealment diminishes the verity quotient (truth/past experience of leaked news by anti-Tamil sources). In July 1989, the news was leaked by India's RAW gumshoes that Mahattaya (the then deputy leader of LTTE) had killed Prabhakaran in Vanni. In the aftermath of Dec.26, 2004 tsunami, the news was leaked by Sri Lanka's official media that Prabhakaran had died in tsunami.
When I learnt Journalism 101 in Colombo during 1971 and 1972 (My two tutors were Sinhalese), I was taught that a complete news story should provide answers to 5W (what, when, where, who and why) and 1 H (how) questions. In completing this 'Prabhakaran dead' story, I cannot find answers to two amongst the six.
What happened? Prabhakaran was killed.
When it happened? On May 19, 2009.
Where it happened? In Mullivaikal, Mullaitivu region, north Sri Lanka.
Who killed him (the name of assassin)? No clear answer here.
Why he was killed? Because he was the leader of LTTE and the Sri Lankan army was in pursuit of his life.
How he was killed? No clear answer here.
For comparion, as a control, let us check the assassination of President John F. Kennedy on November 22, 1963.
What happened? President Kennedy was killed.
When it happened? On November 22, 1963.
Where it happened? In Dallas, Texas, USA.
Who killed him (the name of assassin)? According to the Warren Commission report (1964), "The shots which killed President Kennedy and wounded Connally were fired by Lee Harvey Oswald."
Why he was killed? No clear answer here (as of now).
How he was killed? Again, I quote the conclusions from the summary of the Warren Commission. "The shots which killed President Kennedy and wounded Governor Connally were fired from the sixth floor window at the south east corner of the Texas School Book Depository. This determination is based upon the following:..The nature of the bullet wounds suffered by President Kennedy and Governor Connally and the location of the car at the time of the shots establish that the bullets were fired from above and behind the Presidential limousine, striking the President and the Governor as follows: (1) President Kennedy was first struck by a bullet which entered at the back of his neck and exited through the lower front portion of his neck, causing a wound which would not necessarily have been lethal. The President was struck a second time by a bullet which entered the right rear portion of his head, causing a massive and fatal wound. (2) There is no credible evidence that the shots were fired from the Triple Underpass, ahead of the motorcade, or from any other location. The weight of the evidence indicates that there were three shots fired…"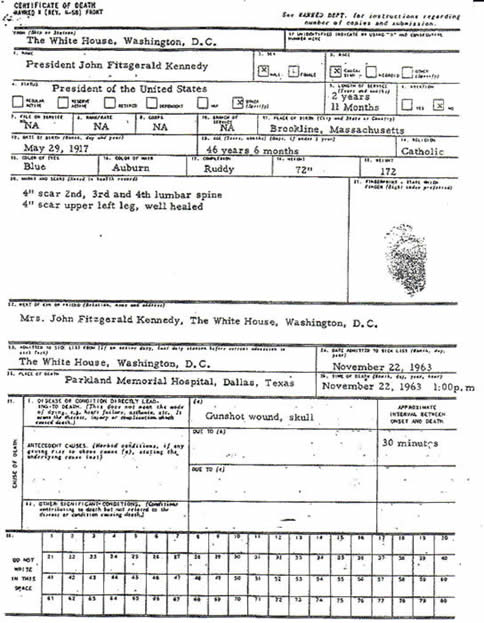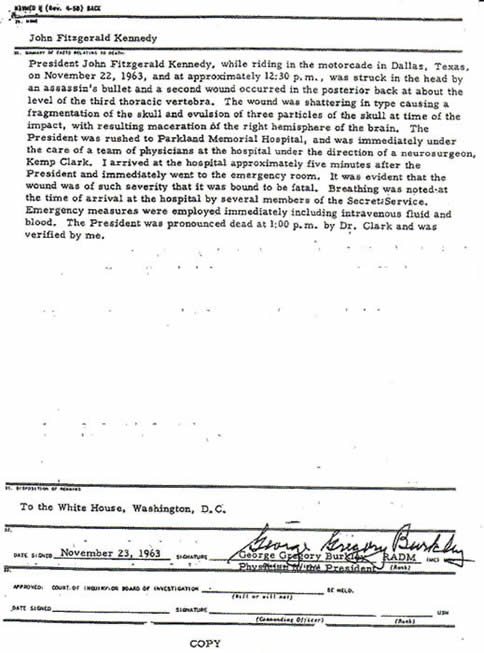 Though there have been detractors and critics for this report, at least it provides minimally acceptable proof for President Kennedy's death. Also we have autopsy report and a dead certificate issued by the White House. For reference, I provide scans of the two pages of White House dead certificate, signed by George Gregory Burkley, the physician to the President, on November 23, 1963. For Prabhakaran's death, we don't have an autopsy report and (if one believes the Indian Government) a dead certificate!
The American bureaucracy relies on lie detector test (despite controversy surrounding its use and its accuracy) for screening officials who had to protect 'secrets'. In reality, we cannot perform lie detector tests on either Sri Lankan officials or Indian officials. The simple reason is that they will never be forthcoming to undergo such a test. But, there is an alternative. Psychologist Paul Ekman has provided us a checklist on lie detection. His checklist provide 38 questions in three sections (about the lie, about the liar and about the lie catcher). By attempting to answer these questions objectively from our past experiences on the behavior of liars, one (in the role of lie catcher) can evaluate the quality of the lie and the liar's strength/weakness in perpetuating the lie.
If you wish, you can prepare score cards for President Rajapaksa, General Sarath Fonseka (who made the official announcement of Prabhakaran's death), Vinayagamoorthy Muralidharan aka Karuna (who positively identified Prabhakaran's corpse) and to KP (who acknowledged the death of Prabhakaran, on behalf of LTTE). The lie in this case: Prabhakaran's death is real. Make a note that 'the target' referred to by Ekman, in this case, mostly refers to the Sinhalese commoners and international media.
Ekman's Checklist on Lie Catching
[Section 1: Questions about the Lie]
1. Can the liar anticipate exactly when he or she has to lie?
2. Does the lie involve concealment only, without any need to falsify?
3. Does the lie involve emotions felt at the moment?
4. Would there be amnesty if liar confesses to lying?
5. Are the stakes in terms of either rewards or punishments very high?
6. Are there severe punishments for being caught lying?
7. Are there severe punishments for the very act of having lied, apart from the losses incurred from the deceit failing?
8. Does the target suffer no loss, or even benefit, from the lie? Is the lie altruistic not benefiting the liar?
9. Is it a situation in which the target is likely to trust the liar, not suspecting that he or she may be misled?
10. Has liar successfully deceived the target before?
11. Do liar and target share values?
12. Is the lie authorized?
13. Is the target anonymous?
14. Are target and liar personally acquainted?
15. Must lie catcher conceal his suspicions from the liar?
16. Does lie catcher have information that only a guilty not an innocent person would also have?
17. Is there an audience who knows or suspects that the target is being deceived?
18. Do liar and lie catcher come from similar language, national, cultural backgrounds?
[Section 2: Questions about the Liar]
19. Is the liar practiced in lying?
20. Is the liar inventive and clever in fabricating?
21. Does the liar have a good memory?
22. Is the liar a smooth talker, with a convincing manner?
23. Does the liar use the reliable facial muscles as conversational emphasizers?
24. Is the liar skilled as an actor, able to use the Stanislavski method?
25. Is the liar likely to convince himself of his lie believing that what he says is true?
26. Is she or he a 'natural liar' or psychopath?
27. Does liar's personality make liar vulnerable either to fear, guilt, or duping delight?
28. Is liar ashamed of what liar is concealing?
29. Might suspected liar feel fear, guilt, shame, or duping delight even if suspect is innocent and not lying, or lying about something else?
[Section 3: Questions about the lie catcher]
30. Does the lie catcher have a reputation of being tough to mislead?
31. Does the lie catcher have a reputation of being distrustful?
32. Does the lie catcher have a reputation of being fair-minded?
33. Is the lie catcher a denier, who avoids problems, and tends to always think the best of people?
34. Is lie catcher unusually able to accurately interpret expressive behaviors?
35. Does the lie catcher have preconceptions which bias the lie catcher against the liar?
36. Does the lie catcher obtain any benefits from not detecting the lie?
37. Is lie catcher unable to tolerate uncertainty about whether he is being deceived?
38. Is lie catcher seized by an emotional wildfire?
Now, I provide a list of lies that I could detect, from the words of a 'statesman' (President Rajapaksa), two journalists (D.B.S.Jeyaraj and Muralidhar Reddy), the redoubtable Sri Lankan army and one academic (Mia Bloom).
President Rajapaksa's 'I don't care' Lie
To a question from Time magazine's fawning reporter Jyoti Thottam, "How did he [Prabhakaran] die?", Rajapaksa's reply was, " We know that he was shot – that's all. I was not interested in finding out how he was shot, but whoever that was deserved some credit." What kind to Commander-in-Chief is this guy? He couldn't even tell the name of the army assassin who "shot" Prabhakaran. As of now (after one year), to the best of my knowledge, not a single army-navy soldier had come forward to brag himself as the 'Sinhala Veeraya [hero]' who shot Prabhakaran.
We don't know whether Time magazine's fawning reporter carefully observed the non-verbal behavior of Sri Lankan president's eye, face and body. It appears to me from his response, he would tell her in choice Sinhalese epithet ['Don't bother me with that. Why are you asking me? You should ask Sarath Fonseka for the details.'] that the dumb journalist couldn't decipher.
D.B.S.Jeyaraj's fabricated lie
Let me present a vignette of 'all-knowing, all-listening, all-tapping' House of Hindu journalist D.B.S.Jeyaraj's fabricated lie with imagery. Describing the final days of Prabhakaran, this journalist residing in Toronto (far from the battle ground in Mullaitivu, Eelam) described the scene as follows [The last days of Thiruvengadam Velupillai Prabhakaran, May 22, 2009 in his blog: http://dbsjeyaraj.com/dbsj/archives/615]
"As the situation became increasingly perilous Prabhakaran's point man overseas KP tried to salvage the situation. KP the LTTE's former chief arms procurer proclaimed as wanted by Interpol was now the global tiger chief. Using perhaps the wheeler-dealer techniques learnt through hands on experience in the arms bazaars of the world the talented Mr. Pathmanathan tapped into his vast reservoir of contacts. In a remarkably short time span KP was interacting with many influential people. The diplomats of at least four western nations, UN functionaries in Geneva and New York, a foreign cabinet minister, a few prominent western journalists were all in touch with KP."
Less than three months later, the same KP was trapped in Malaysia by the Sri Lankan goons with official accreditation, and he was dragged to Colombo. So what happened to those so-called 'influential people – the diplomats of at least four western nations, UN functionaries in Geneva and New York, a foreign cabinet minister, a few prominent western journalists" who all were in touch with KP? Why they didn't raise their voice strongly in support of KP against the hijacking drama perpetrated by the Rajapaksa clan? Did you hear anything about it? May be, KP's "influential people" were all  figments of Jeyaraj's fiction. He could hardly mention a single name. I could think of only Eric Solheim (a cabinet minister in Norwegian parliament) as one with whom KP may have talked. Who are these so-called "diplomats of four western nations"? Remember that the word 'diplomat' is an euphemism for gumshoes. So, KP may have interacted with gumshoes and they couldn't pull him out of trouble in August 2009.
Muralidhar Reddy's Blind Lie
The Chennai Hindu daily of May 20, 2009 presented a AFP photo with the purported body of Prabhakaran, that accompanied B. Muralidhar Reddy's report, "Troops recover Prabhakaran's body". Below that photo, Reddy had described "the announcement came after the troops found the bullet-ridden body of Prabhakaran on the bank of the Nanthikadal lagoon…" Strangely, the photo that accompanied Reddy's report does not show any "bullet-ridden" holes in the body! The New York Times of May 20, 2009 also presented a Reuter photo in which the head of the victim is hidden. But one cannot notice any "bullet-ridden body". Two hands were partiallhy exposed in this photo, and even here, there aren't any bullet wounds and blood.
Sri Lankan army's concealment Lies
First I provide a news report from Colombo that appeared in the website of Outlook magazine (New Delhi) http://news.outlookindia.com/item.aspx?660533, dated May 28, 2009. It was captioned, 'DNAs of Prabhakaran, son matched: Lankan Military'. Then, I list a few questions, that points out concealment lies.
"Slain Tiger supremo Velupillai Prabhakaran's DNA has matched with that of his elder son Charles Anthony, who too was killed in the fighting with security forces in Sri Lanka's north, the military said today. 'Army medical experts have confirmed that DNA tests on Prabhakaran (54) and his son Charles Anthony (24) have matched', military spokesman Udaya Nanayakkara said.
His remarks came a day after the 'Bottomline' newspaper reported that Prabhakaran's body was identified by his two former aides with the help of certain scars and birth marks. Federal Minister Vinayagamoorthi Muralidaran, alias Karuna Amman, one time close confidante of Prabhakaran, and Daya Master, the former LTTE media spokesman who had surrendered recently, identified the Tiger supremo's body after he was killed on May 18, it said. 'They identified and confirmed that the body recovered was that of Prabhakaran. Certain scars and birth marks had helped them in identificaiton. Thus, the Army was able to squash all rumours regarding Prabhakaran being alive,' the newspaper said.
Army chief Gen Sarath Fonseka said that the LTTE supremo's body had been cremated by Sri Lankan security forces in the island's north. 'We cremated the body in the same area (from where it was recovered) and threw the ashes into the (Indian) ocean,' Fonseka told the Rivira newspaper in an interview."
Now, to some questions, on this Sri Lankan army report.
(1) Who were the "army medical experts?" Why they couldn't identify themselves? Are they really 'experts'? or quacks? Now more than one year had passed, can they publish their results in a peer-reviewed international medical journal?
(2) What are the "certain scars and birthmarks"? Usually the exposed body parts of Prabhakaran's body will be head, face, neck and two arms, unless if Karuna and Daya Master had taken a sauna bath with Prabhakaran or shared a bed. Those who have met Prabhakaran couldn't tell an identifiable 'scar or birthmark', akin to Mikhail Gorbachev's prominent birthmark in his forehead.
(3) If Prabhakaran's parents who had given identified themselves to the army authorities on May 20, 2009, why the so-called 'army medical experts' did not have the common sense to check whether Prabhakaran's DNA matched with those of his father and mother?
(4) Were Karuna and Daya Master free to provide an answer that was against the wishes of Rajapaksa clan? They had leashes on their necks and scrota. For their survival, they had to appease their new 'savior'. Thus, their positive identification of Prabhakaran's remains (even if it was true) was a forced one.
Mia Bloom's idiotic Lies
Mia Bloom is an American academic (currently affiliated to Pennsylvania State University), and she is a terrorism bandwagon traveler. Her op-ed piece, captioned 'What the Tigers taught Al-Qaeda' appeared in the Washington Post of May 24, 2009. First, to attract publicity and funding for her career, she opted for an attractive caption linking LTTE with Al-Qaeda. This is like a cretin equating water with alcohol, based on superficial similarities. Her premise is faulty. Physically water and alcohol are liquids and their similarity ends there. Chemically, water (H2O) and alcohol (C2H5OH) have one oxygen atom, and their similarity ends there. Alcohol has two carbon atoms, which water doesn't have. I deliberately choose this example for a reason: if LTTE is like water, the Al-Qaeda is like alcohol. The two 'C's in alcohol (i.e., Al-Qaeda) can represent (1) CIA connection, and (2) carbon (petroleum) funds. Water (i.e., LTTE) is devoid of CIA connection and carbon (petroleum) funds. Even linking LTTE with Al-Qaeda was not an original idea of Mia Bloom. This was promoted by Rohan Gunaratna, a well-known CIA conduit. As other intelligence analysts have pointed out in print and electronic media, Al-Qaeda was CIA's baby. Can anyone say that about LTTE? To promote his career, Rohan Gunaratna fabricated this LTTE-Al Qaeda 'connection'. One should also not forget that LTTE never ever targeted America or Americans in its career that was longer than Al Qaeda.
Secondly, Mia Bloom's despicable 'terrorism research' is based on secondary or tertiary sources. Even at this, her fact-checking skills are dopey at best. In the referred article, she mentions, " a female bomber Anoja Kugenthirarasah" who attempted to assassinate Lt.Gen.Sarath Fonseka on April 25, 2006. The location where this incident was supposed to have happened was 'inside a tightly guarded army headquarters' and she (initially identified as aged 21, from Vavuniya) couldn't have entered that premise without an accomplice who was working there. By July, the Sri Lankan police had switched the assassin's name to another Tamil woman Manjula Devi Kanapathipillai (aged 32, from Rambukkanna; see, Breakthrough in suicide bombings probe by Rafik Jalaldeen , Daily News, Colombo, July 6, 2006) recognizing its error in original report as a 'mistaken identity'. But the July 6, 2006 story failed to mention the name Anoja Kugenthirarasah, and why this name was initially released to the media. Later, even there was suspicion whether the second identity of the assassin was true or not. Subsequently, the suicide-bomber story petered out. No proper investigations were concluded. I'd suggest Mia Bloom to check with President Rajapaksa and his siblings, how far investigations on the Sarath Fonseka assassination attempt of April 2006 have progressed.
Consulted Sources
Paul Ekman: Telling Lies – Clues to Deceit in the Marketplace, politics and marriage. W.W.Norton & Co, New York, 1992. 2nd edition.
Paul Ekman: Why don't we catch liars? Social Research, Fall 1996; 63(3): 801-817.
Report of the President's Commission on the assassination of President John F. Kennedy. US Government Printing Office, Washington DC, 1964, pp. 18-19.