After Roaming Oceans and Continents, Sri Lankan Tamils Find Home in Oakland
by Matt O'Brien, Mercury News, California, June 15, 2010
He and five other Sri Lankan refugees, all 20-something bachelors, arrived at Oakland in late May. Three of them had spent weeks last fall aboard the Oceanic Viking. Another was picked up by the Indonesian Navy in a separate boat rescue last year.
OAKLAND — They were jailed in Indonesia, stranded in Romania and rescued by Australia off the coast of Sumatra, all in the last eight months.
So it was a big relief to Nisanth Segaranantham and his friends when they landed in Oakland last month. The 27-year-old Sri Lankan refugee is savoring his freedom to roam the city, shop for his own groceries and look for a job.
"We can go anywhere, anytime, anyplace, no problem," he said.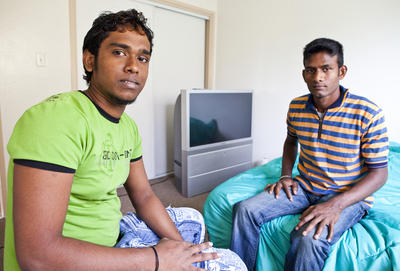 Nirohan Vivekananthan, age 22, and Vinoth Sivarajasingam, age 24, both formerly of Jaffna, Sri Lanka sit on their beds in their new home in Oakland, Calif. on Wednesday, June 2, 2010
Segaranantham was one of 78 Sri Lankans who crowded aboard an Indonesian fishing boat and set sail for Australia in October. As ethnic Tamils, they faced discrimination in Sri Lanka and hoped to find political asylum in Australia. But the ship began sinking on the way.
"We thought we were going to die," said Rajmohan Sivabalasundaram, 25. "We phoned to Australia, emergency section, and asked them to rescue us. More and more water was coming inside the boat. "... We tried to close the hole. Two times, we closed the hole."
Australia did send help — a customs patrol vessel called the Oceanic Viking. Once rescued, however, the Sri Lankans refused to get off the customs ship and demanded assurance Australia would welcome them to its shores. Some threatened to jump to their deaths in the Indian Ocean if they did not find refuge.
The result was a weeks-long diplomatic row between Indonesia and Australia, neither of which wanted to take custody of the migrants. So controversial was

the impasse that it dented the popularity of Australian Prime Minister Kevin Rudd and fueled a war of words in the Parliament. A weak response, Rudd's critics said, would send hundreds more asylum-seekers sailing to Australia in rickety boats.

That controversy continues, but Segaranantham and Sivabalasundaram are not looking back. They are thrilled to be in the United States.

"I need a job and I want to study, learn English and study," Segaranantham said.

He and five other Sri Lankan refugees, all 20-something bachelors, arrived at Oakland in late May. Three of them had spent weeks last fall aboard the Oceanic Viking. Another was picked up by the Indonesian Navy in a separate boat rescue last year.

With the help of the International Rescue Committee, which contracts with the government to assist incoming refugees, they settled in two apartments in Oakland's San Antonio district and are quickly getting adjusted.

"We have to eat. So we learn how to cook," said Sivabalasundaram, who is mastering seafood dishes that remind his friends of family meals in Jaffna, their hometown in northern Sri Lanka.

They never intended to come to America, but their failed trip to Australia put them on a roundabout path to Oakland. At first, they thought Australian authorities would take them to Christmas Island. A remote prison complex there houses many of Australia's asylum-seekers.

Instead, after a month aboard the Oceanic Viking, they ended up in a detention center in the Indonesian port of Tanjung Pinang, where the United Nations refugee agency looked for places that would take them in. The United States accepted 28 refugees, granting them permanent legal residency in the country. Others were sent to Australia, New Zealand, Canada and Europe. Those heading to North America spent several weeks waiting in a refugee camp in Romania, a transit point where international organizations determined their final destination.

"We searched San Francisco on Google. We thought it was a beautiful place, so beautiful," Sivabalasundaram said. "We'd like to stay here permanently. We don't like Sri Lanka."

Sri Lanka's 25-year-old civil war ended in May 2009, when government forces defeated the Tamil Tigers, whose rebel forces had waged a brutal guerrilla war to create a separate state. Tens of thousands of people died since fighting began in 1983.

Ethnic Tamils, who represent less than 20 percent of the Sri Lankan population but are a majority in the north, were often caught in the middle — especially young men suspected of being rebels. Humanitarian groups say they still face persecution.

"The government says the war has ended, but Tamil people did not get freedom," Sivabalasundaram said.

Of the six friends in Oakland, three lost their fathers to violence at an early age. One has a brother who disappeared five years ago. Segaranantham was 6 when he witnessed his father shot and killed at the family's grocery shop.

"At that time, so many Tamils were killed," he said. "So many of our friends have lost their fathers and elder brothers."

The East Bay is home to just a few hundred Sri Lankans today, but some of those here say they will welcome the refugees — even if their families were on opposite sides of the ethnic conflict back home.

"Almost everybody who's immigrated, who left the island since 1970, it wasn't directly because of the war, but that's a big part of it. It's really limited the opportunities," said Oakland rapper Ras Ceylon, 29, who was born in Los Angeles to Sri Lankan parents.

California is home to nearly one-third of the roughly 30,000 Sri Lankan immigrants in the United States, with most living in Southern California, according to census estimates. Many belong to Sri Lanka's ethnic Sinhalese majority. Even in a new country, Ceylon said, some Sinhalese still harbor negative feelings about Sri Lankan Tamils, and vice versa, divisions he believes are rooted in the British colonial occupation of the island.

Ceylon, whose real name is Sanjev Desilva, comes from a Sinhalese family but sympathizes with Tamil people who suffered because of the war. He said he wants to help out the Oakland refugees.

"There's 2,000 years of history of us living together peacefully," he said. "People are people."

BACKGROUND


May 2009 marked the end of a 25-year civil war between the Sri Lankan government and the Liberation Tigers of Tamil Eelam, known as the LTTE or the Tamil Tigers. The LTTE, labeled as a terrorist group by the United States and other countries, fought to create a separate state in the north and east of the island country.
Tens of thousands of fighters and civilians died in the violence. A 2007 report on terrorism by the U.S. State Department blamed both the Tamil Tigers and the government for human rights violations.
"Both the LTTE and armed groups allied to the government engaged in widespread human rights abuses including extrajudicial killings, abductions, and extortion," the report said.
Though the war is declared over, many people, mostly members of the ethnic Tamil minority, continue to flee the island.
The United States accepted 76 Sri Lankan refugees this year, more than the combined total of the previous decade but still a small number compared to other refugee populations. The cap for refugee admissions this year from all countries is 80,000.
The country welcomed 33 Sri Lankan refugees last year, one in 2008, two in 2007, six in 2006 and none in 2005.
The numbers do not include asylees, people who claimed persecution in Sri Lanka after getting to the United States on their own. The United States granted political asylum to 112 Sri Lankans last year and about 400 in the previous five years.
The Sri Lankan community remains small in the United States, with an estimated 30,000 Sri Lankan immigrants of various ethnic backgrounds. In comparison, Canada estimates there are more than 100,000 Sri Lankan immigrants there.
Sources: U.S. State Department; U.S. Census Bureau.

WORLD REFUGEE DAY
The United Nations has designated June 20 as World Refugee Day. This year also marks the 30th anniversary of Congress' passage of the Refugee Act, which established the nation's first formal system to admit refugees fleeing persecution abroad. Half of all the refugees in the world who get resettled come to the United States. Since 1980, when the program was created, the country has admitted more than 2.5 million refugees. Almost 80,000 were admitted to the United States last year.
What: World Refugee Day Picnic
When: Noon to 3 p.m. Friday
Where: San Antonio Park, Foothill Boulevard at 16th Avenue, Oakland.
To get involved: Local organizations that help refugees and are co-sponsoring the picnic include the International Rescue Committee, 510-452-8222; Catholic Charities of the East Bay, 510-768-3100; and Jewish Family and Children's Services of the East Bay, 510-704-7475.