The CIA's Fingerprints in Ceylon History
by Sachi Sri Kantha, August 25, 2010
At the outset, I provide the caveat that I have delved only into published, open sources, and my inferences are merely conjectures. In natural sciences and mathematics, conjectures have a dignified status, for further study and elucidation. No secret documents have been passed to me by any 'deep throat'. While some may raise doubts about my methodology, when dealing with a highly secretive institution like the CIA, I can only vouch for my conjectures by attesting to the popular American wisdom of Hoosier poet James Whitcomb Riley (1849-1916) that "When I see a bird that walks like a duck and swims like a duck and quacks like a duck, I call that bird a duck."
Introduction
I am not an admirer of Sirimavo Bandaranaike's (1916-2000) politics. As I have not gained anything from her policies, I refrain from penning a nostalgic, sycophantic piece to promote her memory. In fact, as a Tamil, I consider myself as a victim of her notorious, racially biased 'university-entrance standardisation politics' of early 1970s. As this year marks the 50th anniversary of Mrs. Bandaranaike being named the first woman prime minister in the world and also the 10th anniversary of her death, I present this essay with a new angle on her travails in local and international politics. As of now, I haven't come across any academic or analyst who had studied and published on CIA's fingerprints in Ceylon History. But, I consider this topic as long overdue.
14 types of Agents
Among my dictionary collections, I have one with the title, 'Top Secret: The Dictionary of Espionage and Intelligence', authored by Bob Burton. From this, I learnt that there are 14 types of CIA agents. Here is an abbreviated description of those 14 types and their specific roles, in alphabetical order. PA is the abbreviation for principal agent.
1. Action agent: an agent usually hired by a PA or case officer for a one-time operation typically involving violence, explosives or some other kind of action.
2. Agent: a spy that works directly under the PA and engages in intelligence collection or covert action operations.
3. Agent-Bolvan: slang from Moscow Center, loosely interpreted as dummy agent.
4. Agent in place: Often used to describe a defector believed by the USA to be more valuable in-place, at the post or position from which he wants to defect.
5. Agent of influence: This person may or may not be on the payroll of the CIA. Generally he is an anticommunist official of a country in which the Agency is interested. He may be a local businessman, or even a journalist.
6. Agent provocateur: an old spy term for an agent or official who, as a plant, is ordered to associate himself with a certain target group or suspected person with whom he must pretend to sympathize.
7. Career agent: someone who is paid to collect and deliver sought-after information.
8. Contract agent: sometimes called a one-time agent, the contract agent may be hired several times over a period of several years for various projects, such as muscle, intrigue and organization.
9. Notional agent: a nonexistent agent used as a ploy or fiction by an intelligence organization in a deception operation.
10. Principal agent (PA): an agent recruited and trained by a CIA case officer in all aspects of clandestine operations and communications.
11. Secondary or subagent: an agent who serves under the PA.
12. Secret agent: a person acting clandestinely as a spy.
13. Support agent: an agent recruited by the PA or agent to rent safe houses, cars, post office boxes and so on, and to undertake other tasks as required to support of a specific intelligence operation.
14. Unwitting agent: people in target areas who unknowingly serve as conduits for intelligence or are used in the operational efforts of covert-action officers.
For keen students of political history and intrigue, it may not be difficult to guess who among the Sri Lankans might have functioned as any one of these 14 types of agents in the 20th and 21st century history of Ceylon/ Sri Lanka. I consider that word use such as 'agents' or milder forms such as 'assets' are simple tags for camouflage. While a few  (like Rohan Gunaratna) have flaunted their links to CIA, others have discretely hidden their tracks. However, some acts of Uncle Sam's bureaucracy offer hints as to who might have served as CIA's agents or assets. For example, check out the high-octane eulogy delivered to a Sri Lankan by the then President Bill Clinton and his wife, after the demise of Neelan Tiruchelvam in 1999. At the end of this feature, readers can check whether my guesses of who among the Sri Lankans might have functioned as CIA's agents or assets tally with theirs.
At the outset, I provide the caveat that I have delved only into published, open sources, and my inferences are merely conjectures. In natural sciences and mathematics, conjectures have a dignified status, for further study and elucidation. No secret documents have been passed to me by any 'deep throat'. While some may raise doubts about my methodology, when dealing with a highly secretive institution like CIA, I can only vouch for my conjectures by attesting to the popular American wisdom of Hoosier poet James Whitcomb Riley (1849-1916) that "When I see a bird that walks like a duck and swims like a duck and quacks like a duck, I call that bird a duck."
Five Ground-rules of CIA covert operation
For beginners, one can identify five ground-rules of CIA covert operation, as presented by Ronald Kessler, in his book Inside the CIA (1992). After I completed reading this book, I got the impression that it was more or less a PR hagiography of William H. Webster, the 14th director of CIA, whose tenure at office spanned from May 26, 1987 to September 1, 1991. However, it includes some notable tips, between the lines.
1. "By agency policy, CIA operations officers may commit espionage in any country of the world. The only exceptions are Great Britain, Australia and Canada. By CIA thinking, no country is completely friendly."
2. "Almost every country in the world has government people on the payroll of the CIA."
3. "The amount of attention paid to a country depends on its importance and the current orientation of its government."
4. "Covert action is undertaken when diplomacy doesn't work. It's designed to conceal the hand of US."
5. A counterterrorism center was established by CIA in 1986. "In preventing terrorism, the counterterrorism center operates behind the scenes. If a known terrorist is traveling, the CIA passes the word to each country on his itinerary. The countries either refuse to allow the terrorist to enter or if he is a fugitive, have him arrested. The CIA's role rarely comes out."
There appears a passing remark which is of interest to Tamils in Sri Lanka and India, in this Inside the CIA book. In chapter 5 entitled 'Castro's Beard', two cryptic sentences appear as follows: "The cumulative effect of CIA covert action over the years has been that when anything negative happens, the CIA is blamed. Thus after the assassination of Rajiv Gandhi by a female South Asian suicide bomber in May 1991, leading Indian newspapers and government officials perhaps unwilling to blame themselves – became firmly convinced that the CIA had ordered him killed."
CIA Intelligence Periods
For convenience, one can arbitrarily classify the CIA Intelligence Periods in Ceylon/Sri Lanka, into four categories.
(1) Pre-CIA period (1940-1947)
(2) SLFP- husband and wife period, with a UNP interlude (1956-1977)
(3) UNP period (1977-1994)
(4) SLFP – daughter and 'reporter' period (1994- present)
Husband and wife period refers to Solomon Bandaranaike and Sirimavo Bandaranaike prime ministerial stints up to 1977. Given the political orientation of Bandaranaike couple and the 'friends' they entertained, the CIA's finger prints were dense during this period. During the UNP period from 1977 to 1989, CIA's fingerprints seem relatively scarce, as the then top dog J. R. Jayewardene was perceived as 'friendly' to CIA's interests. A notable exception was the execution of a honey-trap operation in Madras and elsewhere to trap the RAW's station chief in charge of Tamil militant affairs, as a blow-back of 1984 kidnapping attempt of Allen couple in Jaffna, by EPRLF. The Daugther and 'reporter' period refers to Chandrika Kumaratunga and Mahinda Rajapaksa ('reporter' is Kumaratunga's nick name to him, for his penchant to 'leak' news).
Concurrently, it can be assumed that CIA's nemesis, KGB and its predecessor and successor also had kept Sri Lanka in its radar. In June 1992, there appeared a short newsitem in the Hindu (Madras) from Moscow during post-glasnost era, which informed about a communication KGB chief Vladimir Kryuchkov (one of the 1991 eight plotters in the coup that temporarily displaced Gorbachev) had with Mikhail Gorbachev, then leader of Soviet Union and General Secretary of the Soviet Communist Party (CPSU) in 1989. Relevant excerpts are provided below:
"…Another document published by Moscow News gave an idea of the sort of KGB operations that the CPSU General Secretary, Mr. Mikhail Gorbachev, that the Central Committee's financial support to Mrs. Sirimavo Bandaranaike's Sri Lankan Freedom Party enabled the latter to win eight times more seats in Parliament in the general elections earlier that year.
In the same letter, Mr. Kryuchkov reported that the KGB also paid the way to Parliament for 'a number of KGB confidants belonging both to the Sri Lanka Freedom Party and the United National Party'. The KGB chief quoted Mrs. Bandaranaike who had thanked Moscow for support and assured it that her party would take advantage of its increased influence in parliament to block the pro-Western foreign policy and the anti-democratic domestic course of the ruling United National Party."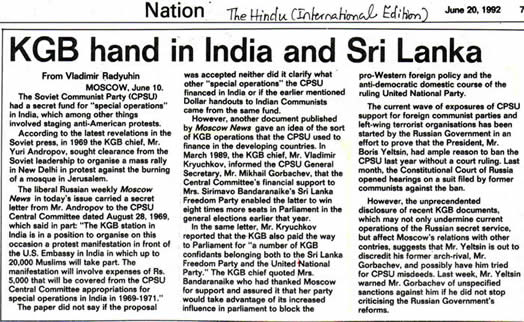 Furthermore, with the blossoming of Sinhala-Tamil hostilities in late 1979, India's intelligence organization, RAW also entered the scene silently at first around 1980, and later with fanfare after 1983, and has remained active in the island.
Sri Lanka-related Events with characteristic CIA Fingerprints
A retrogressive search on the Sri Lanka-related events since 1950 with characteristic CIA fingerprints elicited the following short list.
1962 Jan. 27: the coup d'etat against Sirimavo Bandaranaike government.
1964 Dec. 3: the defection of 14 MPs led by C.P. de Silva from government ranks to the Opposition.
1982: Establishment of International Centre for Ethnic Studies in Colombo and Kandy, under the guidance of Neelan Tiruchelvam and K.M. de Silva with the Ford Foundation sponsorship.
1987: honey-trap operation of K.V. Unnikrishnan of RAW who was in charge of Eelam Tamil militancy in Madras.
2003 - 2007 Sept.18: Trailing Karuna during his tours as LTTE member of peace talks with GOSL, and subsequently trapping him in London (when he traveled under a false diplomatic Sri Lankan passport) in connivance with British Anti Terrorism Liaison Unit.
I do not infer that this was the maximum. How I came to choose these five events? First, one can easily tally and correlate the possibility of its occurrence with that of the ground-rules of CIA operation that I have listed above. Secondly, by joining the dots with events that happened before and after this 'attributed fingerprint' in Sri Lanka or in other equally placed countries.
Not being one of the three (UK, Australia and Canada) exempted countries, Ceylon/Sri Lanka satisfy ground rule No.1. There had been accusations in Sri Lankan politics about a few politicians as 'agents' of CIA. One notorious politician in this category was J.R. Jayewardene, whose epithet was 'Yankee Dick'. This satisfy ground rule No.2. That being Left leaning in politics and oriented towards USSR and China during the peak years of Cold War, Sirimavo Bandaranaike's SLFP period (1960-65) was too tempting for CIA to test their 'overthrow' experiments. These satisfy ground rules No.3 and No.4. Lastly, ground rule No. 5 can be applicable to Karuna-related affairs (his international travels, first as member of LTTE's peace delegation talks, and then as a turn-coat under the false diplomatic passport Kokila Gunawardena) since 2003.
Sirimavo Bandaranaike's Conjectural Troubles with CIA
Considering the interest elicited by KGB on Sirimavo Bandaranaike (as indicated above), it is a no brainer to connect the dots to infer that CIA was 'too interested' in her regime as well. Mrs. Bandaranaike's first stint as prime minister (1960-65) overlapped with that of John F. Kennedy's presidency, and her second stint (1970-77) overlapped with Kennedy's nemesis, Richard Nixon's presidency. I infer that the first serious attempt to destabilize Mrs. Bandaranaike's rule (i.e., the 1962 abortive army coup d'etat) during 1960-65 occurred during JFK's presidency. It failed. The second serious attempt (December 1964; C.P de Silva's cross over to the Opposition) during Lyndon Johnson's presidency succeeded in toppling Mrs. Bandaranaike's regime. Mrs. Bandaranaike was relatively lucky during her second tenure of office (1970-77), because a multitude of factors (Nixon's presidency and impeachment, outcome of Vietnam War and CIA's own image and problems that erupted during Senator Frank Church Committee hearings) worked in favor of her.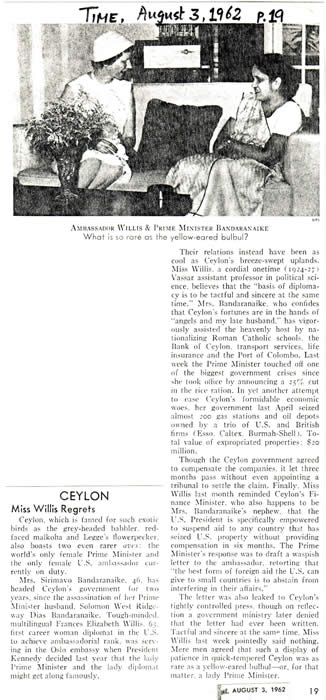 Let me provide a synopsis of events that nearly toppled Mrs. Bandaranaike in January 1962 and ousted her from office in December 1964. Here is the sequence of events.
May 11, 1961: Ms. Frances Willis presented her credentials as US ambassador in Colombo. The Time magazine (Aug. 3, 1962) profiled her as, "tough-minded, multilingual Frances Elizabeth Willis, 63, first career woman diplomat in the US to achieve ambassadorial rank".
May 29, 1961: Ceylon Petroleum Corporation established; retail petroleum distribution nationalized.
January 27, 1962: Abortive coup d'etat against Mrs. Bandaranaike government.
April 1962: According to Time magazine (August 3, 1962), government "seized almost 200 gas stations and oil depots owned by a trio of US and British firms (ESSO, Caltex, Burmah-Shell). Total value of expropriated properties $20 million."
July 1962: American ambassador Frances Willis "reminded Ceylon's Finance Minister, who also happens to be Mrs. Bandaranaike's nephew, that the US President is specifically empowered to suspend aid to any country that has seized US property without providing compensation in six months." For this, Mrs. Bandaranaike send a stinging letter to the ambassador, "the best form of foreign aid the US can give to small countries is to abstain from interfering in their affairs."
This can be interpreted as a cryptic rebuke by Mrs. Bandaranaike to CIA's 'unacknowledged' role in the abortive January 1962 coup d'etat. One can notice a pattern in CIA's 'overthrow' etiquette in 1950s. Some examples: On Aug. 21, 1953, CIA overthrew the left-wing government of Iran's primeminister Mohamed Mossadeq, after he nationalized the British-owned Anglo-Iranian Oil Co. In June 1954, CIA supported the overthrow of Guatemala's Jacoo Arbenz, after he nationalized 400,000 acres of idle banana-plantation owned by United Fruit Co.
K.M. de Silva and Howard Wriggins (American ambassador to Sri Lanka, during President Carter's regime), have covered the 1962 coup in 14 pages, in their biography of J.R.Jayewardene. To quote, a condensed summary in one paragraph relating to that January 1962 abortive coup,
"In essence it was a colonels' coup. The coup leaders were a group of senior officers from the army, navy and the police along with one single civilian, a senior member of the elite Ceylon Civil Service, the country's higher bureaucracy. The object was to topple the government and install in its place a 'council' of former prime ministers who would run the country for a short while till fresh elections were called. Among those to be arrested were the leftist leaders, the two Diases, Felix and N.Q., and some very senior Police and Service Officers."
de Silva and Wriggins noted that former UNP prime ministers (Dudley Senanayake and Sir John Kotelawala) and the then governor general Sir Oliver Goonetilleke were implicated in the coup. And their protagonist Jayewardene was rather surprised and pissed off to learn later that Dudley Senanayake had hidden his involvement in the coup plot from him. de Silva and Wriggins note that they had interviewed Kotelawala on 15 September 1979. To quote,
"Sir John described the coup as a 'Buddhist' coup, which he explained thus. Nobody was to be killed. Some would be placed under arrest. The country would be ruled by a junta of ex-Prime Ministers, including Sir John, and – strangest of all – Mrs. Bandaranaike herself. It was as though the coup d' etat was designed to rescue Mrs Bandaranaike from the machinations of her advisers."
'Buddhist' coup and baloney one could exclaim! Sir John Kotelawala died one year later on October 2, 1980.
De Silva and Wriggins also had attempted to interview four of the main coup conspirators: F.C. de Saram, Sydney de Zoysa, Royce de Mel and Douglas Liyanage. Among these four, F.C. de Saram was reluctant to talk about his role. Speficically, the first defendant Liyanage had stated in his interview in January 10, 1988 that, "the coup suspects had an old-fashioned sense of loyalty; rather than let down their 'superiors' they would go out of their way to protect them. They took the rap."
Donald Horowitz, (currently a Duke University law professor), had published a monograph in 1980 on this 1962 coup d'etat. Among the 24 defendants who were charged in a trial at bar case against the Queen of England, Horowitz had interviewed 19 participants in 1968. It is somewhat surprising, nowhere in the book, Horowitz mention of CIA in his analysis. It is my impression, that though he had labored to elicite minutiae details relating to the ethnic composition, religious composition, caste details (Sinhalese only) and motives of the 24 conspirators tried for that coup, the greater picture of who 'induced' the conspirators and who were the 'masterminds' for the plot have been omitted. Three reasons are stated in the appendix, which I list below.
(1) The interviews were done in 1968. But the book was published only in1980. "With elections not due for another two years, the fear that Mrs. Bandaranaike's return to power, and with it some unforeseeable retribution, was minimal, although not altogether absent. Such fears were easily assuaged by firm assurances of anonymity and by a promise not to publish the results for several years. [Footnote: In fact, Mrs. Bandaranaike did return to power in the 1970 election and did not leave office until her party was defeated by the UNP again in 1977.]"
(2) "I made it clear that the interview would not include any attempt to identify coconspirators."
(3) "I also excluded from the scope of the interview the issue of ultimate responsibility for the coup plot."
Here are the minutiae, elicited by Horowitz about the 24 defendants.
Ethnic composition: 13 Sinhalese, 7 Tamils and 4 Burgher or Eurasians.
Religious composition: 12 Roman Catholics, 6 Anglican Christians, 3 'Other Christians', 3 Buddhists.
Caste (Sinhalese Only) composition: 6 Goyigama, 4 Karava, 2 Salagama and 1 Durava.
As all the 7 Tamils were Christians, technically they were excluded from caste criterion,
Job status: 13 were members of either regular army or the volunteer force, 6 were gazetted police officers, 1 was from Royal Ceylon Navy, 1 was member of Ceylon Civil Service, and 2 were planters.
As neither Horowitz nor de Silva and Wriggins had identified the 24 defendants who were charged, by name, I provide the entire list below.
1. Don John Francis Douglas Liyanage
2. Maurice Ann Gerard de Mel
3. Frederick Cecil de Saram
4. Cyril Cyrus Dissanayaka
5. Sidney Godfrey de Zoysa
6. Gerard Royce Maxwell de Mel
7. Wilmot Selvanayagam Abraham (died on Aug.6, 1964)
8. Bastiyampillai Ignatius Loyola
9. Wilton George White
10. Nimal Stanley Jayakody
11. Anthony John Bernard Anghte
12. Don Edmond Weerasinghe
13. Noel Vivian Matthysz
14. Victor Leslie Percival Joseph
15. Basil Rajandiram Jesudason
16. Victor Joseph Harold Gunasekera
17. John Anthony Rajaratnam Felix
18. William Ernest Chelliah Jebanesam
19. Terence Victor Wijesinha
20. Lionel Christopher Stanley Jirasinghe
21. Vithanage Elster Perera
22. David Senadirajah Tambyah
23. Samuel Gardner Jackson
24. Hubert Gerard Rodney de Mel
Among these, 2nd, 6th and 24th defendants were siblings. 5th and 23rd defendants were brother in laws. In Sri Lanka, with a few exceptions, names can identify one's ethnicity. Among the 24 mentioned above, defendants number 7, 8, 15, 17, 18 and 22 can be conveniently identified as Tamils. As Horowitz provide the information that the number of Tamils were 7, by a process of elimination, I identify that defendant 14 could be the seventh Tamil. For the Trial-at Bar case, G.G. Ponnambalam Sr. and his team including S.J. Kadirgamar appeared for 16 of the 24 defendants (defendants 1, 2, 3, 5, 6, 7, 8, 9, 10, 13, 14, 15, 17, 22, 23 and 24). The Supreme Court Judgment delivered on April 6, 1965 convicted "the 1st, 2nd, 3rd, 4th, 5th, 6th, 13th, 15th, 19th, 20th and 21st defendants on all the counts of the Information…"
On the final outcome of the trial, Horowitz had noted:
 "Of the twenty-four defendants who were charged, the cases of two were dismissed before trial. A third died in jail. Ten others were acquitted by the trial court. The eleven remaining defendants were convicted under a law passed retroactively to apply to the coup conspiracy [Criminal Law (Special Provisions) Act No.1 of 1962]. The convicted defendants appealed to the Privy Council (in December 1965) in Britain, which reversed their convictions on the ground that the ex-post facto statute was unconstitutional. All the conspirators were therefore ultimately freed."
December 1964 No-Confidence Vote on Sirimavo Bandaranaike regime
As far as I know, the best description of this event in English is provided by K.M.de Silva and Howard Wriggins in their biography of J.R. Jayewardene, in about 12 pages. Their inference: it was a victory for Jayewardene's skill of organization, 'foxy' talent and timing. In their words, "The crucially important figure in organizing the fall of the government was JR. Without his strategic insights and shrewd tactics it would not have happened." On the final day for passing the Throne Speech, 14 SLFP MPs defied the government whip, and voted with the Opposition. Government was defeated by one vote (74 for Opposition and 73 for Government). There was one abstention – that of S.Thondaman Sr., who was then an appointed MP to represent the Indian Tamil interests.
Even de Silva and Wriggins had failed to identify the 14 SLFP MPs who crossed the floor. For record, I provide their names and the constituencies they represented in the parliament during July 1960-March 1965.
1. Charles Percival de Silva (Minneriya)
2. Mahanama Samaraweera (Matara)
3. P.P.Wickremasooriya (Devinuwara)
4. Wijebahu Wijesinghe (Mirigama)
5. Edmund Wijesuriya (Maskeliya)
6. A.H. de Silva (Polonnaruwa)
7. Indrasena de Zoysa (Amparai)
8. Chandrasena Munaweera (Rattota)
9. W.G.M. Albert Silva (Moneragala)
10. S.B.Lenawa (Kikirawa)
11. Lakshman de Silva (Balapitiya)
12. Dr. Edwin Tillekeratne (Ratgama)
13. Razik Fareed (Colombo Central)
14. R. Singleton Salmon (appointed MP)
The first two were cabinet ministers. C.P. de Silva was the deputy leader of SLFP and served as the Leader of the House. Mahanama Samaraweera (the Minister of Local Government & Housing) was the father of Mangala Samaraweera, a lead name in SLFP politics during 1990s and 2000s.
In the March 1965 general elections, majority of these defectors formed themselves into a new party – Sri Lanka Freedom Socialist Party (SLFSP), headed by C.P. de Silva. Two (W. Wijesinghe and E.Wijesuriya) contested as UNP candidates and one (Albert Silva) contested as the candidate of Jathika Vimukthi Peramuna in the same constitutency.. While Wijesuriya won the same constituency as a UNP candidate, Wijesinghe and Albert Silva lost in the same constituency. Three (C.P. de Silva, Lenawa and Tillekeratne) won the same constituency as SLFSP candidates. But five (Samaraweera, Wickremasooriya, A.H. de Silva, Lakshman de Silva and Munaweera) lost the same constituency when they contested in SLFSP ticket. Subsequently in 1970, SLFSP merged with UNP.
To quote, de Silva and Wriggins, during November 1964, "JR and Dudley Senanayake were meeting C.P. de Silva through intermediaries. C.P. de Silva was not merely the most senior SLFP MP in parliament, but he was also seen, and saw himself, as the leader of a caste group among the SLFP parliamentarians, commanding the loyalties of at least 5 MPs. Should he leave the government and cross over to the opposition it would weaken the newly established coalition considerably. JR and Dudley Senanayake began a long campaign of winning him over and for this purpose they had the enthusiastic assistance of UNP stalwarts who belonged to the same caste as C.P. de Silva – the salagamas."
One paragraph in particular mention cryptically about cash transaction that was induced. Here it is: "There was yet another category of disgruntled SLFP MPs those who asked for a financial consideration to vote against the government. Negotiations with them were left to intermediaries. JR and Dudley Senanayake were aware of these transactions and did nothing to discourage intermediaries engaged in these acts of bribery. The money was found from various sources. With the evidence at our disposal it would appear that the bulk of those who eventually voted against the government did so for political or personal reasons; very few took money for their votes."
Though de Silva and Wriggins make specific mention of cash transfers, and do state, "very few took money for their votes", that 'very few' could be more than three among the 14!
Thondaman's version of his abstention vote on December 3, 1964
Thondaman Sr., in his autobiography published in 1994, had written the following: "The talks between [Lal Bahadur] Shastri and Mrs. Bandaranaike began in New Delhi on October 24, 1964. Before she went, she did not consult me or the CWC about the problem of the stateless. What was worse she refused permission for me and other CWC leaders to travel to India to present our case to the Indian government…
I was always opposed to the Shastri-Sirima Agreement. I have at all times – even to this day – frankly declared that the Indian Government had made a mistake in 'trading' the rights of nearly half a million Ceylon Indians in this way. The majority of those repatriated were born in Ceylon – only their ancestors had come from India. The 'sin' for which they were repatriated was that they were of 'recent Indian origin'."
Thondaman defended his decision for abstention vote, in the following terms. Before the Shastri-Sirima Pact signed on October 24, 1964, there arose an occasion on August 18, 1964, where his vote had saved the Sirima Government, during the Budget debate. To quote,
"On Aug.18, 1964, during the Budget debate there were several motions to cut the Prime Minister's vote. One was by Dahanayake and Keuneman. They had moved a cut of Rs.10/= on the ground that the travel curbs were unjustified and contrary to human rights. When this cut was voted upon the House was depleted – many Government as well as Opposition MPs being absent. Dahanayake had tried to rally the Opposition MPs who were present and had asked for a division by name. I voted with the government and it was my vote which saved the government – the voting being 17 to 16. Dahanayake and other Opposition leaders had shouted 'Thondaman has saved the government.'
"It was a different story in December 2, 1964 [sic]. I had abstained from voting on the controversed [sic] Press Bill. My abstention had ensured the defeat of the government by one vote. If I had voted with the government it would have been a tie and the Speaker would have had to cast his vote in favour of the government and a defeat could have been averted."
Now, let me count the MP numbers on that crucial Dec. 3, 1964 vote. Of the 157 MPs in the roster, one was a Speaker (who did not vote). Among the 156 MPs, 147 had voted on that No Confidence motion. 74 voted for the Opposition, and 73 (from government ranks) voted against. S. Thondaman abstained from the voting. That makes the cumulative count to 148 MPs. Among the remaining 8 MPs who did not vote, de Silva and Wriggins mention the following:
(1) One unidentified LSSP MP was out of the island and couldn't vote. He could have, if present in Colombo, voted with the government.
(2) One unidentified SLFP MP "who had promised to vote for the Opposition lost his nerve at the last moment and hid himself in one of the small rooms in parliament."
(3) The SLFP MP representing Passara constituency [Amarananda Ratnayake] arrived at the parliament, after the vote and claimed that he had a flat tyre. He was not on J.R. Jayewardene's list.
Thus 3 MPs are accounted. Among the missing five MPs who didn't vote on that day was Alfred Duraiappah representing Jaffna constituency! Could it be interpreted that apart from those few MPs who crossed over from government ranks and voted with the Opposition for bribe, the 'missing five MPs' also might have been tempted with some payment for not being present in parliament on that particular day?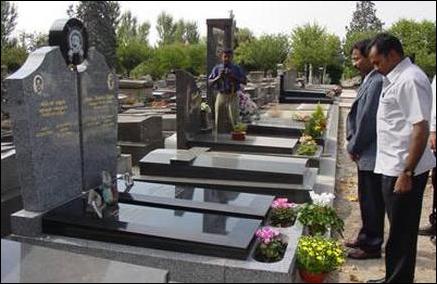 Thamilselvan and LTTE Senior Commander Karuna paying respect to the Nathan-Gajan memorial in Paris in 2003 (Photo: LTTE Peace Secretariat)
Trailing Karuna during his international jaunts
There appears a news item and a photo (provided by LTTE's Peace Secretariat) in the Tamil Net of August 30, 2003 that stated, "Head of the political section of Liberation Tigers of Tamil Eelam (LTTE), S.P. Thamilselvan and LTTE Senior Commander Karuna, at the conclusion of LTTE Paris-talks Thursday visited the Paris memorials of activists Kandiah Perinpanathan and Kandiah Gajendran who were gun down in La Chappelle, Paris by unknown gunmen on the 26th October 1996."
It is my conjecture that opportunities like this might have provided a window for CIA's station chiefs in Paris or Berlin or Bangkok or London to apply ground rule No.5 of covert operations through their conduits for their maximum advantage.
On a few Sri Lankan Agents or Assets of CIA
Based on circumstantial evidence (especially Indian prime minister Indira Gandhi's antipathy to Jayewardene's activities), one can conveniently identify J.R.Jayewardene as an 'Agent of Influence' for CIA. Indira Gandhi sensed a parallel in the activities of her Indian political nemesis Morarji Desai and Jayewardene. Later it turned out, that Morarji Desai had received payments from CIA, while he served as a deputy prime minister under Indira Gandhi. To quote a 1989 news item from New York Times, "In his 1983 book, ''The Price of Power: Kissinger in the Nixon White House,'' Mr. Hersh wrote that Mr. Desai, India's Prime Minister from 1977 to 1979, received $20,000 a year from the C.I.A. during the Johnson and Nixon administrations in exchange for information on Indian foreign policy and domestic politics. Mr. Hersh based his claim on information supplied by six confidential sources."
Here is a mild portrayal of Jayewardene's notable activity in 1982 that was condoned by his patrons. Unfortunately, the writer of this piece has used the 'a Special Correspondent' tag without identifying himself.
"Let us here pause to recall what the US did in 1982 when President Jayewardene decided to hold a Referendum, to deny us our birthright to elect a government of our choice – not to give us a new Constitution but to extend the life of a freak Parliament in which his Party enjoyed a 4/5ths majority – a wholly undemocratic exercise which made a caricature of Democracy. Furthermore the Referendum was rigged quite openly (It was a comment that the Referendum was rigged that saw the expulsion of the American Dip).
There are many living today who would give graphic accounts of how the Referendum was rigged, if only the government cared to open an inquiry into that Referendum, (among the many red faces would be many in the present UNP hierarchy and the then Elections Commissioner who is today holding very high office). The US House of Representatives ''decided' to hold a 'Hearing' - and since they did not want to hold a hearing just on the state of Democracy in Sri Lanka, they called a hearing on 'Democracies in South Asia', under the Co - Chairmanship of Stephen Solarz -Chairman South Asia Committee and Congressman Bonker, Chairman of the House HR Committee. A former American Ambassador, an authority on Sri Lanka, Prof. Howard Wriggins, amongst others, gave evidence and took a dim view of the perversion of Democracy by the regime in power, but the American government's position was that the "present government was favourable to the West and the US" and that they should not concern themselves with what was a domestic matter! Hooray for Democracy. The US was quite rightly looking after its interest and who can fault them for that."
I identify that the The 'American Dip' mentioned within parenthesis, who was expelled for his adverse comment noted in this letter was Kenneth Munro Scott Jr. The New York Times (Dec. 9, 1982), carried a UPI newsreport that stated,
"The United States has asked Sri Lanka to recall a ranking diplomat from Washington in retaliation for the ouster of his American counterpart in Colombo, the Government announced today. A spokesman for Sri Lanka, Anandatissa de Alwis, said the State Department had asked the Government to recall Nanda Godage, first secretary in Sri Lanka's Embassy in Washington. But, he said, the United States had agreed to consider a request that the diplomat be allowed to remain. Kenneth Munro Scott Jr., first secretary at the American Embassy, was ordered out of Sri Lanka because of critical statements he was said to have made about President J.R. Jayewardene. Mr. Scott reportedly left Sri Lanka on Tuesday."
In brief, J.R. Jayewardene's credentials as an anti-Communist and political record since 1951, tempt one to classify him as a probable 'agent of influence' for CIA.
Next to J.R. Jayewardene, I'm tempted to infer that Neelan Tiruchelvam's credentials as an (1) academic from a third world country, with a Harvard University degree (2) being a Tamil ethnic, and (3) back room politician, served him well as an 'unwitting agent' for CIA. For a period (during 1980s and 1990s), he remained as the 'only quotable spokesman' on Sinhala-Tamil issue that the international media pampered. His quotes were 'neutral and waffling' at best. After the 1999 assassination of Neelan Tiruchelvam, historian Kingsley M. de Silva offered the following eulogy to TULF parliamentarian. To quote, "…In 1981 we were both invitees to a Ford Foundation sponsored conference held in a game partk some 200 kilometres or so from Nairobi to look at the problems of ethnic conflict in the world. The conference eventually provided us with an unexpected opportunity to build a research institution; one of its by-products was a decision taken to establish a research institute for the study of ethnic conflict with funds provided by the Ford Foundation. After much discussion it was decided to look at Sri Lanka as the possible location for such an institute. The Sri Lankans at the conference worked as a team to convince others at the conference that we could build a world class research institute. Among the preliminaries to the establishment of such an institute was to secure the support of the then government to locate it in the island, as task that was assigned to me, while the legal issues involved including discussions with the Ford Foundation in Delhi, were handled by Neelan with his customary throroughness…"
Prof. de Silva, in trying to be vainglorious, had let the cat out of its bag. Few years later, left wing historian James Petras (whose articles were regularly featured by the Lanka Guardian fortnightly) in an essay demonstrated that the "Ford Foundation-CIA connection was a deliberate conscious joint effort to strengthen US imperial cultural hegemony and to undermine left-wing political and cultural influence." As I have indicated earlier in this feature, the high octane eulogy provided by President Bill Clinton and his wife Hillary, offered clear evidence to Tamils that Neelan Tiruchelvam was indeed functioning as an asset to American interests. At the time of his death, he was merely a Tamil MP and nothing more than that! By Eelam Tamil standards, Neelan's intellectual credentials weren't that extra-ordinary caliber to deserve such an eulogy from an American President. And now, the reputation of that International Centre for Ethnic Studies (ICES), the brainchild of Neelan Tiruchelvam, lies in tatters!
Coda
The pre-CIA period (1940-1947), I plan to cover marginally in a forthcoming article to mark the 55th anniversary of Ceylon's admittance to UN on December 14, 1955.
Consulted Sources
K.M. de Silva: Neelan Tiruchelvam, 1944-1999; a tribute from a colleague. Ethnic Studies Report (Colombo), Jan. 1999; 17(1): 125-128.
K.M. de Silva and Howard Wriggins: J.R. Jayewardene of Sri Lanka, vol.II, Leo Cooper/Pen & Sword Books Ltd., London, 1994, pp. 107-120 and 130-141.
Donald L. Horowitz: Coup Theories and Officers' Motives – Sri Lanka in Comparative Perspective, Princeton University Press, Princeton, New Jersey, 1980.
Ronald Kessler: Inside the CIA, Pocket Books (Simon & Schuster Inc.), New York, 1992.
David Margolick: U.S. Journalist cleared of libel charge by Indian. New York Times, Oct. 7, 1989.
James Petras: The Ford Foundation and the CIA; a documented case of philanthropic collaboration with the Secret Police. 15 December 2001. Rebelion [http://www.rebelion.org/petras/English/ford010102.htm]
Special Correspondent: 'Interference by invitation'. Island (Colombo), July 20, 2001.
S. Thondaman: Tea and Politics – An Autobiography, vol. 2: My Life and Times, Navrang, New Delhi, 1994, pp. 189-196.
A. Jeyaratnam Wilson: Politics in Sri Lanka 1947-1973, Macmillan Press, London, 1974.
www.lawnet.lk/docs/case_law/nlr/common/html/NLR67V193.htm provides the Supreme Court judgment delivered on April 6, 1965 by M.C. Sansoni, H.N.G. Fernando and L.B. De Silva for the Trial at Bar No.2 of 1962.