Sri Lanka Holds Tight to China
By Dr. Karunyan Arulantham, GlobalPost, September 26, 2010
Dynastic politics is nothing new in South Asia, but the creation of this family juggernaut is particularly troubling. It comes after Rajapaksa and the Sri Lankan military achieved a decisive — and needlessly bloody — end to Sri Lanka's long war, killing as many as 40,000 people in the final weeks of fighting. Most were unarmed Tamil civilians.
Why the world should be worried about Sri Lanka's deepening ties with China
LOS ANGELES — When the voters of war-torn Sri Lanka cast their ballots in last January's presidential election, little did they realize that the winner, incumbent Mahinda Rajapaksa, wouldtake such an expansive view of his victory.
Eight months into his second term, Rajapaksa is engaged in an unprecedented power grab that is marginalizing religious and ethnic groups and endangering the island's fragile democracy. Earlier this month, the country's parliament abolished presidential term limits, effectively creating an imperial presidency.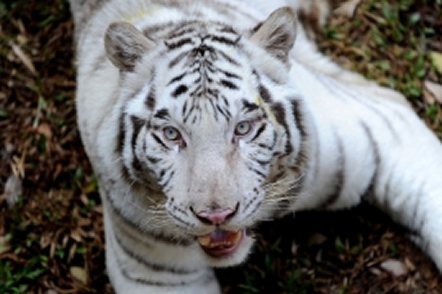 Image Caption: Two white tigers seen in the Zoological Gardens in the Sri Lankan capital Colombo suburb of Dehiwela on March 2, 2010. The Chinese government presented them to the zoo signifying the Sri Lanka-China friendship. (Ishara S. Kodikara/AFP/Getty Images)
No doubt Rajapaksa figures he deserves some spoils for being the leader who finally liquidated the Liberation Tigers of Tamil Eelam (LTTE) after a 26-year civil war. But he has given himself the portfolios of defense, finance and planning, ports, aviation and highways, and he has appointed one brother economic development minister and another defense secretary. Add a third brother as Speaker of Parliament, a cousin as deputy minister of water and drainage, and a son in the family's seat in parliament — and it's clear this is dynasty-building run amok.
People around the world greeted the end of Sri Lanka's war with relief. But it is time for Western governments and businesses to recognize the rising threat to freedom and use whatever leverage they have to stop Rajapaksa's divisive and anti-democratic policies, which are dovetailing with island's ever tighter embrace of China.
Dynastic politics is nothing new in South Asia, but the creation of this family juggernaut is particularly troubling. It comes after Rajapaksa and the Sri Lankan military achieved a decisive — and needlessly bloody — end to Sri Lanka's long war, killing as many as 40,000 people in the final weeks of fighting. Most were unarmed Tamil civilians.
In the wake of that campaign, Rajapaksa called an early election and coasted to an easy win, pledging to heal the wounds and divisions that left the country so devastated for so long. Tamils were skeptical, but hopeful.
Two weeks after his re-election, Rajapaksa's government arrested his defeated presidential opponent, who remains in custody on politically motivated charges. As part of a broad campaign to silence opponents, independent organizations report that press intimidation and human rights violations remain rampant.
Instead of embracing democracy, Rajapaksa and his supporters in parliament — where brother Chamal, as Speaker, sets the agenda — have launched a frontal assault on the constitution. In addition to abolishing term limits, other changes have ended independent oversight of appointments to the country's Supreme Court, human rights and electoral commissions — moves that vastly expand presidential powers and leave them unchecked by other branches of government.
The problems with these changes are numerous: Election promises to decentralize authority and grant more autonomy to Tamil areas in the north and east have been tossed out the window. Vital development aid is being poured into building beach resorts for foreigners and new military bases, while Tamil communities destroyed by warfare go without vitally needed new housing, hospitals, schools and churches. Tens of thousands of Tamils are still detained in camps, unable to return to their homes, while the government conducts a campaign to colonize Tamil areas with Sinhalese families, many with ties to the military. Tamil communities, and indeed the entire culture, are threatened with annihilation.
With Rajapaksa himself acting as Defense Minister and his brother Gotabaya serving as Defense Secretary, no one can challenge the use of Sinhalese Army troops to police Tamil majority regions of the island. But the continued military deployment is exacerbating ethnic tensions that originally sparked the civil war, and reports of harassment, plunder, and rape are multiplying. This will only get worse absent a legitimate peace and reconciliation process.
Truth and accountability are critical elements of reconciliation, but when UN Secretary General Ban Ki-moon created a three person panel of experts to look at war deaths in Sri Lanka, Rajapaksa's own housing minister rallied hundreds of protestors outside the UN's headquarters in Colombo, forcing the offices to be closed and the resident U.N. coordinator to be recalled to New York.
Rather than accept an independent probe, Rajapaksa formed his own "Lessons Learnt and Reconciliation Commission," which most outside observers consider is no more likely to uncover the truth about war crimes in Sri Lanka than the nine other government commissions that preceded it, none of which held anyone accountable.
The international community is not blind to what's happening in Sri Lanka, but democratic friends seem impotent as Rajapaksa ignores critics in the West and deepens ties with China. While China may be unfazed by the island's march toward autocratic rule, Sri Lankans should consider what a future with such limited friendships would look like. And the West should consider how many more borderline democracies it can afford to watch fall.
Karunyan Arulantham is a member of the Tamil American Peace Initiative, a group of Tamil Americans formed to help bring lasting peace and justice to Sri Lanka, as well as to focus attention on the destruction of Tamil communities and culture caused by the war.
Comments sent to Globe Post by Dr. Ellen Shander:
When General Dwight D Eisenhower liberated the Nazi concentration camps after WW2, he brought in extensive photographers and opened up the camps to document the genocide of the Jewish people. He said " if I don't do this now, some bastard will say 50 years ago that this never happened". It is due to his foresight that we can actively combat Holocaust deniers. Now in Sri Lanka there has been a terrible genocide. More than 100,000 Tamils killed in the last few years of the war, and 40,000 civilians killed by their own government ( Sri Lanka) in one weekend. Then 300,000 Tamils were herded into death camps where food and medicine were denied for months and more civilians died. Now the same civilians are denied access to their homes and land. All of the above are well documented war crimes. We don't need a General Eisenhower to document these evil acts. What we need is a world that still cares about civilians being indiscriminately killed because they are a minority and an evil government that kills for a land grab. What great bedfellows : the Chinese who care little for their own minorities, and the Rajapaksa government who has perfected it's Nazi techniques.
Has the world gone crazy that no one will help the Tamil people?