War Criminal Gets a UN Job
by Brad Hamilton, New York Post, November 21, 2010
Shavendra Silva's 58th division was one of the Sri Lanka Army (SLA) divisions that had been the longest embedded division in prosecuting the final war. Starting in September 2007 in Silavaturai in the western coast, Silva's division was instrumental in displacing civilians from the western shores to the eastern killing fields in Mullaitivu in Jan 2009, according timeline published in Sri Lanka Government controlled Daily News.
A suspected war criminal who allegedly played a key role in the slaughter of 40,000 civilians in Sri Lanka has landed a cushy job at the United Nations -- with full diplomatic immunity.
Human-rights groups are outraged that Shavendra Silva, 46, a top ex-military commander, was named Sri Lanka's deputy permanent UN representative in August, after which he moved to New York.
His arrival came a year after his troops defied international pleas and shelled a no-fire zone packed with women, children and elderly refugees, according to observers.
Silva also stands accused of mowing down a group of separatist political leaders who agreed to surrender and were waving white flags when they were shot.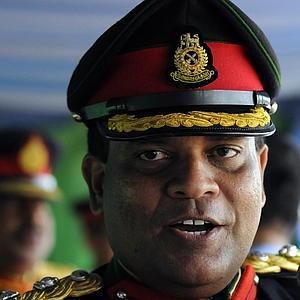 AFP/Getty Images DIPLOMANIAC: Ex-Sri Lanka commander Shavendra Silva is suspected of war atrocities, but a current UN gig gives him immunity.

"It's a slap in the face," said an investigator familiar with Silva, who last year oversaw the final months of a brutal 26-year civil war against Tamil separatists on the island nation off India's southeastern tip.

The war started in 1983 after the Tamils, a Hindu ethnic minority, were denied power by the ruling Sinhalese, Buddhists, and formed a violent resistance group, the Tamil Tigers.

"Thousands were killed or starved. There were massive human-rights violations and he's the No. 1 suspect," said the investigator, a human-rights group expert who asked not to be identified.

"And they send this guy here? There's no one other than him in the mission who was involved in this."

Silva claims 11,000 friends on Facebook. The barrel-chested former major general also maintains his own site, shavendrasilva.com, filled with photos of himself in combat garb and a list of his battlefield successes.

He works from an office at the Sri Lankan mission on Third Avenue.

Read more: http://www.nypost.com/p/news/local/manhattan/war_criminal_gets_un_job_6ujUFMXYR2NhlrrxF3euZJ#ixzz16PB21OqQ

---------------------------------------------------------------------------------------------

UN post confers no absolute immunity from war crimes prosecution

[TamilNet, Friday, 26 November 2010, 00:04 GMT]
Under the terms of the United Nations Charter, UN Officials only have "functional" immunity, immunity ratione materiae which confers immunities on those performing acts of state (duties). War crimes, crimes against humanity, and genocide are not incidental to the duties of a UN accredited diplomat, and therefore, Shavendra Silva, Sri Lanka's official at the UN in New York, can be prosecuted under the 18 USC 2441 of US criminal code for allegedly committing war crimes outside the US. Legal sources also said that the UN Headquarters Agreement on UN officials' Privileges and Immunities concluded with respect to the UN Charter arguably confers functional immunity only as well.



Shavendra Silva, alleged War Criminal holding UN post A spokesperson for Tamils Against Genocide (TAG), a US-based activist group, told TamilNet, "the Charter of United Nations, Article 105, and the US's Headquarters Agreement, Article 5, Section 15(4) clearly state UN officials enjoy only "privileges and immunities as are necessary for the fulfilment of its purposes," and do not have full diplomatic immunity that applies to diplomats accredited to and by the States.

"However, criminal action in the US legal system can only be brought by the US Justice Department. Therefore, Tamils in US should promptly initiate efforts to persuade, either or both, the War Crimes office of the State Department, and Congresspersons interested in Sri Lanka affairs to begin investigations towards bringing criminal action against Mr Silva," TAG added.

"Bringing civil suit through affected plaintiffs with valid standing under the ATCA (Alien Tort Claims Act) is another legal avenue to pursue. With the backing of several prominent NGOs, a legal advocacy group such as Center for Constitutional Rights (CCR) would be a suitable place to start. The State Department then has the option to decide whether to enter the case with a Suggestion of Immunity on his behalf," TAG further said.

In 1987, the U.S. State Department was also involved in efforts to put former U.N. Secretary General Kurt Waldheim on the "watch list" in order to bar his entry into the United States on the alleged grounds that he might have been an accomplice to the commission of war crimes during the Second World War. The U.S. Department of Justice so barred Waldheim as of April 27, 1987.

"The evidence collected . . . establishes a prima facie case that Kurt Waldheim assisted or otherwise participated in the persecution of persons because of race, religion, national origin or political opinion," Justice Department spokesman said in a statement as reported in Los Angeles Times on the same day.



Daily News.





"Full Diplomatic Immunity applies to diplomats accredited to and by States. That is why I lost the Yaron case. Even though he had committed genocide, war crimes and crimes against humanity. I argued against that too. But the judge ruled that she was bound by the State Department determination," Professor Boyle said of his legal action against Yaron.

Relevant parts of the statutes that provide the background to the article follow:
Charter of the United Nations…Article 105
The Organization shall enjoy in the territory of each of its Members such privileges and immunities as are necessary for the fulfilment of its purposes.

Representatives of the Members of the United Nations and officials of the Organization shall similarly enjoy such privileges and immunities as are necessary for the independent exercise of their functions in connection with the Organization.
United States Headquarters Agreement
Article V - Resident Representatives to the United Nations
Section 15
(4) ...Member concerned, shall, whether residing inside or outside the headquarters district, be entitled in the territory of the United States to the same privileges and immunities, subject to corresponding conditions and obligations, as it accords to diplomatic envoys accredited to it.
18 U.S.C. § 2441
(a) Offense. - Whoever, whether inside or outside the United States, commits a war crime, in any of the circumstances described in subsection (b), shall be fined under this title or imprisoned for life or any term of years, or both, and if death results to the victim, shall also be subject to the penalty of death.
(b) Circumstances. - The circumstances referred to in subsection (a) are that the person committing such war crime or the victim of such war crime is a member of the Armed Forces of the United States or a national of the United States (as defined in section 101 of the Immigration and Nationality Act).