Sun Sea Migrant Recalls a Journey of Fear and Hope
by Globe and Mail, Canada, December 22, 2010
"I wanted to live in a country where daughters aren't gang-raped and sons aren't murdered."
Savitri and her children have spent the past six months in captivity, first aboard a cramped Tamil cargo ship, then in a Vancouver-area correctional facility.
She acknowledged she was surprised that the passengers from the MV Sun Sea were marched straight to detention after the rusty freighter docked in B.C. in August. But a few weeks after her release from custody, Savitri said she's by no means angry or bitter.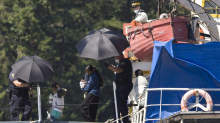 Tamil migrants being escorted off Sun Sea, Vancouver August 13, 2010
The widow said she's far too grateful to finally be free in Canada.
"The weather is cold, but the people are warm," the Sri Lankan national said through an interpreter with one of her children snuggling alongside.
Savitri's refugee claim is ongoing and she's still nervous about speaking with a reporter. Savitri is an alias she's using for the purposes of the interview, out of concern her family will be harmed if her true identity is revealed.
The interview is inside a Lower Mainland home and the translating is handled by two of her Canadian friends. A Christmas tree sits a few metres to Savitri's left. She never had Christmas in Sri Lanka, Savitri said.
But that's not the only adjustment she's making. Savitri said she's still not used to the level of freedom she has in Canada, though it's certainly something she appreciates.
"I wanted to live in a country where daughters aren't gang-raped and sons aren't murdered."
Savitri said her husband was killed by the Sri Lankan army. The island nation went through a decades-long civil war before the Liberation Tigers of Tamil Eelam – a group banned in Canada – were defeated last year.
She and her children were in a Tamil refugee camp, she said, when rumours started swirling that a new boat was getting ready to head to Canada. The Ocean Lady had arrived in October, 2009, carrying 76 passengers.
Savitri said she was told she and her children could board the next boat if she paid $35,000, but her family's life savings only amounted to $10,000. The smuggler accepted the lower figure.
Public Safety Minister Vic Toews has said the MV Sun Sea's voyage was organized by the Tamil Tigers who may have earned as much as $20-million from the trip. Savitri bristled at that suggestion, or any claim that terrorists were on board the boat.
"For us, people who smuggle are like Good Samaritans."
She said those onboard the MV Sun Sea were told the trip would last 40 days – it ended up taking more than twice as long.
Savitri said the 492 passengers on board were blessed with calm seas, but were perpetually concerned a hurricane would come.
Medically, her children handled the trip just fine. The passengers consumed a diet of dried fish and porridge and captured rainwater for drinking.
Savitri goes silent after recalling how one of the passengers – a man in his 30s – died during the voyage. He had been injured in the war, she said, and his kidneys failed. He was buried at sea, his body weighted with spare engine parts to ensure he'd sink.
When the MV Sun Sea neared the West Coast, the passengers knew they would be intercepted by naval vessels. But Savitri says they were unsure whether their captors would be Canadian or the American.
When the passengers saw a red Maple Leaf flapping in the wind, she said cheers broke out.
She and her children were held at a correctional facility in Burnaby until Savitri's identity could be established. She said they were treated very well.
She and the children now live alone and check in with the Canada Border Services Agency once a week. The kids recently started school.
She thanks Canada for allowing her to live here and dreams of becoming a nurse so she can help others. But her future isn't what's most important, she insisted.
"It's the future of the children."