Art Buchwald Humor Awards for 2010
by Sachi Sri Kantha, January 17, 2011
Pol Pot Award for Buddhist compassion – Defence Secretary Gotabaya Rajapaksa
Award citation: Reference is to General Sarath Fonseka. "He can't do that [i.e., give evidence to an independent investigation of alleged abuses during the Tamil War.] He was the commander! That's a treason. We will hang him if he does that. I'm telling you! How can he betray the country? He is a liar, liar, liar.", in an interview to BBC's Hard Talk programme [Guardian, London, June 6, 2010]
January 17 marked the 4th death anniversary of American humorist Art Buchwald (1925-2007). Last year, to honor his memory, I established a humor award protocol. It appeared in this website with the caption 'Suitable Awards for Some Persons'. Now, I have opted to name this protocol as the Art Buchwald Humor Awards. This year will mark the 2nd occasion for this award.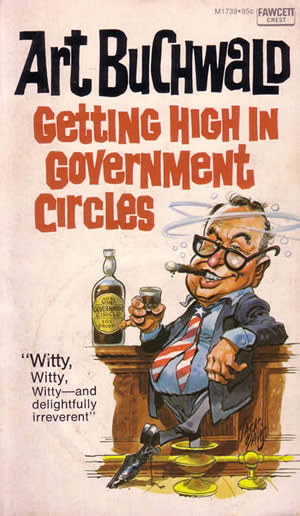 First, I pay tribute to Art Buchwald's memory by honoring 15 news-making Sri Lankan and Indian persons, based on their achievements in 2010. Please note that award citations presented were mostly derived from the award recipient's own tongue and deed.  Secondly, as appendix, I provide four of Art Buchwald's enjoyable columns, which have appeared in his book collection, Getting High in Government Circles (1972). These columns are as follows:
'South Pacific'
'The Jobless Patriot'
'Public Library Enemy No.1'
'And Nobody Laughed'
Though written during President Richard Nixon's first term, the beauty of these columns is that they seem timeless and applicable not only to USA, but to other blessed countries (including Sri Lanka) as well.
Here are my 15 choices for Art Buchwald Humor Awards for 2010. Please note that competition for these awards is tough, (1) as only 15 awards are offered, (2) Competitors have to convince only a jury of one, who cannot be influenced by cash awards, honorary titles or agents, and (3) Self nominations are strictly forbidden.
Napoleon Award for Waterloo battle – President Mahinda Rajapaksa
Award citation: After the cancellation of his scheduled address at the Oxford Union, President Rajapaksa's office issued a statement: 'I am very sorry this has had to be cancelled, but I will continue to seek venues in Britain and elsewhere where I can talk about my future vision for Sri Lanka." [The Telegraph, London, Dec.1, 2010].
General Rommel Award for political suicide – General Sarath Fonseka
Award citation: for losing the Presidential election to Mahinda Rajapaksa by 17 percentage points. "Many analysts feel that if he does decide to contest the election, General Fonseka will pose a formidable challenge to Mr Rajapaksa. Sanjana Hattotuwa, of the Centre for Policy Alternatives, a Colombo think-tank, says he will present himself as the architect of the victory over the Tigers and as a war hero. No other challenger could hope to boast as much." [Economist, November 19, 2009] Also, " 'I'm going to hell,' he told The Times with a dry smile when asked what he would do now that Mahinda Rajapaksa, the incumbent, had been declared winner in the first poll since the Tamil Tigers' defeat in May"[Sunday Times, London, January 28, 2010].
Pol Pot Award for Buddhist compassion – Defence Secretary Gotabaya Rajapaksa
Award citation: Reference is to General Sarath Fonseka. "He can't do that [i.e., give evidence to an independent investigation of alleged abuses during the Tamil War.] He was the commander! That's a treason. We will hang him if he does that. I'm telling you! How can he betray the country? He is a liar, liar, liar.", in an interview to BBC's Hard Talk programme [Guardian, London, June 6, 2010].
Benedict Arnold Award for turncoat behavior – Kumaran Pathmanathan (aka KP), short term 'leader' of post-Prabhakaran LTTE.
Award citation: "President Rajapaksa is genuine in his efforts to settle differences among communities and help rebuild war devastated regions in the Northern and Eastern Provinces. Within a year of the conclusion of the war, the majority of the people displaced by the conflict are back at their villages and ex-combatants of the LTTE are undergoing rehabilitation", in an interview to Shamindra Ferdinando [Island, Colombo, July 29, 2010].
Joseph Goebbels Award – Lucien Rajakarunanayake, Sri Lanka's Presidential spokesman.
Award citation: "He [General Sarath Fonseka] was arrested by the military. It has nothing to do with the (presidential) election." [New York Times, February 9, 2010].
Aesop Award for sour grapes and morals – Dayan Jayatilleka (a political analyst who was once Sri Lanka's envoy to the United Nations in Geneva)
Award citation: commenting on the arrest of General Sarath Fonseka "This is just so ham-fisted. We have just played into the hands of Sri Lanka's critics." The decision to pursue him under military law was particularly troubling, Mr. Jayatilleka said, because the proceedings would take place out of public view. [New York Times, February 9, 2010].
Wily Loman Award for salesmanship: R. Sampanthan, the leader of Tamil National Alliance
Award citation: for endorsement of General Sarath Fonseka in the Presidental election of January 26, 2010. "The post-Prabakaran Tamil National Alliance (TNA) on Monday evening threw its weight behind the Sri Lankan Opposition consensus Presidential nominee retired General Sarath Fonseka, an announcement by United National Party (UNP) which is leading the alliance in support of the General said. The pronouncement came within hours after the retired General, in a bid to garner the support of the Tamil voters, handed over to the leader of the TNA, R. Sampanthan a signed document pledging the concerns of the Alliance on the issues related to the welfare of the nearly 3 lakh war displaced." [The Hindu, Chennai, January 5, 2010].
Oriana Fallaci Award for courageous interviewing – D.B.S. Jeyaraj
Award citation: for interviewing Kumaran Pathmathan (aka KP) in a Colombo detention house (probably via skype software), in the presence of multiple military snoops set by Gotabaya Rajapaksa, to present the humanitarian side of despotic Rajapaksa rule. Also for not divulging to his readers how he gained access to KP without Gotabaya Rajapaksa's prior permission.
Sophia Loren Award for acting – Sonia Gandhi, the President of Congress Party of India.
Award citation: for power acting in transforming herself as a de-facto prime minister of India without responsibility since 2004. "Even to sit and listen to Parliamentary proceedings is an education in itself. The time has come to take poor attendance on the part of members seriously." [Her speechat the Congress Parliamentary Party General Body Meeting, March 4, 2010]
Rajah Harichandra Award for keeping his word – M. Karunanidhi, the Tamil Nadu chief minister.
Award citation: Mr. Karunanidhi had stated, "after June 2010 he would 'leave politics and ministerial posts aside' and devote the rest of his life to work closely with the poor and the oppressed communities." [The Hindu, Chennai, December 6, 2009]
Polonius Award for sycophancy – Professor Ratnajeevan Hoole, now in Jaffna.
Award citation: "President Mahinda Rajapaksa should not have been prevented from addressing the Oxford Union. A university means, an institution of ideas. Therefore, the President should have been allowed to speak instead of preventing him from addressing the Oxford Union Forum.", interview to Ananth Palakidnar [Sunday Observer, Colombo, December 5, 2010]
Rodney Dangerfield 'I don't get No Respect' Award – V. Muralitharan (aka Karuna)
Award citation: "Minister Vinayagamurthy Muralitharan has appealed to the Tamil Diaspora to act wisely and help the President and the government in rebuilding the North and East." [Lankapuvath report, Colombo, July 10, 2009] After 18 months, it is obvious that neither Tamils nor Muslims or Sinhalese have any respect for Karuna's plea! On January 26, 2010 Presidential election, the voters of Batticaloa district showed him openly that they have no respect for the candidate [President Mahinda Rajapaksa] he endorsed. Registered electors: 333,644. Total polled 216,287 (64.83%):
Sarath Fonseka 146,057 (68.93%); Mahinda Rajapaksa 55,663 (26.27%). Partly due to this result, Karuna wouldn't contest the parliamentary election in April 2010.
Vito Corleone Godfather Award - Sivanesathurai Chandrakanthan (aka Pillayan)
Award citation: "I was told by a group of Tamil bar owners who were present at this meeting that Pillayan has pledged to kill me soon as I have failed to carry out his orders," Sushatharan claimed. Nadarajah Sushatharan is the Excise Superintendent for Batticaloa. "Refuting allegations of threatening Sushatharan with death, Eastern Province Chief Minister Sivanesathurai Chandrakanthan alias Pillayan however admitted to The Sunday Leader that he indeed wants liquor sales to be banned from the district asserting it was in that context he wanted Sushatharan to terminate liquor licenses to Sinhalese bar owners as an initiative."[Sunday Leader, Colombo, September 19, 2010]
Imelda Marcos Award for nutty talk – namesake Mrs. Imelda Sugumar, the government agent for Jaffna district.
Award citation: "The Jaffna GA repeatedly tells that no High Security Zone exists in Jaffna. On Friday, when the media asked her to clarify, she said when she had assumed duties as Jaffna GA, she had been briefed so by Maj. Gen. Hathurusinghe, and her interview to foreign visitors and media were based on that understanding." [Tamil Net, December 19, 2010]
Leo Tolstoy Award for fiction writing – Mahinda Balasuriya, Inspector General of Police, Sri Lanka.
Award citation: "Inspector General of Police Mahinda Balasuriya was recently awarded a PhD by the St. Petersburg University of Russia. The IGP earned his doctorate for his studies on terrorism in Sri Lanka and subject of national security." [Sunday Leader, Colombo, June 13, 2010]. One of the readers' comments to this newsitem notes "The IGP was awarded his doctorate by the International University of Fundamental Studies (IUFS). This has nothing to do with the St. Petersburg University, Russia and is not a recognized authority to award educational accreditations." Also of interest is the news item, "SL Inspector General of Police, Mahinda Balasuriya, while releasing a book written by him, 'The Rise and the Fall of the LTTE' on Sunday said: 'In the 21st century, Sri Lanka is the only country in the world to root out terrorism'. The book was an abridged and revised version of his PhD thesis at the University of St.Petersburg, Russia. Mr. Balasuriya told The Hindu that he would publish the book in India too. [Tamil Net, January 3, 2011]. That Sri Lanka's IGP had earned a Ph.D. from a diploma mill run with a Russian address itself seems humorous like the plots of Nikolai Gogol stories!
Appendix
[Note: Words in italics are as in the original.]
South Pacific [pp. 94-96]
If I had my life to live all over again, I'd live it as the CIA man stationed in Tahiti. You get up in the morning and see if there are any ships in the lagoon. If there are, you write down their names on a piece of paper in code, stick it in an envelope addressed to an old lady in Salt Lake City (who forwards it to Washington), and you have the rest of the day to snorkel, spear fish, water-ski, sail and drink sloe-rum punches with lovely school-teachers, airline stewardesses and the daughters of French planters who were born during World War II.
I met one of these chaps at the bar in the Hotel Tahara, which is set in a mountain overlooking the lagoon of Papeete. I immediately knew he was a CIA man because at exactly nine o'clock he faced the sea and started striking his Zippo lighter on and off, despite the fact he had no cigarette in his mouth.
When the bartender confirmed he did this every night, I decided the man either was a CIA agent or had just given up smoking.
He was surprised I had seen through his cover so easily. 'Most people think I work for the Encyclopedia Britannica', he said.
'Whom are you trying to signal?' I asked him.
'Our man over there on the island of Moorea. We haven't heard from him in over a year. I'm beginning to suspect foul play.'
'How could that be?' I asked him.
'Emil Debecque, that's his name, was a French planter who knew Moorea like a book. We needed a coast watcher who would station himself there and report to us on any Japanese ships trying to sneak into the lagoon.'
'But why?' I said. 'The war with Japan has been over for twenty-five years.'
'Every Japanese ship going east that pulls into Papeete is carrying television sets, portable radios, cameras and automobiles. We can tell by the tonnage of the ships just how hard hit the American economy will be. We have to know before the ships reach Hawaii and San Francisco, so we can adjust our domestic production schedules. It is more important to know where the Japanese ships are now than it was during World War Two.
'So we sent Debecque into the hills to watch for us. But we haven't heard from him, and I'm starting to think the worst. Every night I come up here and signal him, hoping he will signal back.'
As we were talking, a girl came in the bar with shampoo in her hair singing, 'I'm gonna wash that man right out of my hair.' Two little children followed her singing 'Dites-moi, pour quoi'.
'What's going on?' I asked Jack.
'That's Nelly Forebush. She was a Pan American stewardess who met Debecque one enchanted evening at the Bali Hai Hotel and fell in love. Nelly was from Little Rock, Arkansas. After she fell in love with Emile, she discovered he had two native children by a Tahitian wife. Nelly at first was horrified, as it was against everything she stood for. But finally she became so enraptured with the children that she quit her job with Pan American and promised Emile she would look after them until he came back.'
'What an idea for a musical', I said. 'But why the shampoo?'
'That's the sad part of the story. Nelly didn't know Emile would be gone this long, and she went bonkers three months ago when the two kids drove her up the wall.'
*****
The Jobless Patriot [pp. 124-125]
There has been a great deal of discussion by the government concerning unemployment. No one likes to be without a job, but it seems to me that if you explain it to someone in terms that he can understand, the unemployed person will be willing to go along with it.
'I beg your pardon. Is that a pink slip in your hand?'
'Yeah'
'Well, congratulations. You can consider yourself a front line soldier in the President's fight against inflation.'
'I can?'
'Yes, sir. And under government regulations you are entitled to a complete explanation as to why you find yourself in what we refer to as the 'unemployment-rate zone'. Incidentally, you will be happy to know that your being laid off came as no surprise to us.'
'It didn't?'
'No, sir. Your government predicted that, given high interest rates and a tight money situation, you would be out of work by February. Here it is, right on the graph.'
'I'll be darned. You guys really know your stuff. But what do I tell my family?'
'You can tell them that although they will have to put up with a certain amount of inconvenience, the upward spiral in unemployment – to which I might say you've made such a valuable contribution – will have a very definite effect on the stabilization of prices.'
'They'll be happy to hear that.'
'If it weren't for people like you, I'm afraid the economy would have kept overheating and your dollars would have lost their purchasing power. But if we can raise the unemployment level to a reasonable figure, say four and a half percent, without putting the country into a recession, we can bring prices down by 1975'.
'It makes sense to me, but I would like to ask you a question. Am I better off reversing inflation by being unemployed, or am I better off working and earning dollars that have less value?'
'That's the kind of question that we in the government resent. I would say in the short run you might be better off earning inflationary dollars. But if you're truly concerned about the economy of the country, then you should be willing to be part of the four and a half percent of the population that we need on our unemployment rolls.'
'But why me?'
''Everyone says, 'Why me?' It has to be somebody. If we are to take strong anti-inflation measures, we have to have a citizenry ready to make financial sacrifices. All we're asking of you is to stay unemployed until the economy cools off.'
'How long will that be?'
'We're projecting eighteen months, but I'd count on two years to be on the safe side.'
'What am I supposed to do in the meantime?'
'This is the Certificate of Unemployment, which you can hang on the wall. It attests to the fact that your government appreciates all you are doing to keep the economy from spiraling sky-high.'
'Gosh, it's beautiful.'
'I might mention that only the elite of the labor force in this country is entitled to this certificate. You can be very proud that you are among the chosen few.'
'Wait until my family sees it. Is there anything else I can do to help fight inflation?'
'Just stay off the streets. And don't call us. We'll call you.'
*****
Public Library Enemy No.1 [pp. 129-130]
The most important thing to remember this year is not to look back: because Big Brother is catching up to you.
The latest Orwellian news to hit the American public is that Treasury Department agents representing the IRS are visiting public libraries to check on what books readers are taking out.
The investigators are interested in anyone who has borrowed books on explosives, but their interest also includes anyone who might be checking out 'militant and subversive' publications as well.
The checks have been confirmed by the IRS, and a spokesman, when asked about it, said, 'As far as I know, it's just routine. The only thing special is some librarian complained about it.'
It's good to know the IRS is concerned with the rights of its citizens. But at the same time, it's going to make those of us who use the public libraries think twice before we take out a book.
I can imagine a scene at the Maplewood County Public Library.
'Miss Philpott, my name is Spangle and I'm a Treasury agent with the Internal Revenue Service. Have you noticed anything suspicious around here lately?'
'Suspicious?'
'Anyone taking out any funny books?'
'Let me see. Someone borrowed Robert Benchley's collection yesterday.'
'I don't mean that kind of funny. I mean books about explosions, stuff like that.'
'Come to think of it, Harold Flemingheimer took out Chitty Chitty Bang Bang and hasn't returned it yet.'
'Chitty Chitty Bang Bang, huh? What does this Harold look like? Does he have long hair?'
'Oh, yes.'
'Sloppy dresser?'
'I should say so. He comes in here without shoes on.'
'You don't have a duplicate of his library card, do you, Miss Philpott?'
'Yes, I do. He lost his and we had to issue him a new one. We found the old one. Here it is.'
'Hmmnn, very interesting. He took out The Little Red Fire Engine on May sixth, Three Little Pigs on May twentieth, and Joan of Arc on June twelfth. Has he ever talked politics with you?'
'Not really. He's only nine years old.'
'Well, keep an eye on him. Do you mind if I go through your files? Who is this Philip Crestwood who took out The Guns of Navarone on April twelfth?
'He goes to Columbia University.'
'He does, does he? I notice on July first he took out Gone With the Wind.'
'Is there something wrong with Gone With the Wind?'
'Don't you recall the burning of Atlanta?'
'Of course. I never did like Philip Crestwood.
He forgot to return Thunder Out of China last winter and he was fined fourteen cents.
'Well, Mr. Crestwood is going to go into our little computer. These people always make tiny mistakes that trip them up. Being a member of the public library might result in Mr. Crestwood's downfall.'
'Are you going to go through all the cards?'
'If you don't mind, Miss. Philpott. Unbelievable as it may sound to you, Trotsky learned everything he knew from the Odessa Public Library Branch No. Two.'
*****
And Nobody Laughed [pp. 255-256]
The last person to laugh in the United Sates was Robert Ketchum on Monday, August 3, 1978. There was no law passed to prevent people from laughing; they just quit voluntarily.
No one knows exactly when people gave up laughing in America. The Republicans claimed it was during the Johnson administration, and the Democrats said it happened during President Nixon's term in office. Putnam Toynbee, who in 1984 wrote The Definitive History of the Seventies, claims the first culture group to give up laughing was students.
'There's nothing to laugh about,' they said to each other in despair. 'Everything is rotten. The government, the establishment, the system and life itself. We're doomed to a plastic existence, and we'll be damned if we're going to laugh about it. If we show in any way we're happy, it will be a sign of weakness.'
Toynbee points out that anything youth did in the United States was eventually picked up by the adult population, and when young people stopped laughing, older people started to emulate them.
Scowling became very fashionable in the with-it crowd. Articles began appearing in the chic magazines that laughter was out. Pretty soon the word had filtered to the hinterlands that anyone who laughed about anything was a fool or a knave.
Advertisers, sensitive to the mood of the consumer, canceled all comedy shows on television; the networks put out memos ordering all laughter bleeped from their programs, and newspapers dropped any stories or comic strips which might produce a chuckle for the reader.
Toynbee says in his book that it was difficult for a certain segment of society to give up laughing, but these people did it privately in their homes, where no one could see them.
A group of friends would get together, send the children off for the night with relatives, and then laugh for two or three hours among themselves.
There were certain key clubs where people could go to hear a comedian or see a funny motion picture from the past. But as the older generation started dying out, the clubs went bankrupt, as there were no young laughers to take their place.
Laughter in public buildings was forbidden and considered exceptionally bad taste. Anyone who laughed in a restaurant or theater was asked to leave.
If someone attempted to laugh on the street or in a park, he was met with stony stares or assaulted by angry passerby.
The government contributed to the anti-laughter campaign by issuing pronouncements every day that things were worse than they were the day before.
To make sure that people wouldn't go back to their old ways, Washington raised taxes, passed outrageous laws, told of international threats, and gave out grim economic reports. Life indeed presented a dismal picture.
Toynbee claims the last person in the United States known to have laughed in public was Robert Ketchum, who lived in Salem, Massachusetts.
Ketchum was standing on a street corner when a friend of his, Adolph Green, walked by and slid on a banana peel. Before he realized what he was doing, Ketchum burst into laughter.
An angry crowd gathered and grabbed Ketchum and dragged him to the center of the square, where they tied him to a post, threw branches from trees at his feet, and burned him at the stake. All three networks covered the event, and the lesson was not lost on the populace. Toynbee feels it will be sometime before anyone laughs in public in the United States again.
*****