The Doyen of Tamil Activist-Journalists
by Vino Kanapathipillai, Tamil Guardian, London, March 27, 2011
"Four hostile newspapers are to be feared more than a thousand bayonets." -- Napoleon
Many of S. Sivanayagam's articles were posted in the Sangam website. Please do use the Search button to find them.
The following is the text of a speech at the memorial in London on 22 January for the late S. Sivanayagam, who passed away on Nov 30, 2010.
We are all familiar with Mr. Sivanayagam's incomparable contribution over sixty years, not only to journalism, but, more specifically, to reporting and writing on the Tamil struggle.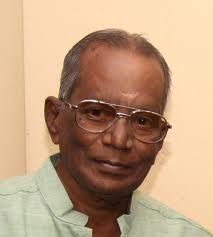 S. Sivanayagam. Photo courtesy TamilNet

His career began, as we know, in the early fifties, when he began writing for the state-owned Daily News. This was exactly the time the newly independent state of Ceylon deliberately began its path away from ethnic harmony towards institutionalized Sinhala chauvinism; from democracy to ethnocracy.

In that sense, the title of his 680-page monograph, 'A witness to history', is no idle boast, but an apt description of his very full professional life.

We all know Sri Lanka's history since independence. How successive Sinhala governments implemented a series of policies that transformed the state into today's ethnocracy; and how this compelled the Tamils to seek ever greater distance and separation from it.

Ultimately the Tamils collectively decided – at the ballot box, it is worth remembering – to seek independence and statehood. That was in 1976.

In that sense, from a Tamil perspective, the most important part of Mr. Sivanayagam's journalistic career came during the ensuing struggle for self-determination.

The newspapers he launched and edited, and the books he wrote, were aimed at recording, and raising international awareness of, the persecution of the Tamil people by the Sri Lankan state.

It is this guiding principle which earned him the love of the Tamil people and the ire of their enemies.

For us, as media workers and Tamil activists, two things are striking about Mr. Sivanayagam's life.

Firstly, despite the possibilities promised by his considerable intellectual and literary strengths, he never sought personal wealth. Instead, the last few decades of his life were dedicated to reporting on the injustices being endured by his people.

Secondly, even though his writings accurately represented the sentiments of the people, he never sought a political leadership role.

Consequently, Mr. Sivanayagam's life exemplified that often unreflected on expression, self-less service.

From a Tamil perspective, his most important work was done in the last decades of his life.

In 1982 Mr. Sivanayagam started the Saturday Review in Jaffna. This was, in our view, an iconic publication of the Tamil struggle.

It was produced under terrifying conditions of state oppression. It reported on the deprivations faced the Tamil people. And it struggled to do so.

We all know how the Jaffna peninsula was for much of the eighties the epicenter of the war.

Quite apart from its contents, the physical newspaper itself is an embodiment of that era, as those of you who either read it at the time, or looked over its printed editions since will know.

The government's total embargo on the Jaffna peninsula and its people meant that at one stage there was little paper available to print the Saturday Review. Which is why some of its editions appeared not on newsprint, but on whatever paper could be scavenged on the day.

The Saturday Review ceased printing when the state's murderous repression compelled Mr. Sivanayagam, as with many others, to flee abroad.

In his case, he went to India, where he too underwent the suffering undergone by so many of our people who sought safety abroad: imprisonment and detention under harsh conditions. Tragically, his incarceration in India had a profound and long-lasting impact on his health.

Nonetheless, no sooner was he allowed his freedom, he resumed his struggle to report on the Tamil nation's plight. The newspaper he started in India was aptly named just that: Tamil Nation.

Amid continuous harassment and difficulties in India, he left for Europe in the mid nineties, where he launched a monthly English-language magazine, the Hot Spring, editing it first in France and then moving to Britain, where it was being printed.

It was at this time that many of us who have since worked on the Tamil Guardian  and the Oru paper met and associated with him.

The volunteers who took up the project of producing an English language newspaper out here received both professional advice and moral support from Mr. Sivanayagam.

For a brief period in the very early years, the Tamil Guardian even shared premises with the Hot Spring.

We know that in the past decade there has been a veritable explosion in Tamil media, especially Diaspora media, driven by both technological and social changes.

On the one hand, since the first years of refugee flight in the early eighties, the Tamil Diaspora has today become a settled, organised and well-established transnational community.

On the other hand, affordable printing facilities and the Internet became widely accessible. These and satellite television, mobile communication devices and social networking have in recent years radically transformed the delivery of news and views.

In that sense, the Saturday Review, Hot Spring and other publications Mr. Sivanayagam launched might appear today as old-fashioned, even quaint endeavors.

However, it should not be forgotten that at their time these publications constituted the leading edge of the Tamil struggle's information war.

They were the forerunners of today's plethora of Tamil-run websites, newspapers, radio services and television channels that we take for granted.

In his later years, Mr. Sivanayagam was aware that technology and new modes of information flow had expanded beyond his considerable experience.

We remember with affection how even as recently as 1999, the lightest and most sophisticated laptops for Mr. Sivanayagam could not better his beloved typewriter.

And we know why. Amid the volumes of material generated every day, we have to strive today to find writing that has both his penetrating and insightful analysis and his clear prose.

Mr. Sivanayagam, however, didn't hang up his typewriter. He turned instead to another important aspect of the struggle: setting down in print his recollection of the many decades of Tamil struggle against oppression.

His final book, 'Witness to History' is another of his selfless contributions to the Tamil people and their struggle.

Amid the contemporary celebration of activist blogs, citizen journalism, social media and now Wikileaks, it should not be forgotten that Mr. Sivanayagam was arguably, even incontestably, the original Tamil activist-journalist.

His contribution to the Tamil struggle is summed by a famous quote. Not that one about the pen being mightier than the sword, but a derivative.

As Napoleon once warned, and Sri Lanka's President Mahinda Rajapaksa will continue to find out,

"Four hostile newspapers are to be feared more than a thousand bayonets."

The Tamil people and the Tamil struggle owe Mr. Sivanayagam an immeasurable debt of gratitude.