India Pressing for Equal Rights for Sri Lankan Tamils
Sonia
by G. Sathiyamoorthi, The Hindu, Chennai, April 5, 2011
"In our neighbourhood, there is no issue closer to our heart than the rights of the Sri Lankan Tamil people. " -- Sonia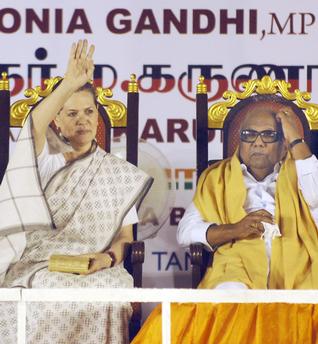 Sonia Gandhi and Tamil Nadu Chief Minister M. Karunanidhi at an election rally in Chennai on Tuesday. Sharing the dais with the Chief Minister, she said New Delhi would continue to press Colombo for constitutional amendments to ensure equal rights and status to ethnic minorities in the island nation. Photo: S.R. Raghunathan
TOPICS
Assembly Elections 2011
Tamil Nadu Assembly Polls 2011
India is pressing Sri Lanka to amend the Constitution to "guarantee and ensure equal rights and equal status" to Sri Lankan Tamils, Congress president and United Progressive Alliance chairperson Sonia Gandhi said here on Tuesday.
Significant progress
"In our neighbourhood, there is no issue closer to our heart than the rights of the Sri Lankan Tamil people. There has been significant progress last year and India had committed and provided large sums of money for the relief and rehabilitation of the affected people. We will do everything in our power to rehabilitate them," she said, addressing an election rally on Island Ground along with Dravida Munetra Kazhagam president and Chief Minister M. Karunanidhi.
She said the Union government was spending substantial amount on rehabilitation of Sri Lankan Tamils and "we will continue our efforts at rehabilitation" [of the Tamils displaced in the war between the Sri Lankan Army and the Liberation Tigers of Tamil Eelam].
She also spoke of the firing on Tamil fishermen in the international waters which claimed a few lives.
"We are deeply pained that some lives of fishermen have been lost. We have been assured that there would be no firing in the future and we will continue to work to ensure this commitment is met," she said.
Nationalisation of rivers
Mr. Karunanidhi, who virtually turned this opportunity to seek the support of the Centre on various issues bedevilling Tamil Nadu, pleaded for the nationalisation of rivers, as that alone could be a "long-term solution" to disputes over sharing river water. "As the first phase, steps should be taken to link all the rivers in the south and funds for the same should be provided to State governments", he added.