India's Southern Promises
by Michael Auslin, The Wall Street Journal, May 10, 2011
A region that is more vibrant economically, and also more appreciative of relations with the U.S.
Chennai, India
Forty miles south of Chennai, on the Bay of Bengal, lies Mahabalipuram. Today it is a UNESCO World Heritage Site, abounding in temples and massive frescoes, all cut from solid rock. Yet in the seventh century, when carvers began chiseling out the temples, this was India's portal to Southeast Asia. From here, trade networks reached as far as Indonesia, spreading Indian goods along with the influence of the ruling Pallava kingdom.
More than a millennium later, Mahabalipuram's legacy lives on in Chennai, formerly Madras and now India's fourth-largest city. Located in the southern state of Tamil Nadu, Chennai remains India's gateway to the Indo-Pacific region.
This city and this region are deeply embedded in the global supply chain and trading network. It is here that American businesses are finding some of their largest markets. It is also the place where U.S. policy makers may find the greatest opportunities for building the U.S.-India relationship, especially given New Delhi's recent mixed signals about its interest in closer ties with America.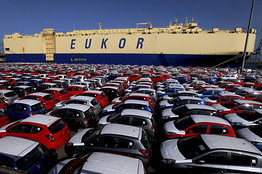 Hyundais waiting to leave Chennai. Associated Press
Most Americans think of northern or western India when they consider the rise of the world's largest democracy. New Delhi, the political capital, and Mumbai, the financial one, regularly receive Western visitors. India's tense relationship with Pakistan draws attention to its northwest borders, while its ongoing territorial troubles with China similarly center on its far northern boundaries.
Yet India's north is poorer and less developed than the south. During my visit, Maoist rebels in the northeast ambushed and killed 11 policemen, while farmers in Uttar Pradesh state, near Delhi, rampaged against police, killing some and holding state officials hostage.
That's not to say that the south of the subcontinent isn't plagued by poverty. Still, it is more educated than the north and is home to some of India's most vibrant cities and industries. Bangalore, located several hundred miles west of Chennai, is the center of the country's space and IT sectors. Kerala state, also to Chennai's west, boasts of near-universal literacy in a country in which only 74% of the populace can read.
Tamil Nadu hosts hundreds of universities and colleges—from the University of Madras, founded by the British in 1857, to tiny technical schools located in crumbling buildings. While it is hard to believe that many of the state's 532 engineering colleges provide an education comparable to their larger counterparts, they nonetheless testify to the region's focus on education.
This climate is drawing leading global companies to Chennai. Long after the region served as the gateway to Asia, it became the original home of the East India Company during the 1640s. Madras's cosmopolitanism grew throughout the centuries of British rule. The East India Company has been succeeded by Ford, Hyundai, Nissan and auto-components manufacturer BorgWarner, to name a few of the corporations that have made Chennai known as the "Detroit of the East."
Indeed, the automotive industry is one of Chennai's standouts, just as IT shapes Bangalore. India is the world's largest small-car market, and Ford, for example, has seen growth of sales quadruple since 2009. Chennai is the small-car hub for the region for Ford, a senior company executive tells me, and from here it exports cars, engines and components to Africa, Oceania and Japan. Suzuki, BMW, Hyundai and others similarly produce in Chennai hundreds of thousands of cars and motorcycles, making this city and its surroundings one of India's most vibrant economic clusters.
American companies are clearly but one part of the landscape here. N. Srinivasan, head of the Tamil Nadu branch of the Indo-American Chamber of Commerce, stresses that the Chennai region is increasingly linked to a broadening Asian network. Over 900 Australian companies operate in the region, he tells me. And of the 120,000 Indian students who go to Australia to study—one-fifth more than those who travel to the U.S.—those from Tamil Nadu, native speakers of the Tamil language, can interact with the Indian diaspora in Malaysia, Singapore and Indonesia, since most of those expatriates speak the same language.
One Asian country that draws negative remarks is China. I am told by various executives and officials that China poses the greatest threat to Indian economic growth. It undercuts prices and is not considered a reliable supplier of goods. Yet, in the long-run, argues a managing director of BorgWarner, India's production costs are more competitive than China's, since its quality is higher and it will have a younger, more educated work force far into the future. In particular, the south will lead the way, he and other businessmen tell me, with skilled labor and managerial capacity.
Not all is rosy, of course. Many of India's graduates are functionally illiterate, though perhaps less so in the south. This part of the country is plagued by the same poor infrastructure as the rest. Poverty here is similarly appalling, not only in Chennai's slums, but throughout the city, where makeshift lean-to's butt up against the walls of the Madras High Court. Corruption is also a factor here: The daughter of the state's chief minister is currently under indictment for bribe-taking in a national telecom scandal, a charge she denies. Graft has become an issue in the ongoing elections in the state, the results of which will be out Friday.
Yet there is a dynamism in Chennai that should attract American (and other foreign) companies. The real growth, I'm told, is in the small and medium enterprise sector. American SMEs can find willing Indian partners, and be assured of an Anglo-inspired system of law to protect their rights, unlike in China.
Over the next decade, perhaps Washington should focus on this part of the country, creating business opportunities (Chennai's consulate already handles more work visas than others in India) and fostering cultural ties with the local communities, instead of concentrating solely on New Delhi's recent rejection of U.S. entrants for a major fighter plane contract and the scuttling of the heralded civilian nuclear deal. Moreover, staff of the U.S. Consulate tell me, people in the south have much more positive images of America than their countrymen do in the north.
Touring Fort St. George, first headquarters of the East India Company, I run into a French couple. He is helping build Michelin's €1 billion ($1.43 billion) tire plant in Chennai, which will be their hub for Asia. Nearly 400 years after the British first arrived to trade in Madras, the opportunities of the Indian south remain bountiful.
The lesson here is that Americans will benefit most if they focus where they are wanted. In the long run, that will create a more stable Indo-American relationship that could lead to true partnership.
Mr. Auslin is the director of Japan studies at the American Enterprise Institute and a columnist for WSJ.com. He is the author of "Pacific Cosmopolitans: A Cultural History of U.S.-Japan Relations" (Harvard University Press, 2011).