Tamil Amnesia on Their History
by Namathan, May 28, 2011
The arguments Tamils forward to justify the black out of Samanam from Tamil memory is therefore not valid. Even the leaders of social change movement among Tamils such as Periyaar, alias E V Ramasamy, did not know these historical facts about the history of Tamil thought because much of this information has come to light after his lifetime. It was in the 1990's that a leading international Tamil scholar, Kamil Zvelebil, wrote,
"Tamil became "the language of devotion." Tamil literature became the literature of bhakti. ……. This trend continued as a strong and vital stream for about 1,000 years, and it had influenced greatly, perhaps conclusively, the Tamil Hindu mind — a mind which had proven to be, prior to the 6th-7th Cent. A.D., critically probing, full of the spirit of inquiry, lucid and this-world oriented. ….."
Tamil culture today is completely immersed in Hindu temple and naayanmaar/aalvaar-based* bhakthi tradition. This Hindu bhakthi culture also dominates its music and dance art forms. This contemporary condition arrived with the success of Brahmin-based Hinduism which fused with the local folk religions to become the Hindu religion of Tamils. A lot of recent research on older literature and archaeology has conclusively shown that this transition took place beginning from around 7th century AD. The foremost Tamil Saiva naayanaar, Thirugnanasampanthar, lived in this period and is credited for leading this transition. These are indisputable facts known to most Tamils, who take pride in this heritage.
Tamils are also proud of their ancient literary tradition that predates the 7th century wave of Hindu bhakthi. Ancient Tamil literary history is generally sectioned into three parts: the early secular poetry called Sangam poetry dated to the early centuries of the Common Era; ethical works during the period immediately after, starting from 3rd century AD until 7th century AD; and the third phase starting from 7th century AD when bhakthi literature started to be written.
To understand the history of ideas of the Tamil people expressed in this long literary tradition, it is necessary to also know the history of ideas in the pan-Indian context, both of which have mutually influenced each other. One would not find discourses about this history of ideas in the current mainstream discourse on Indian thought. This situation can be summarized as follows. 2500 years ago, there existed folk religions and the Vedic religion which placed its main emphasis on Brahmin-based rituals. There arose around this time many movements against this type of Vedic ritual practice which were to later become separate religions. These religions that are against Vedic religions are referred to as Sramana religions and foremost among them are: Ajivikam, Jainism and Buddhism. Their rise to prominence also occurs around the same time in around the same regions, consisting of north-east Bihar, eastern Uttar Pradesh, and western Bengal. All of these religions quickly spread throughout India.
Ajivikam eventually either died out or was absorbed into Jainism. Jainism and Buddhism dominated different parts of India. For example, Buddhism dominated the present day Andhra region and Lanka while Jainism dominated Kannada region and Tamilakam. In Tamilakam Jainism came to be called Samanam deriving from the term Sramana mentioned above. Some characteristics common to most Sramana movements are: opposition to the Vedhas and the Brahmin-based rituals they describe; non-acceptance of God; compassion for all living things including non-killing and vegetarianism; ascetic life given foremost place; belief in karma; and liberation through individual efforts. Among them, Samanam religion gave greatest importance to showing compassion to all living things. It is to face the challenges put forward by such attractive philosophies of the Sramana religions that the Brahminic religion also wrote even prior to the common-era what is now called the Vedha-antha (end parts of Vedhas) texts such as the upanishads and dharma sastras. At the same time Sramana religions also continued grow. The growth of Samanam in Tamilakam is part of this growth.
Reader should also be aware that all of the literature written during this time was written in one of the four languages namely: Sanskrit, Prakrit, Pali and Tamil. All other languages were spoken dialects at this time. Around the 6th century AD, there began a massive social movement now referred to as the bhakthi movement in Tamilnadu. This movement reached Karnataka around 11th century. From there it spread to Maharastra and further north and from Karnataka and Tamilnadu it spread to Andhra and to the eastern parts of India. It is as a result of this massive bhakthi wave that many of the spoken dialects became literary languages.
Coming back to the three phases of Tamil literary history, the first phase of ancient Tamil literature is grouped into the collection called Pathinenmeelkanakku. Though this poetry is mainly secular in nature it does have occasional references to the religions prevalent at that time namely: Brahminic religion (not yet referred to as Hindu); Ajivakam; Samanam and Buddhism. The poetry also refers to local gods and some of the references to Murugan in this poetry may indeed refer to a local god as opposed to the Hindu god Subramaniyan. Some scholars suggest that the two were fused later to create the present form of that god. Much of the available archaeological evidence suggests that Samanam was a very active religion in the Mathurai region even during this phase of secular Sangam poetry as demonstrated by cave inscriptions. Samanan contribution to Tamil peaks in the following phase of the Tamil literary history. Three outstanding contributions of Samanam to Tamil during this phase are Tholkapiyam, Silappathikaaran and Thirukura. There are of course numerous other contributions.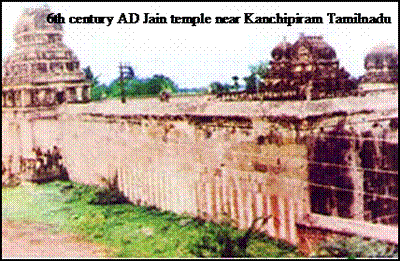 The dominant contribution of Samanam to Tamil literature is clear. An interesting suggestion is made by scholars based on the numerous Samanam archaeological sites in the Tamil regions, particularly concentrated around the Mathurai region during the early age. They have pointed out the overlap between the legendary Tamil Sangam (Tamil Academy) that is supposed to have been established in Mathurai to critically study and accept this early literature and the prevalence of Samanam in the archaeological finds of this time in this region. The concept of a Sangam or Academy for the ascetics existed only in Samanam and Buddhist traditions. Thus scholars propose that this legendary Mathurai Sangam must refer to a Sangam of Samanam ascetics which must have been later usurped by Tamil Saivaites to create the Tamil Sangam mythology.
It has been noted that the oldest of the epics, Silappathikaaram, dated to the fifth or early sixth century by modern scholars, describes the practice of worship in the temples of the different religions by the same person suggesting sharp religious differences may not have existed during this time; a practice notable among Tamils even today. With a major social upheaval around the 7th century in the form of bhakthi movement, the long standing rational literary tradition also started to change into the Hindu bhakthi tradition that consumes the Tamil culture today. Tamils are taught, and the majority believes even today that the Hindu fight against the despicable Samanar was lead and won by naayanmaar/aalvaar such as Thirugnanasampanthar.
Samanar, more commonly referred to as Jains, believe that there was a long line of 24 teachers, (thirthankaraas) since time immemorial and the 24th, Mahavirar, is the last of them. Modern scholarship says evidence for this claim is non-existent except for the last two teachers. The principal Jain prayer conveys the supreme position it gives to ascetics in five categories. Jainism has two main branches: Digambara meaning (sky-clad) and Svethembara (meaning white-clad). The Digambara Jainism flourished in South India and Svethambara Jainism in North India. Thus Tamil Samanam is indeed Digambara Jainism.
In Tamilakam some of the criticism by Hindus against Samanar include: nakedness of its ascetics; extreme austerities and strong bias against women. On closer look one would see that none of them have real substance. Samanam only insisted on advanced ascetics going naked- on philosophical ground that they must have no possessions including clothing. Only a few male ascetics would reach the stage to practice this. The austerities in Samanam are promoted to give discipline to followers. Severe austerities are prescribed only for Samana ascetics and lay people need not follow all of the austerities. The only philosophy against women in Samanam is that women are not fit for salvation. This, however, is a position taken by all ancient religions, not just Samanam. The Buddhist position is made clear in the text of the epic Manimekalai. Manimekalai has to be reborn as a male and live as ascetic before she can attain liberation. Neither did Saiva nayanmaar, Thirugnanasampathar and Appar criticise Samanar for their position on women. Even western Christianity in the past did not consider women as possessing a soul. Samanam in Tamilakam had female ascetics as described in Silappathkaaram; Kuvunthi a female Samana ascetic is described as preaching Samana teachings.
The arguments Tamils forward to justify the black out of Samanam from Tamil memory is therefore not valid. Even the leaders of social change movement among Tamils such as Periyaar, alias E V Ramasamy, did not know these historical facts about the history of Tamil thought because much of this information has come to light after his lifetime. It was in the 1990's that a leading international Tamil scholar, Kamil Zvelebil, wrote,
"Tamil became "the language of devotion." Tamil literature became the literature of bhakti. ……. This trend continued as a strong and vital stream for about 1,000 years, and it had influenced greatly, perhaps conclusively, the Tamil Hindu mind — a mind which had proven to be, prior to the 6th-7th Cent. A.D., critically probing, full of the spirit of inquiry, lucid and this-world oriented. ….."
Please also see the blog site http://thamilarthookkam.wordpress.com/
* ~saint or holy person