Why are President Rajapaksa and His Brothers Trying to Pick the Pockets of the Tamil and Sinhalese Diasporas,
by Tamil Daily News, California, June 7, 2011
GoSL has not built 1 home out of the 260,000 they destroyed...
IF Sri Lanka has raised $2.1 billion dollars for the rebuilding of the North they destroyed, IMF and Dominique Strauss Kahn has given $2.6 billion, Chinese contractors have loand and profieted on 4 billion dollars worth of useless projects and contracts, why is President Rajapakse and his brothers tring to pick the pockets of the Tamil and Sinhala diaspora?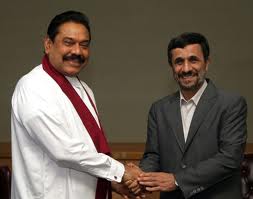 THE UNP OPPOSITION AND ECONOMIC WIZARDS (SO CALLED) RANIL WICKRAMASINGHE APPOINTED NATIONAL LIST MP'S LIKE HARSHA DE SILVA, ERAN WICKRAMARATNE (BANKER), MRS GAMAGE (GARMENT FACTORY OWNER AND WIFE OF DAYA GAMAGE -BILLIONAIRE), LEGAL EAGLE SWAMINATHAN (UNP TREASURER),  OLD MAN YOGARAJAH, SHADOW FINANCE MINISTER AND SUPER BUSINESSMAN RAVI KARUNANAYAKE, KABIR HASHIM SHOULD  QUESTION WHAT HAPPENED TO ALL THE MONEY NOW, AND THE LAST 2 YEARS.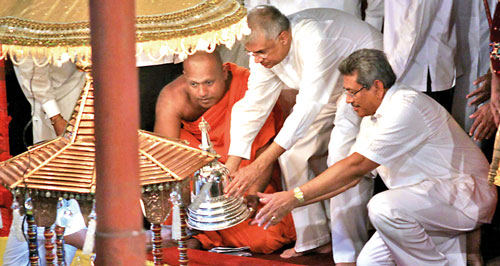 GOSL HAS NOT BUILT 1 HOME OUT OF THE 260,000 THEY DESTROYED AND THE UNP SUPPORTS THE MILITARY AND IT'S FORMER MILITARY COMMANDER 5 STAR GENERAL SARATH FONSEKA. WHEN HE HAD THE OPPORTUNITY TO TELL THE TRUTH TO THE USG HE HID AND RAN, IN NOVEMBER 2009, FROM USA/HOMELAND SECURITY.
STILL, HE HAS NOT SPOKEN THE TRUTH ABOUT WAR CRIMES.
TAMIL MP'S ARE SCARED TO SPEAK UP, BECAUSE THEY WILL GET MURDERED LIKE THE 6 MP'S BETWEEN 2005 AND 2009, INCLUDING MANNENNAI MAHESWARAN THE UNP MP FROM JAFFNA.
MRS. MAHESWARAN WHO WON THAT SEAT LAST YEAR, ALSO DOES NOT SPEAK UP FOR BUSINESS REASONS, AND FEAR OF HER LIFE AND BUSINESS.
WHY IS PRESIDENT RAJAPAKSE AND HIS BROTHERS TRYING TO PICK THE POCKETS OF THE TAMIL AND SINHALA DIASPORA?
http://www.tamildaily.net/2011/06/06/tamil-people-in-the-northeast-wants-first-and-foremost-freedom-from-singhala-tyranny-and-armed-forces-mr-president/
MP'S NAMAL RAJAPAKSE AND MAHARAJA ORGANIZATIONS SPONSORED FAVORITE MP RENGA, WHO CROSSED OVER TO THE RAJAPAKSES AFTER GETTING ELECTED FROM THE UNP IN THE NUWARA ELIYA DISTRICT. HE WAS HANDSOMELY REWARDED FINANCIALLY, BUT WAS DISAPPOINTED THAT THE PROMISED MINISTRY OR DEPUTY MINISTRY EVEN FORDRAINAGE SERVICES WAS NOT GIVEN. NOW HE IS HOPING LIKE THONDAMAN Sr AND Jr, TO GET THE PORTFOLIO OF ANIMAL HUSBANDRY A PERFECT MINISTRY TO HANDLE THE GOATS, AND BUFFALOES.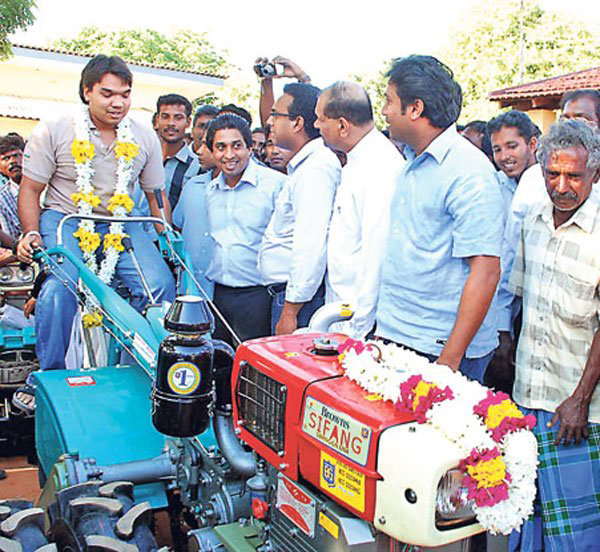 ICRC REPRESENTATIVE IN TEARS IN VAVUNIYA AFTER PRESIDENT'S SON NAMAL AND MAHARAJAH ORGANIZATIONS/SIRASA SPONSORED MP, RENGA J. STOLE THE TRACTORS MEANT FOR TAMIL REFUGEES AND VICTIMS OF CRIMES AGAINST HUMANITY.
Sri Lanka raises US$2.1bn to rebuild north June 07, 2011 (LBO) – Sri Lanka has raised 2.1 billion US dollars to rebuild roads, rail, power, hostpital, water supply and help resettle refugees in the war torn Jaffna region in 2010, a finance ministry report said.
These funding programmes have helped to resettle internally displaced people within a short period of time and restabilise civil administration and public infrastructure by replacing damaged roads, schools, hospitals and administrative buildings," the finance ministry said.
"These projects would help to meet the basic, immediate needs and the medium term requirements of the people in the North.  "These will also create sustainable employment opportunities for the affected people in their respective areas."A 30-year war ended 2009 and the finance ministry has scrambled to raise finance and start rebuilding activities quickly.  China was lending 423 million US dollars to rebuild key roads including a 153 kilometre stretch on the main A09 highway to the north.The Asian Development Bank and France's AFD was financing a 135 million dollar water supply and sanitation project in the former Tiger stronghold of Kilinochchi.  ADB was giving another 154 million for roads. India was financing three railway tracks with 416.4 million US dollars.The World Bank, Asian Development Bank, Australia, Japan, USA and India were also supporting a number of programs that directly helped families and the community, especially with outright grants.