Torture: Power, Democracy, and the Human Body
Edited by Shampa Biswas & Zahi Zalloua, University of Washington Press, December 1, 2011
...Between the coconut palms the graves are full
of ruined bones, of speechless death rattles
...the dead voices...
the blue mouths freshly buried...

The weeping cannot be seen, like a plant
whose seeds fall endlessly on the earth,
whose large blind leaves grow even without light.
Hatred has grown scale on scale
blow on blow, in the ghastly water of the swamp,
with a snout full of ooze and silence.
-- Pablo Neruda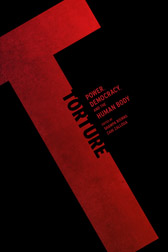 The counterterrorism policies following September 11, 2001, brought the definition and legitimacy of torture to the forefront of political, military, and public debates. This timely volume explores the question of torture through multiple lenses by situating it within systems of belief, social networks of power, and ideological worldviews. Individual essays examine the boundaries of what is deemed legitimate political violence for the sake of state security, the immediate and long-term effects of torture on human and social bodies, the visual and artistic representations of torture, how certain people are dehumanized to make it acceptable to torture them, and how we understand complicity in and the ethical boundaries of torture.
The book contains a chapter by Suvendrini Perera on Sri Lanka entitled "Landscapes of Massacre," which starts by discussing the execution video that became public in the fall of 2010 and declared authentic by the UN Special Rapporteur on Extrajudicial Executions.
Shampa Biswas is associate professor of politics at Whitman College in Walla Walla, Washington, and coeditor of Margins, Peripheries, and Excluded Bodies: International Relations and States of Exception. Zahi Zalloua is associate professor of French and general studies at Whitman College, author of Montaigne and the Ethics of Skepticism, and editor of The Comparatist and Montaigne After Theory, Theory After Montainge. The contributors include Stephanie Athey, Mark Danner, Julia Ireland, Timothy V. Kaufman-Osborn, Suvendrini Perera, Joseph Pugliese, Darius Rejali, and Lauren Wilcox.
ISBN-10: 0295991224, ISBN-13: 978-0295991221
Contents
Introduction: Torture, Democracy, and the Human Body. Shampa Biswas and Zahi Zalloua

1. Torture and Democracy: What Now? Darius Rejali

2. Now That We've Tortured: Image, Guilt, Consequence. Mark Danner

3. "We Are All Tortureers Now": Accountabiliy after Abu Ghraib. Timothy V. Kaufman-Osborn

4. Dying Is Not Permitted: Sovereignty, Biopower, and Force-Feeding at Guantanamo Bay. Lauren Wilcox

5. The Torture Device: Debate and Archtype. Stephanie Athey

6. Specters of the Muselmann: Guantanamo Bay Penalogial Theme Park and the Torture of Omar Khadr. Joseph Pugliese

7. This Fragile Body: Susan Crile's Abu Ghraib: Abuse of Power. Julia A. Ireland

8. Sre Lanka: Landscapes of Massacre. Suvendrini Perera