In Guatemala, Former Dictator Is Told to Appear in Court
by Elisabeth Malkin, The New York Times, January 22, 2012
In past interviews, Mr. Ríos Montt has said that he never ordered massacres. But military documents have shown that the military was operating under a rigid chain of command and that reports from the field went right up to top commanders.
MEXICO CITY — A Guatemalan judge has ordered a former military dictator, Efraín Ríos Montt, to appear in court on Thursday, the first step in a process that could lead to his being tried on genocide charges and to a reopening of the darkest chapter in Guatemala's brutal 36-year civil war.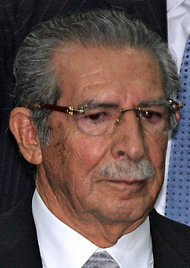 Eitan Abramovich/Agence France-Presse — Getty Images
Efraín Ríos Montt ruled in 1982-83.
During General Ríos Montt's 17-month rule in 1982 and 1983, the Guatemalan Army pursued a scorched-earth campaign in the Mayan highlands that included massacres that are regarded as among the most horrific in the war. To flush out small bands of leftist guerrillas, soldiers entered Indian villages and hunted down their inhabitants, slaughtering men, women and children indiscriminately.
Survivors' groups have sought justice through the courts for more than a decade, but only in the last year have prosecutors begun to bring cases to trial against high-ranking military officers. Mr. Ríos Montt had immunity from prosecution because he was elected to Congress in 2000, but that immunity ended this month when his term in office expired.
A lawyer for him told the Guatemalan newspaper Prensa Libre that his client would appear to hear the prosecutor's charges. "We are sure that there is no responsibility, since he was never on the battlefield," said the lawyer, Gonzalo Rodríguez Gálvez.
In past interviews, Mr. Ríos Montt has said that he never ordered massacres. But military documents have shown that the military was operating under a rigid chain of command and that reports from the field went right up to top commanders.
A United Nations-backed truth commission set up after peace accords were signed in 1996 found that some 200,000 people had been killed or had disappeared during the civil war, and that government forces committed 626 massacres in indigenous villages over 36 years. The military's actions in the Ixil triangle of El Quiché department, where the Maya-Ixil population were the targets, amounted to genocide, the commission found.
A trial of Mr. Ríos Montt, 85, would pose a test for the new government of President Otto Pérez Molina, a former general who took office Jan. 14 promising an "iron fist" policy against drug and gang violence in the country.
Mr. Pérez Molina was a midlevel commander in the Ixil region during Mr. Ríos Montt's rule but has said that he was involved in rebuilding the terrorized region. Mr. Perez Molina's actions during that time have never been fully investigated, and human rights groups have been unable to find proof he ordered troops to commit atrocities.
The president has promised to support Guatemala's attorney general as her office continues to build human-rights cases.
Two retired generals who were members of Mr. Ríos Montt's high command were arrested last year on war crimes and genocide charges. In November, the court found that another figure from that time — Gen. Oscar Humberto Mejía, who was Mr. Ríos Montt's defense minister and then deposed him in a coup — lacked the capacity to stand trial.
------------------------------------------------------
Court Papers Detail Killings by the Military in Guatemala
December 3, 2009 MEXICO CITY — There are almost 200 pages of platoon reports, and they each repeat a similar story: A military patrol enters a Mayan village in the Guatemalan region of El Quiché in the summer of 1982. The soldiers capture anybody who does not flee in time and "eliminate" anybody who tries to escape. Then they burn the houses, destroy the crops and kill the livestock.
"A woman was found hiding in a ditch and realizing her presence, the point man fired, killing her and two 'chocolates,' " one report reads. According to a witnesses, the "chocolates" were two children she was protecting.
The reports are part of a secret Guatemalan military file entered into evidence this week in a genocide case against Gen. Efraín Ríos Montt, the former Guatemalan dictator, and seven other top military and civilian officers. The case was filed in Spain almost a decade ago by a Nobel Peace laureate, Rigoberta Menchú, and other survivors of military attacks during the nation's long conflict.
In clipped, military language, the records document Operation Sofía, one element of the counterinsurgency campaign waged against leftist guerrilla forces. The offensive sent hundreds of soldiers from different bases against the guerrillas, whose numbers the military estimated at fewer than 100 in the Ixil area, where Operation Sofía was centered.
About 200,000 people died during Guatemala's 36-year civil war, which formally ended with a 1996 peace agreement. The violence reached its peak under Mr. Ríos Montt, who took power in a coup in 1982. A United Nations commission found in 1999 that the Guatemalan Army had committed "massacres, human rights violations and other atrocities" against Mayan communities that "illustrated a government policy of genocide."
The reports entered into evidence this week offer terse summaries of the actions that summer in El Quiché. The soldiers go looking for guerrillas but seldom find any. Occasionally, they take fire from the guerrillas, who almost always seem to get away.
Instead, they find what they call irregular local forces — unarmed civilians including women, children and the elderly — all of whom, the reports conclude, have been indoctrinated by the guerrillas.
"All of the people who live in this area are totally convinced that the guerrilla struggle is good," concluded one report, which went on to recommend that "after burning the houses and destroying the shelter of the guerrillas and their sympathizers, they should be talked to and made to understand why they were victims of this abuse."
But these forces do not carry weapons. "The point man indicated an individual who on seeing the patrol tried to flee, but he was eliminated," one report states. "He was carrying only supplies (juice, rice and salt)."
One commander recommends that the military continue aerial bombings around the region to flush out the guerrillas and asks for the area to be mined.
"It is the record of a deliberate policy of murder and mayhem," said Kate Doyle, an analyst with the National Security Archive in Washington, who obtained the document from military intelligence sources in Guatemala. "For years I have listened to the survivors tell their stories, but the military has always been allowed to remain mute."
When the courts there have asked the military to produce its records, the armed forces have stalled, turning over only one document and claiming the rest no longer exist.
The genocide case in Madrid, filed under Spain 's universal jurisdiction law for crimes against humanity, has proved to be an important source of evidence for cases that survivors' groups have filed in Guatemala, said Almudena Bernabeu, a lawyer with theCenter for Justice and Accountability, which represents several of the victims' families.
"The Spanish case has the ability to push the case forward in Guatemala," she said.
Ms. Menchú, a Quiché Indian who lost much of her family in the violence, and the other survivors who brought the Spanish case, argued that the genocide charges were justified because Mayans were singled out as an ethnic group.
The military files also show how the reports went up the chain of command. They include the initial order to begin the operation from the military chief of staff, and documents aggregating the patrol reports that were systematically sent to top commanders.
"As a lawyer, this is one of the moments we have every 10 years," Ms. Bernabeu said